Herb Crusted Rack of Lamb
This Herb Crusted Rack of Lamb tastes like you've slaved away all day in the kitchen. Elegant, impressive and served with parsley pesto, it's gourmet food you can make at home!
This Rack of Lamb Recipe is easy to make, plus it's the perfect entree for Easter or any time you can find delicious spring lamb in the market.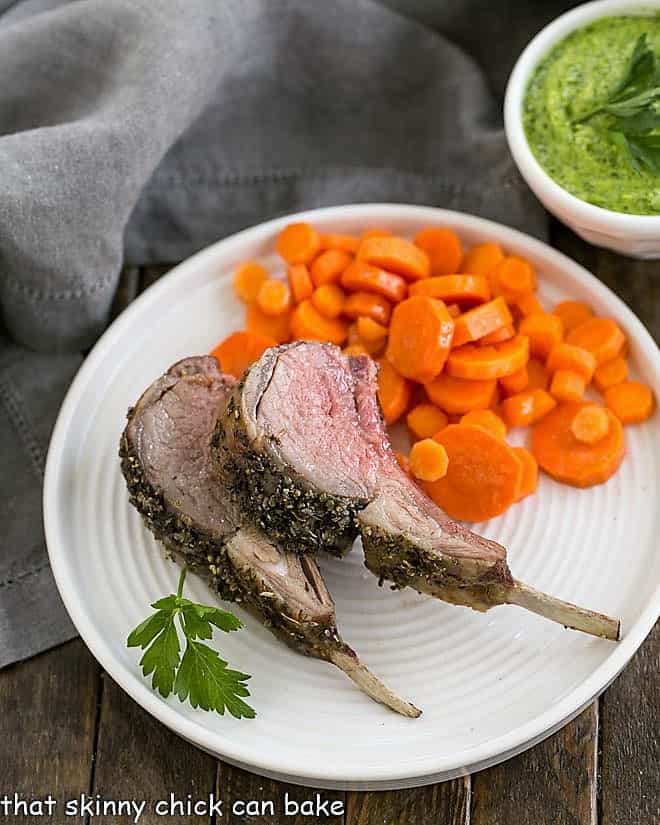 Herb Crusted Rack of Lamb with Parsley Pesto
When I spotted New Zealand rack of lamb at Trader Joe's for a reasonable price, I knew it would be our Easter entree. Paired with an easy parsley pesto made it seem very special despite little hands-on time for the cook.
When I mentioned my plan to Bill, AKA the picky hubby, he was game. But when I revealed that the lamb was to be served with pesto parsley, I got that look. I imagine something like, "What sort of cockamamie idea is that? You're going to ruin perfectly good lamb with pesto?" was running through his mind. But the smart man kept those words to himself.
When Is Lamb Season?
Springtime is when lamb is most tender and sweet, primarily in May and June, but it's a terrific Easter entree in April as well, especially if the lamb is at least 4 months old. The flavor of lamb changes through the seasons, and autumnal lamb has a more complex, developed flavor. FYI: Lamb refers to sheep that's under a year old.
How to Cook a Rack of Lamb
I like roasting a rack of lamb, though grilling would be scrumptious, too. Rosemary is terrific with lamb, which is used in this rack of lamb recipe as well as my favorite grilled lamb chop recipe. Marinating with a flavorful combination of complementary ingredients is key to making a delicious rack of lamb in the oven.
PRO-Tip: Like beef, lamb can marinate from 6 hours to overnight. I smear the mixture of herbs, garlic an olive oil all over the surface of the rack of lamb.
Loosely cover and refrigerate. Take the meat out of the fridge about a half hour before roasting to take the chill off. This allows the lamb to roast more evenly.

I grew up with both my parents loving their lamb with mint jelly. I like the easy, more sophisticated pesto parsley as an accompaniment. Bill and the kids also enjoyed it. Small victory for the cook!
Roast two racks at 450 degrees for 25 minutes, allow them to rest, covered with aluminum foil for 15 minutes before carving.

The resulting lamb was cooked to a perfect medium rare, 140 degrees. If you prefer your lamb less pink, add 5 minutes to the cooking time.
Slice between the bones to make individual chops, allotting two, or possibly 3 per person, depending on appetites.
If you make this herb-crusted rack of lamb for Easter and want to do a full-on lamb theme, how about this Fudge Lamb for dessert.
More Roast Recipes for Meal Planning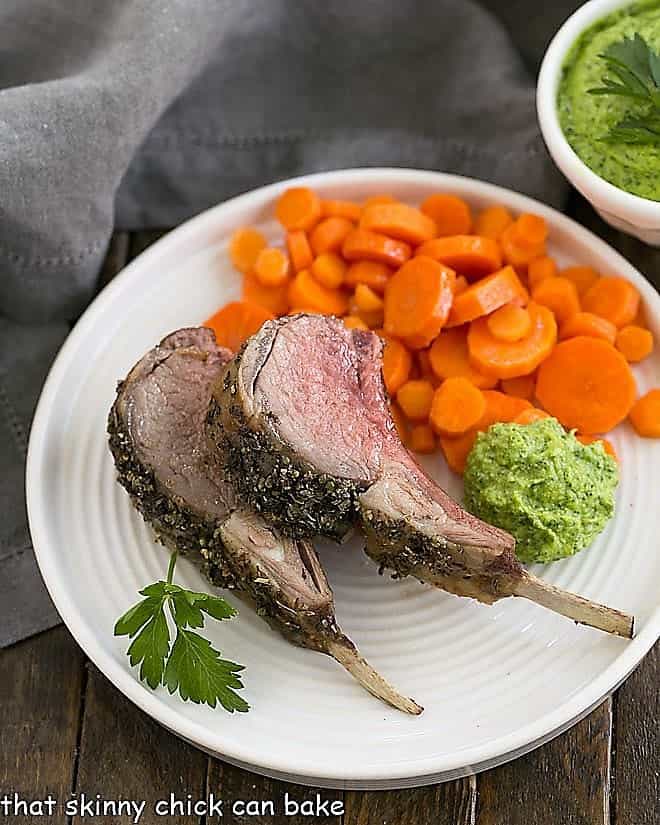 The Recipe:
Herb Crusted Rack of Lamb with Parsley Pesto
Prep Time 15 minutes
Cook Time 2 minutes
Total Time 17 minutes
Yield 6 servings
Perfectly roasted rack of lamb marinated with a rosemary, oregano and garlic paste.
Ingredients
1 1/2 tablespoons chopped fresh rosemary, leaves only
4 cloves of garlic, chopped
1 tablespoon dried oregano
2 teaspoons kosher salt
1 teaspoon freshly ground black pepper
2 pounds rack of lamb, bones frenched
Parsley Pesto:
2 cups fresh parsley
3/4 cup shredded Pecorino Romano cheese
1 garlic clove, chopped
1/4 cup extra virgin olive oil
Freshly ground black pepper, to taste
Instructions
Put the rosemary, garlic, salt, and pepper in a food processor and process until minced. Slowly drizzle in olive oil and process until a paste forms.
Place the lamb chops on a baking sheet and smear the herb paste over the surface. Loosely cover and refrigerate for 6 hours to overnight.
Before roasting, bring the meat out of the oven for about 30 minutes to get the chill off.
Preheat the oven to 450 degrees. Roast for 25 minutes for medium-rare or 30 minutes for medium or until your desired temperature is reached. Remove from the oven and cover well with foil and allow the lamb to rest for 15 minutes.
Slice between the bones to serve.
To make pesto, process the parsley, Pecorino, and garlic in a food processor. Slowly drizzle in oil with processor running until combined. Season with pepper if desired.
Mix in a tablespoon or so of water if your pesto seems too thick and process until combined. Serve each chop with a spoonful of pesto.
Notes
Lamb recipe adapted from Ina Garten.
Pesto recipe adapted from Martha Stewart.
Recommended Products
As an Amazon Associate and member of other affiliate programs, I earn from qualifying purchases.
Nutrition Information:
Yield:
6
Serving Size:
1
Amount Per Serving:
Calories: 596
Total Fat: 44g
Saturated Fat: 19g
Trans Fat: 2g
Unsaturated Fat: 23g
Cholesterol: 148mg
Sodium: 984mg
Carbohydrates: 4g
Fiber: 2g
Sugar: 0g
Protein: 47g
Note: This post may contain affiliate links; view
my Disclosure Policy
for details. I earn a small percentage from any purchase you make by clicking on these links at no extra cost to you.