Ganache Topped Cheesecake
This luscious Ganache Topped Cheesecake combines a creamy vanilla cheesecake with a thick layer of dreamy chocolate for those who cannot choose between a chocolate or cheesecake dessert!!
Sandwiching a layer of cheesecake between a chocolate cookie crust and a luscious, semisweet ganache creates a dessert that everyone will adore. The rich Cheesecake Topping pushes this recipe over the top.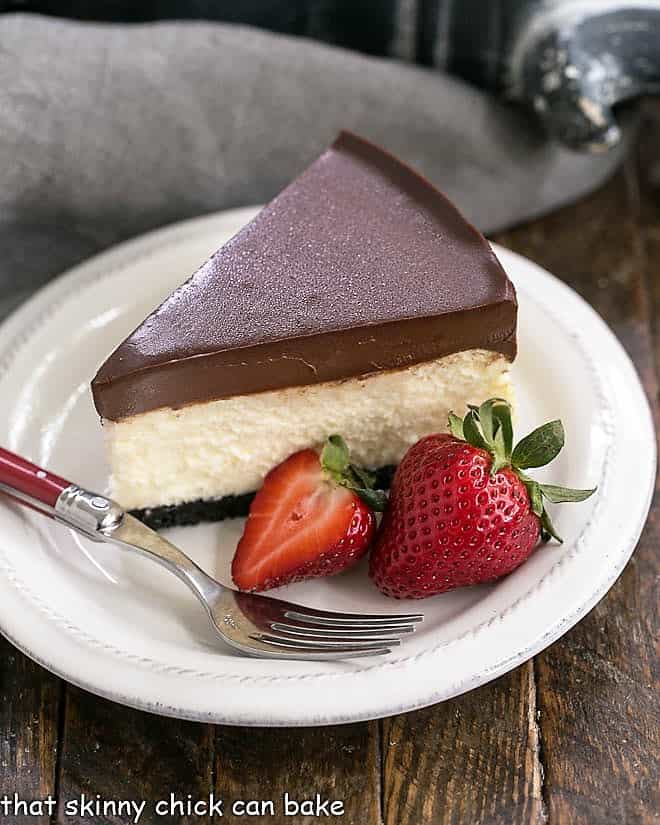 Why You Must Make
Some girlfriends were coming over for coffee, and besides some fruit and nuts to nibble upon, I pulled some Strawberry Pound Cake and White Chocolate Macadamia Nut Cookies out of the freezer. I also baked up a simple vanilla cheesecake made elegant with a generous chocolate topping and fresh, fragrant strawberries to garnish. Since it was near Mother's Day, the markets were stocked with large stemmed berries that were perfect for dipping.
3/4 of this cheesecake went home with my friends, slice by slice, everyone who sampled even just a forkful wanted more. It's just that irresistible.
It will serve 16-24 since it is so rich. Only thin slices are needed so it's perfect for a large gathering.
This is a super creamy, luscious cheesecake that's the perfect way to spoil your favorite cheesecake lover!
Reader Endorsements
From Mina: I made this and it was HEAVENLY. Crust is delightful, and not too thick. Cheesecake has perfect texture and creaminess. 
From Bee: It was absolute agony having to wait overnight for the cheesecake to set, but man was it worth it. This is my new favourite cheesecake recipe. The richness of the ganache evens out the sweetness of the cheesecake perfectly. 
Ingredient Notes
Kitchen Staples – Sugar, Butter, Room Temperature Eggs
Nabisco Famous Wafers – Chocolate cookies, ground in a food processor to use for the crust.
Philadelphia Cream Cheese – at room temperature
Cornstarch – Helps minimize cracking and makes the cheesecake easier to slice.
Vanilla Extract – Not artificial vanilla
Heavy Whipping Cream – 36% Butterfat
Semi Sweet Chocolate – Chopped Ghirardelli Bars work better than chocolate chipx
Fresh Strawberries – For the garnish
White and Dark Chocolate Melts – To dip strawberries, optional.

Expert Tips
There are a few key tips to help make a very rich and creamy cheesecake, including this ganache-topped cheesecake. 
Make sure you have access to a springform pan. The removable rim helps release the cheesecake from the pan. This recipe uses a 9-inch springform pan (affiliate link), the most commonly used size.
Use Philadelphia Cream Cheese if possible. According to Cook's Illustrated, its "classic," "fresh" flavor, and "subtle tang" were why it won their taste test. Just watch for sales and stock up.
PRO-Tip: Have your eggs and cream cheese at room temperature. Doing this step makes for a creamier cheesecake.
If you forget to bring these out of the refrigerator an hour or two before you start to mix the batter, place the eggs in a bowl of hot, not boiling, water to warm up. For cream cheese, I remove the boxes, then place them in an enclosed space like a microwave with a Pyrex mixing cup (affiliate link) filled with very hot (I make this in my teapot) water. Let rest until the cream cheese comes to room temperature.
PRO-Tip: Use the paddle attachment to mix your cheesecake. A whisk attachment will add air to the batter and prevent a classic, dense filling.
When it's time to add the eggs, add one at a time, mixing each until just incorporated.
Danielle, my friend, and recipe source, made her Ganache Cheesecake with Strawberries with a graham cracker crust. Feel free to whip up this dessert with the same amount of graham cracker crumbs, Vanilla Wafer crumbs, Biscoff crumbs or even Oreo crumbs instead of Nabisco Famous Wafers (affiliate link).
If you have trouble locating them, Nabisco Famous Wafers are often shelved near the ice cream toppings in the supermarket.
PRO-Tip: Use chocolate bars (I used Ghirardelli brand) instead of chocolate chips. The quality is better and the ganache may not thicken as well if using chocolate chips.
If you want to garnish your cheesecake, look for big, perfect strawberries and arrange an odd number, 3 or 5, in the middle of the cheesecake.
To go the extra mile, melt some white and dark chocolate (chocolate melts work well) and dip your berries. Use the opposite "color" of chocolate to drizzle back and forth across the berries. I like using a  quart-sized ziplock bag with a small piece cut off the corner for a makeshift piping bag.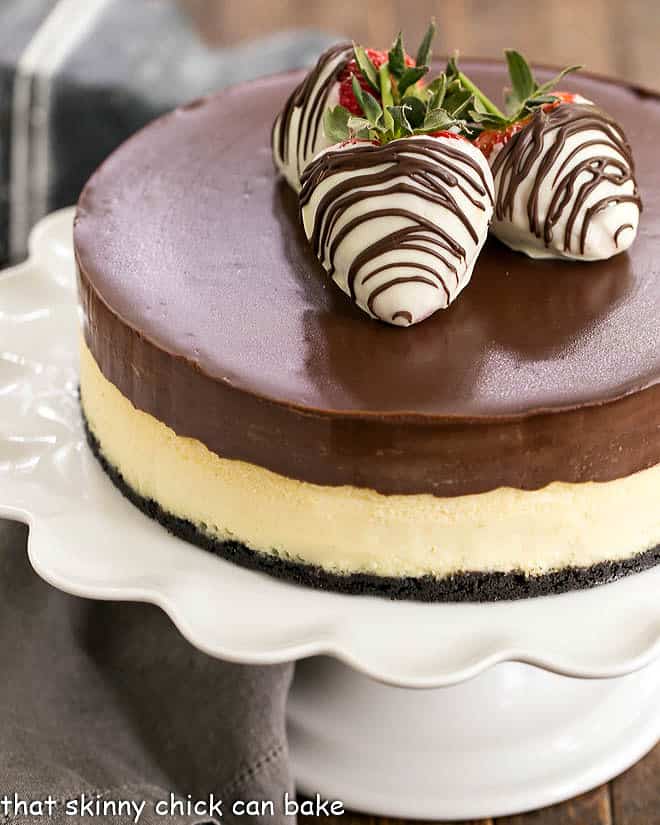 Frequently Asked Questions
What is Ganache?
Since my computer spell check doesn't recognize the word "ganache," I figured it was worth explaining. Ganache is a mixture of chocolate and cream that dates back to France in the 1860s when it was first used to make chocolate truffles.
Typically chopped chocolate is added to hot heavy cream and allowed to melt into a rich, decadent, multi-functional dessert component.
How Do You Make Ganache?
A 50-50 ratio of chocolate to cream is common, but a ganache can be a sauce, dessert topping, truffle filling, frosting, or even chilled in a terrine for a pate.
Typically, chopped chocolate is added to hot cream, allowed to melt, then stirred until smooth. The more cream, the more pourable the ganache, so the proportions will differ depending on the usage.
You May Also Like:
Stay in touch through social media @ Instagram, Facebook, and Pinterest. Don't forget to tag me when you try one of my recipes! And if you love the results, please give it a 5-star rating in the recipe card. Note: As an Amazon Associate, I earn from qualifying purchases. Visit my Amazon Store for my favorite products.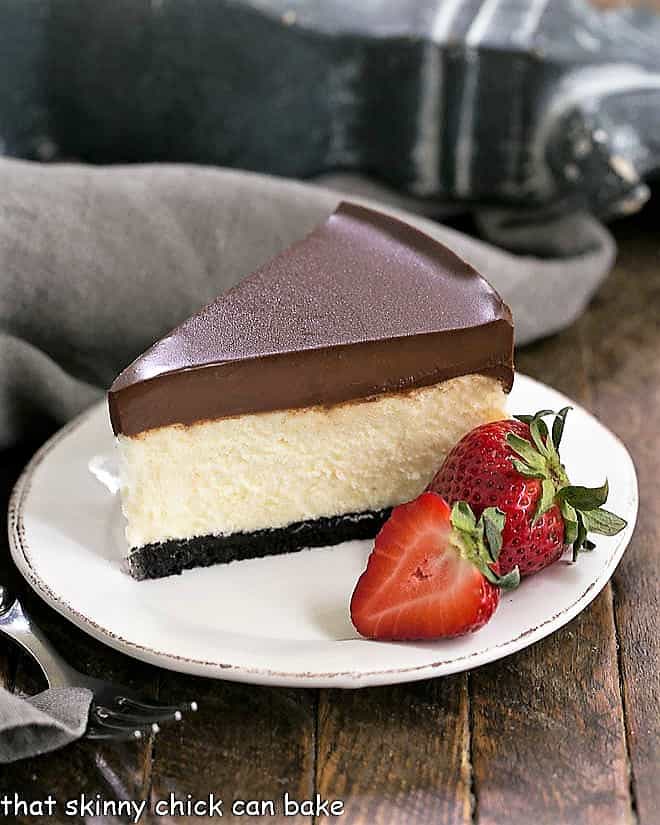 The Recipe:
Ganache Topped Cheesecake Recipe
Prep Time 30 minutes
Cook Time 1 hour 23 minutes
Total Time 1 hour 53 minutes
Yield 16 servings
An ultra creamy cheesecake with a luscious chocolate ganache topping
Ingredients
Crust:
1 1 /2 cup Nabisco Famous Wafer crumbs
1 tablespoon sugar
6 tablespoons melted butter
Cheesecake:
Four 8-ounce packages Philadelphia cream cheese, at room temperature
1⅔ cups sugar
¼ cup cornstarch
1 tablespoon vanilla extract
2 large or extra-large eggs, at room temperature
¾ cup heavy whipping cream
*Ganache:
2 cups heavy cream
12 ounces semi sweet chocolate, chopped (use bars, not chocolate chips)
Fresh strawberries
White and dark chocolate melts (I used Ghirardelli)
Instructions
To make the crust, combine all ingredients and press onto the bottom of a 9-inch springform pan.
Bake at 350 degrees for 8 minutes. Let cool on a wire rack. Leave the oven at 350 degrees to bake the cheesecake.
In a large bowl, using an electric mixer fitted with the paddle attachment, beat 1 package of the cream cheese, ⅓ cup of the sugar, and the cornstarch together on low until creamy, about 3 minutes, scraping down the bowl a couple times to make sure it's mixed well.
Blend in the remaining cream cheese, one package at a time, beating well and scraping down the bowl after each additon.
Increase the mixer speed to medium and beat in the remaining sugar, then the vanilla.
Mix in the eggs, one at a time, beating well after each. Mix in the cream just until completely blended. Do not overmix.
Scrape the batter out of the bowl and pour it over the crust. Wrap the sides of the pan in a double layer of aluminum foil.
Place the cake pan in a large shallow pan containing hot water that comes halfway (about 1 inch) up the side of the springform. Bake until the edge is light golden brown, the top is light gold, and the center barely jiggles for about 1¼ hours.
If the cake seems soft all across the top, let it bake for 10 minutes more. Remove the cheesecake from the water bath, transfer it to a wire rack, and let cool for 2 hours. Chill until cold.
When cheesecake is cold, make the ganache topping. Heat cream just to a boil. Pour the cream over the chocolate in a heat-proof bowl. Let sit for 2 mins and stir smooth. Pour over cooled cheesecake and chill overnight.
To make chocolate-covered strawberries, melt the chocolate melts according to package instructions. Dip into chocolate and place on a parchment paper-lined cookie sheet and let rest until chocolate hardens (you may need to refrigerate if using real chocolate).
Drizzle the opposite colored chocolate across the berries if desired (drizzle dark chocolate dipped berries with white chocolate and drizzle white chocolate dipped berries with dark chocolate).
Garnish dessert with the chocolate-dipped strawberries.
Notes
*This would be delicious with a thinner layer of ganache if desired. Just use 1 cup of heavy cream and only 6 ounces of semi sweet chocolate to make your ganache.
Nutrition Information:
Yield:
16
Serving Size:
1 slice
Amount Per Serving:
Calories: 638
Total Fat: 48g
Saturated Fat: 28g
Trans Fat: 1g
Unsaturated Fat: 15g
Cholesterol: 138mg
Sodium: 276mg
Carbohydrates: 50g
Fiber: 2g
Sugar: 41g
Protein: 7g
Hugs & Cookies XOXO – Facebook – Pinterest – Twitter – Instagram
Note: This post may contain affiliate links; view
my Disclosure Policy
for details. I earn a small percentage from any purchase you make by clicking on these links at no extra cost to you.