Cheesy Shrimp and Grits Casserole
This Cheesy Shrimp and Grits Casserole is a touch spicy, with a Creole kick, and totally irresistible with layers of cheddar grits and sauteed shrimp!
This Midwest born and raised gal was late to Southern Shrimp and Grits, but a new fan was born after a book club friend served her casserole version at our summer gathering.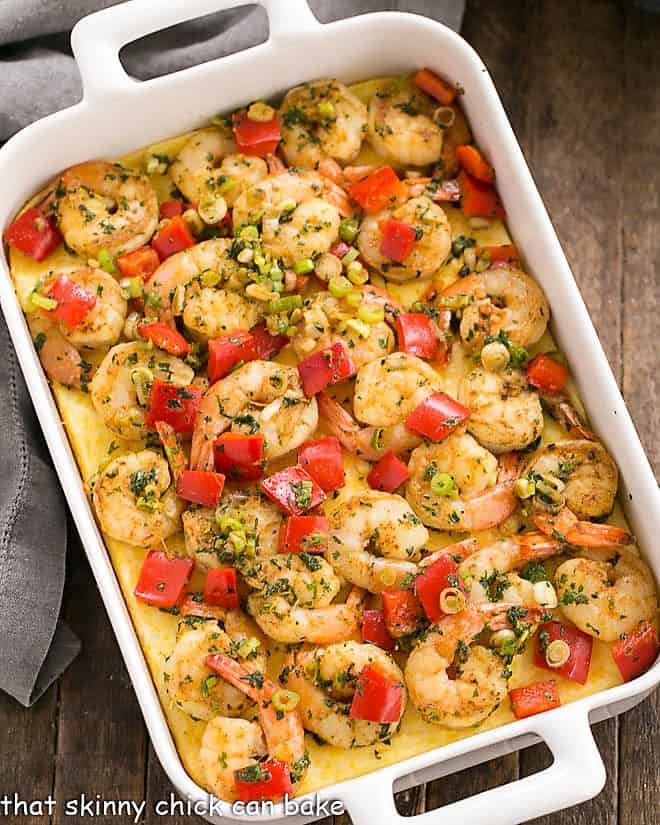 Why You Must Make
It's a dish you can serve morning, noon, and night.
With its Southern roots, this dish is packed full of flavor and is the epitome of comfort food.
For dinner, just add a salad or vegetable side dish and you're set!
Shrimp and Grits originated on the southern coasts of Georgia and South Carolina and is traditionally a breakfast food. I don't know about you, but shrimp isn't something I crave first thing in the morning, so making it into a dinner casserole was more my style! But feel free to eat this delicious shrimp and grits recipe any time of day.
Ingredient Notes:
Kitchen Staples – Butter, Olive Oil, Kosher Salt, Black Pepper, Milk
Quick or Regular Grits – Instant grits are not recommended for this recipe
Grated Cheddar Cheese – my friend, Jane, uses Gouda!
Large Shrimp – Peeled and deveined (American wild shrimp are best)
Creole Seasoning
Green Onions
Fresh Cilantro
Red Bell Pepper
Lemon for zest
Sriracha
Kitchen Staples: Butter, Olive Oil, Kosher Salt, Black Pepper, Milk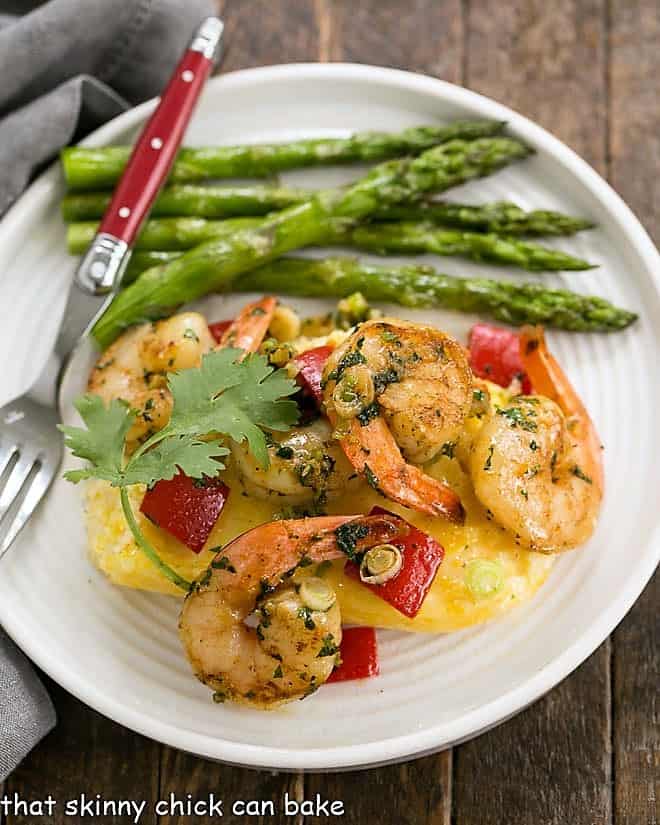 How to Make
Start by purchasing your grits. Grits and polenta are similar, both made from ground corn. Grits are finer, though, and made from white corn, whereas polenta is coarser and created from yellow corn. Polenta is a staple of Italian cuisine, and grits are notably Southern.
Quick grits, like quick oats, are more processed and cook up faster than traditional grits. My friend, LJ, used quick grits in her recipe and this northerner thought they tasted just fine. I only found regular grits and used them with her directions and the result was more like polenta, but still delicious!
Make your grits first. They take the most time of the two components of this casserole and can actually be cooked ahead of time, then chilled until you're ready to saute the shrimp.
I have made these with traditional grits as well as "grits" packaged as polenta/grits. The texture was of the latter was more like polenta, but it worked in a pinch!
Cook your grits in a double boiler, which is a set of pans where one inserts into the top of the other. The lower pan has simmering water, which provides a gentler heat than the burner.
PRO-Tip: If you don't own a double boiler, use a makeshift version with a saucepan and heat resistant bowl to nestle on top of the pan. Since the bowl isn't well secured, you may need to hold it with a hot pad while stirring.
Cook your grits until they're thick, though if you like thinner grits, add some extra liquid. Just taste to make sure they're soft and tender.

Serving Suggestions
With a full-flavored, spicy entree, you'll want simple sides like roasted vegetables or a green salad. I love this Roasted Asparagus with Balsamic Brown Butter. The bit of vinegar helps cut the richness of the shrimp and grits as does the lemon in this Lemon Garlic Broccoli. For a refreshing salad, I recommend this Citrus Spinach Salad and this Honey Lime Fruit Salad would be a fabulous accompaniment for your breakfast or dinner menu!
Frequently Asked Questions
What Do Grits Taste Like?
Grits, or Hominy Grits as they were originally called, are mild in flavor, thick and smooth. They take on the flavor of what they're cooked with.
What's the Difference Between Grits and Polenta?
Grits refers to any coarsely ground grain like corn, oats, or rice. The grits used for shrimp and grits are made from white corn and are finer than polenta. Polenta is coarser and created from yellow corn. Polenta is a staple of Italian cuisine, and grits are notably Southern. Polenta is "mush" made of cornmeal but can also be cooked until firm and cut into squares.
How Do You Devein Shrimp?
Buy it already deveined if it's available, but that's not always an option, plus it's more expensive. To devein means to remove the dark, intestinal vein from the back of each shrimp.
This process is done with a sharp knife or a specialized deveining tool. A shallow incision is made along the vein allowing it to be gently pulled out and discarded.
You May Also Like
After you try this shrimp and grits recipe, try some of these other hot dish recipes: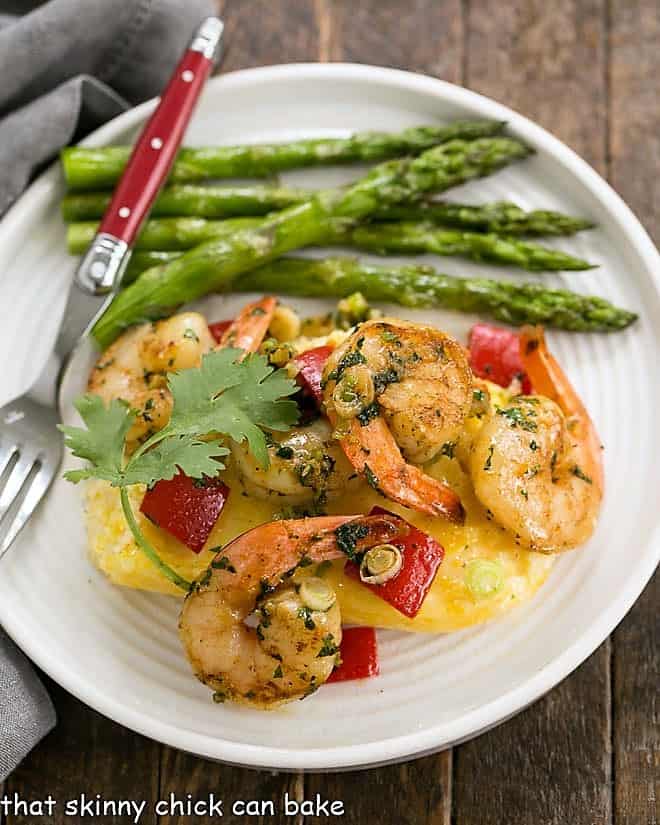 The Recipe:
Cheesy Shrimp and Grits Casserole Recipe
Prep Time 20 minutes
Cook Time 1 hour
Total Time 1 hour 20 minutes
Yield 4 servings
A delicious, Southern shrimp and grits recipe!
Ingredients
Cheesy grits:
1/2 cup butter
1 quart of milk
1 teaspoon kosher salt
1 cup of Quick Grits (sold in the cereal section- in a round box like Quaker Oats) or tradition grits
1 cup of grated cheddar cheese
Shrimp topping:
1 pound large raw shrimp, peeled and deveined
1 1/2 teaspoons Creole seasoning
1 1/2 teaspoons olive oil
1 garlic clove, minced
1/2 cup chopped green onions
1/3 cup chopped fresh cilantro, chopped
1/2 large red pepper, large diced
1 tablespoon lemon zest
1 teaspoon Sriracha hot chili sauce
1/2 teaspoon kosher salt
1/4 teaspoon freshly ground black pepper
Instructions
Using a double boiler, melt a stick of butter, then add a quart of milk, 1 teaspoon of salt and 1 cup of quick grits.
Cook the mixture, stirring constantly, until it is very thick, about 20 minutes. Then stir in the cheddar cheese until melted. Take the grits off the heat and beat on high with a mixer for 5 minutes.
After whipping the grits, place them in a greased 8 x 11-inch casserole. At this point, the grits can be parked in the refrigerator until you're ready to cook the shrimp.
Sprinkle the creole seasoning over the shrimp and let it sit for a few minutes. Saute the garlic in the oil for 30 seconds. Add the shrimp and sauté for 3 minutes.
Add the onions, cilantro, red pepper, lemon zest, Sriracha, salt and pepper and stir for another 2 minutes. Then remove from the heat.
Gently reheat the grits if needed, then top with the shrimp mixture and serve.
Notes
Adapted from my friend LJ's grandma's recipe.
Nutrition Information:
Yield:
4
Serving Size:
1
Amount Per Serving:
Calories: 589
Total Fat: 40g
Saturated Fat: 23g
Trans Fat: 1g
Unsaturated Fat: 14g
Cholesterol: 251mg
Sodium: 2374mg
Carbohydrates: 25g
Fiber: 1g
Sugar: 1g
Protein: 32g
Note: This post may contain affiliate links; view
my Disclosure Policy
for details. I earn a small percentage from any purchase you make by clicking on these links at no extra cost to you.