Mascarpone Cheesecake with Balsamic Strawberries
Topped with exquisite, glazed strawberries, this creamy Mascarpone Cheesecake with Balsamic Strawberries is one of my top 10 desserts. It's one of the most luscious cheesecakes you'll ever make and it's perfect for company!
If you love homemade cheesecake, this Italian Cheesecake is a MUST try! I recommend planning an Italian-themed dinner just as an excuse to make this dreamy dessert!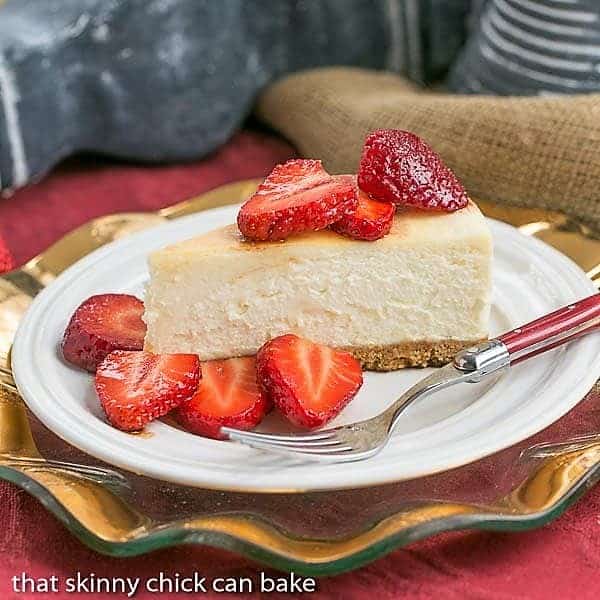 Why You Should Make this Mascarpone Cheesecake
The addition of mascarpone cheese works its magic in this Italian-influenced cheesecake. Italian desserts like tiramisu are enticing, but this cheesecake has stolen my heart! The filling is lush and dreamy. And the berries?? Incredible.
Have you ever added balsamic vinegar and sugar to your strawberries??? They're phenomenal. Just don't use a cheap grocery store vinegar. An aged, syrupy balsamic is key.
Between having my brother-in-law over for dinner and hosting my book club, this dessert had plenty of taste testers. Dan immediately asked if this mascarpone cheesecake with balsamic strawberries recipe was on my blog plus I heard plenty of swoons from my book club friends, even one who swears she's not a cheesecake fan. How's that for an endorsement??
Frequently Asked Questions
What is an Italian Cheesecake?
Authentic Italian cheesecakes are drier and less sweet than American-style cheesecakes. They also use ricotta instead of cream cheese. Though this cheesecake does not use ricotta, it has an Italian twist by using Italian mascarpone cheese instead of sour cream.

If it's hard for you to find this soft cheese near you, it's super easy to make mascarpone at home.
Why do You Add Balsamic Vinegar to Strawberries?
This combination may sound unusual, but it works! It's important to add well-aged, sweet, and syrupy balsamic vinegar. You'll know it's a good balsamic vinegar by the price; a balsamic vinegar that's aged 18 years is expensive. But a little goes a long way.

The acid in the vinegar balances the sweetness, accentuates the flavor of the berries, and is truly an exquisite, memorable pairing. Since balsamic vinegar can be traced back to the Modena region of Italy as far back as the late 16th century, it's another way this is an Italian cheesecake.
How Else Can You Use Balsamic Strawberries?
These incredible berries can be used to top ice cream, pavlova, angelfood cake, shortcakes, or anything else you'd top with fresh, sweetened berries.
Tips for Making the Best Cheesecake:
One of the keys for a creamy cheesecake is to have all your ingredients at room temperature—the eggs, the cream cheese, and the mascarpone. This ensures the batter will be smooth and creamy.
If you have a stand mixer, use the paddle attachment instead of the whisk. This allows the batter to mix well without adding excess air which can alter the texture.
Add the eggs one at a time and mix just until each is incorporated.
Do not overmix the batter. Stopping to scrape down the bottom of the bowl a few times will help make sure you don't need to run the mixer any longer than necessary.
Bake your cheesecake in a bain-marie or water bath.
This helps prevent cracking and the steam created may also help make for a creamier cheesecake.
Make sure to wrap your springform pan in a couple of layers of heavy-duty foil so that no water seeps into the pan when it's baked.
Check out my hints for making a perfect cheesecake on this post.
Helpful Tools:
More Recipes Using Mascarpone: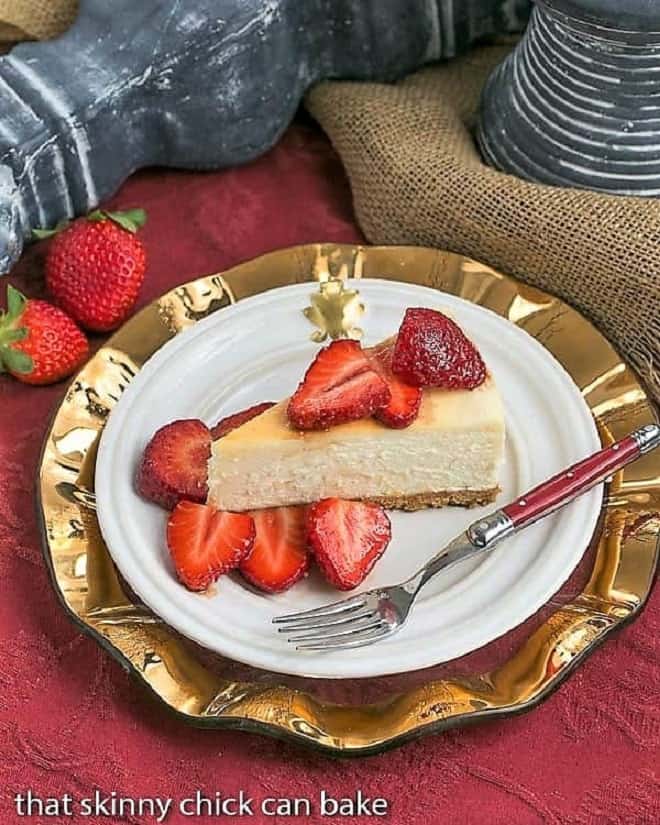 Progressive Eats
Welcome to Progressive Eats, our virtual version of a Progressive Dinner Party. This month's theme is Wine and Cheese and is hosted by Jenni Field, who blogs at Pastry Chef Online. For our Wine and Cheese Theme, everyone has made a recipe that contains wine, cheese or both. We have some sweets for you, some savories and even a refreshing wine-based beverage!
If you're unfamiliar with the concept, a progressive dinner involves going from house to house, enjoying a different course at each location. With Progressive Eats, a theme is chosen each month, members share recipes suitable for a delicious meal or party, and you can hop from blog to blog to check them out.
More Recipes with Wine or Cheese
Savories
Sweets
Bonus Beverage

Don't Forget to Subscribe!
Have you subscribed to my weekly newsletter? You'll get the latest blog recipes plus some seasonal favorites delivered to your inbox every Saturday morning! And as a bonus, you'll receive a series of 5 Tips & Recipes for Leveling Up Your Desserts! Of course, you can unsubscribe at any time!!
SUBSCRIBE HERE—> https://bit.ly/3tLQIcL
This recipe was first shared in 2011. Photos and text were updated in 2018 and 2021.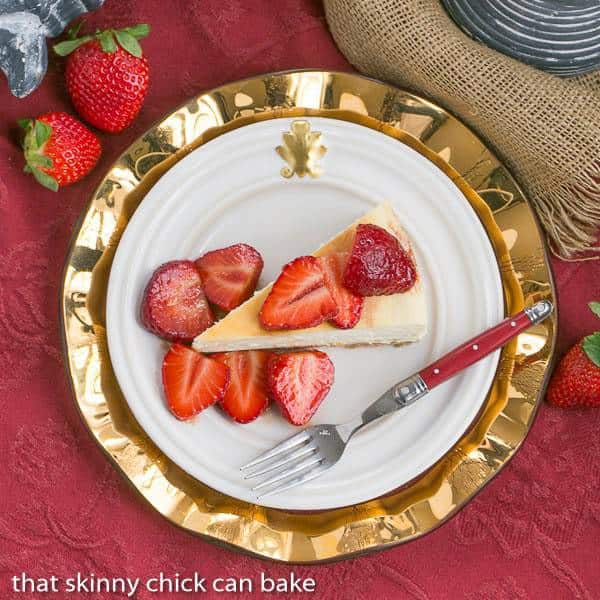 The Recipe:
Mascarpone Cheesecake with Balsamic Strawberries
Prep Time 30 minutes
Cook Time 1 hour 10 minutes
Total Time 1 hour 40 minutes
Yield 10 servings
A luscious, creamy cheesecake with an Italian flair! Adapted from Bon Appetit.
Ingredients
For Crust:
1 1/2 cups graham cracker crumbs
6 tablespoons (3/4 stick) butter, melted
For cheesecake:
2 pounds cream cheese (4 eight-ounce packages), at room temperature
8 ounces mascarpone cheese at room temperature
1 1/4 cups sugar
2 eggs, at room temperature
1 teaspoon vanilla
For balsamic strawberries:
3 cups sliced strawberries (stems and hulls removed before slicing)
1/4 cup good quality balsamic vinegar
1/2 cup sugar
Instructions
Wrap the exterior of a 9-inch-diameter springform pan with 2 layers of heavy-duty foil. Mix graham cracker crumbs and butter in bowl. Press mixture evenly onto bottom only of springform pan. Place in freezer while preparing cheesecake mixture.
Preheat oven to 350°. Using a stand mixer with the paddle attachment, beat cream cheese, mascarpone and 1¼ cups sugar in large bowl until smooth. Add eggs one at a time; beat just until blended. Spread cheesecake batter evenly over prepared crust.
Place springform pan in large roasting pan. Pour enough hot water into roasting pan to come halfway up sides of springform pan. Bake until cheesecake is golden and center of cake moves just slightly when pan is shaken, about 1 hour 10 minutes.
Transfer cake to rack; cool 1 hour. Then chill at least 8 hours.
Mix strawberries, sugar and vinegar in large bowl. Let stand at room temperature until juices form, about 30 minutes.
Serve slices of cheesecake with strawberries.
Notes
If you don't have a stand mixer, this can be made using a hand mixer.
Nutrition Information:
Yield:
10
Serving Size:
1 slice
Amount Per Serving:
Calories: 644
Total Fat: 44g
Saturated Fat: 25g
Trans Fat: 0g
Unsaturated Fat: 14g
Cholesterol: 160mg
Sodium: 458mg
Carbohydrates: 56g
Fiber: 1g
Sugar: 46g
Protein: 9g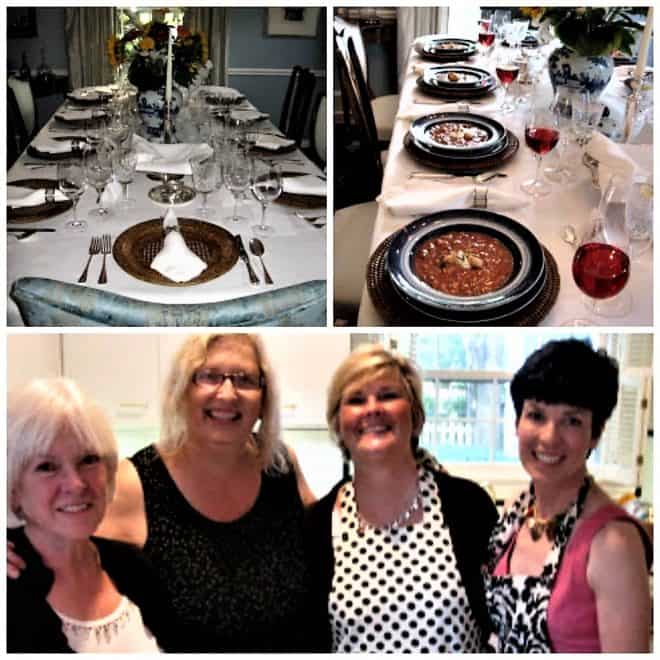 I made this mascarpone cheesecake for a dinner party that was auctioned off at a local fundraiser!
Note: This post may contain affiliate links; view
my Disclosure Policy
for details. I earn a small percentage from any purchase you make by clicking on these links at no extra cost to you.