Mascarpone Cheesecake Filled Strawberries
Transform luscious, juicy berries into a bite-sized dessert with this delectable recipe for Mascarpone Cheesecake Filled Strawberries.
These Cheesecake Stuffed Strawberries are as tasty as they're beautiful!!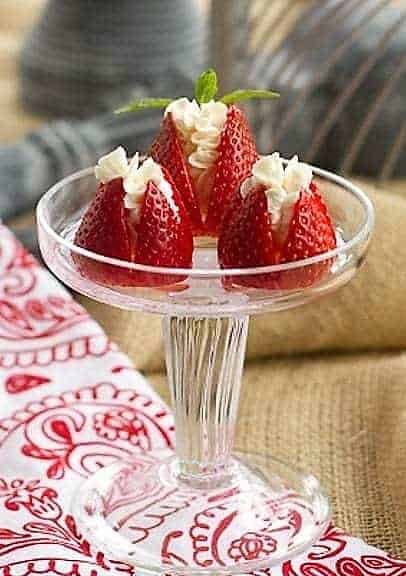 Why You Must Make
I have been making cream cheese-stuffed strawberries for many, many years. They are a gorgeous addition to a fruit tray or even as a healthier sweet on a dessert buffet.
The iconic combination of strawberries and cream is perfectly demonstrated in this easy recipe.
My latest twist was to try Mascarpone Filled Strawberries. Don't they look scrumptious? They're "almost" a guilt-free dessert!
Ingredient Notes
Large Strawberries – Look for ripe, fragrant berries without white, yellow or green areas around the stem end. The seeds shouldn't look dehydrated and the skin should be a deep red with a slight sheen.
Mascarpone Cheese – Look for a firmer brand if you want to pipe the filling into the berries. I found that Vermont Creamery's version was too loose.
Heavy Cream – 36% butterfat.
Sugar
Vanilla Extract – Never use artificially flavored vanilla. The bottle should say real vanilla extract.
Recipe Tips
You don't need a fancy piping bag and tip to make these. I have always used a Zip-loc bag with the corner cut off to fill my strawberries. Feel free to top yours with sliced almonds; they add a nice crunch to contrast with the sweet juicy berries and creamy filling.
You can stuff from either end of the berries. If you choose to fill from the tip end (top photo),  first cut off the stem so the bottom is flat. Then from top to bottom, cut almost all the way through with two perpendicular slices. Make sure not to cut all the way through the berries.
Alternatively, you can fill the strawberry from the stem end. In this case, I cut a small slice off the tips of my berries. This allows them to sit upright on a platter without wobbling. Then using a paring knife, I open up a cavity in the stem end for the mascarpone mixture.
These mascarpone-filled strawberries would be a nice surprise for your sweetie on Valentine's morning. I think mine would faint if I made him breakfast!!! Granted, he does leave the house before 6 AM. At least that's my excuse for now.
PRO-Tip: Some mascarpone is looser than others. You'll need a firmer version, more like cream cheese, or your filling will be too soft to pipe or stuff your berries.
I've used Martha Stewart's version with cream cheese, powdered sugar, and vanilla, which were topped with toasted sliced almonds. I shared this recipe early in my blogging career, and it was recognized by the now-defunct Foodbuzz as one of their Top 9 posts. Such a thrill for a new blogger.
Frequently Asked Questions
How Do You Select the Best Strawberries?
There are two seasons for beautiful, ripe strawberries here in the Midwest. Local strawberries ripen in late spring, then California strawberries fill in the gap for the rest of the summer. Around November, Florida's crop is available, just in time for the holidays.
When choosing your strawberries, look for bright red berries with no white or green around the stem area. The exterior should look glossy and the tiny seeds should look fresh, not dry. There should be no blemishes, soft spots, or signs of mold.
Inhale and you should smell the lovely aroma of sweet berries. If they don't smell like strawberries, they won't taste like fresh ripe berries. 
How Do You Hollow Out a Strawberry?
There are a few techniques. First, you can cut off the stem end and use a paring knife to carefully remove the core and expand the opening if needed.

There are also special (affiliate link) coring tools designed especially for strawberries. You can also use a sturdy straw as your coring device. Remove the leaves and insert the straw into the core. It leaves a nice round opening that will need to be enlarged for stuffing.
And I haven't tested this, but have heard you can grab the stem end, twist, and pull to remove the leaves and core.
What is Mascarpone Cheese?
Mascarpone is a soft, rich, buttery double to triple cream cow's milk cheese that originated in the Lombardy region of Italy.
If you have trouble finding mascarpone in your market, it's easy to make Homemade Mascarpone Cheese in your kitchen! You may also substitute cream cheese in a pinch.
You May Also Like:
Stay in touch through social media @ Instagram, Facebook, and Pinterest. Don't forget to tag me when you try one of my recipes! And if you love the results, please give it a 5-star rating in the recipe card. Note: As an Amazon Associate, I earn from qualifying purchases. Visit my Amazon Store for my favorite products.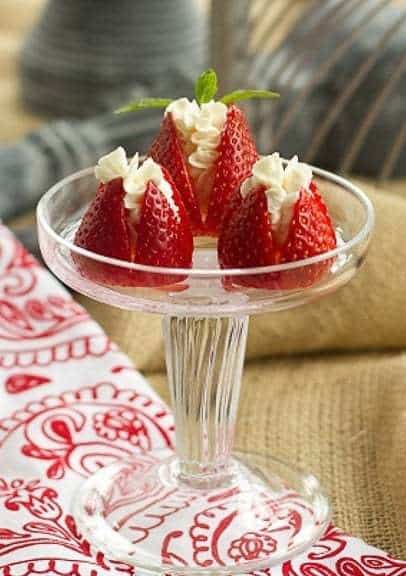 The Recipe:
Mascarpone Filled Strawberries
Prep Time 20 minutes
Total Time 20 minutes
Yield 16 berries
Sweet ripe strawberries filled with mascarpone cream.
Ingredients
16 large strawberries
½ cups Mascarpone cheese
¼ cup cream
2 tablespoons sugar
1 teaspoon vanilla
Instructions
Prepare strawberries. To make the presentation in the top photo, trim off the stem end, then place the stem end down on a cutting board.
Cut each berry into quarters from the top to almost the bottom of the berry, taking care not to cut all the way through. Place berries stem side down of serving platter.
An alternative is to trim a bit off the non-stem end to allow for the berry to stand upright. Slice off the stem end and remove the core. Place these on the platter with the stem side up.
To make the filling, beat Mascarpone with cream, sugar, and vanilla till smooth.
Put filling into a piping bag fit with a star tip or even a Zip-loc bag with just a corner cut off.
Pipe the filling into the middle of each berry. Garnish with a small sprig of mint if desired.
Notes
Look for red, fragrant strawberries for the best results.
The recipe is adapted from Driscoll's.
Nutrition Information:
Yield:
8
Serving Size:
2 strawberries
Amount Per Serving:
Calories: 86
Total Fat: 8g
Saturated Fat: 5g
Trans Fat: 0g
Unsaturated Fat: 2g
Cholesterol: 23mg
Sodium: 62mg
Carbohydrates: 4g
Fiber: 0g
Sugar: 3g
Protein: 1g
Note: This post may contain affiliate links; view
my Disclosure Policy
for details. I earn a small percentage from any purchase you make by clicking on these links at no extra cost to you.