Vanilla Bean Instant Pot Cheesecake
This Vanilla Bean Instant Pot Cheesecake is the creamiest cheesecake ever! The IP envelops the cheesecake in steam for a luscious result!
I was shocked by my first taste of this instant pot dessert. Cooked under pressure, in a humid environment, I was certain the crust would be wet and unappealing. But much to my delight, the crust was perfect and the cheesecake was ultra-smooth and creamy!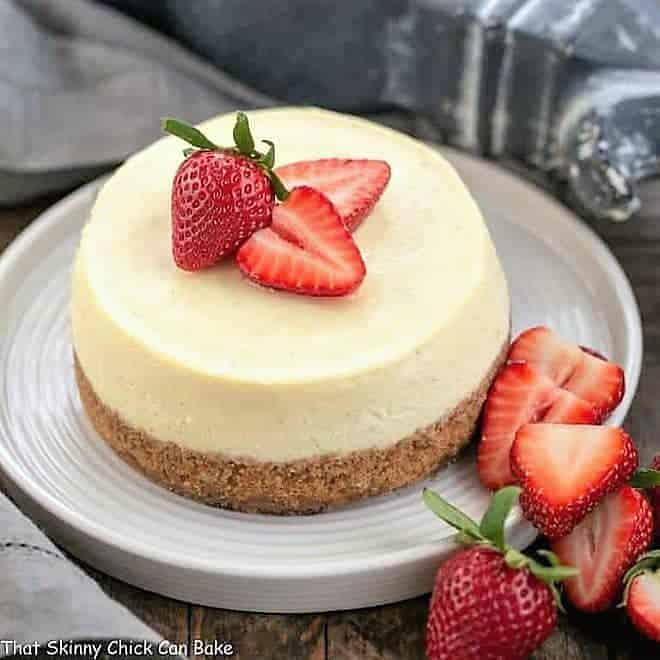 Why You Must Make
Being without a kitchen (and dishwasher!) has pushed me to think outside the box. AND to take my Instant Pot out of its box. I dusted off my smallest springform pan and got to work on this vanilla bean instant pot cheesecake.
A cheesecake cooked in a pressure cooker results in the silkiest cheesecake my family and I have ever tasted!
It's only 6 inches in diameter, which is the perfect size to alleviate your cravings without feeling like you've overindulged. Your coronary arteries may be breathing a sigh of relief.
If your oven is busy or you don't want to heat up your kitchen, using an instant pot is a great solution.
The texture of this instant pot cheesecake was noticeably denser and silkier than any cheesecake of late that's come from my kitchen. And I've made a LOT of delicious cheesecakes!!!
Ingredient Notes:
Graham Cracker Crumbs – either boxed crumbs or make your own with whole graham crackers ground in a food processor.
Butter – melted, salted is fine.
Sugar – regular granulated sugar.
Cream Cheese – at room temperature for easier incorporation.
Vanilla Bean Paste (or vanilla extract) – vanilla bean paste adds little specks of vanilla seeds, but it's more expensive. An equal amount of real vanilla extract is a viable substitute.
Eggs  – at room temperature for easier incorporation. If you don't get them out an hour or two before you want to start making the cheesecake, you can set them in a bowl of hot (not boiling) water to help them warm up quickly.
Heavy Cream – Adds to the richness and moistness of the cheesecake.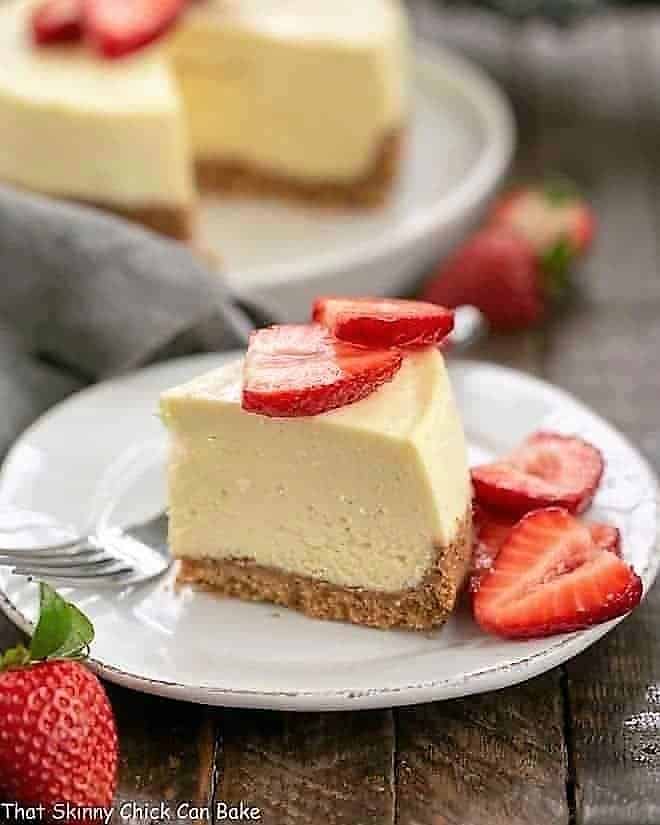 Frequently Asked Questions
Besides shortening the cooking time, an Instant Pot also steams the cheesecake resulting in a super moist, creamy dessert. The texture of this pressure cooker cheesecake was noticeably denser and silkier than any cheesecake of late that's come from my kitchen. And I've made a LOT of delicious cheesecakes!!!
Why is an Instant Pot Cheesecake so creamy?
An instant pot surrounds the cheesecake with moisture or steam as it cooks. In the small confined space of a pressure cooker, none of the steam can escape so the cheesecake stays super moist.
How do you Prevent a Cheesecake Crust from Getting Soggy?
Springform pans are known to leak on occasion, so wrapping the bottom in a layer of aluminum foil provides another safeguard to prevent water from leaking into the crust.
What Size of Springform Pan do you Need?
It depends on the size of your Instant Pot. I used a 6-inch springform pan as it fit into my pressure cooker. That's what this recipe is based upon. If you use a bigger or smaller springform pan, the cooking time will need to be adjusted.
What's the Best Way to Slice a Cheesecake?
Use a hot knife. Run your knife under hot water for a minute, dry it, then slice. Wipe it clean and reheat and dry as necessary.
How Do You Know When an Instant Pot Cheesecake is Done?
Only the very center should jiggle when you nudge the pan. If a larger area of the cheesecake moves, then it needs to be cooked longer, up to 3 more minutes.

You can also check the internal temperature with an Instant Read thermometer. If the reading is 140-150 degrees, the cheesecake is done.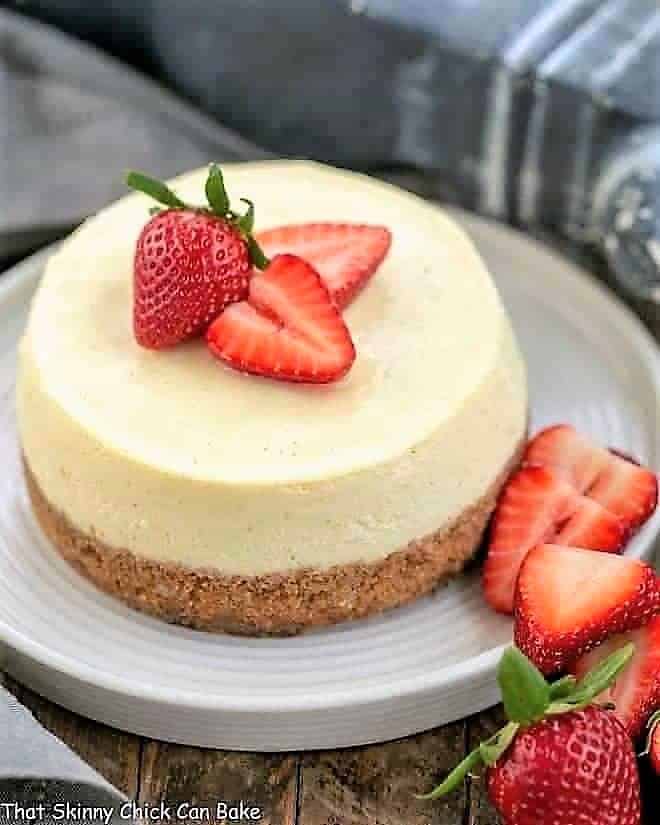 You May Also Like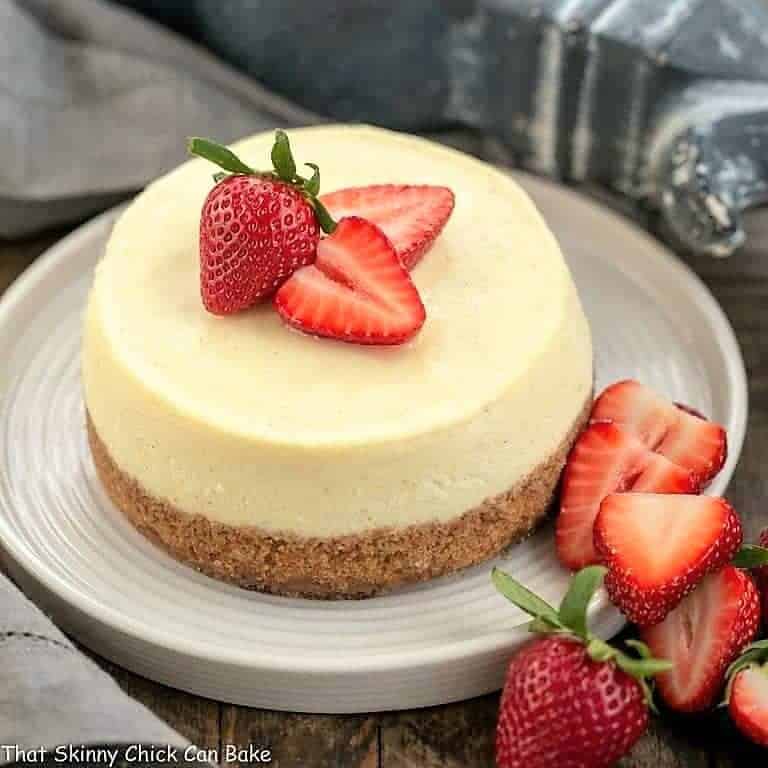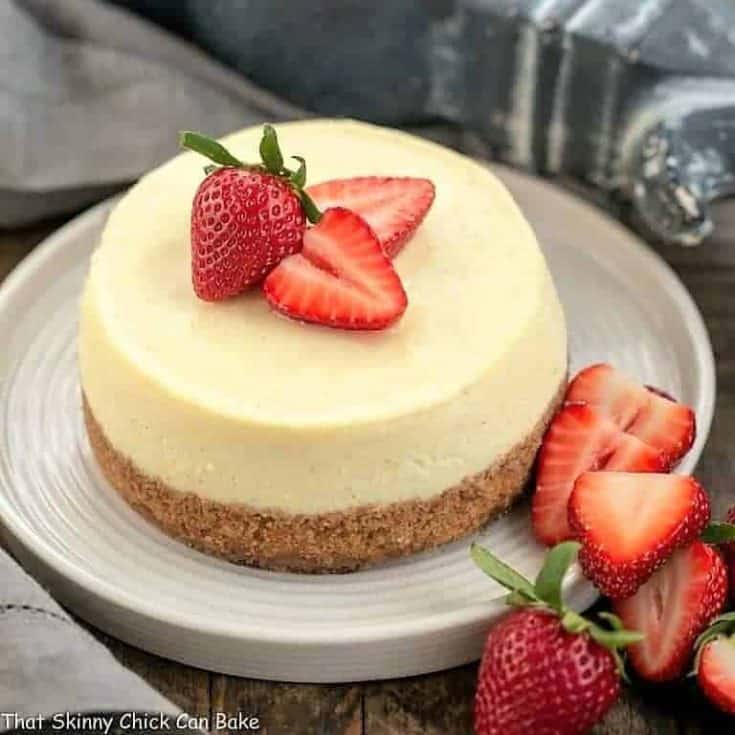 The Recipe:
Vanilla Bean Instant Pot Cheesecake
Prep Time 30 minutes
Cook Time 25 minutes
Total Time 55 minutes
Yield 6 servings
A small creamy cheesecake that may be the best you've ever tasted!
Ingredients
Crust:
3/4 cup graham cracker crumbs
1 1/2 tablespoons butter, melted (1 tablespoon plus 1 1/2 teaspoons)
1 1/2 tablespoons sugar
Cheesecake:
12 ounces cream cheese, at room temperature
1/4 cup plus 1 tablespoon sugar
1/2 teaspoon vanilla bean paste (or vanilla extract)
2 eggs, at room temperature
2 tablespoons cream
Instructions
Spray a 6-inch springform pan with non-stick cooking spray. Wrap the pan in a layer of aluminum foil and set it aside.
If you don't own a silicone IP sling (see link above), make a homemade version with foil (link to complete instructions above).
Combine the graham cracker crumbs, butter, and sugar in a small bowl. Press onto the bottom of the prepared pan and about an inch up the sides.
Beat the cream cheese with your mixer fit with a paddle attachment until smooth, then add sugar and vanilla bean paste and mix until combined.
Beat in eggs, one at a time just until incorporated, then mix in the cream.
Scrape out the cheesecake filling into the springform pan and smooth the top with an offset spatula.
Add one cup of water to your Instant Pot, then place the trivet in the bottom. Place your sling over the trivet, then set the cheesecake on top of the sling.
Seal your pressure cooker and set it on high pressure for 25 minutes. When the timer goes off, allow the pressure to reduce naturally.
Carefully remove cheesecake from the instant pot to a cooling rack. Use a paper towel to dab any moisture that has accumulated on the surface. When cooled to room temperature, place in the refrigerator and chill overnight for the best results.
Notes
Timing will vary if you use a different size pan.
Recommended Products
As an Amazon Associate and member of other affiliate programs, I earn from qualifying purchases.
Nutrition Information:
Yield:
6
Serving Size:
1
Amount Per Serving:
Calories: 331
Total Fat: 27g
Saturated Fat: 15g
Trans Fat: 0g
Unsaturated Fat: 9g
Cholesterol: 133mg
Sodium: 274mg
Carbohydrates: 17g
Fiber: 0g
Sugar: 10g
Protein: 6g
Note: This post may contain affiliate links; view
my Disclosure Policy
for details. I earn a small percentage from any purchase you make by clicking on these links at no extra cost to you.