Boston Cream Pie Cheesecake
When cheesecake and Boston cream pie collide, the result is this glorious layered Boston Cream Pie Cheesecake!
A tender vanilla sponge cake is topped with a rich dreamy cheesecake followed by pastry cream and ganache for an exquisite, unforgettable dessert. There's nothing better than a new homemade cheesecake recipe to try!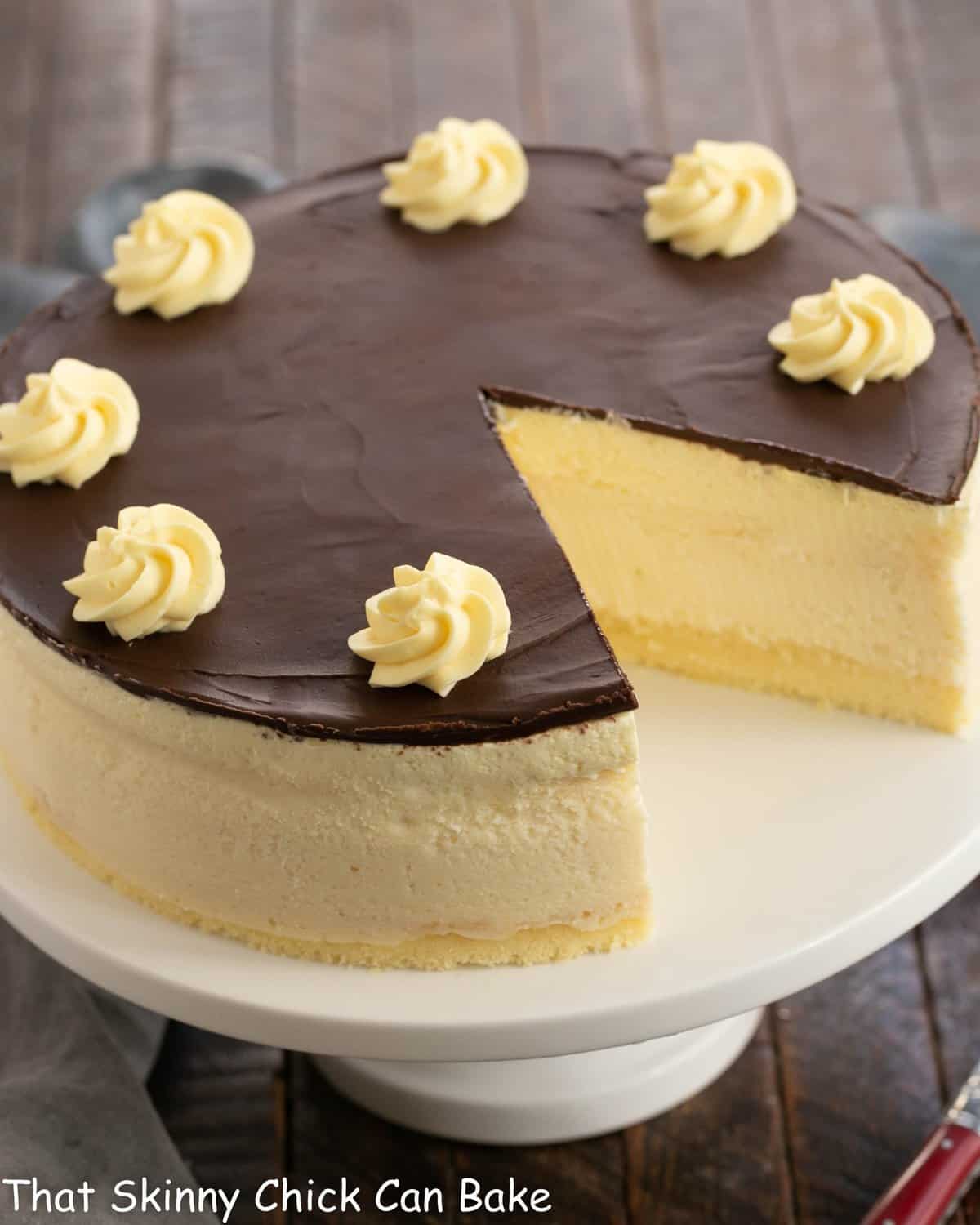 Why You Must Make
When a dreamy vanilla cheesecake marries a Boston cream pie, you'll swoon over the results!
Have you heard the term "mashups?" It's when you get TWO desserts in one.
Plus it's a work of art that's perfect for a big family gathering or intimate dinner party. You only need a little sliver, as this Boston cream pie cheesecake is ultra-rich but incredibly delicious!
How to Make
Bake the Cake base for this cheesecake. Cool.
Make the Cheesecake Batter and pour it over the cake layer. Bake, cool, then chill completely.
Make the Pastry Cream and Spread it over the Cheesecake. You may reserve some of the pastry cream for garnishing.
Make the Chocolate Glaze and let it cool until it thickens but is still pourable.
Pour the glaze over the pastry cream and Chill again.
Once the chocolate layer is firm, you may Pipe on swirls of reserved pastry cream if desired.
To Serve, remove the sides of the springform pan and move to a serving plate or cake stand.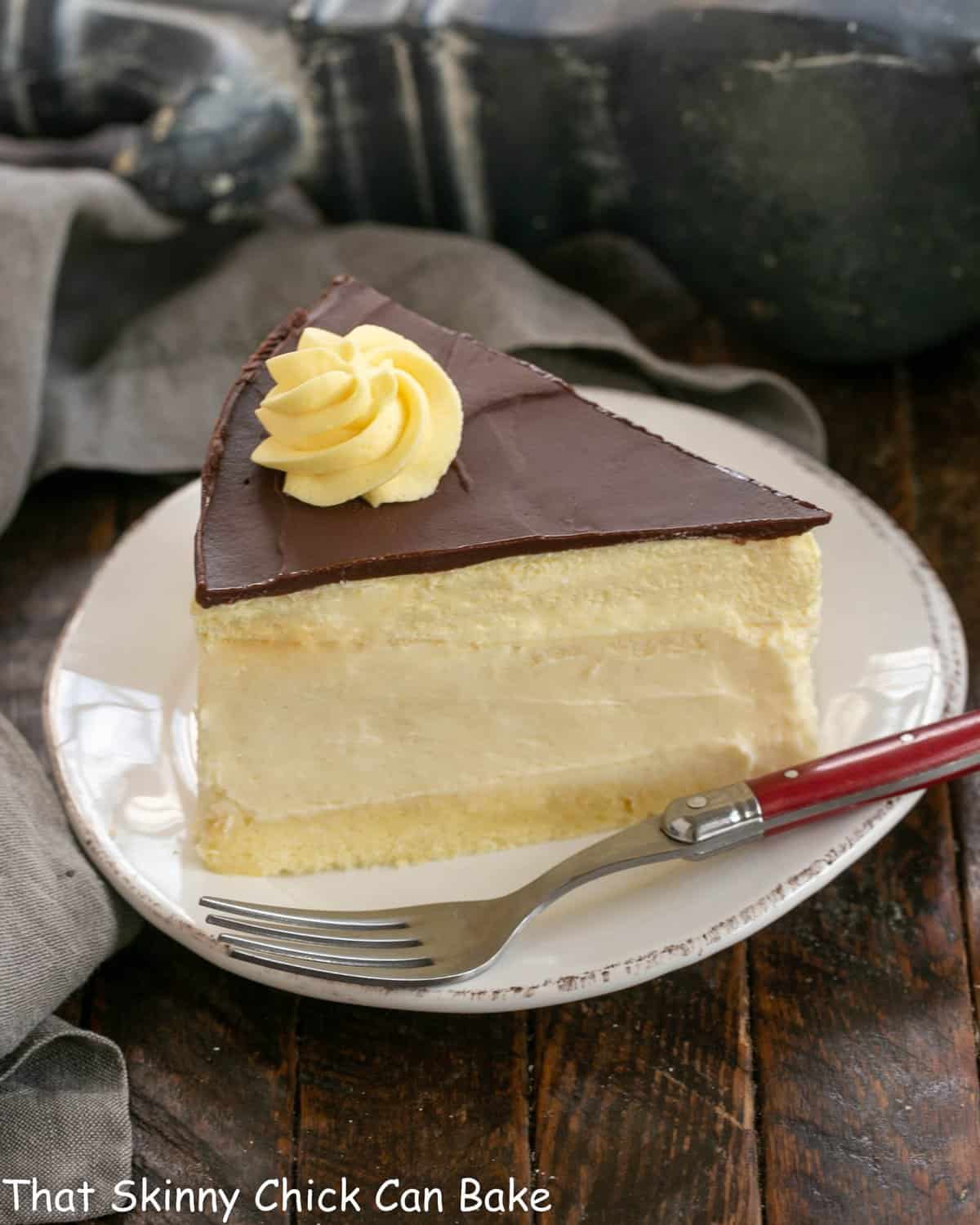 Expert Tips
Cheesecake is one of my daughter's favorite desserts, so it's frequently on our menu. There are a few vital tips that will help you bake up a super creamy cheesecake.
PRO-Tip: Start with room-temperature ingredients. The eggs and cream cheese should sit out on the counter for at least an hour before you start mixing. Sour cream, mascarpone or any other refrigerated ingredients will also incorporate much better if not icy cold.
Whether or not the recipe calls to wrap your springform pan (affiliate links) in foil, I always do, especially since most cheesecakes are baked in a bain marie, or water bath. No one wants a soggy crust!
PRO-Tip: To help your cheesecake bake more evenly, and to avoid the dreaded cracking across the surface, bake your cheesecake in a water bath.
I use a roasting pan for my bain-marie, the same pan in which I cook our holiday turkey. I place the pan wrapped in foil into the center of the pan, then pour hot water into the roaster to a depth of about 1 1/2 inches.
The bain-marie helps stabilize the baking temperature. If you do get a crack or two, don't panic. Just add a topping that works well with the flavor of your cheesecake: fudge sauce, ganache, fresh fruit, etc.
PRO-Tip: Use the paddle attachment when mixing your cheesecake. Using a whisk attachment will incorporate too much air. You want a dense, smooth batter.
Add the eggs one at a time and allow each to incorporate before adding the next.
Frequently Asked Questions
What is a Boston Cream Pie?
It's not actually a pie at all, but instead a cake with a custard filling. It's topped with either powdered sugar or a chocolate glaze.
What is Boston Cream Pie Filling Made of?
Pastry Cream or Creme Patissiere is used to fill Boston Cream Pies. True pastry cream is a flour-based egg custard that contains milk, eggs, flour, and sugar. It's often flavored with vanilla extract.

This recipe uses a shortcut involving instant pudding. It works great, but if you're a purist, you can definitely make a pastry cream from scratch.
Where was the First Boston Cream Pie Made?
The owners of the Parker House Hotel in Boston claim that their French chef, Raelyn, created it in 1881.
You May Also Like: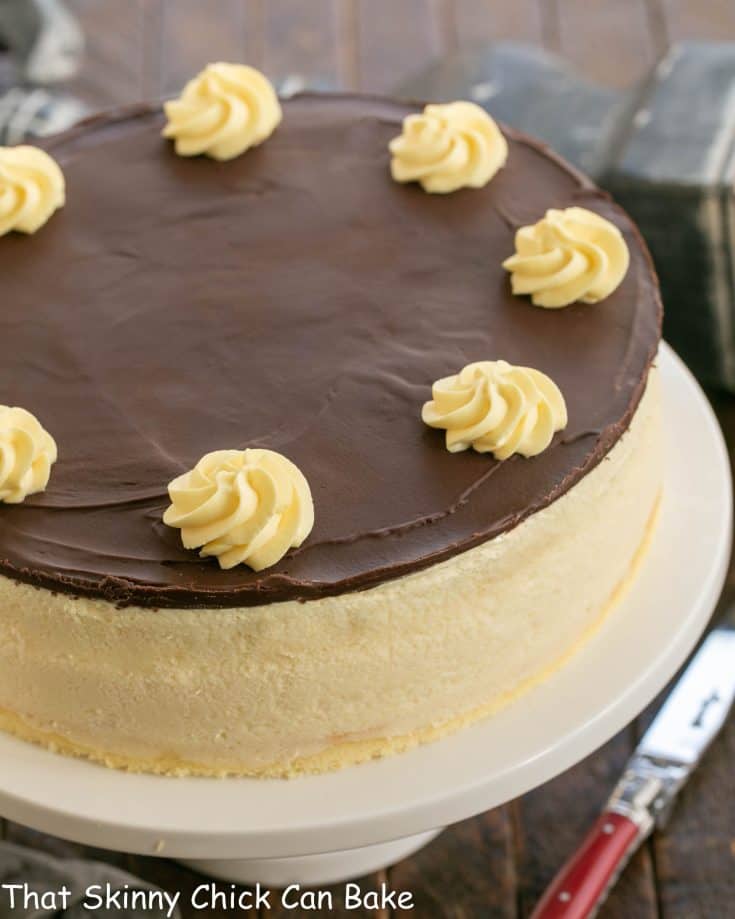 The Recipe:
Boston Cream Pie Cheesecake
Prep Time 45 minutes
Cook Time 1 hour 40 minutes
Total Time 2 hours 25 minutes
Yield 16
When cheesecake and Boston cream pie collide, the result is this glorious layered Boston Cream Pie Cheesecake!
Ingredients
Cake Layer
½ cup sifted cake flour
1 teaspoon baking powder
1 pinch salt
3 large eggs, separated
⅓ cup sugar
2 tablespoons sugar
1 teaspoon pure vanilla extract
3 tablespoons unsalted butter, melted
¼ teaspoon cream of tartar
Cheesecake Layer
4 (8 ounce) packages cream cheese
1⅔ cups sugar
¼ cup cornstarch
1 tablespoon pure vanilla extract
2 large eggs
¾ cup heavy whipping cream
Pastry Cream
1 pint heavy cream
1 package instant vanilla pudding (3.4 OUNCES)
⅓ c. milk
Chocolate Glaze
4 ounces semisweet chocolate, coarsely chopped
1 tablespoon light corn syrup
4 tablespoons butter
Instructions
Instructions
Sponge cake:
Preheat the oven to 350 F and generously butter a 9-inch springform pan.
I would wrap outside of pan with foil as mine leaked a bit!
Sift the cake flour, baking powder, and salt together in a medium-sized bowl and set aside.
Beat the egg yolks together in a large bowl with an electric mixer on high for 3 minutes.
Then, with the mixer still running, gradually add the ⅓ cup of sugar and continue beating until thick light-yellow ribbons form in the bowl, about 5 minutes more.
Beat in the vanilla.
Sift the flour mixture over the batter and stir it in by hand until no more white flecks appear.
Then blend in the butter.
In a clean bowl, using clean dry beaters beat the egg whites and cream of tartar together on high until frothy.
Gradually add the remaining 2 tablespoons sugar and continue beating until stiff peaks form (the whites should stand up in stiff peaks, but not be dry).
Stir about ⅓ cup of the whites into the batter, then gently fold in the remaining whites.
Gently spoon the batter into the pan.
Bake until just set about 13-15 minutes.
Cool in the pan on a wire rack while you make the cheesecake filling which will go right on top of this.
Cheesecake Batter
Place one 8-ounce package of the cream cheese, ⅓ cup of the sugar, and the cornstarch in a large bowl.
Beat with an electric mixer on low until creamy, about 3 minutes, then beat in the remaining 3 packages of the cream cheese.
Increase the mixer speed to high and beat in the remaining 1⅓ cups of the sugar, then beat in the vanilla.
Blend in the eggs, one at a time, beating the batter well after each one.
Blend in heavy cream.
Gently spoon the cheese filling on top of the baked sponge cake layer.
Keep foil on outside of springform pan and place the pan in a large shallow pan containing hot water that comes about 1 inch up the side of the pan.
Bake the cheesecake until the center barely jiggles when you shake the pan, about 75-85 minutes.
Cool the cake on a wire rack for 1 hour.
Then cover the cake with plastic wrap and refrigerate until it's completely cold, at least 4 hours or overnight.
Pastry Cream
Beat all ingredients on high in the mixer until thick.
Pipe or spread onto the cold cheesecake and chill again.
Remove the side ring of the pan carefully.
Chocolate
Combine all ingredients in microwave-safe dish and heat until melted. Let cool quite a bit before pouring onto cake over the cream. Chill until serving time.
Notes
Have your eggs and cream cheese at room temperature for the best results.
Nutrition Information:
Yield:
16
Serving Size:
1 slice
Amount Per Serving:
Calories: 401
Total Fat: 25g
Saturated Fat: 15g
Trans Fat: 1g
Unsaturated Fat: 8g
Cholesterol: 120mg
Sodium: 116mg
Carbohydrates: 43g
Fiber: 1g
Sugar: 36g
Protein: 4g
Note: This post may contain affiliate links; view
my Disclosure Policy
for details. I earn a small percentage from any purchase you make by clicking on these links at no extra cost to you.