Boston Cream Pie Cupcakes
Boston Cream Pie Cupcakes tender, moist cupcakes filled with rich vanilla custard and finished with a swirl of chocolate ganache.
Frosted Filled Cupcakes offer a surprise in the middle. What looks like an ordinary vanilla cupcake with chocolate frosting will reveal the bonus pastry cream after that first bite. What a heavenly surprise!
Why You Should Make these Custard Filled Cupcakes
These cupcakes fulfill the cravings of the chocolate cream pie fans and the chocolate lovers! That covers my whole family.
Cupcakes, even very decadent cupcakes, have built-in portion contol.
And they're portable so putting them back in your cupcake tin when they're frosted makes them easy to transport to a picnic or party.
Another of our favorite cupcakes are these Frosted Black Bottom Cupcakes.
Boston Cream Cupcakes
Bill, with his usual hesitance to try anything new, almost passed over one of these gems after lunch. "Uh, I'm not really into that sort of cupcake." Oh, really???? Homemade cupcakes, rich vanilla custard, and chocolate ganache?
He likes all three of those. He was persuaded to try one and quickly declared his love for these Boston Cream Pie Cupcakes, imagine that? Hmmmm, I guess I know his palate better than he does.
How to Make Filled Cupcakes
The first time I made Boston cream cupcakes, I took a tip from Martha Stewart, cut the cupcakes in half horizontally, and added a tablespoon of the vanilla custard on the bottom half of each cupcake, topping with the other half, and drizzling with the unchilled ganache.
This time, I used my cupcake coring tool and removed a cylinder from the middle of each cupcake. I had plenty of filling leftover, so feel free to scoop out even more cake to make a bigger receptacle for the filling.
PRO-Tip: If you don't have a cupcake coring tool, just use a serrated knife to cut out some of the middle of each cupcake without cutting through the bottom or sides.
Next, I used a narrow spoon to drop a scoop of filling into the well and smoothed the top. Using a piping bag with an open top is another terrific option.
Reserve the tops from each piece of cake removed from the middle of the cupcakes, and trim to make a cap to seal in the custard. This is optional. I've made filled cupcakes without adding the caps.
Cupcake Baking Tips:
Fill your cupcake papers only about 2/3 full so they don't overflow onto the top of the pan.
Check for doneness by either tapping the top of the cupcake with your finger and if it leaves an indentation, they need more baking time OR inserting a toothpick in the middle of a cupcake which will come out with only a moist crumb or two when the cupcakes are done.
Remember that there is a little carryover cooking time. The heat of the muffin tin will cook the cupcakes even when out of the oven. It won't help if the middles are still raw, but it could make the cupcakes a little dry if you find NO moist crumbs on your toothpick.
Frequently Asked Questions
What is a Boston Cream Pie?
If you've never seen nor eaten a Boston Cream Pie, it may surprise you that this "pie" is actually a cake. This dessert is made of two layers of sponge cake, a custard filling, and either a chocolate topping or dusting of powdered sugar. It's easy to see that these cupcakes are actually mini Boston cream pies or Boston cupcakes!
How Do You Store these Cupcakes?
Since they are filled with pudding, it's best to keep them covered and refrigerated. They'll keep for 3-4 days.
More Cakes and Cupcakes You'll Love:
This recipe was first shared in March 2011. Photos and the recipe were updated in 2021. The new improved recipe is from Hugs & Cookies. It's part of our series of cooking recipes from each other's blogs. Check out what Danielle made of mine this month!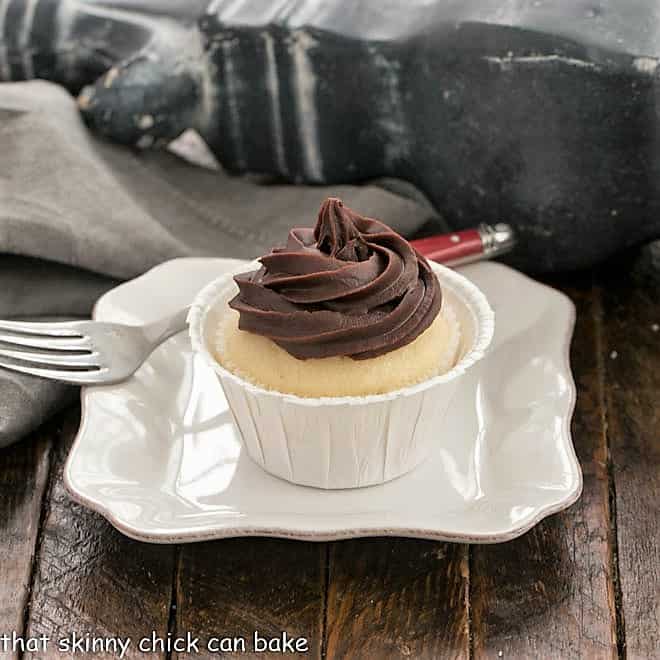 The Recipe:
Boston Cream Pie Cupcakes
Prep Time 30 minutes
Cook Time 30 minutes
Total Time 1 hour
Yield 12 cupcakes
Tender yellow cupcakes filled with pastry cream and topped with a swirl of chocolate ganache.
Ingredients
Cupcakes
6 tablespoons butter, at room temperature
¾ cup sugar
¼ cup plus 2 tablespoons sour cream
2 teaspoons vanilla
3 egg whites, (reserve 2 yolks for pastry cream)
1¼ cup flour
2 tsp. baking powder
¼ teaspoon salt
¼ cup plus 2 tablespoons milk
2 tablespoons water
Pastry cream
2 egg yolks
6 tablespoons sugar
1½ tablespoons cornstarch
1 cup + 2 tablespoons milk
1 tablespoon butter
1 teaspoon vanilla
Chocolate Ganache Frosting
12 ounces semi-sweet chocolate chips
2 tablespoons light corn syrup
¾ cup + 2 tablespoons heavy whipping cream
Instructions
Preheat the oven to 350°F and line a cupcake pan with cupcake liners.
In a mixer, cream butter and sugar together for about 4 minutes. Add sour cream and vanilla extract and mix until combined.
Add the egg whites and combine well.
Combine dry ingredients in a separate bowl.
In a measuring cup, combine milk and water.
Add half the dry ingredients to the mixer.
Then add the milk/water and finish with the rest of the dry ingredients. Mix until combined, scraping the bottom of the mixing bowl a couple of times.
Fill cupcake liners ½-⅔ full and bake for 15-18 minutes. Cool.
To make the pastry cream, put yolks in a bowl and whisk well.
Put the sugar, cornstarch, and milk in a saucepan and cook on medium until the mixture starts to thicken while whisking constantly.
Lower the heat and simmer for 2 minutes then remove from the heat.
Add a little of the hot mixture to the yolks whisking continuously so the yolks don't cook.
Add the mixture back into the pot and bring to a gentle boil. Cook for 2 mins while stirring.
Remove heat and stir in butter/vanilla. Cover the surface with plastic and cool.
To make the ganache, bring the cream to a boil and pour over the chocolate and corn syrup in a heatproof bowl.
Cover and let sit a few minutes and then whisk until smooth.
To assemble, cut out the center of each cupcake and fill with pastry cream. Replace the top with a small piece of cake you cut out.
Pipe on the ganache to frost each cupcake once it thickens.
Store in the refrigerator.
Notes
Recipe adapted from Martha Stewart.
Ateco tip 844 is the best! Even better than my Wilton 1M for piping on the frosting.
Note: This post may contain affiliate links; view
my Disclosure Policy
for details. I earn a small percentage from any purchase you make by clicking on these links at no extra cost to you.