Hot Fudge Brownie Cheesecake
This Hot Fudge Brownie Cheesecake is a perfect special occasion dessert. But together, the 3 layers combine for an exquisite combination! Each component alone is incredibly delicious, but all together they make a fabulous grand finale for your meal. Nothing beats a marvelous homemade cheesecake!
When it's too chilly to eat a big ice cream sundae, this Brownie Cheesecake recipe will hit the spot! The thick layer of hot fudge will seal the deal.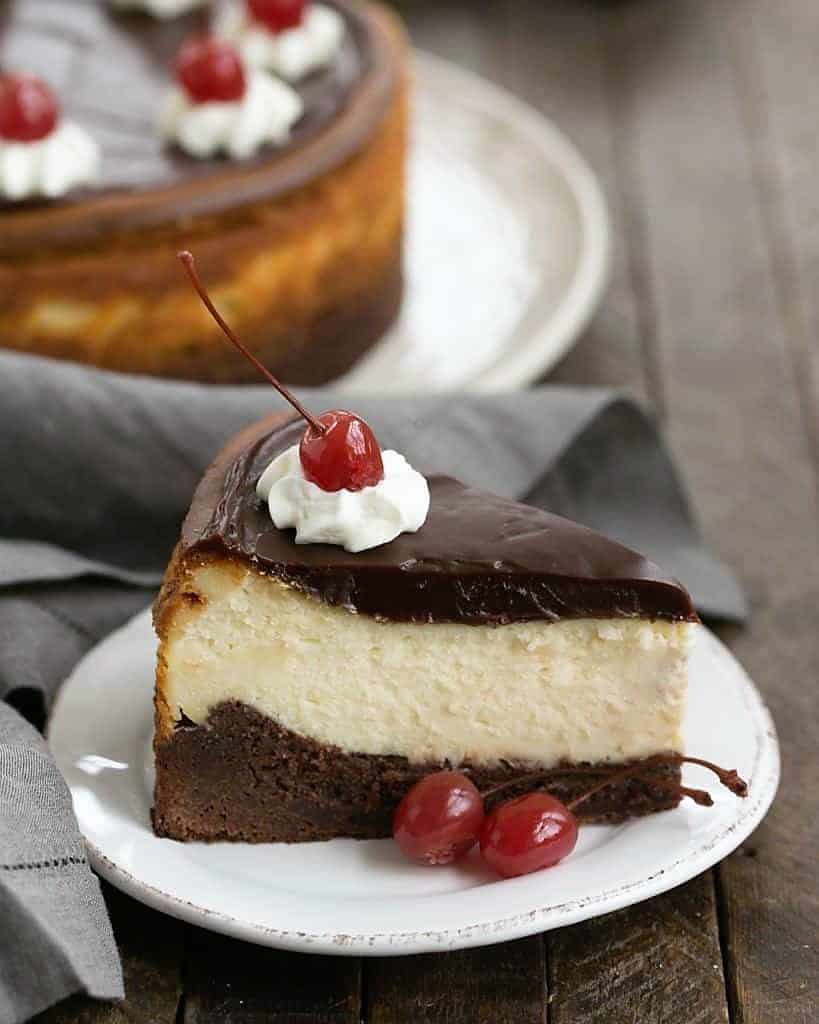 Why You Must Make
If you're looking for an impressive dessert, try this amazing brownie cheesecake.
First, a most dreamy vanilla cheesecake was layered over a thick fudgy brownie base. Then in true hot fudge sundae style, the whole shebang was topped with homemade fudge sauce, whipped cream, and cherries!
This is one of the richest cheesecakes you'll ever encounter. Don't think about the calories, it's for one of those infrequent diet splurges. I've stated that this cheesecake serves 16, but even the thinnest slices will satisfy your sweet tooth. You may be able to serve even more than 16.
Expert Tips:
PRO-Tip: Have all the ingredients at room temperature, especially the cream cheese, but including the eggs, cream, and/or sour cream depending on your recipe. This will help ensure a smooth batter. Just take them out of the refrigerator for about an hour or two before you plan to start mixing.
PRO-Tip: Use the paddle attachment so no unnecessary air is beaten into the batter. If you only have a hand mixer,  just be careful not to over mix.
When you add in the eggs, mix them in one at a time and only until just combined.
PRO-Tip: Baking in a water bath, or bain-marie, can help prevent the top from cracking. But when you are topping the finished cheesecake with fudge sauce, sour cream, lemon curd, etc, any cracks will not be noticeable.
Like most desserts, a cheesecake will slice easiest when cold, but it will be at its creamiest if it's brought out of the refrigerator an hour or up to 2 hours before serving.
Frequently Asked Questions
What Is in Hot Fudge Sauce?
Recipes will vary but most contain chocolate or cocoa powder, sugar, butter, heavy cream, vanilla extract, and salt. Some will have corn syrup added as well.
Note that salt is used in desserts as a flavor enhancer, not to add a salty flavor.
Can You Use Chocolate Sauce Instead of Fudge Sauce?
No, hot fudge is thicker and richer. Chocolate Sauce is thinner, and pourable even when chilled. The chocolate sauce would slide right off the cheesecake.
How Do You Slice a Cheesecake?
Start with a well-chilled cheesecake. Your knife should be sharp, hot/warm, and clean.
After each cut, wipe the blade clean, then warm it by dipping it in hot water or quickly running the blade through the flame of your gas burner.
You May Also Like
Stay in touch through social media @ Instagram, Facebook, and Pinterest. Don't forget to tag me when you try one of my recipes! And if you love the results, please give it a 5-star rating in the recipe card. Note: As an Amazon Associate, I earn from qualifying purchases. Visit my Amazon Store for my favorite products.
The Recipe:
Hot Fudge Brownie Cheesecake Recipe
Prep Time 30 minutes
Cook Time 1 hour 40 minutes
Total Time 2 hours 10 minutes
Yield 16
This Hot Fudge Brownie Cheesecake is a perfect special occasion dessert. Each layer alone is incredibly delicious, but all together, they form an exquisite grand finale for your meal. 
Ingredients
Brownie Layer:
My fudgy brownie recipe* or your favorite box mix
Cheesecake Layer:
Four 8-ounce packages of cream cheese, at room temperature
1 2/3 cups sugar
1/4 cup cornstarch
1 tablespoon vanilla
2 eggs, at room temperature
3/4 cup whipping cream
Hot Fudge:
4 tablespoons butter, cut into chunks
1/4 cup light corn syrup
4 ounces unsweetened chocolate, chopped
3/4 cup brown sugar
3/4 cup sugar
1 1/2 cups heavy cream
1/4 teaspoon salt
2 teaspoons vanilla
Instructions
Grease a 9-inch springform pan that's at least 3 inches deep and set aside. Preheat oven to 350º.
Make brownies and scrape batter into the springform pan. Partially bake, about 20 minutes. Then decrease the oven temperature to 325º. Remove to a cooling rack and prepare the cheesecake batter.
Using a stand mixer fitted with the paddle attachment, beat 1 package of the cream cheese, ⅓ cup of the sugar, and the cornstarch together on low until smooth and creamy, about 3 minutes, scraping down the bowl several times.
Blend in the remaining cream cheese, one package at a time, beating well and scraping down the sides of the bowl after each addition.
Increase the mixer speed to medium and beat in the remaining sugar, then the vanilla.
Add the eggs, one at a time, beating well after each. Then beat in the cream just until completely blended. Do not over mix.
Spoon the cheesecake batter over the partially baked brownie layer. If your pan is not deep enough you may have excess batter**. Do not fill to the rim but leave at least 1/2 inch of space between the top of the batter and the top of the pan.***
Bake for 70-80 minutes or until almost set in the middle. To test, using pot holders, gently wiggle the cheesecake back and forth. When only the center jiggles a bit, it's done.
Make hot fudge. In a large saucepan, melt butter over medium heat and swirl it around in the pan to coat the sides.
Add corn syrup and chocolate and stir until chocolate melts.
Add both sugars, cream, and salt and continue to cook over medium heat, stirring occasionally until the mixture comes to a boil.
Using a candy thermometer, boil gently for 7 to 9 minutes, without stirring, until the sauce is thickened and the candy thermometer reaches 220-224º. Remove from heat.
Pour the fudge sauce into a heatproof bowl or 4 cup Pyrex measuring cup. Whisk in vanilla. Set aside to cool completely. Pour enough to fill the middle of the cake, then chill cheesecake overnight if possible.
Before serving, garnish with whipped cream and cherries!
Notes
* I used this fudgy brownie recipe
**Excess batter can be baked in a small pan or ramekins if desired.
***I filled my pan too full, but gently pressed down on the top when it came out of the oven. Danielle's cheesecake had cracks. Any flaw will be covered with hot fudge, so don't sweat it!
Recommended Products
As an Amazon Associate and member of other affiliate programs, I earn from qualifying purchases.
Nutrition Information:
Yield:
16
Serving Size:
1 slice
Amount Per Serving:
Calories: 583
Total Fat: 40g
Saturated Fat: 24g
Trans Fat: 1g
Unsaturated Fat: 13g
Cholesterol: 128mg
Sodium: 271mg
Carbohydrates: 52g
Fiber: 1g
Sugar: 46g
Protein: 6g
Note: This post may contain affiliate links; view
my Disclosure Policy
for details. I earn a small percentage from any purchase you make by clicking on these links at no extra cost to you.