Perfect Vanilla Cheesecake
This Perfect Vanilla Cheesecake is a classic dessert that's ideal for the cheesecake lovers in your life. Become a pro with my well-tested recipe and tips!! Jazzed up with berries or fudge sauce or simply enjoyed plain, it's certain to wow everyone who gets a taste!
A simple vanilla cheesecake can be transformed into more complex desserts! Add an Oreo crust, plus chunks of Oreo cookies to the batter for an Oreo cheesecake. Or a layer of ganache, then some Twix bars, and a drizzle of caramel for a Twix Cheesecake!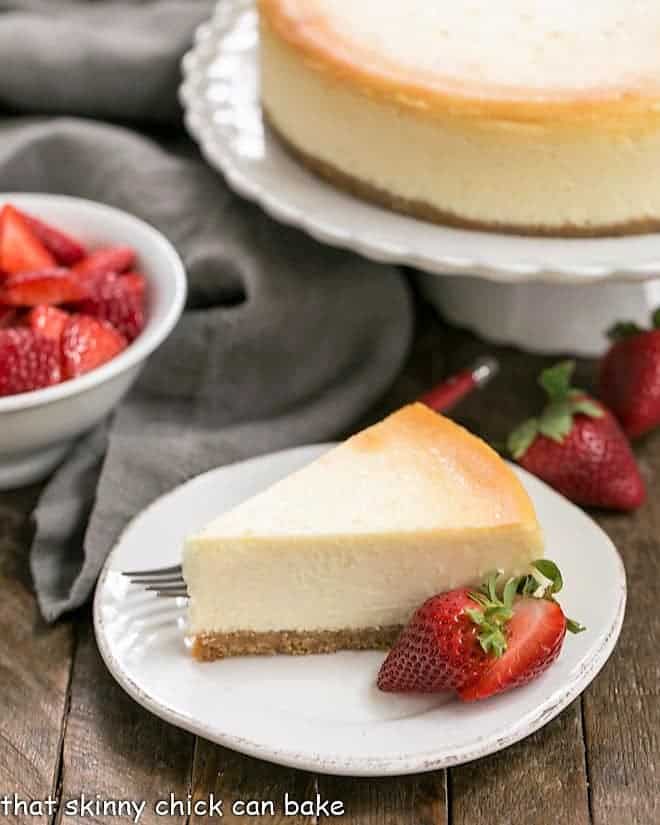 Why You Must Make
It was Katie's birthday and she was having a group of friends over to help her celebrate. A vanilla cheesecake was her request for the evening. Using a basic recipe with a few twists, like the addition of corn starch and a two-stage method of adding the cream cheese, truly makes the best cheesecake!
Vanilla is one of those flavors that is universally loved.
A slice of vanilla cheesecake is just waiting for some garnishes to jazz it up! Berries for a fruit lover, fudge sauce and whipped cream for a chocolate lover, caramel sauce for a caramel fan!
This basic cheesecake can be used as a base for all sorts of indulgent specialty cheesecakes.
Expert Tips
I've made loads of cheesecakes using numerous recipes, but there are a few basic rules for making the best cheesecake recipe.
First, get your cream cheese and eggs out of the refrigerator well ahead of mixing time. Two hours if possible as you want these ingredients at room temperature for the best results. I prefer to use Philadelphia brand cream cheese as it gives consistently delicious results.
If needed place your eggs in a bowl of hot water (not boiling as you don't want to cook the eggs) to speed up the process.
PRO-Tip: Use the paddle attachment on your stand mixer to make this perfect vanilla cheesecake and any other cheesecake recipe you make. This will keep the batter smooth and dense, without beating in any excess air.
PRO-Tip: When you add the eggs, beat in one at a time, and only beat until combined.
Bake your cheesecake in a water bath or bain-marie, to stabilize the oven temperature to minimize the chance of cracks developing across the top.
A bain-marie is simply a French term for placing your pan into a larger pan filled with about an inch of very hot water, then placing it in the oven to bake.
Make sure you wrap your springform pan with heavy-duty foil before adding it to the bain-marie to prevent any water from seeping into the pan and softening the crust.
PRO-Tip: If you're new to baking cheesecakes, the internal temperature should be 150 degrees when it's fully baked. Use an instant-read thermometer to check.
How to Slice and Serve
Cheesecakes taste best when chilled overnight.
PRO-Tip: Bring your cheesecake out of the refrigerator at least an hour before serving to take the chill off. It will have a much creamier texture when it's not ice cold.
Cut your cheesecake with a hot dry knife for the cleanest slices. I run the knife through very hot water, then dry off with a clean dishtowel.
Offer toppings like sliced, sweetened strawberries, fresh raspberries, fresh blueberries with lemon curd, whipped cream, fudge, or chocolate sauce. You can even make your own Fresh Strawberry Sauce! But this cheesecake is delicious even without toppings.
If you want to make a vanilla bean cheesecake, just substitute (affiliate links) vanilla bean paste for the vanilla extract. The specks of vanilla bean are the sure sign of a vanilla-flavored dessert. And always use pure vanilla extract, not imitation for the tastiest results.
Frequently Asked Questions
Can you eat a cheesecake immediately after it's baked?
A cheesecake is ready to eat after it is fully chilled which will take a few hours. But it will actually taste better if it is chilled overnight. So plan ahead and bake your cheesecake the day before you plan to serve it.
How Should a Cheesecake Be Stored?
Keep your cheesecake covered with plastic wrap and refrigerated for up to 3 days. It can also be frozen, once it's completely cooled, for up to 3 months. I prefer to freeze it in the springform pan, cover it with a layer of plastic wrap, then a layer of foil.
What's the Best Way to Defrost a Cheesecake?
Defrost your cheesecake overnight in the refrigerator. Beware of any condensation that can develop on the plastic wrap so that it doesn't drip onto the top of your cheesecake.
You May Also Like
Stay in touch through social media @ Instagram, Facebook, and Pinterest. Don't forget to tag me when you try one of my recipes! And if you love the results, please give it a 5-star rating in the recipe card. Note: As an Amazon Associate, I earn from qualifying purchases. Visit my Amazon Store for my favorite products.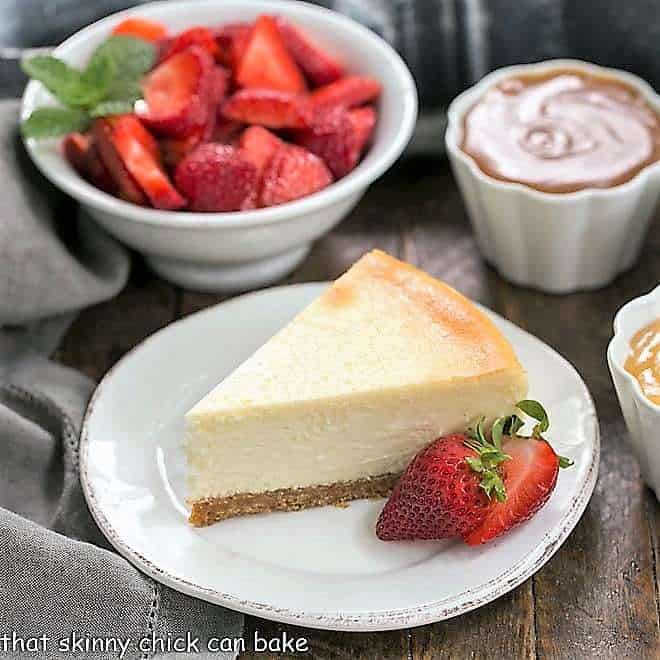 The Recipe:
Perfect Vanilla Cheesecake
Prep Time 20 minutes
Cook Time 1 hour 23 minutes
Total Time 1 hour 43 minutes
Yield 16 servings
Lush and creamy, this vanilla cheesecake is irresistible!
Ingredients
Crust:
1 ½ cups graham cracker crumbs
1 tablespoon sugar
6 tablespoons melted butter
Cheesecake:
Four 8-ounce packages  cream cheese, at room temperature
1 ⅔ cups sugar
¼ cup cornstarch
1 tablespoon vanilla extract
2 extra-large eggs (note these are not large eggs)
¾ cup heavy whipping cream
Instructions
Preheat the oven to 350°.
To make the crust, combine all ingredients and press into a 9-inch springform pan.
Bake for 8 minutes. Let cool.
In your mixer fit with the paddle attachment, beat 1 package of the cream cheese, ⅓ cup of the sugar, and the cornstarch together on low until creamy, about 3 minutes, scraping down the bowl several times.
Mix in the remaining cream cheese, one package at a time, beating well and scraping down the bowl after each.
Increase the mixer speed to medium and beat in the remaining sugar, then the vanilla.
Blend in the eggs, one at a time, beating just until combined.
Beat in the cream just until completely blended.
Wrap the exterior of the pan in aluminum foil to help prevent any water from seeping inside.
Spoon the batter over the crust and smooth the top with an offset spatula.
Place the cake pan in a large shallow pan containing hot water that comes halfway (about 1 inch) up the side of the springform.
Bake until the edge is light golden brown, the top is light gold, and the center barely jiggles, about 1¼ hours. If the cake is too jiggly, cook for another 10 minutes.
Remove the cheesecake from the water bath, transfer it to a wire rack, and let cool in the pan for 2 hours. Chill until cold.
Remove the ring of the springform pan and transfer the cheesecake to a serving plate if desired.
Serve slices plain or with sweetened, sliced strawberries, chocolate or fudge sauce, or a dollop of whipped cream mixed with lemon curd.
Notes
Having your eggs and cream cheese at room temperature will help make a creamier cheesecake.
Recommended Products
As an Amazon Associate and member of other affiliate programs, I earn from qualifying purchases.
Nutrition Information:
Yield:
16
Serving Size:
1 slice
Amount Per Serving:
Calories: 426
Total Fat: 30g
Saturated Fat: 17g
Trans Fat: 0g
Unsaturated Fat: 10g
Cholesterol: 105mg
Sodium: 277mg
Carbohydrates: 36g
Fiber: 0g
Sugar: 27g
Protein: 5g
Note: This post may contain affiliate links; view
my Disclosure Policy
for details. I earn a small percentage from any purchase you make by clicking on these links at no extra cost to you.