Cream Filled Chocolate Cupcakes
This recipe for rich, tender Chocolate Cream Filled Cupcakes AKA Copycat Hostess Cupcake Recipe was due for a remake. Filled with marshmallow cream, they're so much better than those packaged cupcakes!
Nick, our youngest, was coming over for his birthday dinner and his celebratory dessert had to be chocolate. I perused the blog and found an ancient chocolate Filled Cupcakes post without much substance besides a tasty recipe. These were just as marvelous as the first time around though my photography has improved a bit!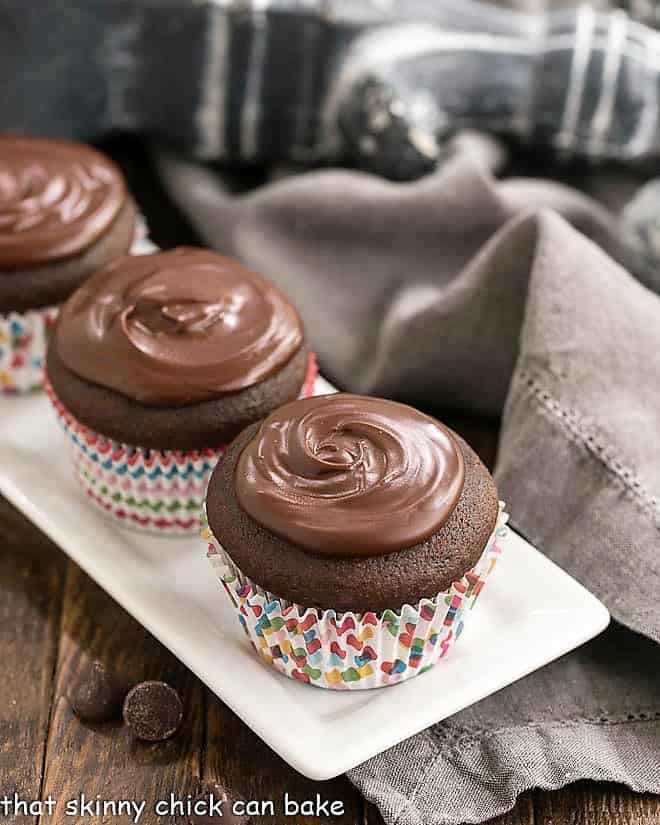 Why You Must Make
They taste so much better than what you can buy at the grocery store.
You will recognize all the ingredient names.
There are no preservatives.
These cupcakes are fun to share with your friends and family who will beg you reveal how you got the filling in the middle!
How to Make
The process is quite simple. It will work for these cream-filled chocolate cupcakes and any other variety of cupcake flavors and fillings you'd like to try. To make these look even more like Ding Dongs, remove the core from the bottom, and fill them, replacing the reserved round of cake to plug the hole.
Glaze the top with some warmed or thinned frosting, cool, then pipe a white squiggle of frosting across the top of the cupcakes to mimic the look of a real Hostess Ding Dong.
Here is the lowdown for my version:
First, bake and cool your cupcakes.
When they are fully cooled, there are a couple of options. One is to use a small knife and cut a cone shape out of the middle of the cupcake.
Another is to use a cupcake corer (affiliate links); I found mine at Target, but they're also readily available on Amazon.
Using the device, you insert, twist, and remove the cylinder of cake.
If you own an apple corer or melon baller, those will work, too! You might as well get some more use out of your kitchen tools.
Then, with a small knife, remove the top of each core. These rounds will be the lids to cover the filling, which you will insert before frosting the cupcakes.
Eyeing the amount of filling, you may need to make even larger cones or wells in your cupcakes. I used my coring device, then removed a little more cake with a knife.
You can use a small spoon or piping bag to add the filling. A standard teaspoon may be too wide, depending on the size of your opening.
Place the reserved rounds of cake over the filling and press gently.
Then frost as desired!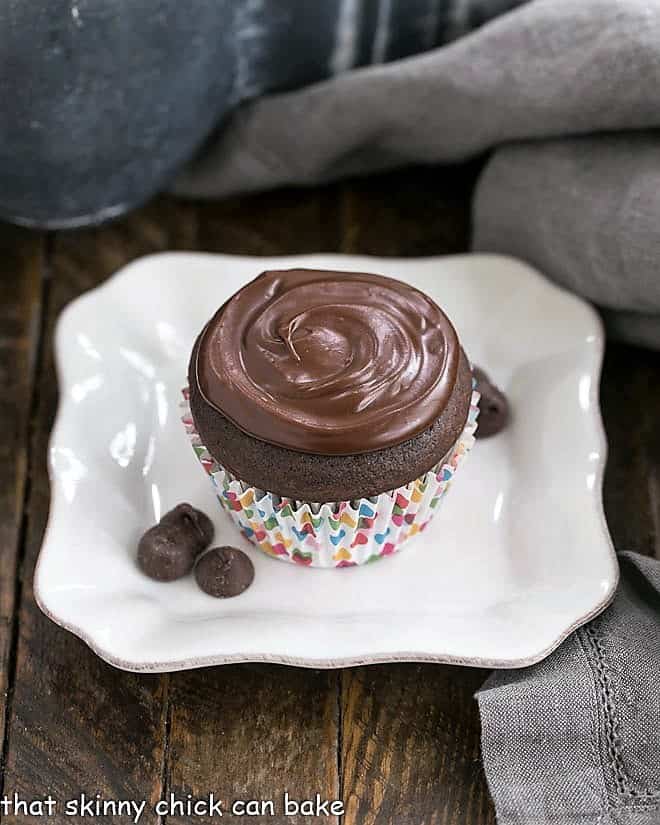 Expert Tips
When my husband does a grocery store run, it's not a surprise to find Nestles Quik, Oreos, or Ding Dongs in his shopping cart. So when I spotted this cupcake recipe in Cook's Country, I knew I'd have to treat the family. The guys all went wild for them Katie enjoyed the one I didn't glaze she prefers a milder chocolate dessert. The Hostess fanatic said they were, "Quite tasty." I'll take that as a win.
To prevent dry cupcakes, bake just until the cake bounces back up when you tap the middle of the cupcake with your finger.
Make sure to wait until your cupcakes cool completely before coring.
Use a specialized coring tool, a small knife or a melon baller to make a well in each cupcake for the filling.
If you have a piping bag and a tip with a large opening, use that to fill the cupcakes. You can also use a large Ziploc bag, fill, and cut one corner off.
Save the top piece of what you core out of the cupcake. That will be the cap to seal the filling in the cupcake. Plus it will make the cupcakes easier to frost.
You can frost with any flavor of frosting you like. And you can also shake up the filling.
I think we have a winner as the family agreed that these Copycat Hostess Cupcakes were better than the originals I was trying to imitate. (I was given a lesson on the names of all different supermarket chocolate cake goodies). Feel free to pipe some white icing squiggles across the top of the glaze if you really want these to look like a Hostess product.
Frequently Asked Questions
What ingredients are in Ding Dong's cream filling?
It's a mystery. Reading the ingredients on the Hostess label, it's hard to know where the cake and glaze ingredients stop and the filling ingredients start. Truthfully, besides a lot of multisyllabic preservatives, there are only a handful or two of recognizable ingredients. Sugar, soybean oil, natural flavorings, and salt could possibly be in the filling.
When Did Hostess Start Making Ding Dongs?
Hostess began making Ding Dongs in 1967. In the Eastern US, they were marketed as King Dongs for a short time to prevent confusion with a competitor's product, Ring Dings.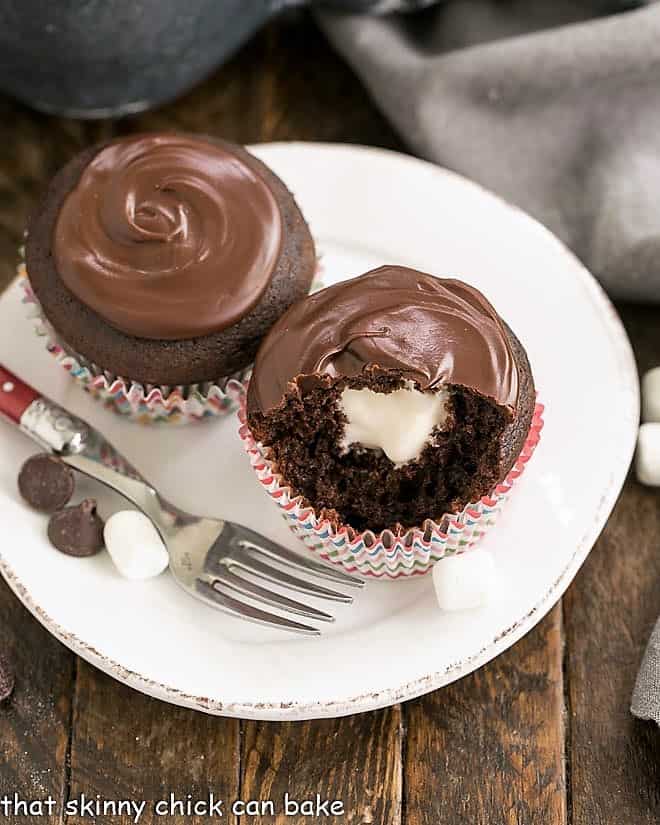 You May Also Like
Cupcakes are perfect portable treats! This makes them ideal for picnics, school treats, birthday parties and more. Here are some more of our favorite cupcake recipes.
Stay in touch through social media @ Instagram, Facebook, and Pinterest. Don't forget to tag me when you try one of my recipes! And if you love the results, please give it a 5-star rating in the recipe card. Note: As an Amazon Associate, I earn from qualifying purchases. Visit my Amazon Store for my favorite products.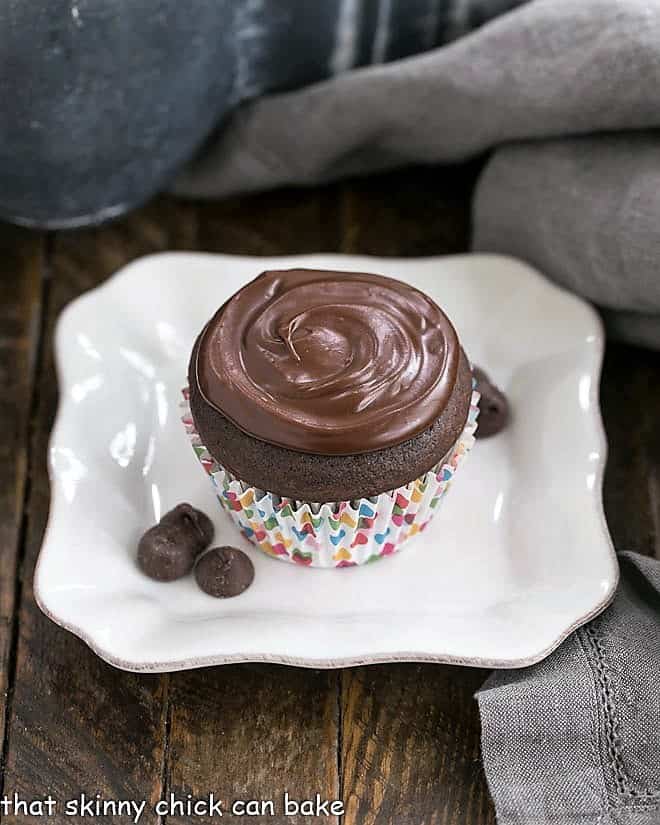 The Recipe:
Chocolate Cream Filled Cupcakes
Prep Time 30 minutes
Cook Time 22 minutes
Total Time 52 minutes
Yield 12 cupcakes
Hostess Cupcake Copycats but a whole lot better!!
Ingredients
1 cup flour
1/2 teaspoon baking soda
1/2 cup boiling water
1/3 cup cocoa powder
1/3 cup semi sweet chocolate chips
1 teaspoon instant esspresso
3/4 cup sugar
1/2 cup sour cream
1/2 cup vegetable oil
2 eggs
2 teaspoons vanilla
Filling:
3 tablespoons water
3/4 teaspoon unflavored gelatin
4 tablespoons (1/2 stick) butter, at room temperature
1 teaspoon vanilla
1 jar (7 ounces) marshmallow creme
Glaze:
1/2 cup semi sweet chocolate chips
3 tablespoons butter
Instructions
Preheat oven to 350º. Line 12 cup muffin tin with paper liners or grease and flour tin.
In a medium bowl, whisk together flour and baking soda. Set aside.
In a large mixing bowl, whisk together water, cocoa, chocolate chips, and espresso. When smooth, add sugar, sour cream, oil, eggs, and vanilla and whisk till combined.
Add flour mixture and whisk till combined.
Divide batter among muffin cups. Bake for 18-22 minutes, till a toothpick inserted in a cupcake, comes out with just a few dry crumbs. Cool 10 minutes in tin, then remove to rack to cool completely.
To make the filling, combine water and gelatin and let sit for about 5 minutes. Microwave about 30 seconds, till gelatin appears dissolved. Whisk, then add butter and vanilla. Let cool for about 5 minutes, till just warm to touch.
Whisk in marshmallow creme till mixture is smooth. Refrigerate till set, 30 minutes or longer.
To assemble cupcakes, use a cupcake corer or paring knife to cut a cone out of the top of each cupcake. Cut the bottom of the cone off, leaving just a circle of cake. Save the small rounds of cake.
Using a spoon, fill each cupcake divet with a spoonful or so of marshmallow filling. Top filling with reserved circles of cake.
Make the glaze by microwaving chocolate chips and butter for about 30 seconds. Stir, and microwave again for 15 seconds if chocolate not completely smooth.
Cool for about 10 minutes, then glaze the tops of cupcakes.
Notes
Recipe adapted from Cook's Country.
Nutrition Information:
Yield:
12
Serving Size:
1 cupcake
Amount Per Serving:
Calories: 293
Total Fat: 19g
Saturated Fat: 6g
Trans Fat: 0g
Unsaturated Fat: 11g
Cholesterol: 44mg
Sodium: 93mg
Carbohydrates: 30g
Fiber: 1g
Sugar: 20g
Protein: 3g
Note: This post may contain affiliate links; view
my Disclosure Policy
for details. I earn a small percentage from any purchase you make by clicking on these links at no extra cost to you.