Stuffed Pork Chops with Apple Thyme Sauce
These Stuffed Pork Chops quickly became a family favorite. A pocket inside each thick chop is simply filled with bread and apple stuffing. This is no ordinary pork chop recipe as the stuffing peeking out of each juicy chop makes for a spectacular presentation.
If you've ever wondered how to cook stuffed pork chops, it's easy as can be. And I promise, your family will be impressed!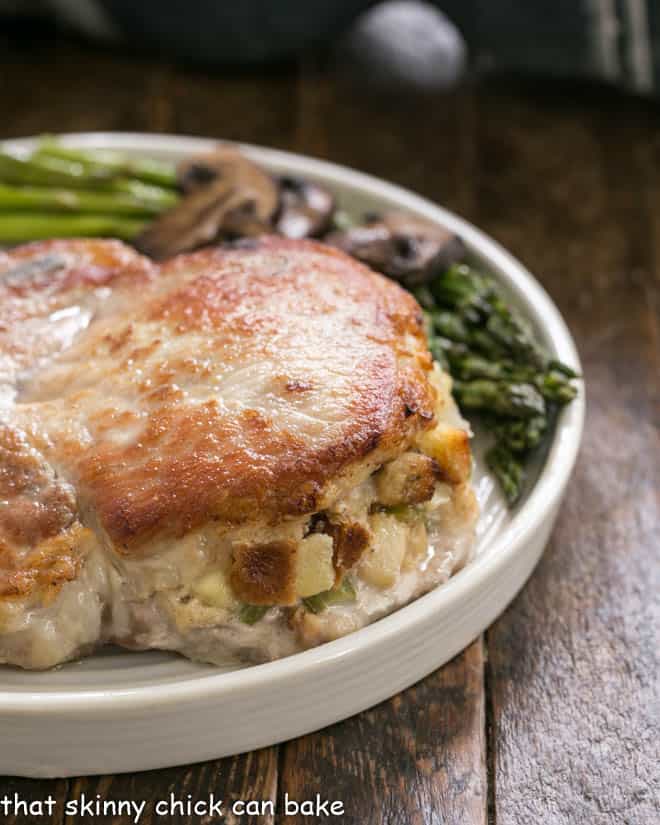 Why You Must Make
I first made these Baked Stuffed Pork Chops with Apple Thyme Sauce a few years back after I received a complimentary copy of Cuisine at Home in the mail.
My family is a big fan of stuffing, so creating a little pocket in a chop and adding a simple mixture of diced bread, onion, celery, and apples made for a well-received entree.
Apples and pork have long been a complementary pairing. The sweetness of the apples plays off the savory pork perfectly.
It looks like a fancy entree, but these chops are really quite simple to make.
These apple-stuffed pork chops made our menu at least once a year when the boys were in the house. Miss Katie is basically a vegetarian, though she does love the occasional hot dog. You can see that she's her father's daughter, but I digress.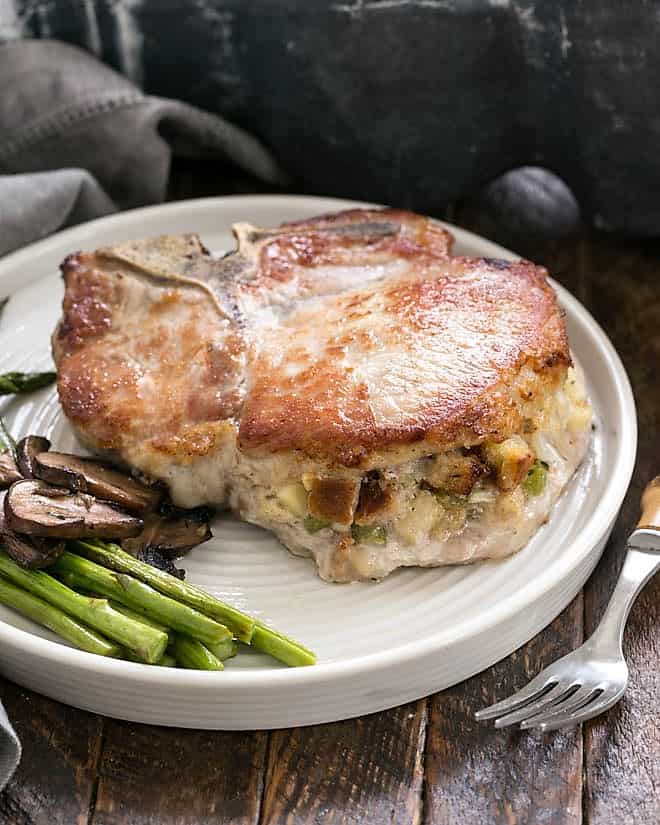 Recipe Tips
Feel free to add your favorite ingredients to this stuffing. If my family liked dried fruit as much as I do, I'd include some tart dried cherries. Nuts would add some nice crunch. You can use whole wheat or rye bread if you'd prefer, too.
Use thick-cut bone-in pork chops for this recipe. Bone-in cuts of meat have more flavor than boneless, plus it would be difficult to cut a pocket in a thin pork chop.
Use a long thin knife to carefully saw open a pocket in the middle of each pork chop, without cutting through 3 of the sides.
Open the pocket with your fingers, then stuff it with as much filling that the space allows. You may have extra filling.
Wondering how to cook stuffed pork chops? Start by sauteing each side of your chops in a hot pan. This will give some color to your chops.
Next, roast them in the oven until the filling is hot. PRO-Tip: Use a meat thermometer to ensure the filling reaches 145 degrees, the FDA's recommendation for cooked pork.
I was tempted to brine these chops as that's the best way to ensure tender meat. But I worried that the filling might absorb too much salt via osmosis. But I may do a trial run one day and report back. Try these baked stuffed pork chops on your family and please come back and let me know what you think!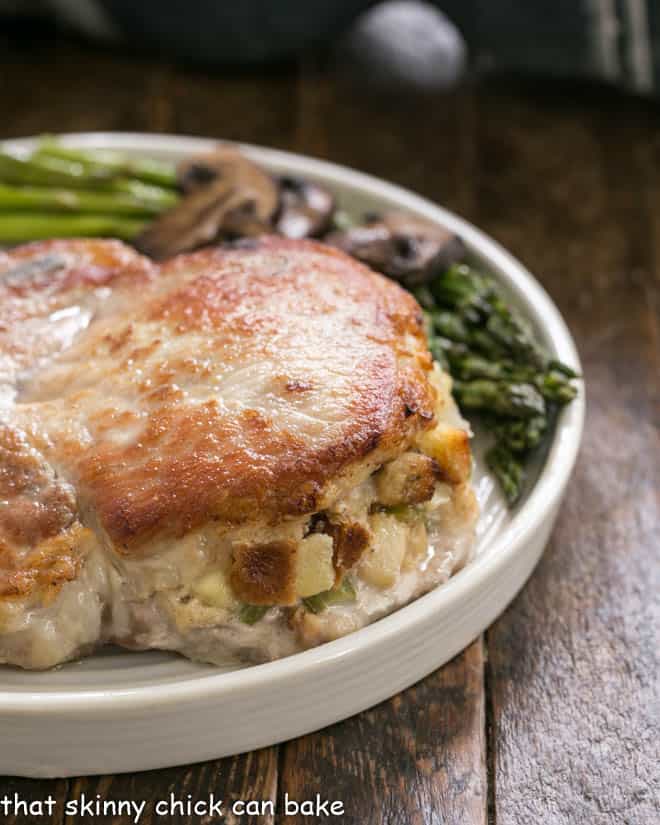 Frequently Asked Questions
Why Does Pork Go with Apples?
There's a Roman recipe, Apicius, a ragout of pork with apples, that can be traced back to the first century AD. It's still eaten in Northern and Central Europe.
In the the1100s, sugar was not readily available and a little fruit served with meat became more common in Henry II's court. The differentiation between sweet and savory dishes was novel at this time.
Recipes for applesauce appeared in the 1300s and 1400s. It was thought that the acidity of apples could help with the digestion of meat.
What Are the Best Apples for Cooking with Pork?
Look for a sweet apple that will hold its shape when cooked like a Golden Delicious or Honeycrisp. I've also used Granny Smith apples but added a sprinkle of sugar.
How Do You Keep Your Pork Chops Moist When Frying?
Use a meat thermometer and cook just until the pork reaches 145 degrees. If you have the time, pull it off the heat at 135 degrees and cover the chops with foil for 10 minutes. During that time, the heat in the chops will allow for carryover cooking and bring the chops up 10 degrees.
Also, you can sear the pork chops so they are browned, then finish in the oven with a meat thermometer.
How Long Should Pork Chops Be in the Oven?
This depends on whether the pork chops are stuffed, how thick they are, and the temperature of the oven. The best way to know for certain that the chops are done is to insert a meat thermometer into the middle of a chop to monitor the temperature.

As mentioned above, it will be safe to eat when the internal temperature reaches 145 degrees, though you can pull them out early (at 135 degrees), tent with foil, and let them rest until they reach 145 degrees. This will take about 10 minutes.
You May Also Like
Are pork chops on your menu rotation? What is your favorite preparation or recipe?? Here are some more of my favorite pork recipes: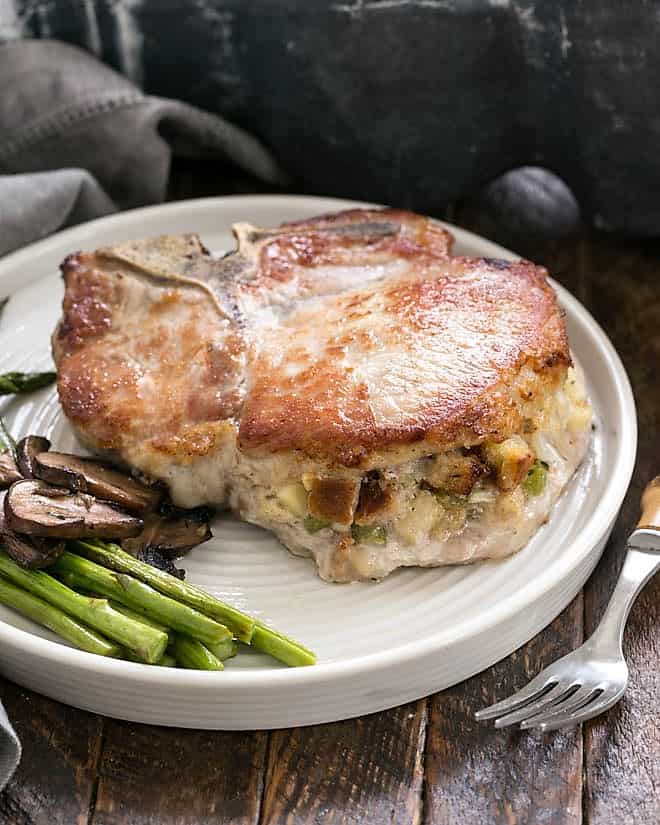 The Recipe:
Stuffed Pork Chops with Apple Thyme Sauce
Prep Time 25 minutes
Cook Time 20 minutes
Total Time 45 minutes
Yield 4
A delicious pork chop recipe with a bread and apple stuffing and pan sauce!
Ingredients
For stuffing:
2 tablespoons butter, divided
1 cup bread, diced small (about 2 slices)
1/4 cup onion, diced
1/4 cup celery, diced
1/4 cup apples, diced (I used yellow Delicious)
1 teaspoon minced fresh thyme leaves
1/4 cup chicken broth
1 tablespoon apple cider vinegar
kosher salt, to taste
freshly ground black pepper, to taste
For chops:
4 thick-cut pork chops
1 tbsp. olive oil
kosher salt, to taste
freshly ground black pepper, to taste
For the sauce:
1 tablespoon butter
2 tablespoons shallots, minced
1 tsp. all-purpose flour
1/4 cup apple cider or apple juice
1/4 cup dry white wine
1 tsp. apple cider vinegar
chopped fresh thyme leaves
kosher salt, to taste
freshly ground black pepper, to taste
Instructions
Preheat oven to 400 degrees.
Toast bread in 1 tbsp. butter in an oven-proof skillet over medium-high heat until crisp and then transfer to a bowl. Return pan to heat.
Saute onion, celery, and apples in 1tablespoon butter over medium heat until soft. Stir in thyme. Add vegetables to bread cubes. Toss mixture with the chicken broth, vinegar, and seasonings until liquid is absorbed. Wipe out the skillet.
Prepare chops by cutting a pocket at the midway point of each chop being careful only to cut through on one side.
Fill pockets with bread mixture. They will be full, but you'll probably have some left-over stuffing. Saute chops in oil over medium-high heat until brown on one side, about 3 minutes. Carefully turn the chops over and add any extra stuffing to the pan at this point. Transfer pan to the oven. Roast about 8 minutes, then remove the chops and stuffing from the pan and set aside. Tent with foil to keep warm.
Saute shallots for the sauce in 1 tbsp. of butter in the same skillet over medium heat. Add flour and cook for 1 minute. Deglaze the pan with cider, wine, and vinegar. Simmer until sauce is slightly thickened, about 2-3 minutes. Finish sauce with thyme, salt, and pepper.
Yield: 4 servings
Total time: 45 minutes
Notes
Adapted from Cuisine at Home.
For a weeknight dinner, feel free to skip the sauce.
Recommended Products
As an Amazon Associate and member of other affiliate programs, I earn from qualifying purchases.
Nutrition Information:
Yield:
4
Serving Size:
1 pork chop
Amount Per Serving:
Calories: 533
Total Fat: 30g
Saturated Fat: 12g
Trans Fat: 0g
Unsaturated Fat: 15g
Cholesterol: 155mg
Sodium: 667mg
Carbohydrates: 20g
Fiber: 2g
Sugar: 10g
Protein: 42g
Note: This post may contain affiliate links; view
my Disclosure Policy
for details. I earn a small percentage from any purchase you make by clicking on these links at no extra cost to you.