Maple Grilled Pork Tenderloin
The marinade for this Maple Grilled Pork Tenderloin is outrageously delicious! Sweet, salty with piquant mustard and rosemary, it's the perfect way to jazz up your grilled pork!
This Grilled Pork Tenderloin Recipe can be made the night before, then tossed on the grill for an easy impressive dinner!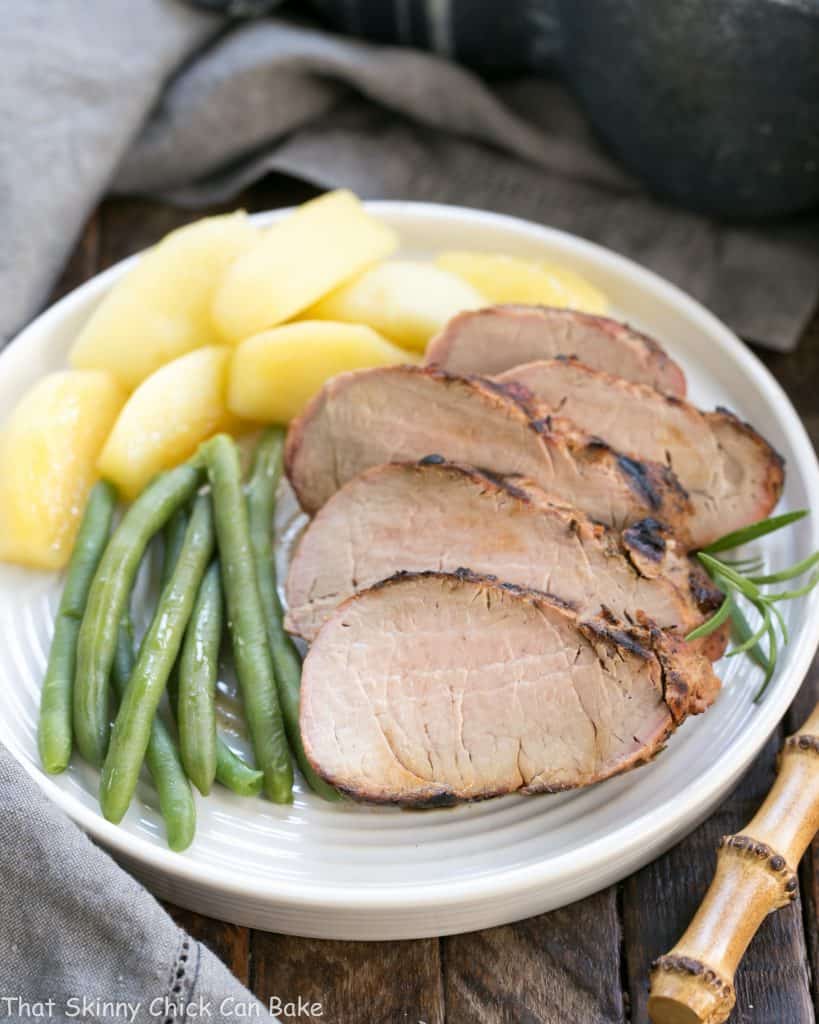 Maple Grilled Pork Tenderloin
Sundays are designated grilling days in the summer. If it's not burgers, it's usually beef, pork or chicken that I've marinated overnight. I had pork tenderloin in the freezer, so I found an old copy of this Maple Grilled Pork Tenderloin recipe in one of my binders that sounded scrumptious. This sweet, salty, tangy, herby combination of flavors worked perfectly with pork.
I sauteed some apples and added our favorite crispy smashed potatoes to the menu. Tom stopped by for dinner and the male carnivores were all pleased with their meat and potatoes. This pork marinade will become a regular on our meal rotation!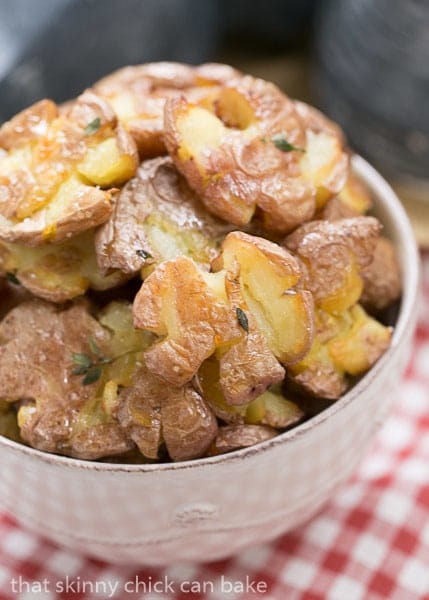 These potatoes always disappear in a red hot minute when they're on on menu. You simply boil up new potatoes till they're tender, let them cool, smash them and then roast to crispy perfection. A bit of oil, butter and kosher salt is involved, too! I hope your menu will include one or both of these fabulous dishes.
Grilled Pork Tenderloin Recipe
The first time I made pork tenderloin, I was a young mom with two toddlers. I had purchased a couple from the meat market, seasoned them with salt and pepper and roasted them in the oven. Boy, they were not impressive. Extremely bland with little fat and little flavor!
From then on, I made certain to at least marinate this cut a few hours or up to overnight. Besides pork tenderloin, this fabulous, flavorful pork marinade would be fabulous on a pork loin roast or pork chops. I'd definitely marinate the former overnight to ensure the flavors have a chance to be absorbed by the meat. Definitely grill when possible. I love the smokiness imparted from a charcoal grill. Divine!
More Pork Recipes You'll Love: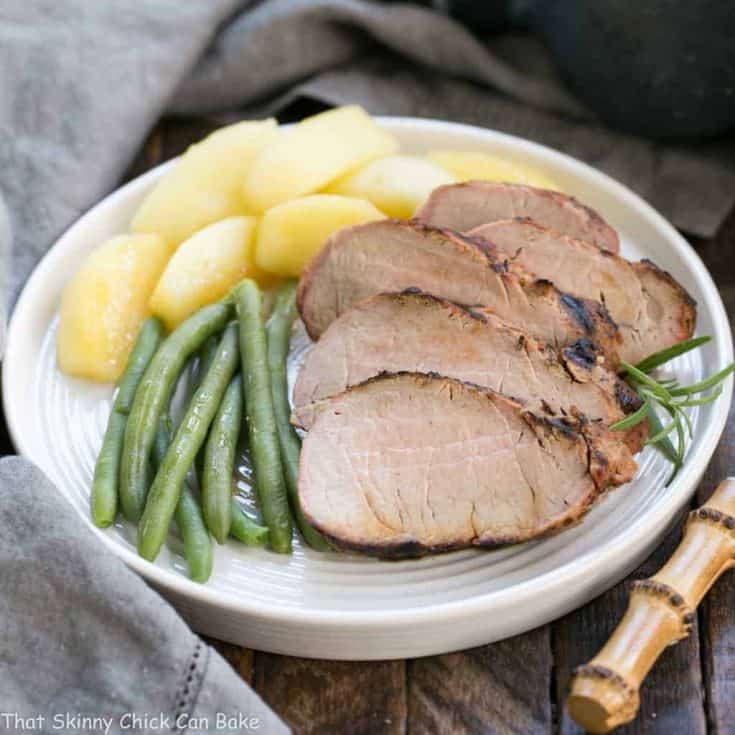 The Recipe:
Maple Grilled Pork Tenderloin
Prep Time 10 minutes
Cook Time 15 minutes
Total Time 25 minutes
Yield 6
The marinade for this Maple Grilled Pork Tenderloin is outrageously delicious! 
Ingredients
2 pork tenderloins, trimmed
1/4 cup Dijon Mustard
1 tablespoon chopped fresh rosemary
1 tablespoon lemon juice, fresh only
1 tablespoon soy sauce
3 tablespoons maple syrup
2 tablespoons butter
2 tablespooons sugar
4 apples, peeled cored and slices (I used Granny Smiths)
Instructions
Whisk together mustard, rosemary, lemon juice, soy and maple syrup. Pour into a ziplock bag and add pork tenderloins. Marinate 3 hours or overnight.
When ready to cook pork, add butter to saute pan. When melted, add apples and toss. Sprinkle with sugar and cook till tender. Set aside.
Prepare grill. Grill to desired doneness. Serve with apples.
Notes
Adapted from Home and Family
Nutrition Information:
Amount Per Serving:
Calories: 508
Total Fat: 16g
Saturated Fat: 7g
Trans Fat: 0g
Cholesterol: 179mg
Sodium: 527mg
Carbohydrates: 39g
Fiber: 5g
Sugar: 30g
Protein: 54g
Note: This post may contain affiliate links; view
my Disclosure Policy
for details. I earn a small percentage from any purchase you make by clicking on these links at no extra cost to you.