Maple Grilled Pork Tenderloin
The marinade for this Maple Grilled Pork Tenderloin is outrageously delicious! Sweet, salty with piquant mustard and rosemary, it's the perfect way to jazz up your grilled pork!
This Grilled Pork Tenderloin Recipe can be made the night before, then tossed on the grill for an easy impressive dinner!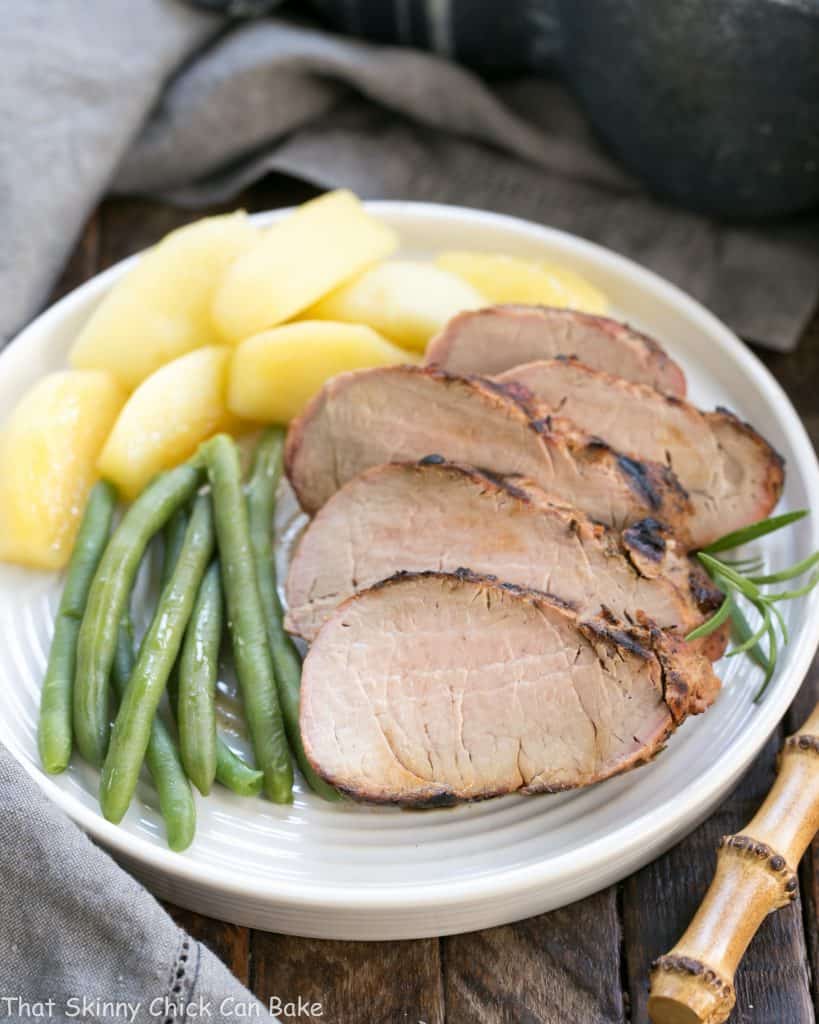 Why You Must Make
Sundays are designated grilling days in the summer. If it's not burgers, it's usually beef, pork or chicken that I've marinated overnight. I had pork tenderloin in the freezer, so I  found an old copy of this Maple Grilled Pork Tenderloin recipe in one of my binders that sounded scrumptious.
Pork tenderloin can be dry if overcooked. Marinating helps keep it moist as well as adding delicious flavor.
This sweet, salty, tangy, herby combination of flavors worked perfectly with pork.
The addition of maple syrup along with a side of sauteed apples made this perfect for autumn entertaining.
I sauteed some apples and added our favorite crispy smashed potatoes to the menu (these always disappear in a red hot minute). Tom stopped by for dinner and the male carnivores were all pleased with their meat and potatoes. This pork marinade will become a regular on our meal rotation!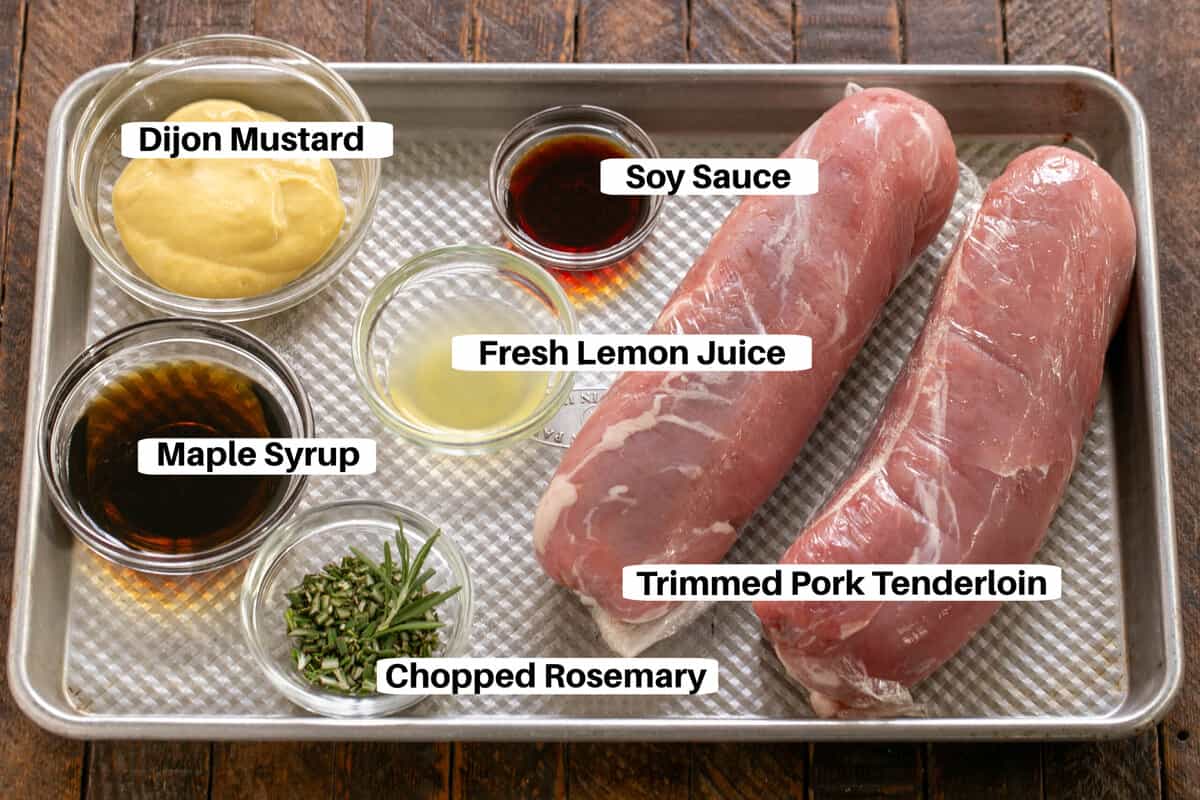 Ingredient Notes
Kitchen Staples – Butter, Sugar
Pork Tenderloin – Have the butcher trim off any silverskin
Dijon Mustard – I use Grey Poupon brand
Fresh Rosemary
Fresh Lemon Juice – Don't use bottled juice found on the store shelves.
Maple Syrup – Use real maple syrup, not imitation.
Apples – Peel, core, and slice. I used Granny Smith apples
How to Make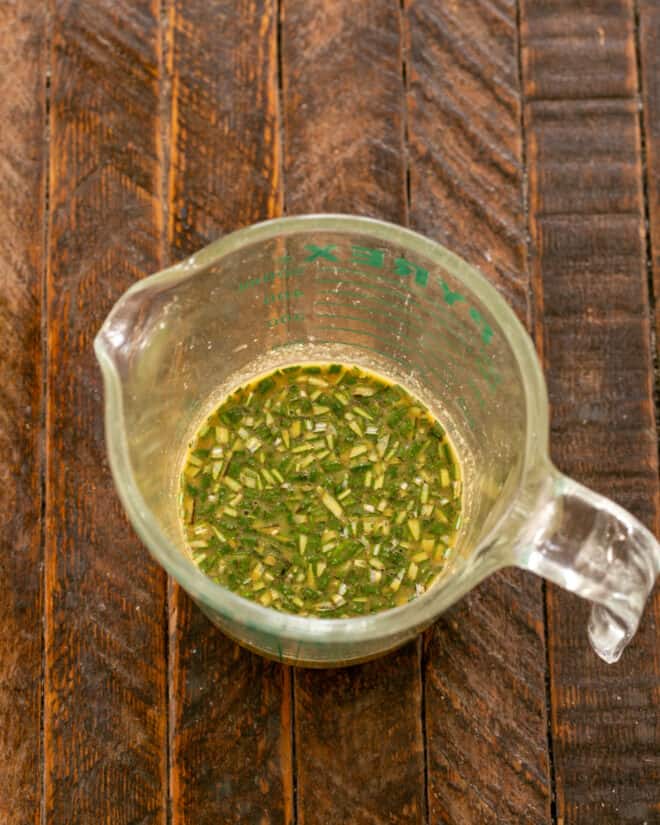 Recipe Tips
The first time I made pork tenderloin, I was a young mom with two toddlers. I had purchased a couple from the meat market, seasoned them with salt and pepper, and roasted them in the oven. Boy, they were not impressive. Extremely bland with little fat and little flavor!
From then on, I made certain to at least marinate this lean cut of pork for a few hours or up to overnight.
Besides pork tenderloin, this fabulous, flavorful pork marinade would be fabulous on a pork loin roast or pork chops.
Definitely marinate the pork overnight to ensure the flavors have a chance to be absorbed by the meat.
The acid in the lemon juice will help keep the pork tender.
Grill when possible to add even more flavor from the browning of the meat. This is known as the Maillard reaction which is a chemical reaction between amino acids and sugar that gives browned meat its delicious flavor. The smokiness imparted from a charcoal grill also contributes wonderful nuances to the meat.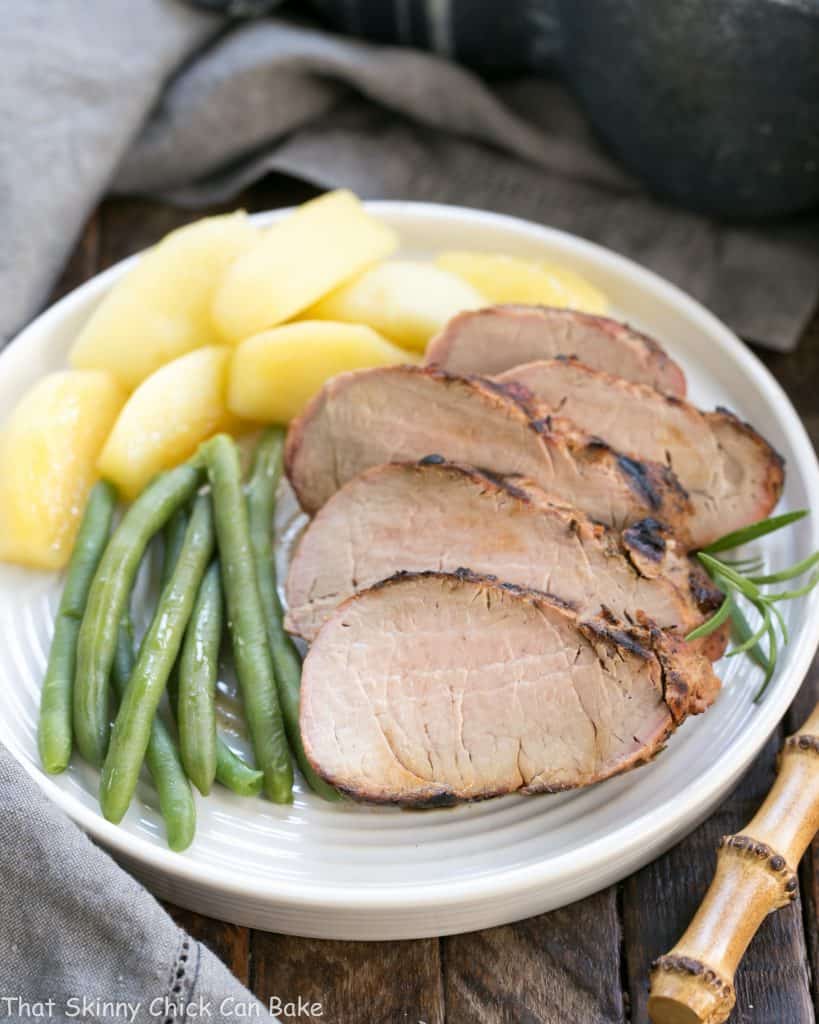 Frequently Asked Questions
How Do You Keep Pork Moist?
Having oil in the marinade will help, but more importantly is not to overcook the pork. Use a meat thermometer and pull off 10° before your goal temperature and cover with foil. 10 minutes of resting time under the foil will help the juices redistribute and bring up the internal temperature about 10°. The salt in the marinade also helps keep the pork moist.
What Temperature is Pork Done?
Pork should be cooked to 145° F. Since there will be some carryover cooking time as the pork rests, you can pull it off the grill 5-10° early. It's OK for the pork to have a pink interior, but it should not look pink and raw, but instead, pink and cooked.
You May Also Like:
Stay in touch through social media @ Instagram, Facebook, and Pinterest. Don't forget to tag me when you try one of my recipes! And if you love the results, please give it a 5-star rating in the recipe card. Note: As an Amazon Associate, I earn from qualifying purchases. Visit my Amazon Store for my favorite products.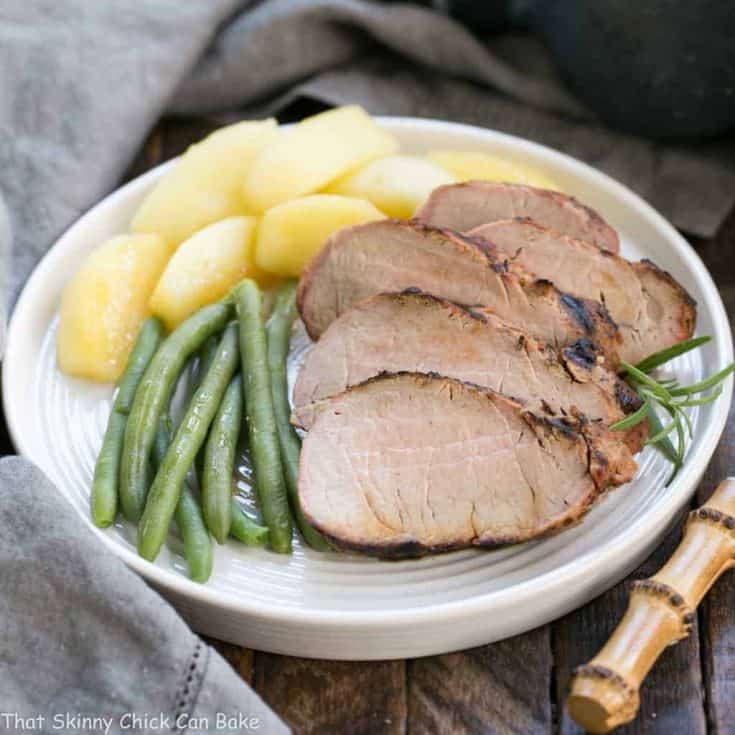 The Recipe:
Maple Grilled Pork Tenderloin
Prep Time 10 minutes
Cook Time 15 minutes
Total Time 25 minutes
Yield 6
The marinade for this Maple Grilled Pork Tenderloin is outrageously delicious! 
Ingredients
2 pork tenderloins, trimmed
¼ cup Dijon Mustard
1 tablespoon chopped fresh rosemary
1 tablespoon lemon juice, fresh only
1 tablespoon soy sauce
3 tablespoons maple syrup
2 tablespoons butter
2 tablespoons sugar
4 apples, peeled, cored, and sliced (I used Granny Smiths)
Instructions
Whisk together mustard, rosemary, lemon juice, soy, and maple syrup.
Pour the marinade into a ziplock bag and add pork tenderloins.
Marinate for 3 hours or overnight.
When ready to cook pork, add butter to saute pan. When melted, add apples and toss. Sprinkle with sugar and cook till tender. Set aside.
Prepare grill. Grill to desired doneness. Serve with apples.
Notes
Adapted from Home and Family
Recommended Products
As an Amazon Associate and member of other affiliate programs, I earn from qualifying purchases.
Nutrition Information:
Yield:
6
Amount Per Serving:
Calories: 508
Total Fat: 16g
Saturated Fat: 7g
Trans Fat: 0g
Cholesterol: 179mg
Sodium: 527mg
Carbohydrates: 39g
Fiber: 5g
Sugar: 30g
Protein: 54g
Note: This post may contain affiliate links; view
my Disclosure Policy
for details. I earn a small percentage from any purchase you make by clicking on these links at no extra cost to you.