How to Make Molten Lava Cakes
Molten Lava Cakes are individual chocolate cakes with a fudgy center that oozes deliciously once you take that first bite.
Chocolate Lava Cakes were a holiday tradition for years. They're easy to make, quick to bake, and can be served with only a sprinkle of powdered sugar or with fresh berries, whipped cream, or ice cream. My family gets excited when they see the ramekins come out of the cupboard!
Chocolate Lava Cake Recipe
I first made this recipe for lava cakes back in 2011. It was high time for an encore. Unlike some of the larger lava cakes I've made, these 4-ounce versions are perfect for a smaller, yet rich and luscious, chocolate dessert.
The two-toned effect of the crust is a result of the sugar-dusted on the ramekins…not all of it was released evenly. So I let my family eat these beauties, and I used a spoon and scraped up all the chocolate-sugar-butter goodness left in the dishes. I know they'd argue, but I think I got the best part!
How to Make Lava Cakes
Prepare the ramekins. Grease them with butter, then place a round of parchment in the bottom and grease the parchment. Dust the inside of the ramekin with sugar.
Preheat the oven.
Prepare the batter.
Divide evenly among the ramekins.
Bake until the edges are firm, but the middles are soft.
Remove from oven and run a thin metal spatula around the perimeter of each cake to loosen.
Cool a few minutes, invert and serve immediately.
How to Serve this Quick Chocolate Dessert
The gang was going to the Colts-Packers game and I needed a quick dessert. These can be whipped up in about 30 minutes, and taste amazing.
These lava cakes are best when served still warm from the oven. They can be garnished with a dollop of whipped cream or a scoop of vanilla ice cream along with some fresh berries for a pop of color. But there were no complaints as my green jerseyed family ate these without accouterments. Katie, ever the diplomat, had her Peyton Manning pin perfectly placed on her Packer attire. They were out the door with their chocolate cravings satisfied and Lambeau, the dog, and I had the house to ourselves.
Frequently Asked Questions
Can Lava Cakes Be Made Ahead of  Time?
Yes, just keep your ramekins in the fridge until about an hour before you want to eat them. Remove from the refrigerator and let come to room temperature. If they're still very cool after an hour, just add a minute or two to the baking time. Just make sure the middle is a little jiggly.
I've made numerous versions of lava cakes over the years, and no matter the recipe, the boys practically hyperventilate at the thought of these. These are perfect for any chocolate lover in your life.
Is It Safe to Eat the Uncooked Batter?
The "lava" in these mini cakes is basically a warm, yet not totally cooked batter. Due to the addition of eggs in the batter, this dessert should not be served to the very young, very old, or immune-compromised. If you have access to pasteurized eggs, use those in the recipe, making this dessert 100% safe for everyone. If you have a very accurate thermometer, you can pasteurize eggs at home.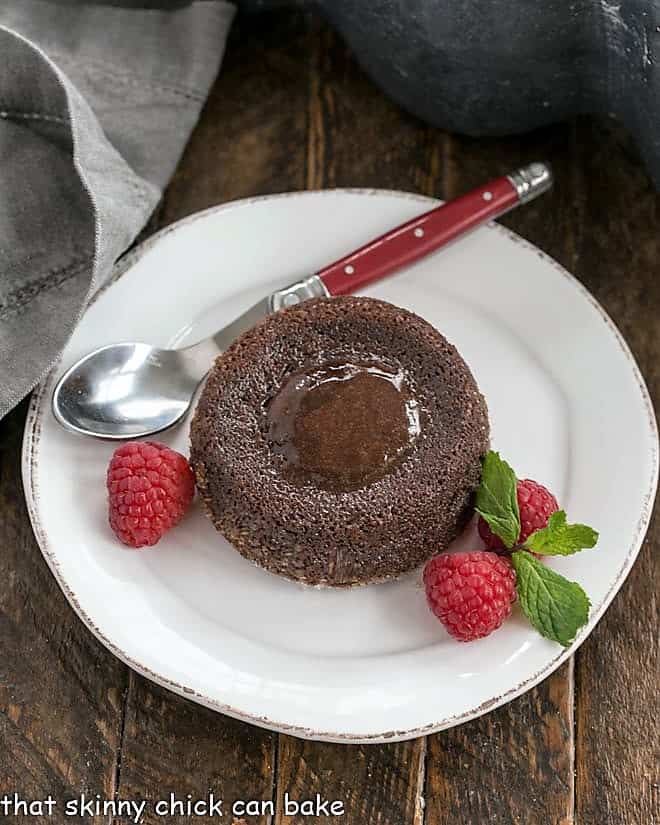 More Lava Cake Recipes
I've tried many different lava cake recipes. They vary in the amount or kind of chocolate, eggs, sugar, or flour, but all are delectable nonetheless. This version is simple yet impressive. Watch the baking time to make sure the center is all that looks undercooked.
Plus, allow for a short cooling time before unmolding to let the exterior firm up a bit. I also ran a knife around the edge of each ramekin before flipping to allow for easier release. Your favorite chocoholic will thank you for trying these.
This recipe was first shared in September 2011. Photos and text were updated in 2020.
Guess who wore her retro Packers jersey on game day???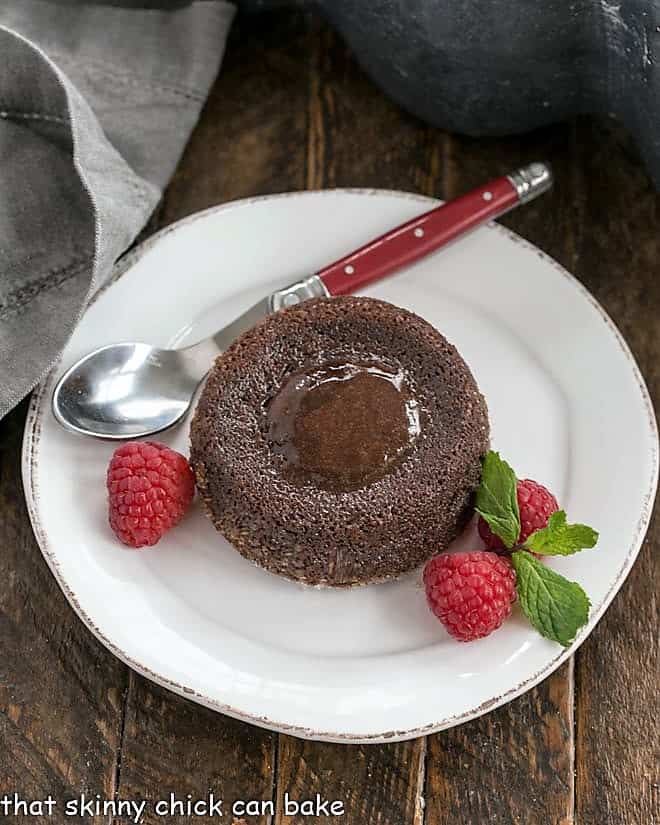 The Recipe:
Chocolate Lava Cakes
Prep Time 20 minutes
Cook Time 10 minutes
Total Time 30 minutes
Yield 4 servings
Rich, individual chocolate cakes with molten chocolate centers!
Ingredients
1/2 cup butter, cut into pieces
4 ounces semi-sweet chocolate, chopped
2 whole eggs
2 egg yolks
1/2 cup sugar (plus more to dust buttered ramekins)
1/2 teaspoon vanilla
1 tablespoon cake flour
Berries, sweetened whipped cream or ice cream to garnish
Instructions
Preheat oven to 450º. Butter and sugar 4 6-8-ounce ramekins and set aside. Or line muffin tin or ramekins with paper muffin liners, then grease the interiors. If using a muffin tin, you will probably get more than 4 lava cakes.
In a microwave-safe bowl, melt chocolate and butter, stopping and stirring at 30-second intervals, till smooth. Set aside.
In a large bowl, combine eggs, yolks, sugar, and vanilla. Beat on high for 10 minutes. Fold in chocolate, then flour. Spoon into ramekins.
Bake 9-10 minutes till edges are set and center still soft. Remove from oven and cool 5 minutes before unmolding onto plates. Serve with berries, whipped cream, or ice cream if desired.

Notes
Adapted from Ghirardelli.
Recommended Products
As an Amazon Associate and member of other affiliate programs, I earn from qualifying purchases.
Nutrition Information:
Yield:
4 servings
Serving Size:
1 cake
Amount Per Serving:
Calories: 413
Total Fat: 18g
Saturated Fat: 10g
Trans Fat: 0g
Unsaturated Fat: 8g
Cholesterol: 201mg
Sodium: 71mg
Carbohydrates: 59g
Fiber: 4g
Sugar: 52g
Protein: 8g
Note: This post may contain affiliate links; view
my Disclosure Policy
for details. I earn a small percentage from any purchase you make by clicking on these links at no extra cost to you.