Top Secret Chocolate Mousse
My dear FFwD friends were the first to tease me about my tendency to garnish every dessert with raspberries (some even suggesting I place them with mathematical precision using tweezers). To celebrate our blogging group, I knew I'd have to share a dessert avec des framboises and Dorie's decadent Top Secret Chocolate Mousse came to mind. I was more than willing to make it again.
This French Chocolate Mousse Recipe is rich, silky, and a dream dessert for every chocoholic!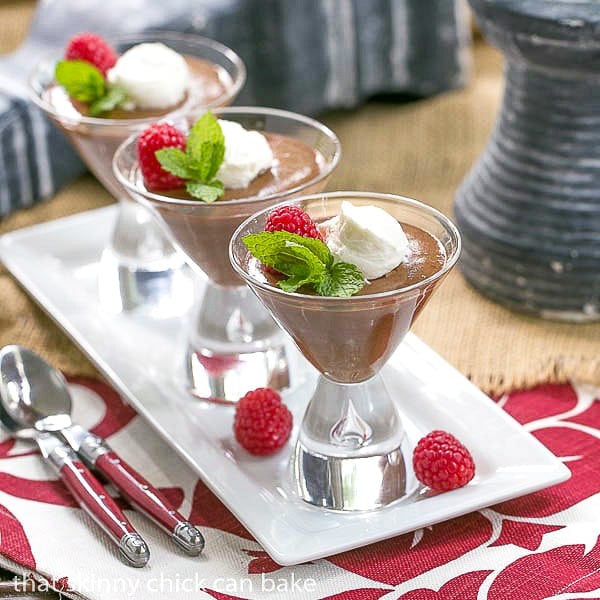 What I've Gained from FFwD
Besides expanding my cooking horizons more than I'd ever imagined (as a dessert aficionado, I never expected to have so many seafood recipes on my blog!), this FFwD experience introduced me to incredible foodies from across the globe. These friendships were cemented by visiting each other's blogs week after week.
My Dorista friends could predict when the picky hubby would revolt—though there were a few surprises. After 4+ years (no, make that 4 years, 7 months and 21 days), stories beyond the making of the dish of the week were shared. For this unexpected benefit, I'm most grateful. I know I'll continue to visit my friends' blogs; our bonds cannot be easily broken. This French chocolate mousse is the perfect grande finale!

French Chocolate Mousse AKA Top Secret Chocolate Mousse
Dorie revealed that nearly every chocolate mousse she was served at a Parisian dinner party seemed to be from the same unknown source. Turns out the "top secret" chocolate mousse recipe was on the back of a bar of Nestlé Dessert Chocolate. So I joined the ranks of French hostesses and made this terrific mousse once again.
Nick had been hounding me for strawberry shortcake for weeks and there were the makings for one last berry dessert in the fridge. When he saw the mousse, he reminded me that mousse trumps all–even strawberry shortcake.
And one last quote from Bill, "No curry in it; it's great." along with "Do not quote me on the blog." After nearly 30 years of wedded bliss, he knows I'm not exactly an obedient wife! This is one fabulous mousse, rich and dreamy. All those Parisian hostesses were on to something! Plus it looks fab with a dollop of sweetened whipped cream and a berry or two. Natch! If you're looking for a speedier version for quick craving relief, try this 4 ingredient Easy Chocolate Mousse.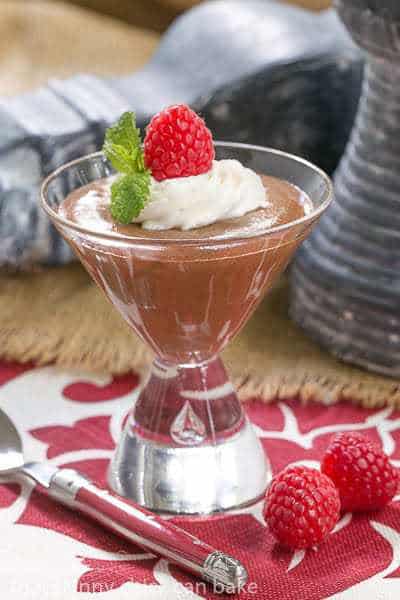 The Recipe:
Top Secret Chocolate Mousse
Prep Time 20 minutes
Cook Time 2 minutes
Total Time 22 minutes
Yield 4 servings
Dorie Greenspan's French chocolate mousse with a few subtle tweaks.
Ingredients
3 1/2 ounces semisweet chocolate, chopped
3 large eggs (pasteurized preferred, I used Safest Choice brand), separated, room temperature
Pinch of salt
1/2 teaspoon vanilla extract
1/4 teaspoon coffee extract (if not using, up the vanilla to 1 teaspoon)
1 1/2 teaspoons sugar
Fresh raspberries, mint and sweetened whipped cream to garnish, optional
Instructions
Place chocolate in microwave safe bowl and microwave at 50%, stopping and stirring frequently till chocolate is almost melted. Let sit a minute, then stir till smooth.
Add egg yolks, one at a time, to warm melted chocolate and whisk until smooth. Stir in extracts.
Using a hand or stand mixer, beat egg whites and pinch of salt in another medium bowl until soft peaks form.
Gradually add 1 1/2 teaspoons sugar, beating constantly until whites are glossy and firm peaks form.
Using a spatula, fold 1/4 of beaten whites into chocolate mixture to lighten. Gently fold remaining whites into chocolate just until incorporated.
Divide mousse among 4 bowls. Cover and chill about 4 hours. Garnish with a dollop of whipped cream, berries and mint to serve.
Nutrition Information:
Yield:
4
Serving Size:
1
Amount Per Serving:
Calories: 186
Total Fat: 11g
Saturated Fat: 6g
Trans Fat: 0g
Unsaturated Fat: 5g
Cholesterol: 141mg
Sodium: 89mg
Carbohydrates: 19g
Fiber: 1g
Sugar: 16g
Protein: 6g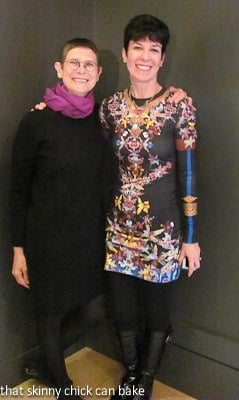 The recipe can be found in Dorie Greenspan's magnificent cookbook, Around My French Table. If you'd like to see what the other "Doristas" shared on their last ever FFwD post, check out the LYL section for Le Fin/Grand Finale on the French Fridays website.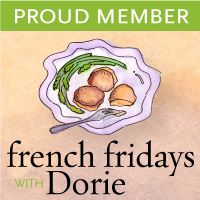 More Chocolate Mousse Recipes I've Made: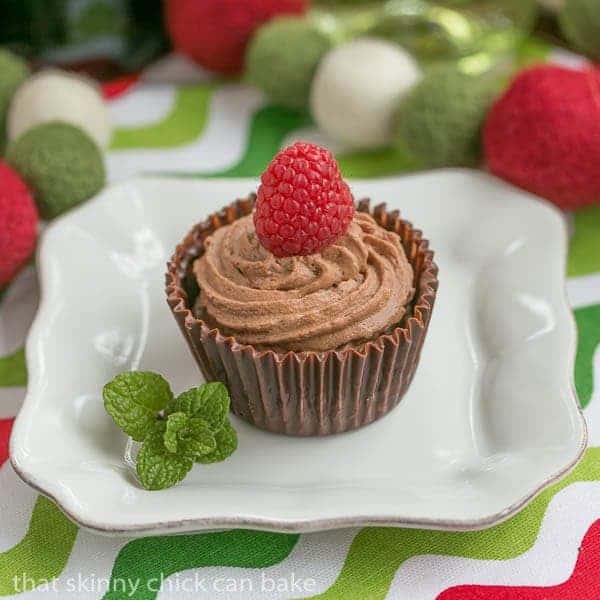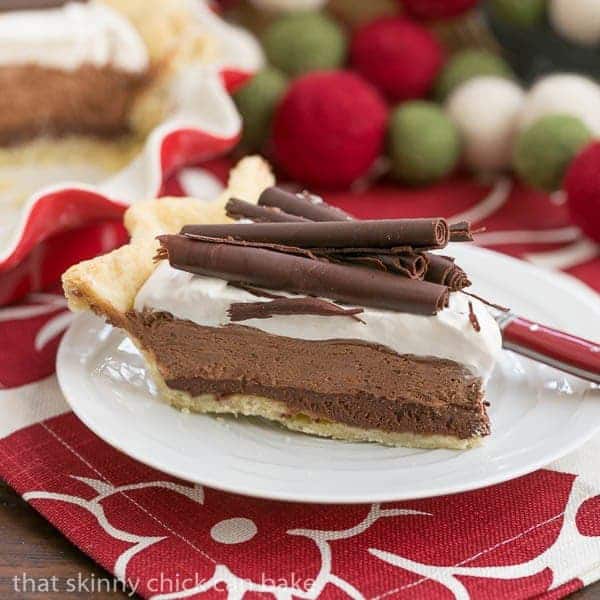 Black Bottom Chocolate Mousse Pie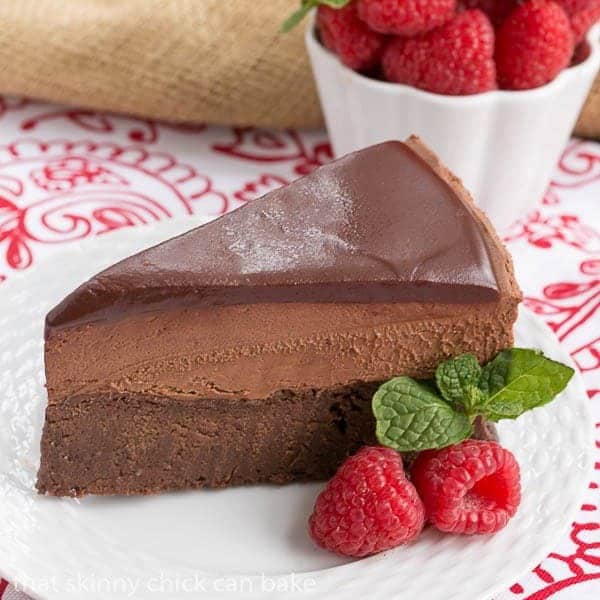 Note: This post may contain affiliate links; view
my Disclosure Policy
for details. I earn a small percentage from any purchase you make by clicking on these links at no extra cost to you.