Black Bottom Chocolate Mousse Pie
This dreamy Black Bottom Chocolate Mousse Pie has a pastry crust, layers of chocolate ganache, mousse, whipped cream and chocolate curls. My family said I hit a home run with this decadent Chocolate Pie Recipe! And I agree.
Black Bottom Chocolate Mousse Pie
A chocolate pie is a given at our house for the holidays. Typically it's a French silk pie, but I decided to veer slightly off track and fill the pie crust with mousse. But my head was spinning with more ideas. More chocolate. So a layer of ganache was added and this Black Bottom Chocolate Mousse Pie was born.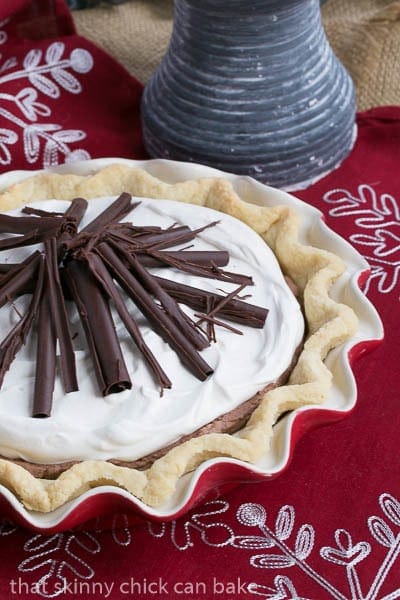 Pasteurized Eggs
You've heard me wax poetic about pasteurized eggs. It's imperative to use these to avoid the salmonella bacteria which is associated with eating raw or under-cooked eggs. I was planning to serve this pie to my 87-year-old mother-in-law and didn't want to risk making her ill. Thank goodness Davidson's Safest Choice Pasteurized Eggs are readily available at two of our local markets, Marsh and Fresh Market. I've also pasteurized eggs at home by keeping them at 140 degrees for 3 minutes. Do not let the water get hotter than 142 degrees. The goal is for the yolks to heat to 138 degrees to kill any salmonella bacteria, but without cooking the egg.
For best results, separate the eggs while they are cold, but let the egg whites come to room temperature before whipping. I find pasteurized eggs take much longer to come to firm peaks, so be patient. As long as your bowl and whisks are scrupulously clean and no yolk has contaminated your whites, you'll be fine. Grease is the enemy of well-whipped egg whites, so take care when prepping for this step.
How to Make Chocolate Curls to Garnish This Chocolate Mousse Pie
Chocolate shavings or just a light dusting of cocoa powder would be terrific finishing garnishes for this chocolate mousse pie, but if you want a show stopper for the holidays, try making some chocolate curls. I found this technique on the Pioneer Woman's blog, and though I don't get perfect curls 100% of the time, I think a mix of curls and partial curls creates an exquisite presentation.
Basically, just melt 3 ounces of semi-sweet chocolate with one tablespoon of shortening.
Spread it out thinly on the back of a smooth sheet pan and tuck it in the freezer for about 3 minutes before using a bench scraper or metal spatula to scrape off curls.

If the chocolate is too soft, pop it back in the freezer; if it's too hard, let is warm up for a minute or so at room temperature.
Check out Ree's post for step by step photos. I've also discussed the method on my post for Fluffy Chocolate Dessert. With or without chocolate curls, this Black Bottom Chocolate Mousse Pie is a dessert that will dazzle whoever is lucky enough to get a slice!
More Chocolate Desserts You'll Love: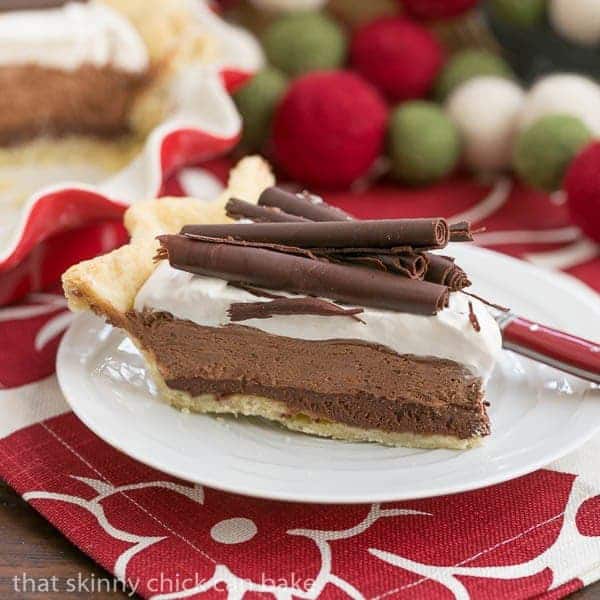 The Recipe:
Black Bottom Chocolate Mousse Pie Pie Recipe
Prep Time 1 hour
Total Time 1 hour
Yield 8 servings
A decadent chocolate pie worthy of any celebration!
Ingredients
1 9-inch pie crust, baked and cooled
For Ganache:
1/2 cup whipping cream
1 tablespoon butter
4 ounces semisweet chocolate, chopped
1/2 teaspoon vanilla
For Mousse:
5 ounces semisweet chocolate, chopped
1 cup heavy cream, divided
1 tablespoon Kahlua
3 egg whites, at room temperature, I used Safest Choice Pasteurized Eggs (make sure there are no traces of yolk)
3 tablespoons sugar
For Topping:
1 cup heavy cream
1/4 c powdered sugar
1 teaspoon vanilla
For Chocolate Curls:
3 ounces semisweet chocolate, chopped
1 tablespoon shortening
Instructions
To make ganache, heat ½ cup whipping cream and butter in the microwave in a medium sized, heat safe bowl till hot (but not boiling). Add chopped chocolate and let rest till melted. Stir to combine, then add vanilla and stir again. Scrape out into prepared pie crust. Place in refrigerator while you make the mousse.
For the mousse, place the chopped chocolate and ¼ cup of the heavy cream into a large, heat safe bowl and gently heat in microwave till chocolate is very soft. Stir with rubber spatula till smooth. Mix in Kahlua and set aside.
Place egg whites into the bowl of a stand mixture, and, using the whisk attachment, beat on high till stiff peaks form. If using pasteurized eggs, this could take more than 5 minutes, so be patient. If your whites have any trace of yolk or your bowl has any trace of oil, they won't whip properly. Transfer whipped egg whites to another bowl if you need to use your mixer to whip the cream.
Add the remaining ¾ cup cream and sugar to the mixing bowl and whip just till stiff peaks form.
With a rubber spatula, fold half the whipped cream into the chocolate, then gently add the rest. Fold in the egg whites, till just incorporated, but do not overmix.
Spoon the mousse over the ganache layer, smooth top and refrigerate at least 2 hours.
Before serving, make chocolate curls if desired (see link in post for instructions). Make topping by whipping 1 cup cream with powdered sugar and vanilla to stiff peaks. Pile on top of mousse and garnish with chocolate curls, chocolate shavings or a dusting of cocoa powder.
Notes
Use a small offset spatula to help spread even layers.
Recommended Products
As an Amazon Associate and member of other affiliate programs, I earn from qualifying purchases.
Nutrition Information:
Yield:
8
Serving Size:
1
Amount Per Serving:
Calories: 639
Total Fat: 49g
Saturated Fat: 28g
Trans Fat: 1g
Unsaturated Fat: 18g
Cholesterol: 112mg
Sodium: 156mg
Carbohydrates: 49g
Fiber: 3g
Sugar: 35g
Protein: 7g
Note: This post may contain affiliate links; view
my Disclosure Policy
for details. I earn a small percentage from any purchase you make by clicking on these links at no extra cost to you.