Triple Chocolate Mousse Pie
With a chocolate crust, chocolate mousse, and white chocolate mousse, this Triple Chocolate Mousse Pie is a chocolate lover's dream!
This super-rich layered Chocolate Pie Recipe is cool, luscious, and makes a divine special occasion dessert.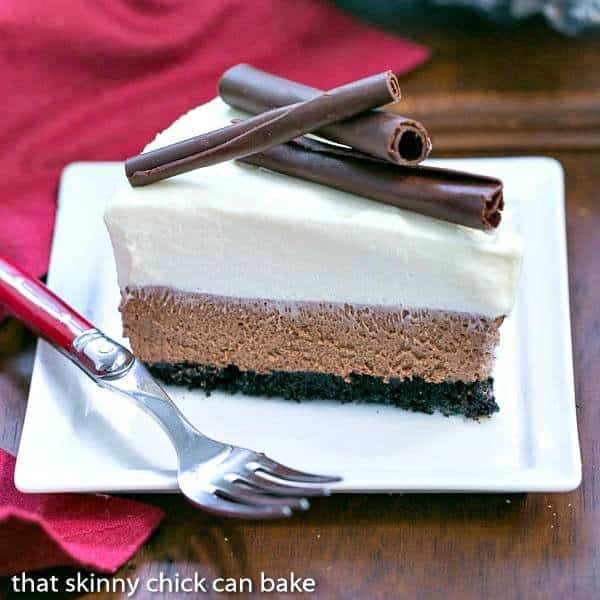 Why You Must Make
Only the crust needs baking so it's perfect for summer
TWO layers of mousse in every bite.
It's one of these impressive desserts that tastes as good as it looks!
I finally got the ol' hubby to give me some good quotes. Just don't tell him that they're being blasted over the Internet!
"Wow" was his response when I let him sample the chocolate left on the edges of the springform pan after I released this layered chocolate dessert. Next, wanting a slice of this chocolate mousse pie sooner than later, he inquired if he could fire up the grill and get dinner going. Mind you, it was 10 AM!
And minutes later, he reminded me that it wasn't his fault if I'd need to bury him in a piano crate. I'm not too worried about that either.
Ingredient Notes:
Pantry Ingredients – Butter (salted is fine since salt is a flavor enhancer, ever for sweets), Water
Chocolate Cookie Wafers – I used Nabisco Famous Chocolate Wafers
Semisweet Chocolate – I use Ghirardelli Bars which melt easier than chocolate chips, though the latter can be used in a pinch
White Chocolate – See note for semisweet chocolate
Heavy Cream – 36% butterfat
Egg Whites – Pasteurized eggs used to be easy to find, making this dessert safe for all ages. To minimize the chance of a foodborne illness, try this method to pasteurize eggs at home from my friend, Elise at Simply Recipes.
Unflavored Gelatin – I use Knox brand, found with flavored jellos
Shortening – Only needed if you want to make chocolate curls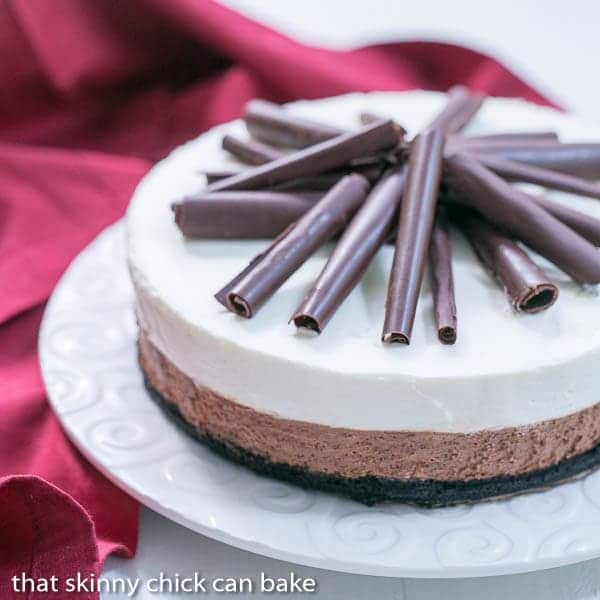 Expert Tips
This layered mousse dessert isn't necessarily a difficult recipe, but it does take some time. The cookie crust is pretty basic, just chocolate cookie crumbs and melted butter, pressed into the bottom of the pan and baked. Next, you make one mousse at a time.
As mentioned, this dessert does take some time. Go ahead and make the crust the day before if you'd like. Taking one layer out of the process makes this recipe less daunting.
Both mousse layers use raw eggs, so to be on the safe side, I recommend pasteurized eggs* to prevent foodborne illnesses. Salmonella is associated with eating uncooked eggs. It doesn't happen a lot, but you definitely want to minimize your chances, especially when serving this dessert to the very young, elderly or those with suppressed immune systems.
You can also self-pasteurize in a pinch. Your eggs need to be submerged in 140º water for about 3 minutes. Check this French Silk Pie recipe for details.
Also, when whipping the egg whites, note that they do best at room temperature, so set them out an hour or two before starting the process. And make sure no egg yolk or grease is in or on the mixing bowl or beaters as that will prevent the whites from becoming white and billowy.
How to Garnish
I made semisweet chocolate curls using the Pioneer Woman's technique as my topping. You can certainly serve this dessert ungarnished or top each slice with some beautiful red raspberries. Treat the chocoholics in your life to this exquisite chocolate mousse pie!

Frequently Asked Questions
How Do You Slice a Mousse Cake?
I like using a warm dry knife, wiping off after each swipe. Keeping the knife clean and warm helps make clean cuts.
How Do You Store a Chocolate Mousse Cake?
Since this cake is perishable, keep it refrigerated when not slicing and serving. Since the egg whites are not cooked and there's also cream in the recipe, it should not be left out at room temperature longer than 2 hours. It's best to play it very safe and keep it chilled.
Can You Freeze Mousse?
Yes, mousse, including this cake, can be frozen. Keep it in its pan so you can cover the top without having plastic wrap and/or foil pressed on the surface. Just defrost in the refrigerator overnight before serving.
If you're freezing this mousse cake to serve in the future, do not add any garnishes before freezing. Freeze for up to a month.
You May Also Like
Stay in touch through social media @ Instagram, Facebook, and Pinterest. Don't forget to tag me when you try one of my recipes! And if you love the results, please give it a 5-star rating in the recipe card. Note: As an Amazon Associate, I earn from qualifying purchases. Visit my Amazon Store for my favorite products.
The Recipe:
Triple Chocolate Mousse Pie Recipe
Prep Time 1 hour
Cook Time 15 minutes
Total Time 1 hour 15 minutes
Yield 12 servings
An exquisite pie with a chocolate crust, chocolate mousse, and white chocolate mousse!
Ingredients
Chocolate Cookie Crust:
6 ounces chocolate cookie wafers (about 25 wafers), such as Nabisco Famous Chocolate Wafers
4 tablespoons butter (½ stick), melted and slightly cooled
Chocolate Mousse:
5 ounces semisweet chocolate, coarsely chopped
1 cup heavy cream
3 large egg whites, at room temperature (I recommend Davidson's Safest Choice Eggs)
White Chocolate Mousse:
¾ teaspoon powdered gelatin (I use Knox)
1 tablespoon water
6 ounces white chocolate, coarsely chopped
1 ½ cups heavy cream
For garnish:
Chocolate curls, optional
Instructions
Grease an 8-inch springform pan and set it aside.
Preheat oven to 350º.
Place the cookies in a food processor and pulse till crumbs are formed. Add the melted butter and pulse to combine. Scrape the bowl and pulse again until the butter is evenly dispersed.
Press the crumbs into the bottom of the springform pan. Bake for 10 to 15 minutes. Remove to a wire rack and cool to room temperature.
Make chocolate mousse by placing the semisweet chocolate and ¼ cup of the cream into a heatproof bowl. Microwave gently, stopping and stirring at 30-second increments until smooth and melted.
Set aside to cool (should not be hot when you add the whipped cream).
Place the egg whites in the bowl of a stand mixer fitted with a whisk attachment. Mix on high until stiff peaks form, about 1 minute. Transfer whipped whites to another bowl.
Place the remaining ¾ cup of cream in the bowl and whisk on high speed until stiff peaks form, about 1 minute.
Using a rubber spatula, fold half of the whipped cream into the melted chocolate, then gently stir in the rest. Gently fold the egg whites into the chocolate mixture.
Scrape the mousse onto the cooled crust and smooth the top with an offset spatula. Refrigerate uncovered for at least an hour before making the white chocolate mousse.
To make the white chocolate mousse, sprinkle the gelatin over the water in a small bowl and let stand for at least 5 minutes to soften.
Place the white chocolate and ½ cup of the cream in a medium microwave-safe bowl. Microwave gently, stopping to stir at 30-second increments, till melted and smooth.
Add the gelatin mixture and stir until dissolved. Cool to room temperature, stirring occasionally.
Whip the remaining 1 cup of cream until soft peaks form. Using a whisk, mix one-third of the whipped cream into the white chocolate mixture to lighten it. Fold in the remaining whipped cream gently with a rubber spatula.
Spoon the white chocolate mousse into the pan over the chocolate mousse. Smooth the top with an offset spatula.
Return the cake to the refrigerator and chill until set, at least 2 hours.
Garnish the top with chocolate curls or chocolate shavings, if desired.
Notes
Total time does not include cooling and chilling times.
Helpful Tools (As an Amazon Associate and member of other affiliate programs, I earn from qualifying purchases).
Nutrition Information:
Yield:
12
Serving Size:
1 slice
Amount Per Serving:
Calories: 435
Total Fat: 35g
Saturated Fat: 21g
Trans Fat: 1g
Unsaturated Fat: 12g
Cholesterol: 84mg
Sodium: 147mg
Carbohydrates: 28g
Fiber: 1g
Sugar: 24g
Protein: 5g
*Note: I highly recommend Davidson's Safest Choice Eggs when any recipe calls for raw or partially cooked eggs. They are pasteurized to prevent any foodborne illnesses, which can be quite serious for children, the elderly and the immuno-compromised.
Note: This post may contain affiliate links; view
my Disclosure Policy
for details. I earn a small percentage from any purchase you make by clicking on these links at no extra cost to you.