Whiskey Marinated Pork Tenderloin
A terrific marinade, like in this Whiskey Marinated Pork Tenderloin, takes an ordinary cut of meat into something spectacular!
Grilled Pork Tenderloin is frequently on our menu, winter or summer, rain or shine. And a delicious Pork Tenderloin Marinade is key to infusing deliciousness!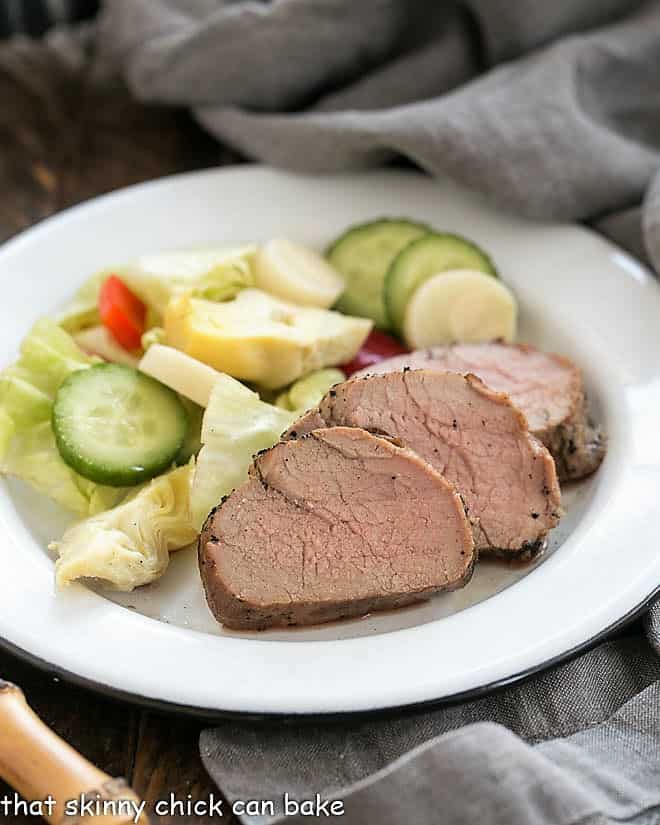 Why You Must Make
No matter the season, firing up the grill brings an additional distinction to an already flavorful entree. Grilled Pork Tenderloin tastes a heck of a lot better than oven-roasted.
There's nothing like imparting a smoky nuance to enhance the flavors of the marinade. The charring helps accentuate pork's umami, or what we know as the savory taste of meat.
Plus, via the process of osmosis, marinating infuses flavor and moisture into the pork!

Why Marinate Pork?
Sweet, salty with a bit of spice from fresh ginger, garlic, and Dijon mustard, this pork tenderloin marinade paired perfectly with pork. Each ingredient provides a different flavor element and the balance is key for a perfect marinade:
Definitely allow time to marinate your meat overnight so that the flavor has an opportunity to permeate the tenderloins. Pork tenderloin is very lean. Without the fat of other cuts of pork, the flavor can be bland without a good spice rub or marinade.
It's simple chemistry. By osmosis, the higher sugar and sodium content in the brine work their way into the pork. I like using a Ziploc bag so I can easily flip the pork a couple of times so the marinade has time to infuse from all sides. This recipe is perfect for entertaining since all the prep work is done the night before. So while appetizers are being noshed and cocktails sipped, toss your meat on the grill.
Ingredient Notes:
The ratios are important. For example, too much acid can make the meat mushy. It's best to measure each ingredient.
Pork Tenderloin – Ask your butcher to remove any tough silver skin if it's still on the pork. You can do this at home with a sharp knife, but the experts always do a better job.
Olive Oil helps transfer fat-soluble flavors into the meat
Soy Sauce provides sodium and umami
Worcestershire Sauce also provides sodium and umami
Garlic and Fresh Ginger provide flavor
Brown Sugar helps balance the other flavors, especially the acid in the whiskey
Dijon Mustard provides piquancy
Whiskey, like all alcohol, provides flavor enhancement plus the acidity adds a tang, helps break down tough muscle fibers, and helps to tenderize.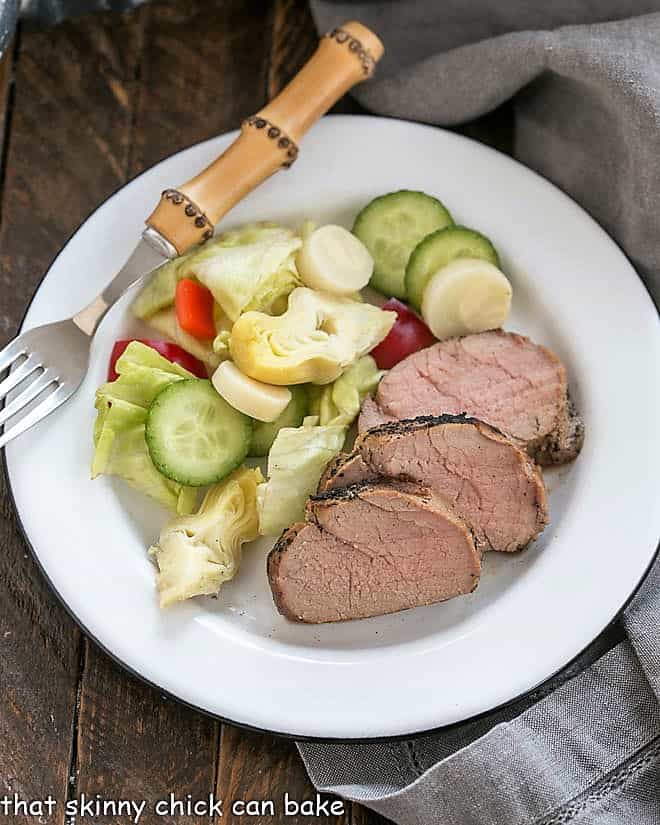 How to Cook Pork Tenderloin
I prefer to grill pork tenderloin, but if you're in a pinch (like no charcoal or a blizzard), you can roast it. Sear the exterior in a medium-high pan with a little olive oil. This helps color and caramelize the exterior. Next roast in a hot oven, about 450º for 10-15 minutes or until the internal temperature reads 140-145º. Cover with foil and let rest for 5-10 minutes before serving.
To grill your pork, set up your gas or charcoal grill with a direct heat zone, a hotter area, and an indirect heat zone, with less heat. Grill over direct heat until the internal temperature reaches 140-145º, turning once. If the pork ever starts to burn, move it to the indirect zone. Rest as you would if roasting.
In about 30 minutes, your entree is ready to carve. Be sure to allow about 10 minutes for the all-important resting time, so the juices can redistribute and your finished product will be tender and moist.
Recipe Tips
First, let the marinated pork sit out at room temperature for about 30 minutes so it's not icy cold when you toss it on the grill. This will allow for more consistent cooking.
Then monitor the internal temperature carefully. Cooking time will vary depending on how hot your grill is and the weight of your tenderloins.
PRO-Tip: The National Pork Board recommends pork tenderloin (and all pork cuts except ground pork which should be cooked to 160º) be cooked to 145º with a 3-minute resting period.
The resting period is when you cover the cooked pork with foil for 3-10 minutes to allow the juices to redistribute and the residual heat to bring the temperature up a few more degrees. At this temperature, the pork may have a pink cast in the middle, but should not look uncooked.
PRO-Tip: To check the internal temperature, place an instant read thermometer into the thickest part of the meat without touching any bone. Since pork can be very lean, it's important not to overcook to make sure the pork is tender and juicy.

Frequently Asked Questions
How Long Does It Take to Grill Pork Tenderloin?
Your pork tenderloin will be done in about 12-18 minutes depending on its size and the heat of your grill.
Should You Flip Your Pork While Grilling?
Yes, turn your tenderloins over when you're halfway through the estimated cooking time. This prevents one side from being charred and the other side pale.
How Can You Keep Your Pork from Getting Dry?
Pork tenderloin is a very lean cut, so overcooking can make it dry. Pull it off the grill a few minutes before you expect it to be done and cover it with foil. There will be some carryover cooking as the pork rests. You can always use a meat thermometer to monitor its doneness. 140-145° is the goal for cooked pork, but it will continue cooking after it's removed from the grill so removing it at 135-140° is best. The interior should be a pale pink color as long as it doesn't look pink and raw.

Marinating your pork also plumps it up and helps keep the meat moist.
You May Also Like:
Stay in touch through social media @ Instagram, Facebook, and Pinterest. Don't forget to tag me when you try one of my recipes! And if you love the results, please give it a 5-star rating in the recipe card. Note: As an Amazon Associate, I earn from qualifying purchases. Visit my Amazon Store for my favorite products.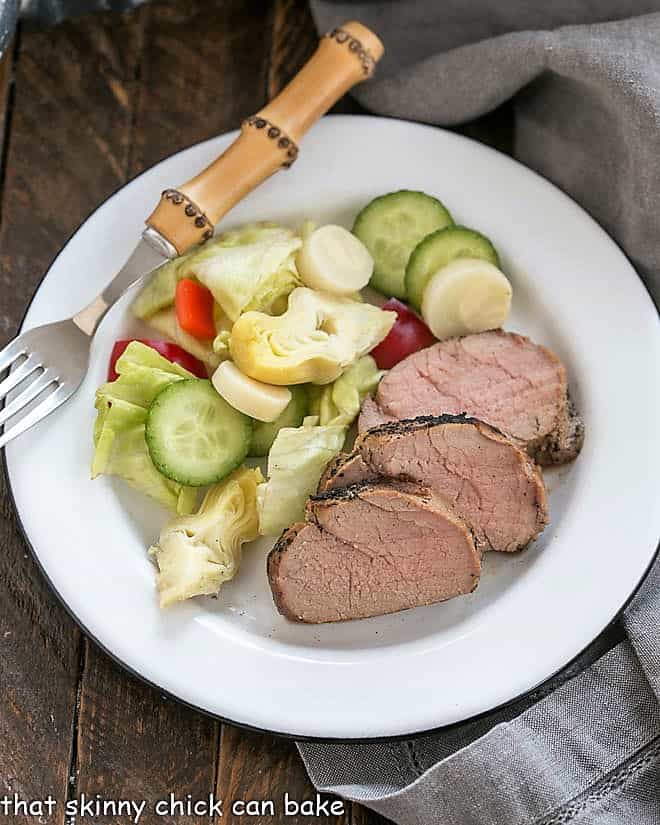 The Recipe:
Whiskey Marinated Pork Tenderloin
Prep Time 10 minutes
Cook Time 20 minutes
Total Time 30 minutes
Yield 6
A terrific marinade, like in this Whiskey Marinated Pork Tenderloin, takes and ordinary cut of meat into something spectacular!
Ingredients
2 pork tenderloins, trimmed
Marinade Ingredients
¼ cup olive oil
3 tablespoons soy sauce
1 tablespoon Worcestershire sauce
1 tablespoon finely minced or grated fresh ginger
3-4 cloves crushed garlic
¼ cup brown sugar
3 tablespoons Dijon mustard
¼ cup whiskey
Instructions
Whisk together the marinade ingredients. Pour into a ziplock bag.
Add the pork tenderloins to the bag, seal well, and marinate for at least 6-8 hours or overnight.
Grill until internal temperature is about 135-140°º.
Remove from the grill. Cover with foil and let rest before carving.
Notes
Servings will vary depending on the size of your pork tenderloins. Large ones will serve 6.
Nutrition Information:
Yield:
6
Serving Size:
1
Amount Per Serving:
Calories: 184
Total Fat: 11g
Saturated Fat: 2g
Trans Fat: 0g
Unsaturated Fat: 8g
Cholesterol: 21mg
Sodium: 691mg
Carbohydrates: 10g
Fiber: 1g
Sugar: 8g
Protein: 8g
Note: This post may contain affiliate links; view
my Disclosure Policy
for details. I earn a small percentage from any purchase you make by clicking on these links at no extra cost to you.