Chocolate Mousse Torte
I spied this decadent Chocolate Mousse Torte on the Fine Cooking website and knew immediately it would be our Christmas dessert. Rich and exquisite, this is definitely a mousse in cake form.
The only downside is that it's difficult to slice into perfect wedges. Fine Cooking recommended using dental floss, but my clan really doesn't care as long as they were dished a serving ASAP. This Chocolate Mousse Torte is truly decadent and worthy of any special occasion.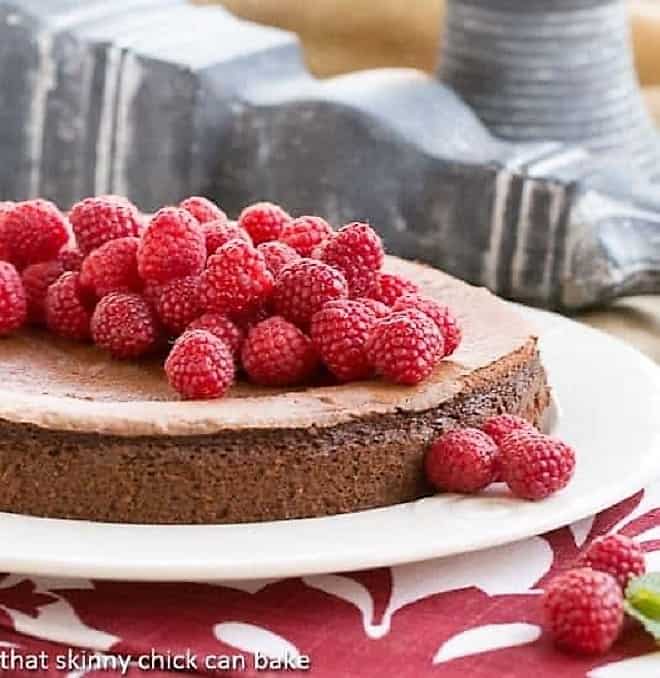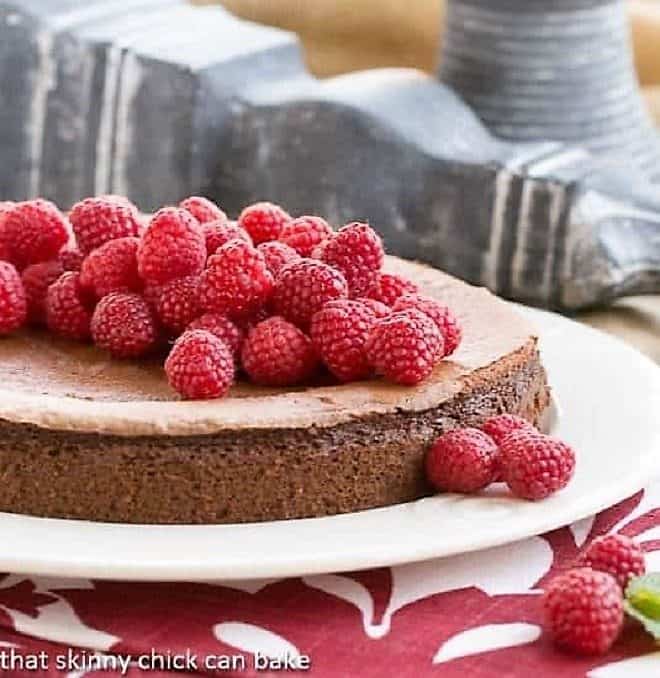 Why You Must Make this Chocolate Torte
My inspiration recipe was from Fine Cooking Magazine!! It's an incredible resource for terrific recipes.
It's rich, delicious, and only one layer so you won't be tempted by zillions of calories worth of cake in your kitchen. Not to say this is lacking in calories!
If you're looking for an exquisite dessert to impress, you've found it.
Bill requested I tone down the coffee flavor in this chocolate mousse torte dessert, so I cut the espresso powder from 1 tablespoon to 1 teaspoon. Feel free to up the dose if you love a true mocha flavor. The recipe is pretty straightforward, but be forewarned, there will be a few dirty dishes…what with making ganache in the food processor, whipping up the cake batter in your stand mixer, then slowly folding the batter into the ganache in yet another bowl.
I usually leave the dirty dishes for the hubby, but when every surface is covered with holiday prep, I do shed some mercy. But I seem to splash chocolate on the kitchen wallpaper every single time I have batter to clean out of mixing bowls before loading them in the dishwasher. But this chocolate mousse torte is worth the mess…and the dishpan hands.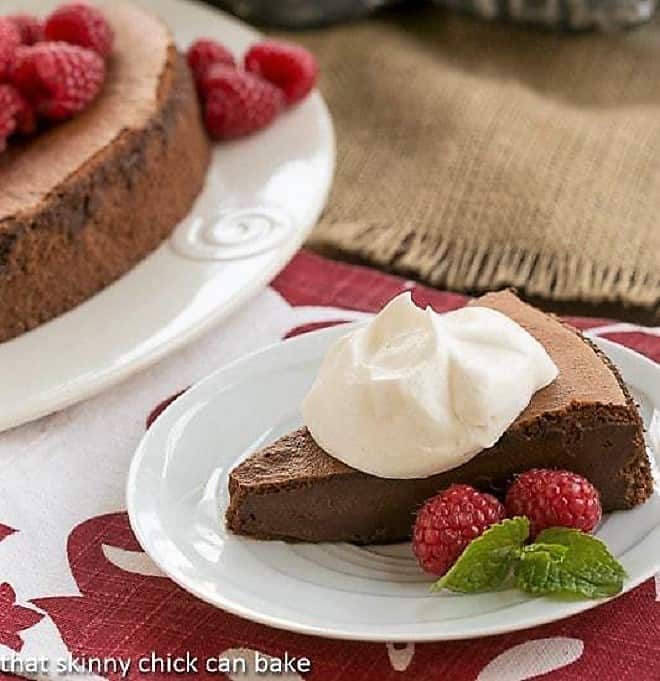 Sunday Supper Celebration!
I'm honored to be hosting the Sunday Supper's virtual anniversary party. It's been two fun-filled years of wonderful recipes and camaraderie. We're all reflecting on our favorite moments over the past year. Hands down, mine was meeting up in person with many of the friends I've made in this group.
First, at the IFBC in Seattle, I was thrilled to meet Alice of Hip Foodie Mom, Nancy of Gotta Get Baked, Linda of The Urban Mrs, and Megan of I Run For Wine. Then in November, I gathered with Kim of Cravings of a Lunatic, Lauren of Heathy. Delicious, Angie of Big Bear's Wife, and Courtney of Neighborhoodfood at another food blogger's conference, Mixed, near Pembroke, Virginia. These gals were as wonderful as you'd imagine…we were instant friends. I hope to meet more blogger friends in 2014!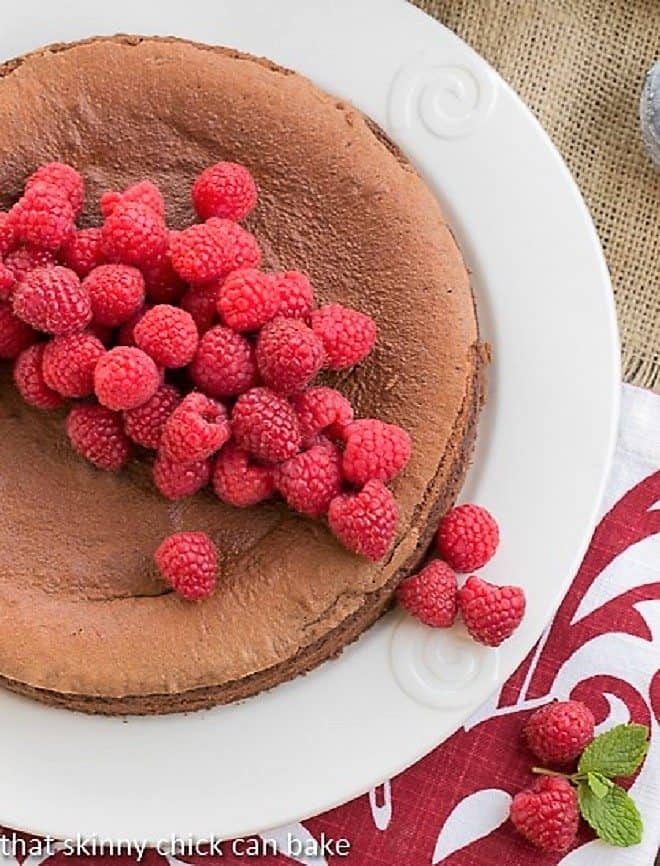 With Nancy and Alice
With Angie, Lauren, Courtney and Kim
Helpful Tools:
More Chocolate and Mousse Recipes: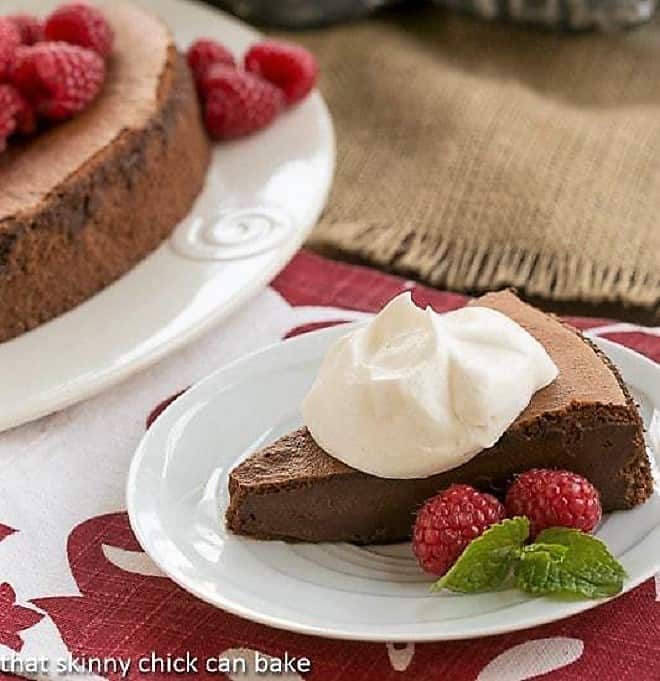 The Recipe:
Chocolate Mousse Torte
Prep Time 20 minutes
Cook Time 20 minutes
Total Time 40 minutes
Yield 12 servings
A decadent chocolate dessert worthy of any special occasion!
Ingredients
For ganache:
12 ounces semi-sweet chocolate, chopped
1 cup heavy cream
For cake:
1 tablespoon butter at room temperature for the pan
1 teaspoon instant espresso granules (may add 1 tablespoon for more espresso flavor)
6 eggs, at room temperature
1/2 cup granulated sugar
1/4 cup flour
Instructions
Preheat the oven to 400°F. Generously butter a 10-inch springform pan and wrap the bottom and sides in heavy-duty aluminum foil.
Make the ganache by grinding the chocolate in a food processor till it looks like coarse crumbs.
Bring cream to nearly boiling. Add the hot cream to the food processor and process for about 10 seconds. Scrape down the sides of the processor.
Dissolve the espresso powder in a teaspoon of hot water and add it to the warm ganache still in the food processor. Process until fully incorporated, about 10 seconds. Transfer the ganache to a large bowl.
In your stand mixer with the whisk attachment, whip the eggs, sugar, and flour on high speed until pale and fluffy and doubled in volume, about 6 minutes.
Add about one-third of the egg mixture to the ganache and fold in with a rubber spatula until combined. Add the remaining egg mixture and fold together until just combined..
Pour the batter into the springform pan. Set the pan inside the roasting pan and fill the roasting pan with 1 to 1-1/2 inches of boiling water.
Bake 15 to 20 minutes or till the top is crusty and center jiggles just slightly. Remove from the water bath, remove foil and cool on a wire rack to room temperature and then refrigerate for at least 3 hours or overnight.
To cut the torte dip your knife in hot water and wipe dry before each cut. Serve with whipped cream and berries.
Notes
Total time does not include chilling time.
Adapted from Fine Cooking.
Nutrition Information:
Yield:
12
Serving Size:
1 slice
Amount Per Serving:
Calories: 290
Total Fat: 19g
Saturated Fat: 11g
Trans Fat: 0g
Unsaturated Fat: 7g
Cholesterol: 118mg
Sodium: 52mg
Carbohydrates: 29g
Fiber: 2g
Sugar: 24g
Protein: 5g
Note: This post may contain affiliate links; view
my Disclosure Policy
for details. I earn a small percentage from any purchase you make by clicking on these links at no extra cost to you.