Double Dose English Toffee
Typical English toffee is topped with a flurry of chopped nuts, but for an extra boost of decadence, this Double Dose English Toffee was gilded with chopped Heath bars!
Double Dose English Toffee
English toffee is one of the most beloved confections that I share over the holidays. At the last minute I decided to whip up some for a Christmas luncheon with friends; and instead of topping with chopped pecans, I went another route and added Heath bar chunks for this Double Dose English Toffee.
Why didn't I think of this before??? A double dose of toffee is a double dose of deliciousness….and my girlfriends agreed.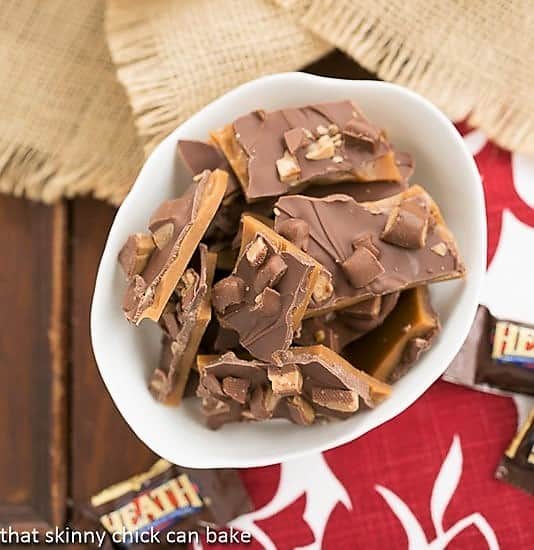 Tips for Making a Perfect English Toffee Recipe
This is the English toffee recipe I've been making for years. It took me many attempts over the years to find the right recipe, the right peak temperature, and the right technique. I have a few tips for making the perfect toffee on a previous post featuring the classic version.
PRO-Tip: Unless you are a master candy maker, a candy thermometer is imperative. And this recipe takes some patience…don't be tempted to crank up the heat at the end to hurry things along. Slow and steady is the key to success.
PRO-Tip: Adding corn syrup prevents the sugar in the candy from recrystallizing, which will make your toffee gritty. Corn syrup has gotten a bad rap over the past few years, but it will save you a lot of angst when making toffee!
One friend gave me the ultimate compliment when a bowl of my toffee was passed around the after lunch. Her mom made toffee each year at the holidays…and mine was the only other toffee she'd tasted that rivaled her dear mother's version. I think you'll find it amazing, too.
You may need these supplies to make this English toffee recipe:
More Candy Recipes You'll Love: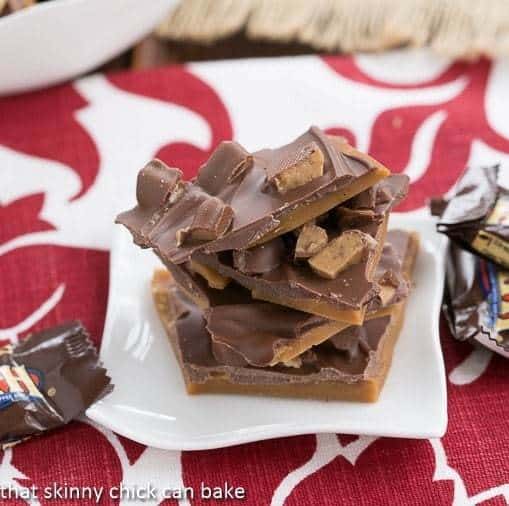 The Recipe:
Double Dose English Toffee Recipe
Prep Time 10 minutes
Cook Time 20 minutes
Total Time 30 minutes
Yield 2½ lbs toffee
Classic English toffee kicked up a notch with a topping of chopped Heath bars
Ingredients
1 cup chopped Heath bars
1 cup butter
1 cup sugar
6 tablespoons light corn syrup
2 tablespoons water
1 teaspoon vanilla
12 ounces milk chocolate, chopped
Instructions
Cover a large baking sheet with a Silpat or lightly grease with Pam.
Cut butter into pieces and mix with sugar, corn syrup, and water in a saucepan.
Bring to a boil over medium-high heat, stirring until sugar is dissolved. Insert candy thermometer and allow to boil, stirring occasionally, until the liquid turns amber and the temperature reaches 290º.
Remove from heat immediately and add vanilla.
Stir to combine and pour onto the prepared sheet. Use an offset spatula to spread over the surface.
Allow to cool for about a minute, then sprinkle with chocolate. Allow the heat to melt the chocolate, then smooth it out with your spatula.
Sprinkle with Heath bar chunks and gently pat down so the candy adheres to the chocolate.
Chill for 2 hours, then break into small pieces. Store in refrigerator.
Nutrition Information:
Yield:
40
Serving Size:
1 ounce
Amount Per Serving:
Calories: 140
Total Fat: 9g
Saturated Fat: 5g
Trans Fat: 0g
Unsaturated Fat: 3g
Cholesterol: 17mg
Sodium: 60mg
Carbohydrates: 16g
Fiber: 0g
Sugar: 15g
Protein: 1g
Note: This post may contain affiliate links; view
my Disclosure Policy
for details. I earn a small percentage from any purchase you make by clicking on these links at no extra cost to you.