Soft Chewy Cream Caramels are a bit time consuming, but will always get rave reviews!  For holiday gifts or your own consumption, they are a spectacular homemade candy!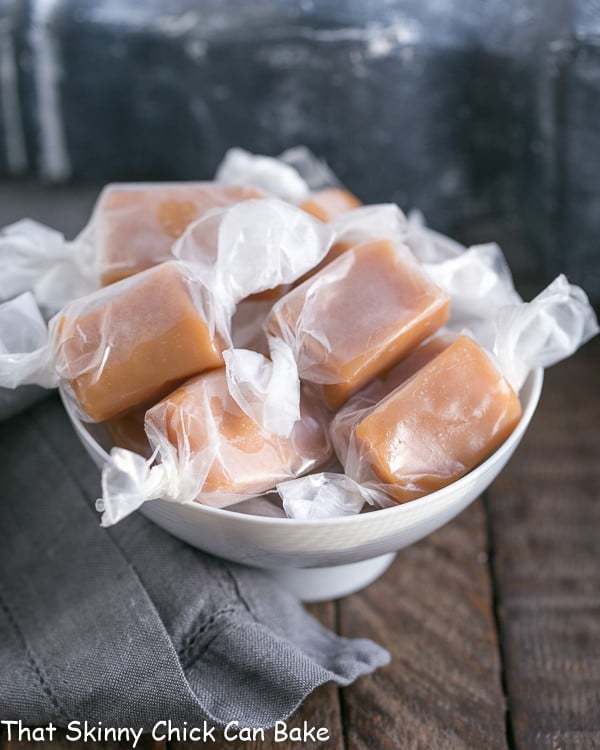 Soft Chewy Homemade Cream Caramels
If you're a baker, you've probably come across a recipe that calls for a bag of store bought caramels. They are a fabulous shortcut to use in recipes like these Oatmeal Caramel Bars, but can never rival homemade cream caramels.
Despite being wrapped, they are anything but soft and chewy. Once you taste homemade cream caramels, you'll never want to go back!
These cream caramels melt in your mouth while teasing your palate with their sweet vanilla essence. I've made a variety of caramels over the years.
Some use half and half, and others utilize cream or even evaporated milk. The sweeteners have ranged from white sugar to brown sugar, but all include some corn syrup which is needed to inhibit crystallization. I'm leaning towards declaring these as my favorites.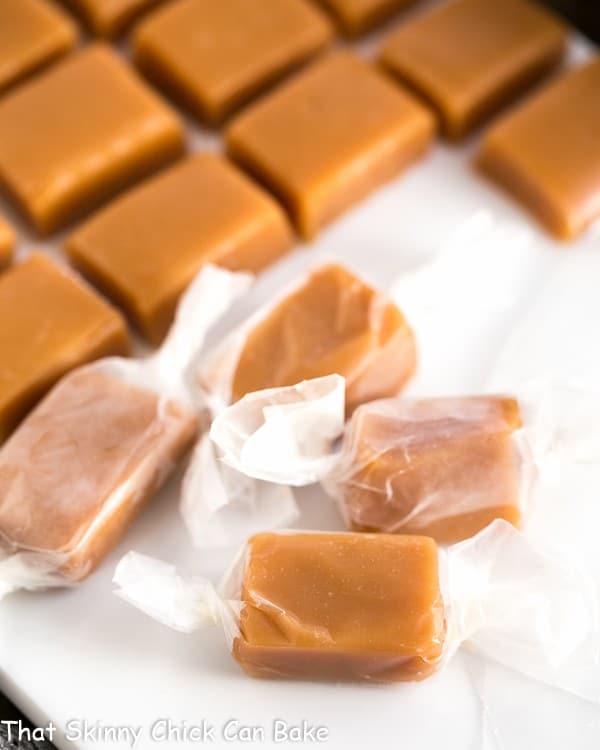 Patience is Required
I make both caramels and toffee for the holidays. From year to year, I subconsciously block out the tediousness of candy making.
I'd estimate it took nearly an hour to get the liquid caramel mixture up to the proper temperature. You can't walk away or you risk scorching your caramel.
Don't answer the phone, or you may end up tossing the mixture. I turn on the TV, stand and stir, while watching the candy thermometer very slowly approach the firm ball stage. But when all your friends rave, you'll be glad you went the extra mile!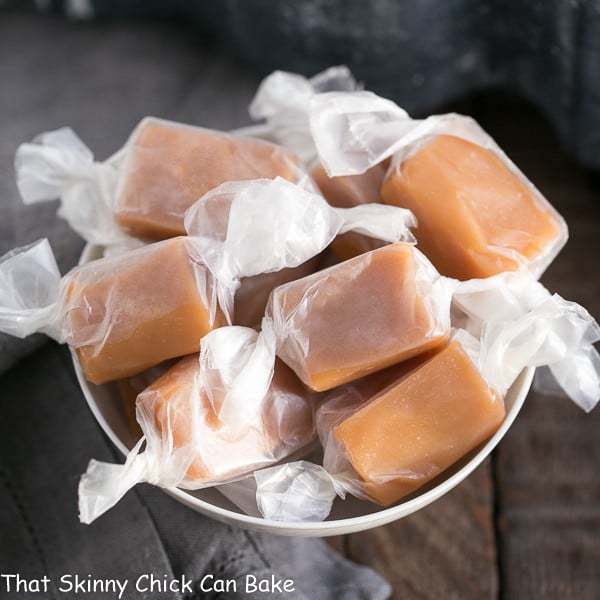 You Might Like:
More Caramel Recipes You'll Love:
You may need these supplies to make the soft chewy cream caramels recipe:
Print
Soft Chewy Cream Caramels
Buttery homemade caramel candies that will outshine any grocery store version!
Author:
Prep Time: 5 mins
Cook Time: 1 hour
Total Time: 1 hour 5 minutes
Yield: 64 1-inch caramels
Category: Dessert. Candy
Method: Boiling
Cuisine: American
Ingredients
1 cup (2 sticks), butter
2 cups sugar
2 cups heavy cream
1/2 cup light corn syrup
2 teaspoons vanilla
Instructions
Line an 8×8 pan with non-stick foil. Set aside.
Melt the butter in a heavy saucepan. Stir in the sugar, cream and corn syrup. Mix and bring to a gentle boil
Insert a candy thermometer and continue boiling until the candy reaches 247-248 degrees. If you like your caramel slightly firmer, let cook to 250 degrees. This can take 45 minutes to an hour, so be patient.
Add the vanilla and stir to combine. Pour into prepared pan.
Allow to cool, then lift caramel from pan using the foil as a sling. Place on a cutting board and slice into 1-inch squares. Wrap in wax paper.
These freeze well.
Notes
Be very cautious as the boiling caramel is extremely hot and can burn your skin.
Note: This post may contain affiliate links; view
my Disclosure Policy
for details. I earn a small percentage from any purchase you make by clicking on these links at no extra cost to you.