Soft Chewy Cream Caramels
Soft Chewy Cream Caramels are a bit time-consuming, but will always get rave reviews! For holiday gifts or your own consumption, they are a spectacular homemade candy!
Homemade Caramels are perfect for Christmas. Your friends and family will be in awe of your skills when you tell them they're from scratch. Below you'll find my tips for making this recipe for Chewy Caramels.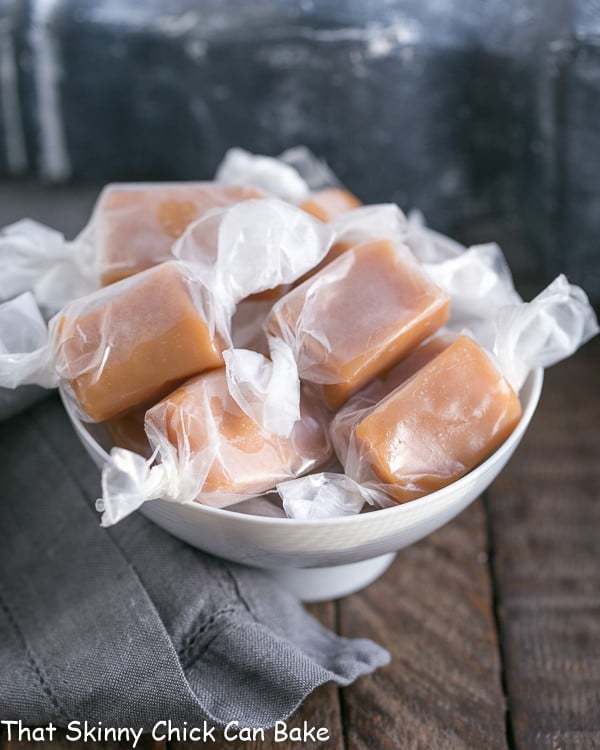 Why You Must Make
They are soft and buttery, just the way caramels should be!
These cream caramels melt in your mouth while teasing your palate with their sweet vanilla essence.
I've made a variety of caramels over the years and these chewy caramels are the bomb!
If you're a baker, you've probably come across a recipe that calls for a bag of store-bought caramels. They are a fabulous shortcut to use in recipes like these Oatmeal Caramel Bars, but can never rival homemade cream caramels. Despite being wrapped, grocery store caramels are anything but soft and chewy. Once you taste homemade cream caramels, you'll never want to go back!
Some use half and half, and others utilize heavy cream or even evaporated milk. The sweeteners have ranged from white sugar to brown sugar, but all include some corn syrup which is needed to inhibit crystallization. I'm leaning towards declaring these as my favorites.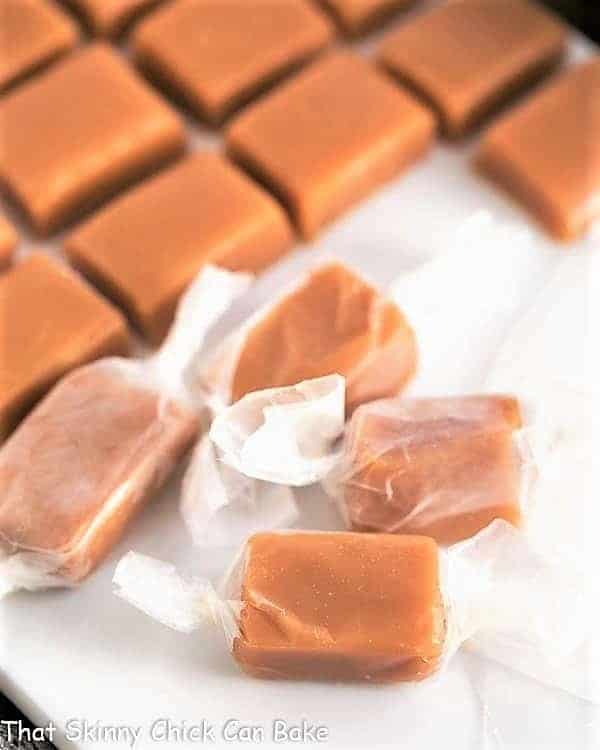 Expert Tips
I make both caramels and toffee for the holidays. From year to year, I subconsciously block out the tediousness of candy-making.
Don't be worried about using corn syrup in this recipe. It's key to preventing recrystallization of the sugar.
I'd estimate it took nearly an hour to get the liquid caramel mixture up to the proper temperature. You can't walk away or you risk scorching your caramel.
Don't answer the phone, or you may end up tossing the mixture. I turn on the TV, stand, and stir while watching the candy thermometer very slowly approach the firm ball stage.
PRO-Tip: If you make any adjustments to your burner, do it very gradually. Any abrupt change in temperature (or even movement) can cause the butter to leach from the caramels when they cool.
Use a good quality candy thermometer for the best results. (affiliate link)
Boil until the candy reaches 247-248 degrees. If you like your caramel slightly firmer, let cook to 250 degrees.
PRO-Tip:Use a heavy saucepan, not a cheap, flimsy pan for more even heating.
Remember that the boiling sugar mixture is extremely hot and can give you second-degree burns if you're not careful. To be super cautious, keep small children at a distance.
Caramels freeze well. Make these in early December for the holidays. Wrap individually in rectangles of wax paper (they will take decent-sized piece), then place in a freezer Ziploc bag and remove excess air. Pop in the freezer and pull out what you need at any time!
When all your friends rave, you'll be glad you went the extra mile!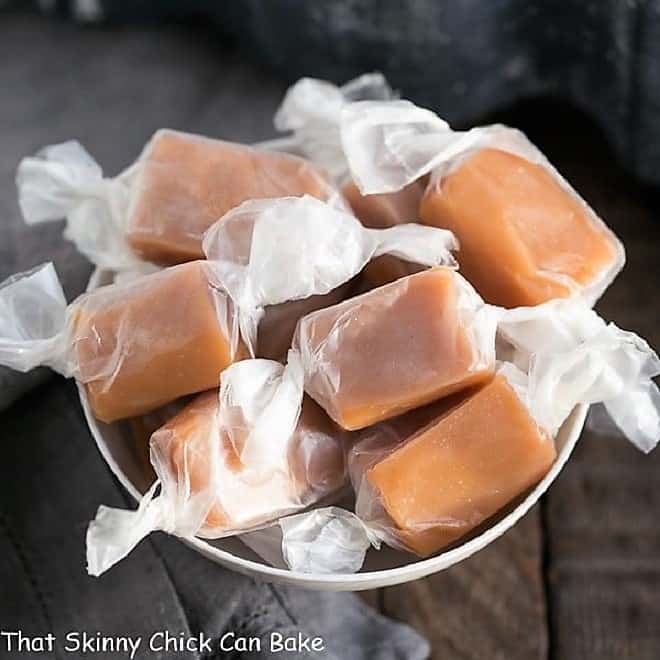 Frequently Asked Questions
How Do You Cut Homemade Caramels?
I like to use kitchen scissors to cut my caramels. A greased knife also works well.
How Do You Wrap Caramels?
You can buy special candy papers on Amazon, but I find wax paper is inexpensive and works well. It's a nice, neutral color. You will need a decent-sized rectangle for each caramel in order to completely wrap and then twist both ends.
How Do You Store Caramels?
Since these are soft caramels, it's best to store them in a cool, dry location. After they're wrapped, they'll keep well in a sealed container in the refrigerator for a couple of weeks.
For long-term storage, they freeze well for up to 6 months. Just make sure to keep them in an airtight container.
How Long Do Caramels Last?
Moisture is the enemy of caramels, so as long as you keep them in a cool, dry location, they'll last weeks when chilled and months when frozen.
Why Did the Butter Separate from the Caramels?
This can happen with abrupt temperature changes while you're cooking. It's hard to be patient when you're monitoring the candy cooking for up to an hour, but don't adjust the burner to try to hurry the process along. This can result in an oily layer on top of your caramels.

If you need to adjust the burner up or down, do it very, very gradually.
You May Also Like:
Reader Endorsements:
From Shannon: I love this recipe! It has turned out amazing every time I use it! Thank you so much for sharing it!!
From Tina: I have actually used this recipe several times! I have to say that the only time I had an issue was when I changed up my thermometer. Then I got more of a toffee. But! When using a properly calibrated candy thermometer and using all the right ingredients, this is a great soft caramel recipe! Using it right now. In my experience, it's almost always operator error if a recipe doesn't come out right. Don't blame the recipe.
Stay in touch through social media @ Instagram, Facebook, and Pinterest. Don't forget to tag me when you try one of my recipes! And if you love the results, please give it a 5-star rating in the recipe card. Note: As an Amazon Associate, I earn from qualifying purchases. Visit my Amazon Store for my favorite products.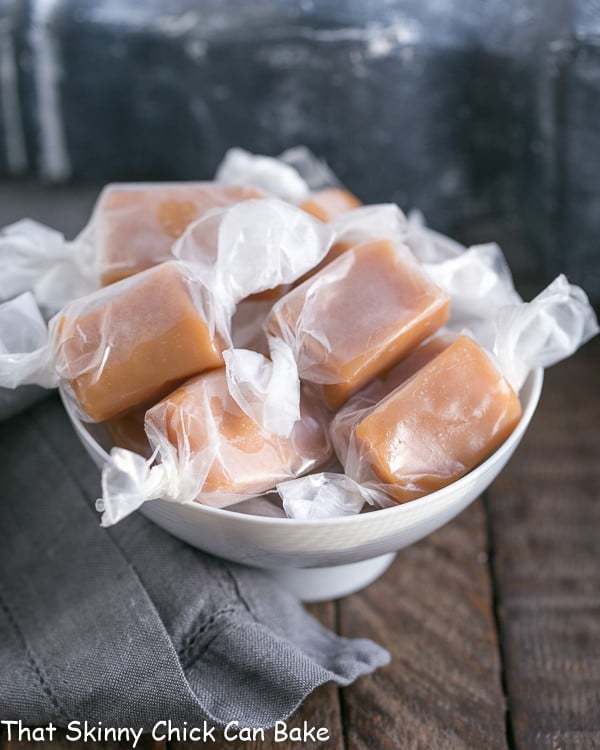 The Recipe:
Soft Chewy Cream Caramels
Prep Time 5 minutes
Cook Time 1 hour
Total Time 1 hour 5 minutes
Yield 64 1-inch caramels
Buttery homemade caramel candies that will outshine any grocery store version!
Ingredients
1 cup butter (2 sticks)
2 cups sugar
2 cups heavy cream
½ cup light corn syrup
2 teaspoons vanilla
Instructions
Line an 8x8 pan with non-stick foil. Set aside.
Melt the butter in a heavy saucepan. Stir in the sugar, cream, and corn syrup. Mix and bring to a gentle boil and stir until the sugar is melted.
Insert a candy thermometer and continue boiling over medium-low heat until the candy reaches 247-248°.
Stir occasionally.
If you like your caramel slightly firmer, let it cook to 250°. This can take 45 minutes to an hour, so be patient.
Remove from the heat, add the vanilla, and stir to combine. Pour into prepared pan.
Allow caramel to cool, then lift from the pan using the foil as a sling.
Place on a cutting board and slice into 1-inch squares. Wrap in wax paper.
These freeze well.
Notes
Be very cautious as the boiling caramel is extremely hot and can burn your skin.
To avoid having the butter separate from the caramels as they cool, do not make any abrupt changes to the burner temperature while you're cooking.
Recommended Products
As an Amazon Associate and member of other affiliate programs, I earn from qualifying purchases.
Nutrition Information:
Yield:
32
Serving Size:
2 caramels
Amount Per Serving:
Calories: 166
Total Fat: 11g
Saturated Fat: 7g
Trans Fat: 0g
Unsaturated Fat: 3g
Cholesterol: 32mg
Sodium: 53mg
Carbohydrates: 17g
Fiber: 0g
Sugar: 17g
Protein: 0g
Note: This post may contain affiliate links; view
my Disclosure Policy
for details. I earn a small percentage from any purchase you make by clicking on these links at no extra cost to you.