Oatmeal Caramel Bars Recipe
These irresistible Oatmeal Caramel Bars have an oat crust and oat streusel sandwiching a gooey layer of both caramel and chocolate. This easy oat bars recipe with caramel makes the perfect dessert for any occasion!
I fell hard with my first bite of these Oatmeal Carmelitas. It took me a couple of years to track down the recipe and now it's a favorite indulgence.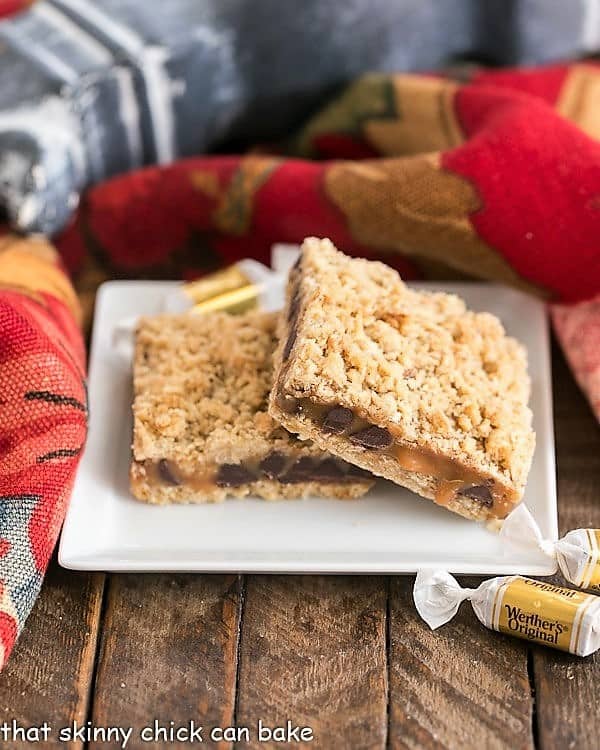 Why You Must Make these Oatmeal Caramel Bars Recipe
The combination of an oatmeal brown sugar crust, oozy caramel center topped with chocolate chips, and oatmeal streusel is my idea of dessert bar cookie perfection. It was years after I first had a bite of the deliciously sweet and chocolate oatmeal bars before I finally stumbled upon the recipe.
I've improved upon the original recipe, a Pillsbury Bake-Off winner from 1967.
Instead of a jar of caramel sauce, I melted Werther's Original Caramels made with real cream and butter!
Someone would drop off a plate of these Carmelitas, for the teachers' holiday luncheon year after year. I'd sample with the other volunteers and wished someone would share the recipe. I finally found it!!! And now YOU can try them, too.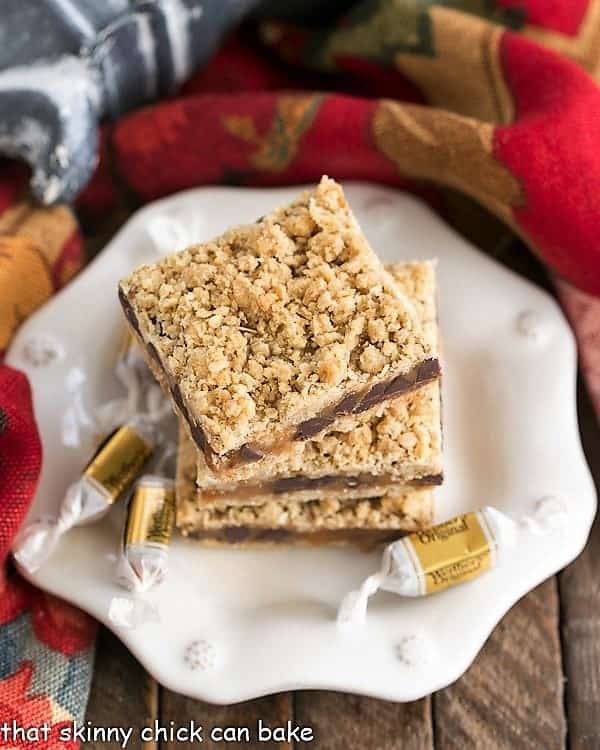 April 5: National Caramel Day
I happen to live only minutes away from Carmel, Indiana, which is getting a temporary name change or at least pronunciation change to CAR-A-MEL for the day. That is only one part of the festivities! So if you live in the Indianapolis area, make sure to head up to Carmel's Arts & Design District between 11 AM and 3 PM on Wednesday, April 5. There will be games, caramel treats (of course!), and prizes including a one-year supply of Werther's Original caramels! All to celebrate National Caramel Day.
Werther's Original will be there in full force. Caramel lovers nationwide will be sharing their preferred pronunciation with the hashtags #GreatCaramelDebate, #NationalCarmelDay, and #Werthers. Make sure to check out all their products including their newest Cocoa Creme Soft Caramels with a dreamy chocolate filling wrapped in soft Werther's Original caramel. Products range from hard, chewy, soft, and filled caramels to sugar-free caramels and even caramel popcorn!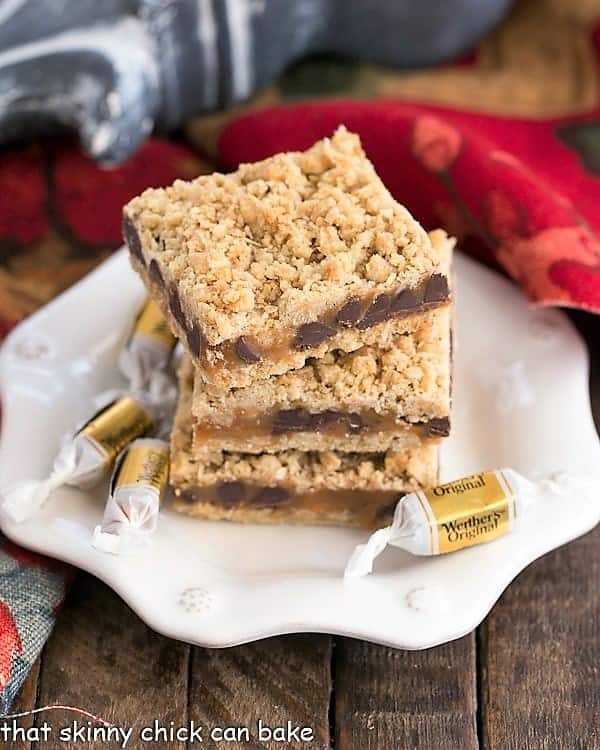 Frequently Asked Questions
How Do You Pronounce Caramel?
I grew up using the two-syllable pronunciation, KAR-mehl, but my Father-in-Law always added the third syllable,KEHR-ah-mehl or KAR-ah-mehl. This debate has been going on for eons. I'd love to know your opinion!
How Do You Store Carmelitas?
They should be stored in an airtight container. If they're uncut, they're fine at room temperature, but once they're cut into squares, the caramel will ooze a bit. At that point, store in the refrigerator but let come to room temperature before serving.
Can You Freeze Carmelitas?
Yes, they freeze well if kept in an airtight container. They'll keep well for 2-3 months. Just let them slowly defrost in the refrigerator overnight before serving.
How to Make Oatmeal Caramel Bars:
These Oatmeal Carmelitas are easy to make and even easier to eat. The same mixture makes the crust and the topping!
First, mix together the dry ingredients with the melted butter.
Press half the crumbs into the prepared pan. I like to line the pan with non-stick foil for easy cleanup and easy removal for cutting.
Melt the caramels and cream to make the filling. This can be done in a heatproof bowl in the microwave or by heating gently in a pan on the cooktop.
Sprinkle the crust with chocolate chips, then drizzle the caramel mixture over the crust, and add the rest of the crumbs. Gently press down on the crumbs.
Bake as directed and cool on a wire rack. For cleaner slices, chill before slicing into bars. Of course, if you can't wait, dive right in!!
More Caramel Recipes to Try: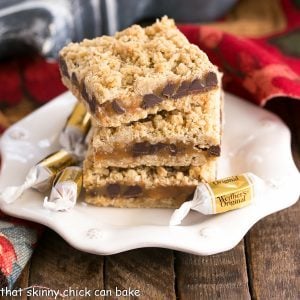 The Recipe:
Oatmeal Caramel Bars Recipe
Prep Time 20 minutes
Cook Time 25 minutes
Total Time 45 minutes
Yield 24 bars
An oatmeal bar filled with gooey caramel and chocolate.
Ingredients
2 cups flour
2 cups quick-cooking oatmeal
1 1/2 cups packed brown sugar
1 teaspoon baking soda
1/4 teaspoon salt
1 cup butter, melted
3 5-ounce bags of (15 ounces total) packaged caramels, unwrapped
6 tablespoons cream
2 cups semi-sweet chocolate chips
Instructions
Preheat oven to 350º. Line a 9 x 13-inch pan with non-stick foil or spray the pan with non-stick cooking spray. Set aside.
In a large bowl, combine flour, oatmeal, sugar, soda, and salt. Stir to blend. Add melted butter and mix until well combined.
Set aside half the crumbs, about 3 cups. Press remaining crumbs into the bottom of the pan.
In a small microwave-safe bowl, combine caramels and cream. Heat for about 5 minutes on 50% power, stirring a couple of times during the melting process, until caramels are melted and the mixture is smooth.
Sprinkle crust with chocolate chips. Drizzle with melted caramel mixture and top with reserved crumbs.
Bake for 20-25 minutes or till golden brown. Cool at least one hour before cutting (I like to refrigerate for at least an hour to get cleaner slices).
Notes
I use Werther's brand chewy caramels.
Recipe adapted from Pillsbury.
Recommended Products
As an Amazon Associate and member of other affiliate programs, I earn from qualifying purchases.
Nutrition Information:
Yield:
24
Serving Size:
1
Amount Per Serving:
Calories: 245
Total Fat: 14g
Saturated Fat: 8g
Trans Fat: 0g
Unsaturated Fat: 5g
Cholesterol: 25mg
Sodium: 142mg
Carbohydrates: 31g
Fiber: 1g
Sugar: 19g
Protein: 2g
Note: This post may contain affiliate links; view
my Disclosure Policy
for details. I earn a small percentage from any purchase you make by clicking on these links at no extra cost to you.