Oatmeal Caramel Bars have an oat crust and oat streusel sandwiching a gooey layer of both caramel and chocolate. This easy oat bars recipe with caramel makes the perfect dessert for any occasion!
This post is sponsored by Werther's Original. All opinions are my own.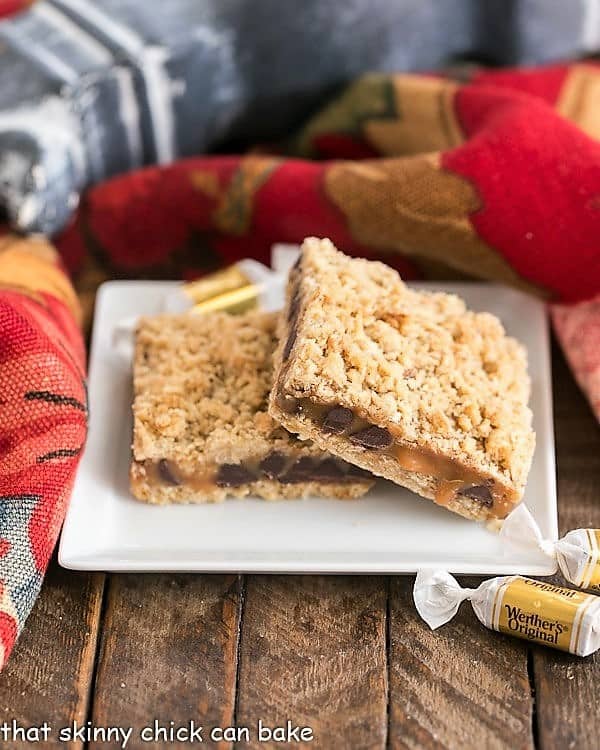 Oatmeal Caramel Bars Recipe
The combination of an oatmeal brown sugar crust, oozy caramel center topped with chocolate chips and oatmeal streusel is my idea of dessert bars perfection. It was years after I first had a bite of the deliciously sweet and chocolate oatmeal bars before I finally stumbled upon the recipe. Someone would drop off a plate of these Oatmeal Caramel Bars for the high school's holiday luncheon year after year. I'd sample with the other volunteers and wished someone would share the recipe. I finally discovered it was a Pillsbury Bake-Off winner from 1967, but they were made with a jar of caramel sauce. I thought melting Werther's Original Caramels made with real cream and butter would be a much better choice, and I was right!!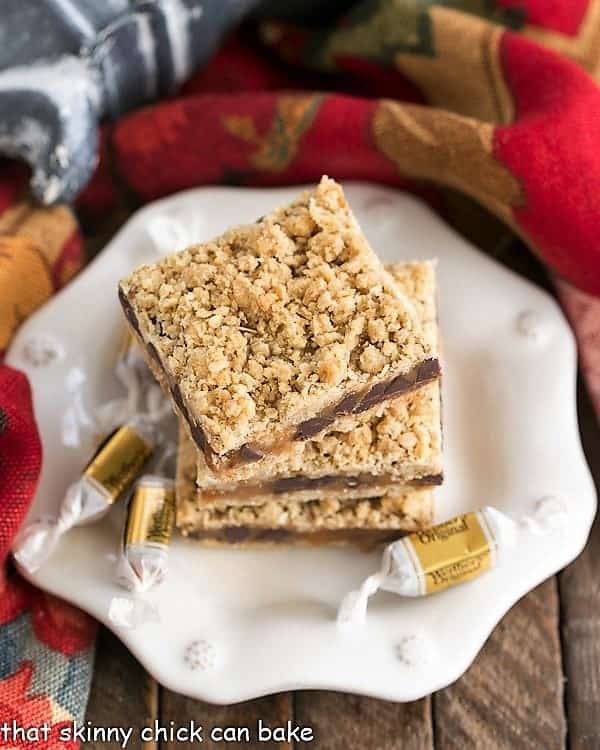 April 5: National Caramel Day
I happen to live only minutes away from Carmel, Indiana, which is getting a temporary name change or at least pronunciation change to CAR-A-MEL for the day. That is only one part of the festivities! So if you live in the Indianapolis area, make sure to head up to Carmel's Arts & Design District between 11 AM and 3 PM on Wednesday, April 5. There will be games, caramel treats (of course!), and prizes including a one-year supply of Werther's Original caramels! All to celebrate National Caramel Day.
Werther's Original will be there in full force. Caramel lovers nationwide will be sharing their preferred pronunciation with the hashtags #GreatCaramelDebate, #NationalCarmelDay and #Werthers. Make sure to check out all their products including their newest Cocoa Creme Soft Caramels with a dreamy chocolate filling wrapped in soft Werther's Original caramel. Products range from hard, chewy, soft and filled caramels to sugar free caramels and even caramel popcorn!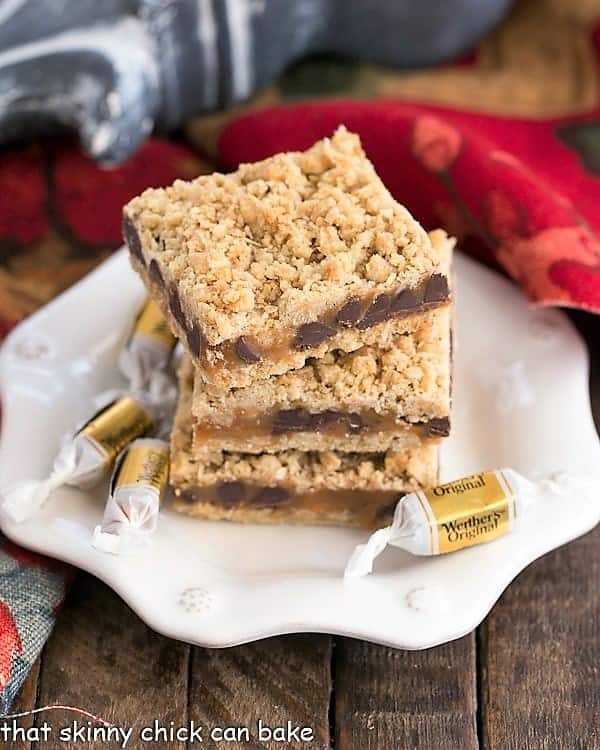 How Do YOU Pronounce Caramel?
I grew up using the two-syllable pronunciation, CAR-MEL, but my Father-in-Law always added the third syllable. This debate has been going on for eons. I'd love to know your opinion! Respond in the comments or tweet using one of the hashtags listed above. And make sure to follow Werther's Original on Facebook, Instagram and Twitter. Plus check out the Werther's Website for details on all their products.
More Caramel Recipes to Try:
How to Make Oatmeal Caramel Bars:
Print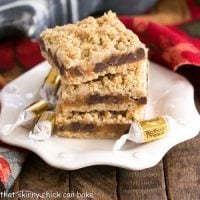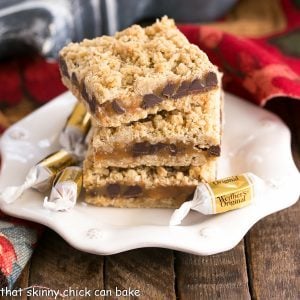 Oatmeal Caramel Bars Recipe
An oatmeal bar filled with gooey caramel and chocolate. Adapted from Pillsbury
Author:
Prep Time: 20 mins
Cook Time: 25 mins
Total Time: 45 minutes
Yield: 24 bars 1x
Ingredients
2 cups flour
2 cups quick cooking oatmeal
1 1/2 cups packed brown sugar
1 teaspoon baking soda
1/4 teaspoon salt
1 cup butter, melted
3 5-ounce bags of [url]Werther's Original Chewy Caramels∞http://www.werthers-original.us/products/caramel-candies/chewy-caramels[/url] (15 ounces total), unwrapped
6 tablespoons cream
2 cups semi-sweet chocolate chips
Instructions
Preheat oven to 350º. Line a 9 x 13-inch pan with non-stick foil or spray the pan with non-stick cooking spray. Set aside.
In a large bowl, combine flour, oatmeal, sugar, soda and salt. Stir to blend. Add melted butter and mix until well combined. Set aside half the crumbs, about 3 cups. Press remaining crumbs into the bottom of the pan.
In a small microwave-safe bowl, combine caramels and cream. Heat for about 5 minutes on 50% power, stirring a couple times during the melting process, until caramels are melted and the mixture is smooth.Sprinkle crust with chocolate chips. Drizzle with melted caramel mixture and top with reserved crumbs.
Bake for 20-25 minutes or till golden brown. Cool at least one hour before cutting (I like to refrigerate for at least an hour to get cleaner slices).
Note: This post may contain affiliate links; view
my Disclosure Policy
for details. I earn a small percentage from any purchase you make by clicking on these links at no extra cost to you.