No Fail Chocolate Fudge
I've been making this No Fail Chocolate Fudge for years and it's become a holiday must for my family and friends. Ultra creamy and delicious, it's gotten more rave reviews than I can count!
This easy fudge recipe is no secret as it's on the jar of marshmallow creme, but I have a few tips so it comes out perfectly smooth and luscious every time!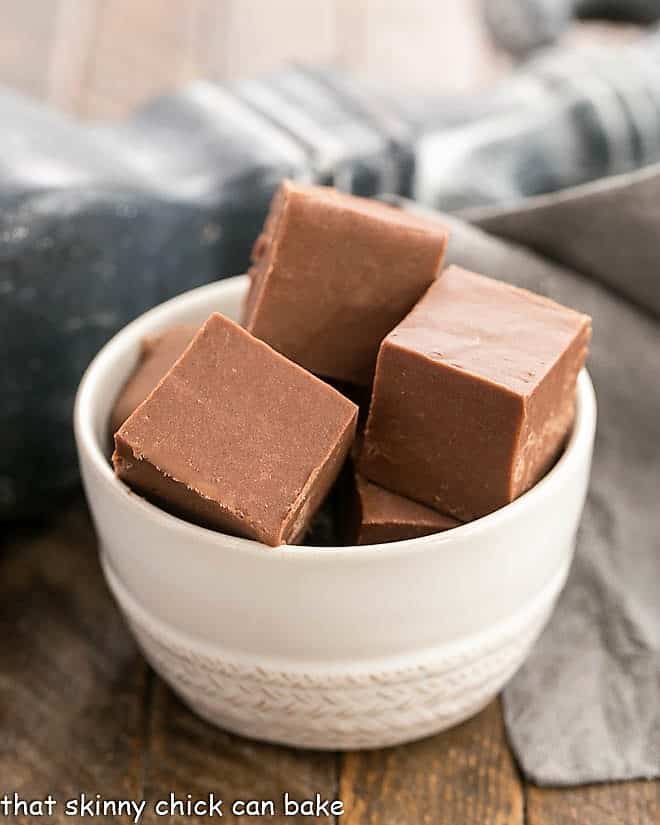 Why You Must Make
This Chocolate Fudge, also known as Fantasy Fudge, is a must for Christmas. I have gotten rave reviews from neighbors and even one of my son's basketball coaches who stopped me in the parking lot and declared it the best fudge he'd ever had!
The addition of marshmallow cream practically guarantees it won't turn out grainy like other homemade fudge recipes.
It's super-rich and creamy. My family will not let me wash the pan until they get a chance to take a spoon to it to sample. It's just that tasty.
Ingredient Notes
This No-Fail Chocolate Fudge only takes 6 ingredients. I bet you have at least 3 of them in your kitchen right now!
Sugar – regular granulated
Butter – I use salted. A little salt helps the flavor of dessert recipes. Margarine won't be as tasty.
Evaporated milk
Semisweet Chocolate – Chocolate chips are fine, though chocolate bars, like Ghirardelli, will melt more smoothly
Marshmallow Creme – Jet-Puffed is the brand I consistently use.
Real Vanilla Extract – Read the label. You do not want artificial flavoring.

Expert Tips
Prep the pan before you start. PRO-Tip: Line your pan with non-stick foil (or use regular foil and spray with Pam or another non-stick cooking spray). This will enable you to use the foil as a sling to remove the cooled fudge to a cutting board for slicing.
Have all your ingredients measured and near your cooking pot. Once the fudge reaches the proper temperature, you'll want to add the final ingredients immediately.
PRO-Tip: Use real butter and brand-name chocolate chips (or chocolate bars) for the tastiest results.
PRO-Tip: If you use chocolate chips, chop them before adding so they melt easily.
Use a heavy-bottom saucepan. This will minimize scorching and distribute heat evenly.
Make sure your pan is large enough to hold all the ingredients without boiling over the top.
Use a silicone spatula or wooden spoon to stir. Never use a metal spoon as the handle will be too hot.
PRO-Tip: For the best results, use an accurate candy thermometer. It's crucial for perfect results every time.
Do not double the recipe. It's more likely to fail.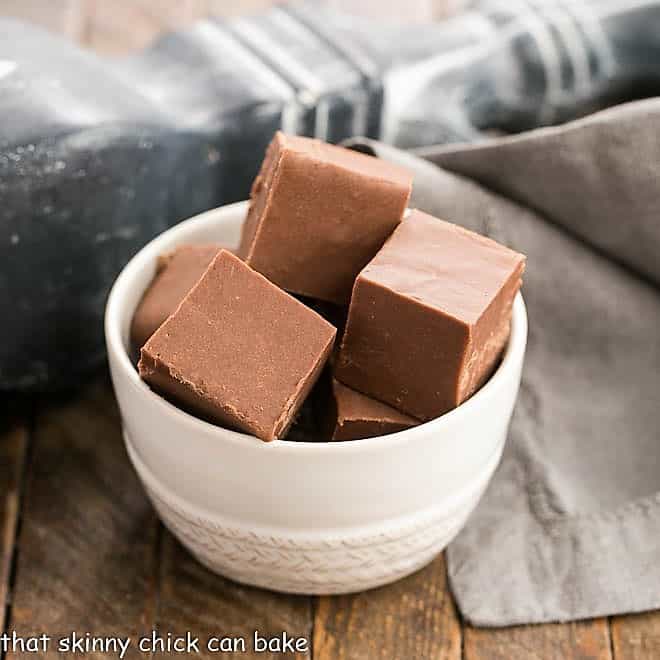 Frequently Asked Questions
How Do You Make Chocolate Fudge?
My Marshmallow Creme jar recipe calls this "Fantasy Fudge' and is the recipe I've been using for decades. As my easy fudge recipe has evolved over the years, so has the one on the label.
PRO-Tip: The main improvement to this easy fudge recipe includes adding a temperature to indicate an exact time to add the chocolate chips, marshmallow creme, and vanilla. Use a candy thermometer for perfect results every time.
Originally, the recipe stated to bring the candy mixture to a full boil for 5 minutes. Altered recently to state 4 minutes, it now also reads "or until candy thermometer reaches 234º."
PRO-Tip: Once the mixture starts boiling, I place the lid on the pot for only about 15 seconds or so. I do this as a precaution to help melt any sugar crystals on the side of the pan. Alternatively, you can lightly grease the sides of the pan before you start to prevent the sugar from adhering. Or use a wet pastry brush to wipe down the sides of the pan.
How Do You Monitor the Fudge Temperature?
In candy-making terms, 234º is just a degree under the soft-ball stage, which ranges from 235-240º. That's the goal for candies like fudge, fondant, and pralines.
You can also check your candy for the soft-ball stage by dropping a small bit into cold water and seeing if it cools into a soft, flexible ball.
I prefer using a candy thermometer (see Amazon link in recipe card) to make this fudge recipe.
What Makes This Chocolate Fudge Recipe Foolproof?
My mom loved the old-fashioned Fanny Farmer Fudge recipe which was tricky to make as it didn't have either of the secret ingredients which make for no-fail fudge recipes. PRO-Tip: Without corn syrup, marshmallows, or marshmallow creme, if even one crystal of sugar is left unmelted, the whole pot can recrystallize and become grainy after it cools.
Typically, I like to cook without processed ingredients, but this is one of the times I go for the best results. My goal is not to make 3 batches in order to have one turnout! I always use Kraft Marshmallow Creme (affiliate link). I've heard other brands do not work as well, but have not tested any others.
Type of Chocolate Is Best for Making Fudge?
Chocolate chips are formulated to keep their shape in chocolate chip cookies, etc, therefore, they don't melt very easily. I've even taken a whisk to the fudge mixture to encourage the melting process. Use a name brand for a better quality chocolate chip or chop your chocolate chips to encourage faster melting.
Alternatively, use 12 ounces of chopped Ghirardelli semisweet chocolate instead of chocolate chips. It is of higher quality and is bound to melt into a silky smooth mixture.
How Long Does It Take Fudge to Set Up?
Once you pour the fudge into your prepared pan, let it sit at room temperature until it's firm. It takes homemade fudge 1-2 hours to set up depending on the temperature of your kitchen. After it's cooled make sure to cover the pan with foil or plastic wrap so the top layer stays soft.
How Long Does No Fail Fudge Keep?
Fudge will keep 1-2 weeks at room temperature in an airtight container. Store your homemade fudge in the refrigerator for 2-3 weeks.
This easy fudge recipe also freezes beautifully for up to 3 months. Just make sure to freeze in an airtight, freezer-safe container.
You May Also Like:
Stay in touch through social media @ Instagram, Facebook, and Pinterest. Don't forget to tag me when you try one of my recipes! And if you love the results, please give it a 5-star rating in the recipe card. Note: As an Amazon Associate, I earn from qualifying purchases. Visit my Amazon Store for my favorite products.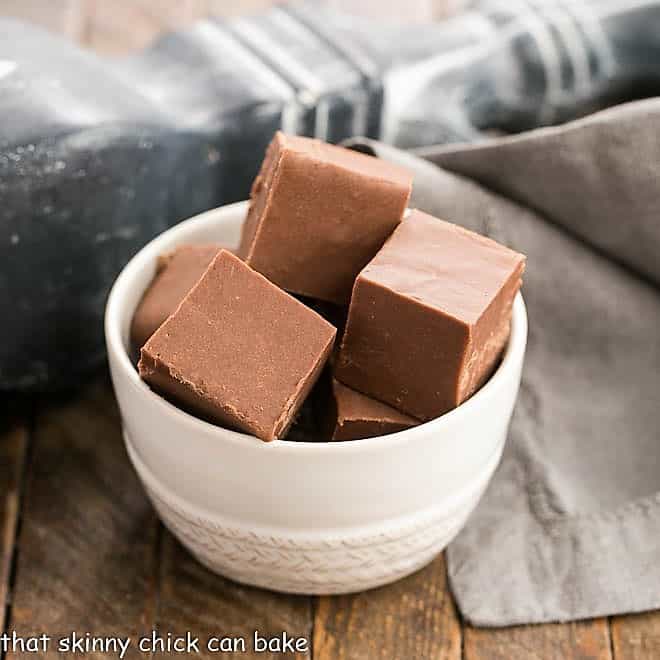 The Recipe:
No Fail Chocolate Fudge
Prep Time 5 minutes
Cook Time 10 minutes
Additional Time 2 hours
Total Time 2 hours 15 minutes
Yield 64 squares of fudge
Silky smooth fudge every single time! This is the recipe on the back of the jar of Kraft Marshmallow Creme. Use this technique for creamy fudge every single time!
Ingredients
3 cups white sugar
¾ cup butter
⅔ cup evaporated milk
1 12-ounce package semisweet chocolate chips or 12 ounces chopped, semi-sweet chocolate
1 7-ounce jar Kraft marshmallow creme
1 teaspoon vanilla
Instructions
Line an 8 x 8-inch-inch pan with non-stick foil and set it aside. `
Bring sugar, butter, and evaporated milk to a full boil in a large saucepan, stirring constantly.
Cook until your candy thermometer reaches 234°, which should take about 4-5 minutes. Remove from heat.
Add chocolate and marshmallow creme and stir until melted. Add the vanilla and stir until combined.
Pour into prepared pan; spread evenly with an off-set spatula.
Cool completely, then cut into 1-inch squares.
Notes
Use a candy thermometer for the best results.
Use real butter and brand-name chocolate chips or bars (I use Ghirardelli). If you use chocolate chips, chop them so they'll melt more easily.
If you see any sugar crystals on the side of the pan while the fudge mixture is cooking, just put the lid on the pot for 15-30 seconds or so to encourage melting. You can also brush down the sides with a wet pastry brush.
Recommended Products
As an Amazon Associate and member of other affiliate programs, I earn from qualifying purchases.
Nutrition Information:
Yield:
64
Serving Size:
1 square
Amount Per Serving:
Calories: 120
Total Fat: 6g
Saturated Fat: 3g
Trans Fat: 0g
Unsaturated Fat: 2g
Cholesterol: 6mg
Sodium: 24mg
Carbohydrates: 19g
Fiber: 1g
Sugar: 17g
Protein: 1g
Note: This post may contain affiliate links; view
my Disclosure Policy
for details. I earn a small percentage from any purchase you make by clicking on these links at no extra cost to you.