This moist, scrumptious Chocolate Mayonnaise Cake was popular when I was growing up. We got past the ewwww factor of the mayo once we took our first bite! It's seriously one amazing cake!
This scrumptious retro chocolate cake is perfect for all the chocoholics in your life. The unusual ingredient can be our little secret!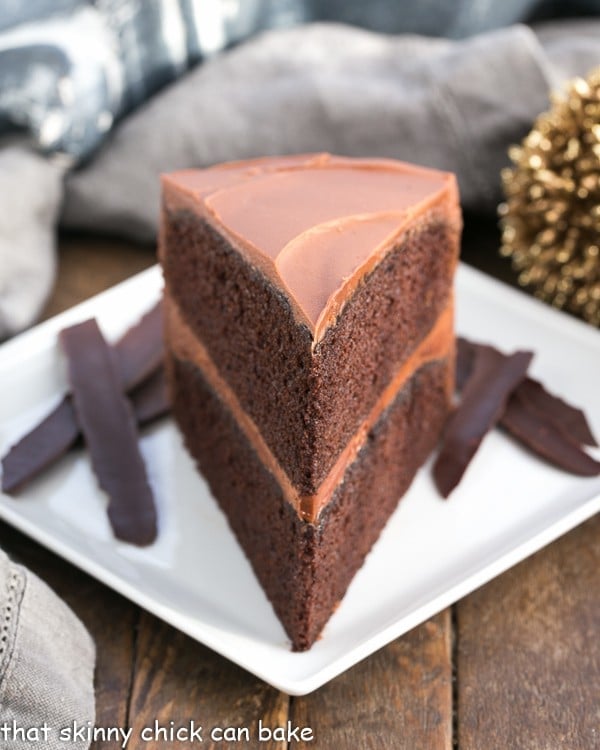 Chocolate Mayonnaise Cake
My mom wasn't one for fancy desserts unless it was for a special occasion. When she baked this chocolate mayonnaise cake, it was in a 9 x 13-inch pan. Simple, yet decadent and irresistible!
The magic "mayo" helps add the moisture that many chocolate cakes are lacking. When I pulled my cake out of the oven after 30 minutes, I was certain it was over baked and would be dry. I usually check the cake before the timer goes off, but apparently, I was distracted.
Rest assured, it was declared terrific by the whole family and the neighborhood chocoholic who relayed that it was the best chocolate cake he had ever had (via his wife who left me a glowing review via voice mail). Not a single soul thought it was dry, despite that it could have come out of the oven at the 28 minute mark.
Tips for Cutting the Perfect Slice of Cake
I'm frequently asked how to cut a perfect slice of cake. Today, I'll reveal all my secrets!
I popped this layer cake into the refrigerator for a few hours to help firm up the frosting. When I was ready to cut a wedge, I grabbed a wide serrated knife and ran it under very hot water. PRO-Tip: Cut chilled, serve at room temperature
Next, I wiped the knife dry with a clean cloth or paper towel and cut the cake with a sawing motion. I reheated and dried the knife for the second cut, making sure both cuts met at the center.
I used a metal spatula to remove the slice. Voila! Note that the cake will taste better served at room temperature, but slices better cold.
More Chocolate Cake Recipes You'll Love:
Print
Chocolate Mayonnaise Cake
A retro chocolate layer cake that has stood the test of time!
Author:
Prep Time: 20 mins
Cook Time: 30 mins
Total Time: 50 minutes
Yield: 12 servings
Category: Dessert, Cake
Method: Baking
Cuisine: American
Ingredients
Cake:
2 cups flour
2/3 cup unsweetened cocoa powder
1-1/4 teaspoons baking soda
1/4 teaspoon baking powder
3 eggs
1 2/3 cups sugar
2 teaspoons vanilla
1 cup mayonnaise (I used Hellmann's)
1-1/3 cups cold coffee
Frosting:
10 ounces semisweet chocolate, chopped
1 1/2 cups (3 sticks) butter, room temperature
3 cups powdered sugar
1 tablespoon vanilla
Instructions
Preheat oven to 350°. Grease two [easyazon_link identifier="B003YKGRY6" locale="US" tag="thskchcaba-20"]9-inch cake pans[/easyazon_link], line with rounds of parchment and grease the parchment; set aside.
In medium bowl, whisk together the flour, cocoa, baking soda and baking powder; set aside.
In large bowl or [easyazon_link identifier="B00005UP2P" locale="US" tag="thskchcaba-20"]mixer[/easyazon_link], beat eggs, sugar and vanilla on high for 3 minutes or until light and fluffy. Beat in mayonnaise at low speed until blended. Alternately beat in flour mixture with coffee, beginning and ending with flour mixture. Divide evenly between prepared pans. Bake for 26-30 minutes or until a toothpick inserted into the center of the cakes comes out clean.
Let cakes cool about 20 minutes, then remove to [easyazon_link identifier="B00R0M2TSC" locale="US" tag="thskchcaba-20"]cooling racks[/easyazon_link] (remove parchment if it's stuck to the cakes) to cool completely.
Place chopped chocolate into a microwave safe bowl. Microwave, stopping to stir frequently, until chocolate is melted and smooth. Let the chocolate cool until lukewarm, stirring occasionally.
Beat butter in large bowl until smooth and creamy (I used my [easyazon_link identifier="B00005UP2P" locale="US" tag="thskchcaba-20"]stand mixer[/easyazon_link] with the paddle attachment). Sift powdered sugar over butter and beat until well blended, about 2 minutes. Beat in vanilla. Add melted chocolate and beat until well blended, scraping down sides of bowl as needed.
Frost as desired.
Note: This post may contain affiliate links; view
my Disclosure Policy
for details. I earn a small percentage from any purchase you make by clicking on these links at no extra cost to you.