Favorite Red Velvet Recipes
Red Velvet Desserts are perfect to celebrate Valentine's Day or Christmas, but my Favorite Red Velvet Recipes can be enjoyed ALL year long!
These are the Best Red Velvet Recipes from my blog and some of my favorite bloggers! From cookies to cakes to fudge, there's a dessert recipe for every red velvet lover you know!
Why You Will Love Red Velvet Desserts
The red color make them perfect for Christmas and Valentine's Day!
There are so many red velvet desserts from which to choose. Don't like cake? Try cookies, fudge, crepes or even a cheeseball!
If someone doesn't like chocolate, red velvet is a viable option as there is just a touch of cocoa powder in most recipes, but no obvious chocolate flavor.
My family has a love-hate relationship with red velvet desserts. With only a minimal amount of cocoa powder in each recipe, the hubby, a die-hard chocoholic, does not think they're chocolaty enough.
Granted, no one is calling them chocolate red velvet cupcakes, brownies, or cookies. But I suppose when he sees a cupcake, disappointment sets in when it's anything besides chocolate.
My youngest is not a fan of white chocolate or cream cheese frosting. Figure that out. But 3 of us have enjoyed every.single.one of these red velvet recipes. And, I know for a fact, the two naysayers ate their fair share. What is YOUR favorite red velvet recipe?
Frequently Asked Questions
What is Red Velvet?
Red velvet desserts appeared in the 1920s when the Adam's Extract Company first shared their red velvet cake recipe. In 1943 it made its way into the Joy of Cooking cookbook.
The red color of the cake came from the chemical reaction between cocoa powder and buttermilk and vinegar, but beets, beet juice, and most common now, red food coloring can also provide the red hue. In general, "velvet" cakes were made as far back as the 1800s.
How Does The Batter Turn Red without Food Coloring?
Though these recipes call for red food coloring, there is a reaction between the cocoa powder and the acid in the buttermilk and vinegar that produces a red-tinted batter. It's the anthocyanin in cocoa, a pH-sensitive antioxidant, that reacts to these two acidic ingredients, creating the red color.
Adding food coloring produces the even more intense red color we tend to expect with red velvet desserts.
What Does Red Velvet Taste Like?
Despite the addition of cocoa powder, there's only a very slight chocolate flavor in red velvet desserts. Almost negligible in my opinion, though many still think of red velvet as another kind of chocolate cake. Buttermilk helps add moisture as well as acidity along with the vinegar (though my palate isn't sensitive enough to taste the acidity).
The frosting is a huge giveaway as red velvet cakes are usually frosted with cream cheese icing whereas chocolate cakes are traditionally paired with chocolate frosting.
What is a Velvet Cake?
Velvet Cakes date back to the early 1900s. Finer, softer, high-end cakes were called "velvet" in contrast to the coarser texture of regular cakes of that time period.
What Pairs Best with Red Velvet Cake?
Originally, an ermine or roux frosting was used to ice red velvet cakes. Bavarian cream, white chocolate frosting along with traditional cream cheese frosting are also wonderful pairings.
Best Red Velvet Recipes
Red Velvet Cupcakes – A perennial favorite among my friends and family



Red Velvet Brownies –The thick layer of creamy white chocolate frosting will make you swoon.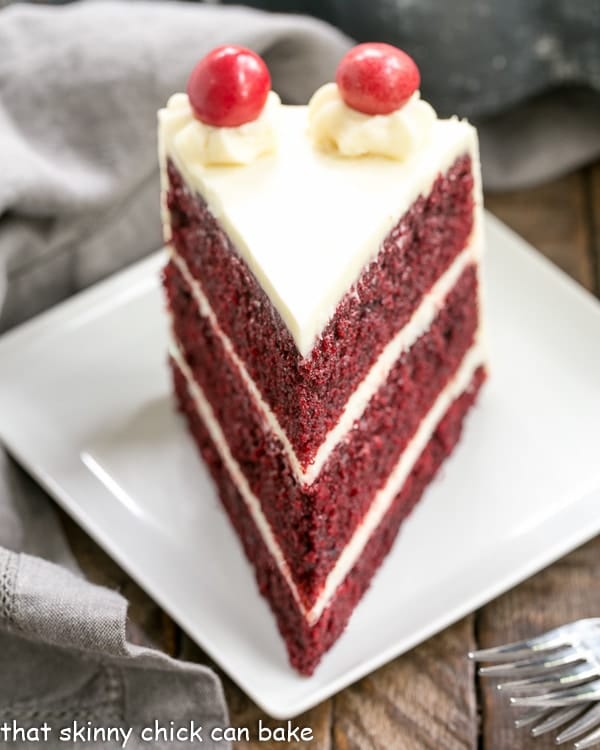 Red Velvet Cake – Three layers for an impressive presentation!
More Red Velvet Recipes:
In case you need more inspiration, here are more delicious red velvet recipes. Are you a red velvet fan? Or do you side with my husband and youngest son? One of these recipes might change your mind!
This post was first shared in February 2017. Photos and text were updated in 2020.
Note: This post may contain affiliate links; view
my Disclosure Policy
for details. I earn a small percentage from any purchase you make by clicking on these links at no extra cost to you.