Cinnamon Pull-Apart Bread
For an out of the ordinary breakfast treat, try this Cinnamon Pull-Apart Bread with cinnamon and sugar baked into every crevice! Each loaf is unique and delicious!! You'll never know what to expect when you pop it out of the oven!
I shared this Pull-Apart Coffeecake with a group of girlfriends recently. It was a chilly September morning, in the midst of the pandemic, so we pulled our chairs out onto our sunny driveway to socially distance. "This is why we come to Liz's house," said one friend after buttering a slice and taking a few bites.
We were in stitches moments later when Izzy, our crazy black lab, snatched a slice from her hands after she went back for seconds! "It's doggone good," was an apropos compliment from another friend after that fiasco! I think you'll agree.
Why You Should Make this Pull-Apart Bread
I adore pull-apart bread: challah, crescent rolls, Parker House rolls. And yes, this pull-apart loaf. No knives needed.
It's a unique and fun cinnamon bread recipe!
 To eat, just pull the buttery layers apart with a fork…or your fingers. I first saw Flo Braker's lemon version of this bread a few years ago, and I tweaked her recipe by using orange zest instead of lemon. The hubby became an instant fan. And he's a tough critic.
I figured I was long overdue to make this winner with cinnamon. If your family loves cinnamon bread and cinnamon rolls as much as mine, this is a treat they won't soon forget!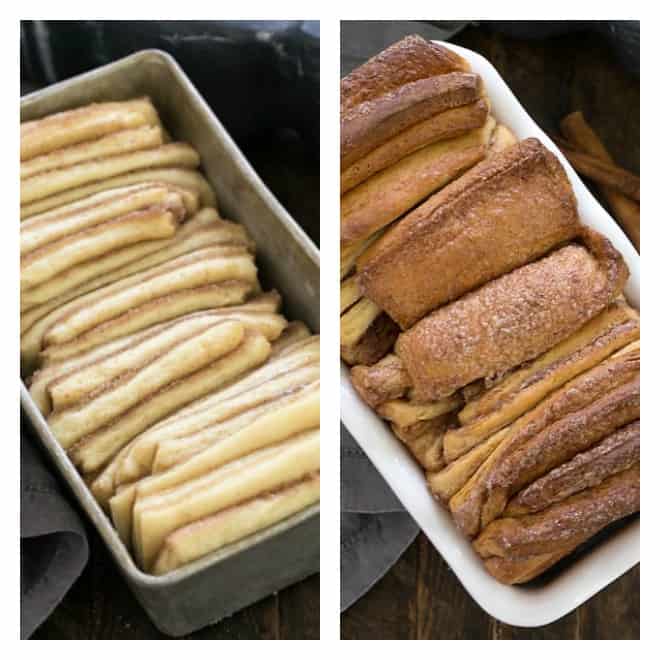 Tips for Making a Pull-Apart Bread
Wouldn't you love to start your morning with a piping hot cup of coffee and a few slices of this fragrant loaf? I knew you'd agree. I've already made it a few times this fall, once for the hubby, and then again for my knitting friends and the sweet family across the street with a new baby. Bill was delighted and ate it every morning till it disappeared. A step up from his usual cold cereal.
And the first time I baked this cinnamon bread, in 2013, I gave a loaf to Nick to share with his college roommates. I'm sure this was an upgrade from their coffee and cold pizza…or whatever 20-year-olds can find in their refrigerators to start the day. As Nick reassures me, "I haven't gotten food poisoning yet." But they did let me know about the pink chicken they all cut into one evening. Yikes. Here are some tips for making a pull-apart loaf:
PRO-Tip: Before you even start, make sure your yeast hasn't expired. Check the date and if you're still wary, you can do a quick check to avoid disappointment. Use some lukewarm water (hot will kill the yeast) and mix in your yeast with a pinch of sugar. Stir it and wait to see if it bubbles. Bubbles indicate that the yeast is live. You can then use this yeast in your recipe.
Make sure you measure the water that you use in your test so you can subtract that from the amount of liquid needed for your recipe.
Read through the whole recipe to make sure you have all the ingredients on hand. If you don't have whole milk available, 2% should be fine. Or add a little heavy cream to your milk to increase the fat content.
Have a ruler close by as you will need to roll out your dough to a specific size, then cut that dough into numerous rectangles of the same size.
PRO-Tip: I like to use a pizza cutter to slice the dough. I use a plastic (washable) ruler as my guide.
If you have a mixer with a paddle attachment, that's what I recommend for this recipe. You can always mix by hand, but it's a sticky dough.
You will proof, or let the dough rise, in a warm place twice. First, after you mix the dough. Then again after you roll the dough out, sprinkle it with cinnamon sugar, cut, and fit the slices into the loaf pan.
PRO-Tip: I use the proof setting on my oven, which is set to 85 degrees. Don't force the dough to rise faster by using a warmer locale as the bread will suffer in quality.
Don't worry if you have some wonky slices that bake up higher than the others, as this cinnamon pull-apart coffee cake will still taste amazing!
More Delicious Bread Recipes: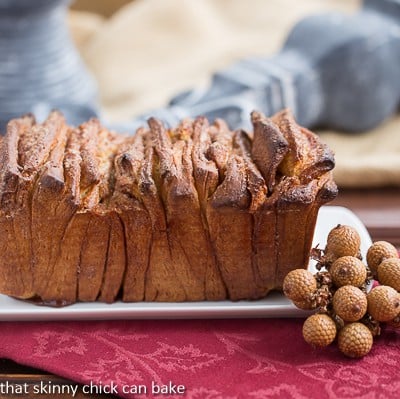 This Pull-Apart Coffee Cake was first shared in December 2013. Photos and text were updated in 2020.
The Recipe:
Cinnamon Pull-Apart Coffee Cake
Prep Time 40 minutes
Cook Time 40 minutes
Total Time 1 hour 20 minutes
Yield 8 servings
A fun, pull apart yeast bread flavored with cinnamon!
Ingredients
2 3/4 cups all-purpose flour, divided
1/4 cup sugar
2 1/4 teaspoons instant yeast (one envelope, I used Red Star Platinum Yeast)
1/2 teaspoon salt
1/3 cup whole milk
1/4 cup butter
1/4 cup water
1 1/2 teaspoons vanilla
2 eggs, at room temperature
3/4 cup sugar
2 teaspoons cinnamon
1/4 cup melted butter
A few gratings of fresh nutmeg, optional
Instructions
Grease a standard loaf pan (mine is 8 1/2 x 4 inches).
Mix 2 cups of the flour with sugar, yeast and salt in mixer bowl fitted with paddle attachment.
Heat milk and butter just in microwave or on stove top, just till butter is melted. Add water, then allow to cool till just warm (120º). Stir in vanilla.
Pour the milk mixture into the flour and mix till flour is just moistened. Add eggs, one at a time, beating till incorporated. Stop mixer and add 1/2 cup of the remaining flour and mix on low till dough is smooth, less than a minute. Add 2 more tablespoons of flour and mix again till dough is smooth, less than a minute.
Lightly flour work surface and knead dough for about a minute. Add up to another 2 tablespoons of flour if dough is too sticky. Place dough in lightly greased bowl, cover, and place in a warm place till doubled in bulk, about an hour.
Mix melted butter, sugar, cinnamon and nutmeg for filling. Set aside. (Or, alternatively just brush the dough with the melted butter after rolling it out as directed below, then sprinkle with the cinnamon sugar mixture...patting down gently to help it adhere).
Punch down dough, then roll into a 20 x 12 inch rectangle on floured surface. Spread cinnamon sugar and butter mixture as evenly as you can over dough.Using knife or pizza cutter, cut the dough into five strips...each 12 x 4 inches...use a ruler to be as accurate as possible (I trimmed some uneven edges). Spread filling over tops of each strip. Carefully stack all these strips on top of each other, so you have a stack of five 12 x 4 inch rectangles.
Next, cut this stack into 6 equal rectangles, each two inches wide. Carefully, place each of these smaller stacks into the loaf pan, cut sides up. Sprinkle any spilled cinnamon and sugar over top, if desired. Cover and let rise in a warm spot till about doubled in bulk, about 45 minutes.
Preheat oven to 350º. Bake for 30-40 minutes, depending on your oven, till top is browned. Cool on rack about 10-15 minutes then remove from pan to continue cooling.
Notes
Adapted from Flo Braker. Total time does not include proofing time.
Recommended Products
As an Amazon Associate and member of other affiliate programs, I earn from qualifying purchases.
Nutrition Information:
Yield:
8
Serving Size:
1
Amount Per Serving:
Calories: 388
Total Fat: 14g
Saturated Fat: 8g
Trans Fat: 0g
Unsaturated Fat: 4g
Cholesterol: 78mg
Sodium: 248mg
Carbohydrates: 60g
Fiber: 2g
Sugar: 26g
Protein: 7g
Note: This post may contain affiliate links; view
my Disclosure Policy
for details. I earn a small percentage from any purchase you make by clicking on these links at no extra cost to you.