Classic Cinnamon Rolls
There's nothing like a batch of Classic Cinnamon Rolls to start the day off right. My family enjoyed this breakfast treat!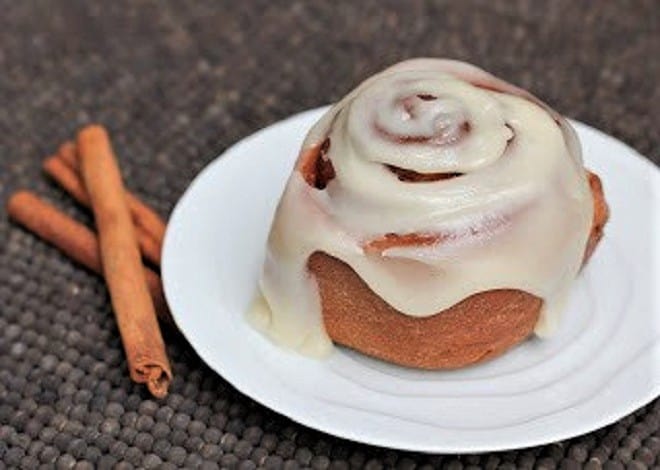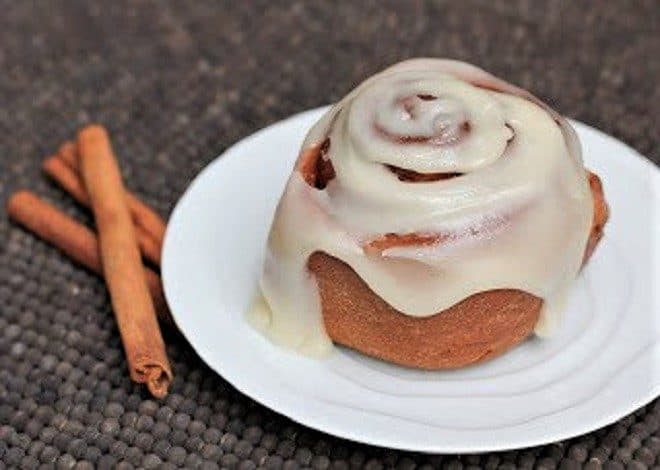 Classic Cinnamon Rolls
It was finals week for my junior in high school. I'm not sure feeding him a sugary treat first thing in the morning was the most responsible parental move, but it does make for a happier boy. This is the child who came home from Kindergarten grumbling, "cut and paste, cut and paste. If I have to work like this all the time, I'm not going to like this." He needed something special to start the week like these Classic Cinnamon Rolls.
Frosted Cinnamon Buns
So I decided to try a new recipe. First up was the Cinnabon Copy Cat classic cinnamon rolls recipe, but unfortunately, an electrical storm knocked our power out while I was in the midst of the recipe. When I finally got them baked, the tops browned but the insides were gummy. Taste testers still managed to eat them for breakfast, but I was on a mission, so I tried another recipe from Fine Cooking. They rose more significantly, and the baking time and temperature seemed more reasonable. The tops of these cinnamon buns darkened a wee too much, but I'm blaming my soon to be replaced hunk of junk NEW oven which has had 12 service calls since January. I think we found a winner (cinnamon rolls, that is, not oven)!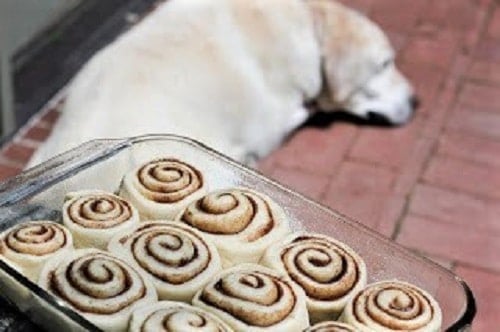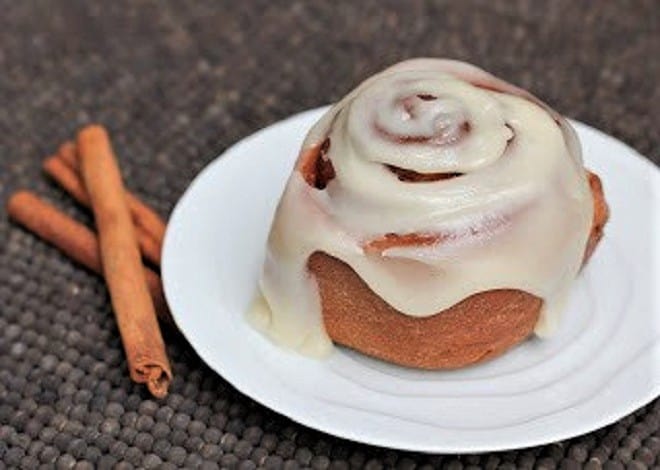 The Recipe:
Classic Cinnamon Rolls
Prep Time 40 minutes
Cook Time 20 minutes
Total Time 1 hour
Yield 12 rolls
Delectable Cinnamon Rolls adapted from Fine Cooking
Ingredients
Dough
4 cups flour
1 package Rapid Rise yeast (2 1/4 teaspoons)
1/2 cup sugar
1 teaspoon salt
1 cup whole milk
1 stick (4 ounces) butter
3 egg yolks
Filling
3/4 cup brown sugar
1 1/2 tablespoons cinnamon
Pinch of salt
4 tablespoons butter, at room temperature
Icing:
1/2 stick (2 ounces) butter, melted
2 cups powdered sugar
1/2 teaspoon vanilla
Milk or cream to thin
Instructions
In a large bowl of an electric mixer, whisk together flour, yeast, sugar and salt. Attach bowl to mixer with a dough hook attached. Microwave butter and milk till butter is melted. Allow to cool to between 115-125º.
Add the butter mixture and the egg yolks to the mixer. Mix on low speed till combined, then increase speed to medium-high and beat for about 8 minutes, till dough pulls away from the bowl. Adding a little extra flour may be necessary. Cover with plastic wrap and let rise in a warm place till doubled in size...from 45-90 minutes depending on the temperature of your kitchen.
Grease a 9 x 13-inch baking pan. Roll dough out on a lightly floured surface to about a 12 x 20-inch rectangle. Spread with softened butter. Mix together brown sugar, cinnamon and salt. Sprinkle evenly over dough. Roll dough from the long side nearest you to the long side away from you. Using dental floss, a knife or a bench scraper, cut the log into 12 equal pieces. Trim a small amount from each end first, if uneven.
Lay the rolls flat side down into the prepared baking pan. Cover with greased plastic wrap and allow to rise in a warm spot till rolls are almost doubled, puffy and nearly touching, 30-45 minutes. Preheat oven to 350º and bake about 20 minutes. Cool slightly before icing.
To make the icing, combine melted butter and powdered sugar. Add milk or cream to thin to desired consistency. Add vanilla.
Notes
Total time does not include proofing.
Nutrition Information:
Yield:
12
Serving Size:
1 Roll
Amount Per Serving:
Calories: 381
Total Fat: 7g
Saturated Fat: 4g
Trans Fat: 0g
Unsaturated Fat: 3g
Cholesterol: 63mg
Sodium: 245mg
Carbohydrates: 73g
Fiber: 2g
Sugar: 39g
Protein: 7g
Note: This post may contain affiliate links; view
my Disclosure Policy
for details. I earn a small percentage from any purchase you make by clicking on these links at no extra cost to you.