Cheese Straw Tomato Tartlets
These elegant Cheese Straw Tomato Tartlets are made with a cheesy crust with a hit of spice and filled with marinated grape tomatoes and feta. A flavorful and tasty nibble that's wonderful for a girls' night, cocktail or dinner party!
This mini version of a Tomato Tart Recipe makes unforgettable finger food with easy-to-find ingredients any time of year!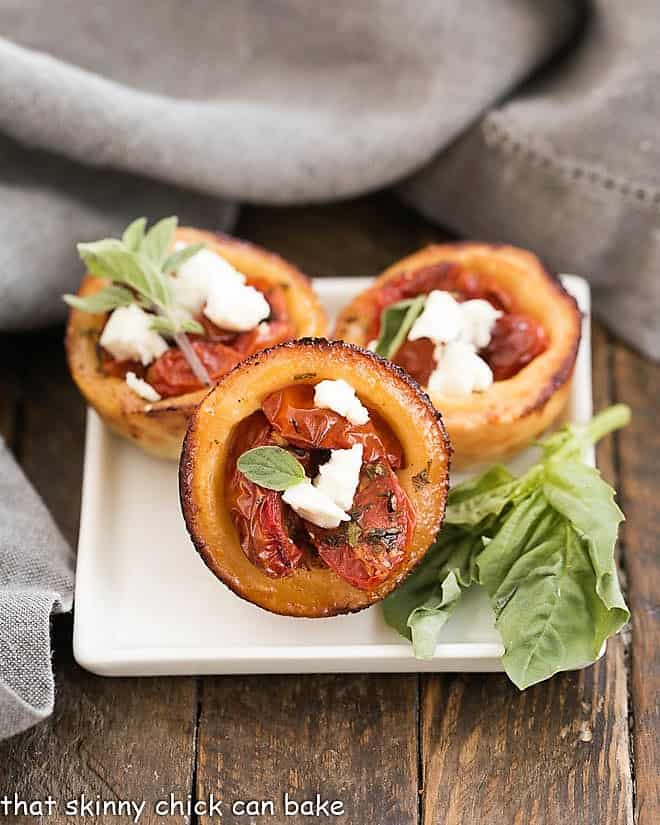 Cheese Straw Tomato Tartlets
Once a year, I host our dinner club. Snow, freezing rain, and sleet made an appearance in the forecast, but, thankfully the worst was over before our guests arrived. Julia Child's Boeuf Bourguignon was in the oven, a roaring fire was planned, then twarted when the high winds drew smoke into the house, and our driveway was cleared of snow and ice.
I whipped up these tomato tartlets with marinated tomatoes, cheesy shortbread crusts and crumbled feta to nosh on with our glasses of wine and beer. As usual, my foodie friends dived right in and enjoyed every bite.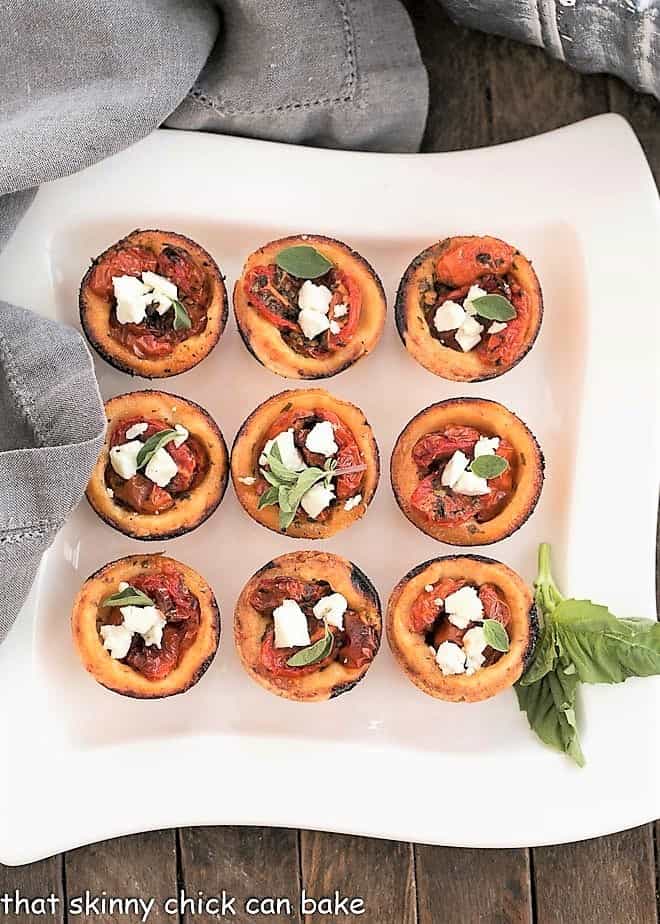 Recipe Tips
There's nothing complicated about this appetizer recipe, but they do require some downtime. The cheddar dough needs to be chilled and the grape tomatoes need to marinate before assembling and baking.
Making the tart crusts is easy in the food processor. A few pulses then a little kneading and chilling and it's ready to go. Be aware that it needs at least 2 hours of chilling before assembly.
The tomatoes, herbs, oil and vinegar need to marinate at least an hour so allow for the flavors to meld.
PRO-Tip: As with making a pastry crust for a pie, the butter and water should be cold to make the flakiest crust. Also, be sure not to over-process the mixture.
I like grating my own cheese. First of all, it melts better (not really a concern in this recipe) and you can also use better quality cheeses.
Make sure to spray your mini muffin tins with non-stick cooking spray. Let them cool only briefly before removing them to a cooling rack so they don't get stuck.
I rolled my dough a little thinner than the 1/4-inch thickness listed in the recipe and as a result made more than 24 tartlets.
I topped these tartlets with crumbled feta cheese, but you can also use Parmesan shavings. Let your tartlets cool about 15 minutes before adding the cheese.
Since I used fresh herbs in my marinade, I saved some pretty sprigs to garnish the serving plate. PRO-Tip: Garnishes should reflect ingredients in the recipe. You wouldn't want to garnish these cheese straw tomato tarts with dill as that suggests there is dill in the dish.
You May Also Like:
If you need even more inspiration, check out these 20+ Best Game Day Recipes, Best Game Day Snacks, Cream Cheese and Sausage Stuffed Mini Peppers, this Chicken and Bell Pepper Chili, and this Black Bean Chili.
More Tailgate Recipes:
Appetizers
Main Courses
Side Dishes
Desserts
This recipe can be found in (affiliate link) The Southern Living Party Cookbook: A Modern Guide to Gathering by Elizabeth Heiskell.*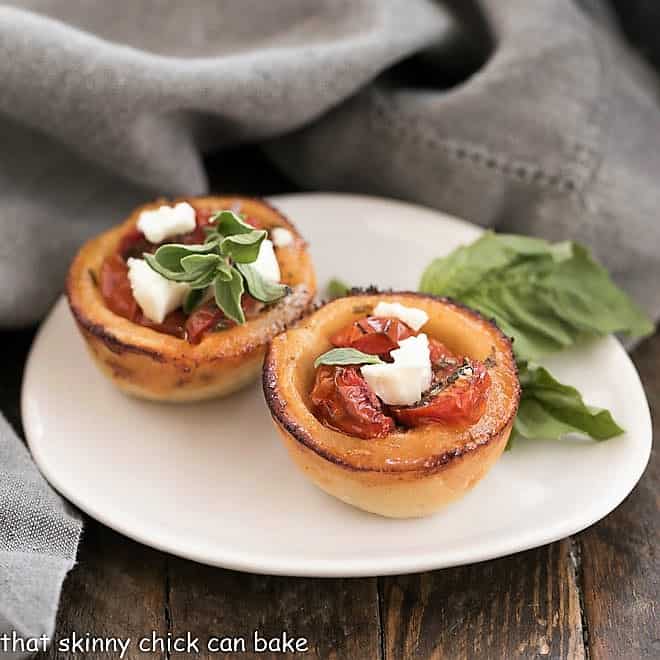 *I was given a copy of The Southern Living Party Cookbook: A Modern Guide to Gathering to review, but was not compensated for writing this post.
Elizabeth Heiskell, a best-selling author, and a TODAY show food contributor, put her one-of-a-kind touch on updating the top-selling Southern Living cookbook of all time, 1972's Southern Living Party Cookbook.
This cookbook is divided by occasion, a modern-day reinterpretation of the Southern Living classic offers a fresh lineup of party ideas, including Bridal Tea, Garden Club Luncheon, Summer Nights, Cocktails and Canapés, Tailgate, Picnic on the Lawn, Fall Dinner, and 24 more gatherings you'll want to host. These cheese straw tomato tartlets come from the chapter Cheers My Dears, for gatherings of best girlfriends.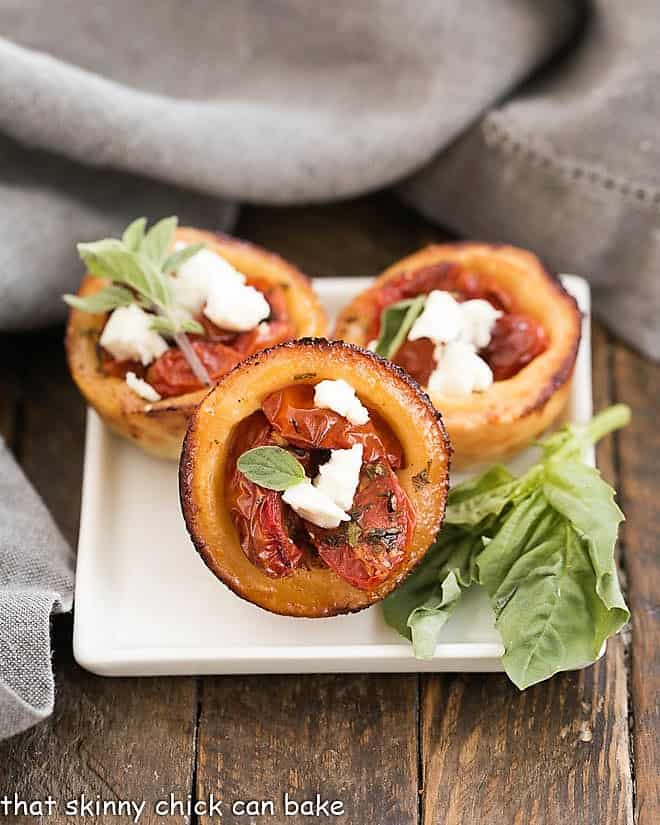 The Recipe:
Cheese Straw Tomato Tartlets
Prep Time 30 minutes
Cook Time 24 minutes
Total Time 54 minutes
Yield 24 tartlets
Tasty cheesy tart shells filled with tomatoes, garlic, feta and herbs!
Ingredients
Crust:
2 ½ cups all-purpose flour
½ teaspoon kosher salt
¼ to ½ tsp. dried crushed red pepper
¾ cup cold butter, cut into pieces
1 ½ cups (6 oz.) shredded extra sharp white Cheddar cheese
½ to ¾ cup ice-cold water
Filling:
2 pints cherry or grape tomatoes, cut in half lengthwise
3 garlic cloves, minced
2 tablespoons chopped basil
1 tablespoon chopped oregano
1 tablespoon chopped flat leaf parsley
2 tablespoons red wine vinegar
2 tablespoons extra virgin olive oil
1 teaspoon kosher salt
¼ teaspoon freshly ground black pepper
Crumbled feta or shaved Parmesan cheese
Instructions
Prepare Crust: Pulse the first 3 ingredients in a food processor 3 or 4 times or until combined. Add butter, and pulse 5 or 6 times or until crumbly. Stir in cheese.
With the processor running, gradually add ½ cup ice-cold water, and process until dough forms a ball and pulls away from the sides of the bowl, adding more water, 1 Tbsp. at a time, if necessary.
Divide dough in half; place each half on a large piece of plastic wrap. Shape each into a disk. Wrap in plastic wrap, and chill for 2 to 24 hours.
Prepare Filling: Toss together tomatoes and the next 8 ingredients; let stand for 1 to 1 ½ hours.
Preheat the oven to 400°. Roll 1 dough disk to ¼- inch thickness on a lightly floured surface.
Cut into 12 rounds using a 2 ½-inch round cutter, rerolling dough as needed; press into cups of a lightly greased 12-cup miniature muffin pan. (Dough will come slightly up sides.)
Repeat the procedure with the remaining dough disk and another muffin pan.
Divide tomato mixture among cups.
Bake at 400° for 40 to 45 minutes or until golden. Remove from pans. Cool completely on a wire
rack (about 15 minutes). Sprinkle with cheese.
Notes
Recipe reprinted from The Southern Living Party Cookbook.
Nutrition Information:
Yield:
12
Serving Size:
2 tartlets
Amount Per Serving:
Calories: 248
Total Fat: 15g
Saturated Fat: 9g
Trans Fat: 1g
Unsaturated Fat: 5g
Cholesterol: 42mg
Sodium: 368mg
Carbohydrates: 21g
Fiber: 1g
Sugar: 0g
Protein: 6g
Note: This post may contain affiliate links; view
my Disclosure Policy
for details. I earn a small percentage from any purchase you make by clicking on these links at no extra cost to you.