Chicken and Bell Pepper Chili
When the weather turns cool, I frequently cook up my favorite classic chili recipe. Often, I shake things up by adding this out-of-the-ordinary, scrumptious Chicken and Bell Pepper Chili to our dinner menu!
Without any exotic ingredients, this is the best chili recipe to share with friends and family. Everyone loves it!!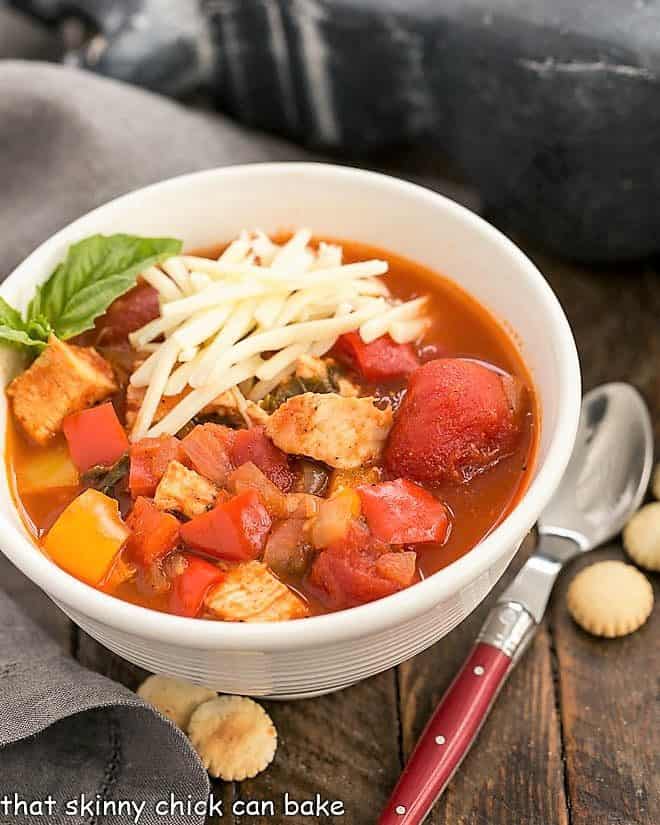 Why You Must Make
Though a bit more sophisticated than your usual chicken chili, it's still simple to throw together.
It's based on an Ina Garten recipe, so you know it's delicious!
It's perfect for game day, to share with friends in need, and for family dinners! I always get asked for the recipe!
When our beloved Packers finally made it to the big game, this seemed like the perfect Super Bowl Sunday dinner. Our Packer lights were positioned around the doors, our not-so-attractive Packer gnome was facing the TV, and our dog, Lambeau, (named after Curly Lambeau…a very famous Green Bay Packer player and coach) was around for good luck. The family was a bunch of nervous wrecks, and I had to snake off to the kitchen to escape the shouting, groaning, and armchair refereeing! We had to wait until the game was over to dine, but once again, this best chili recipe with chicken disappeared quickly.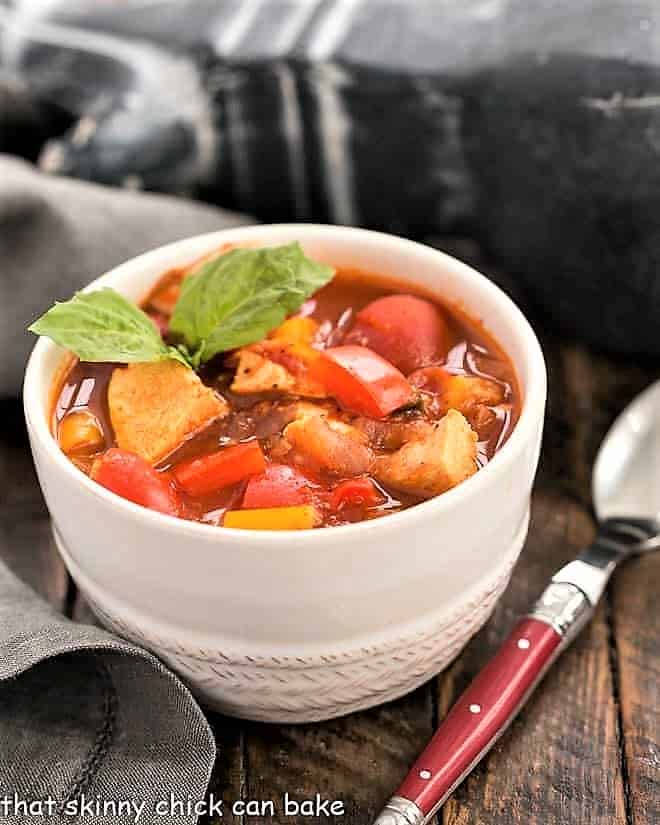 Recipe Tips
There's a bit of chopping involved, but this is not a complicated recipe. Here are some tips for making a fabulous chicken chili.
Start with roasting a few bone-in, skin-on chicken breasts. Drizzle them with olive oil and a generous sprinkling of seasoning salt. Roast at 375º for about 45 minutes.
Bone-in chicken breasts have more flavor and will not dry out as quickly as boneless.
Ina's basic recipe can easily be tweaked depending on your tolerance for heat. The recipe, as written, has crushed red pepper flakes and cayenne pepper. If you are nervous about adding these ingredients, start with half the amounts, then taste and adjust after it simmers for a while.
Serving with sour cream was enough to tone down the spice for the hubby's tender palate, but my boys didn't mind it simply topped with cheese and tortilla chips.
Add some frozen corn and/or black beans if you'd like. I used a few colors of bell peppers, but all red will work perfectly, too. I find green peppers are not as sweet, so rarely use them in my cooking.
PRO-Tip: Since fresh basil is added to the recipe, reserve a few sprigs to garnish. Using an ingredient used in the recipe gives a cue to the flavors in the dish. Besides sour cream, you can provide grated cheddar cheese, corn chips, diced onions, and diced jalapenos for additional garnishes. I love to serve this chicken and bell pepper chili with Buttermilk Corn Muffins.
You May Also Like:
The Recipe:
Chicken and Bell Pepper Chili
Prep Time 20 minutes
Cook Time 30 minutes
Total Time 50 minutes
Yield 8
This unusual, pepper filled chicken chili is ALWAYS a hit!
Ingredients
2 yellow onions, chopped
2 tablespoons olive oil
4 cloves garlic, minced
4 bell peppers, chopped (I used 2 red, 1 orange, 1 yellow)
1 teaspoon chili powder
1 teaspoon cumin
1/4 teaspoon red pepper flakes
1/4 teaspoon cayenne pepper
2 teaspoons kosher salt
2 28-ounce cans whole peeled plum tomatoes with juice, I use San Marzano
1/4 cup basil, minced
4-6 boneless, skinless chicken breasts, cooked and chopped OR 3-4 bone-in, skin on chicken breasts, roasted
Freshly ground pepper, to taste
Tortilla chips, shredded cheddar cheese, sour cream to garnish, optional
Instructions
Cook the onions in the olive oil till translucent, about 10 minutes. Add garlic and cook 1 minute. Add peppers and seasonings (except for fresh basil)and cook for about a minute. Add tomatoes with juice, and use spatula to cut into bite sized pieces. Cook 20 minutes. Add chicken and basil and simmer about 20-60 more minutes. I used to cook this the shorter amount of time, but find the flavor develops even more if you have time to cook for at least an hour. Just add back in some water if it reduces to much.
Serve with tortilla chips, shredded cheese and sour cream.
Nutrition Information:
Yield:
8
Serving Size:
1
Amount Per Serving:
Calories: 281
Total Fat: 9g
Saturated Fat: 2g
Trans Fat: 0g
Unsaturated Fat: 6g
Cholesterol: 81mg
Sodium: 660mg
Carbohydrates: 19g
Fiber: 4g
Sugar: 12g
Protein: 32g
Note: This post may contain affiliate links; view
my Disclosure Policy
for details. I earn a small percentage from any purchase you make by clicking on these links at no extra cost to you.