These delectable, comforting Cheesy Chicken Enchildas made 4 college boys very happy!
Perfect to share with hungry kids who were no longer eating dorm food on campus, with new moms or families in need, or just for your own family, this Tex-Mex casserole will be a hit!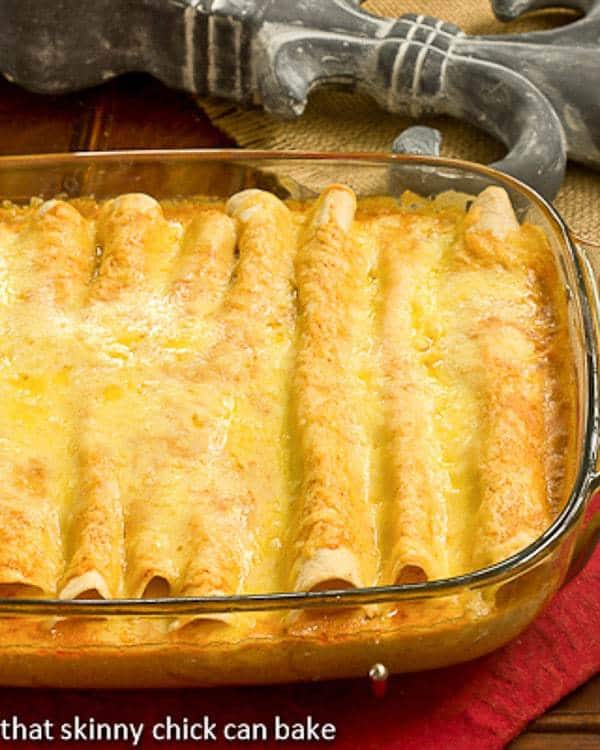 Cheesy Chicken Enchiladas
We were well into September and finally made plans to take Nick and his college roomies out for dinner.  When Nick ordered a $44 steak, I started to wonder if this dinner bill would break the bank! I guess only my son had the nerve to order the most expensive item on the menu…whew. Those boys can eat! Besides dinner out, I brought two batches of cookies and dinner for another night.
I knew some prime rib had been dropped off along with a couple lasagnas (I think the moms are spoiling these guys!). I decided to make a batch of Enchiladas de Polio y Queso or Cheesy Chicken Enchiladas…after all, Nick is a Spanish minor. Full of sauced up chicken and cheese, these were perfect for the ravenous teens. The unbaked enchiladas topped with a thick layer of shredded cheese convinced me to make a second batch for us at home.
Non-GMO Cheese
Rumiano
, makers of fine, natural cheeses, is celebrating Non-GMO Month again this October.If you're like most parents, you want to feed your family and children only the best, most wholesome products and ingredients. Rumiano happens to produce the world's first Non-GMO Project Verified cheese…check out
this page
to learn more about GMO…I'm convinced I don't want to serve my family foods that have been genetically modified.
This year, they are hosting their Second Annual Big Cheese Sweepstakes.  The winner will take home a year's supply of Rumiano Organic Non-GMO Cheese. Check out the details on their
facebook page
.  To accompany the sweepstakes, they have also offered my readers a chance to win FREE Rumiano Organic Non-GMO Cheese. Just follow the Rafflecopter prompts below for a chance to win 5 coupons for Rumiano Cheese. I find it at my Whole Foods Market, but please check their
store locator
to see if this wonderful cheese is available in your area.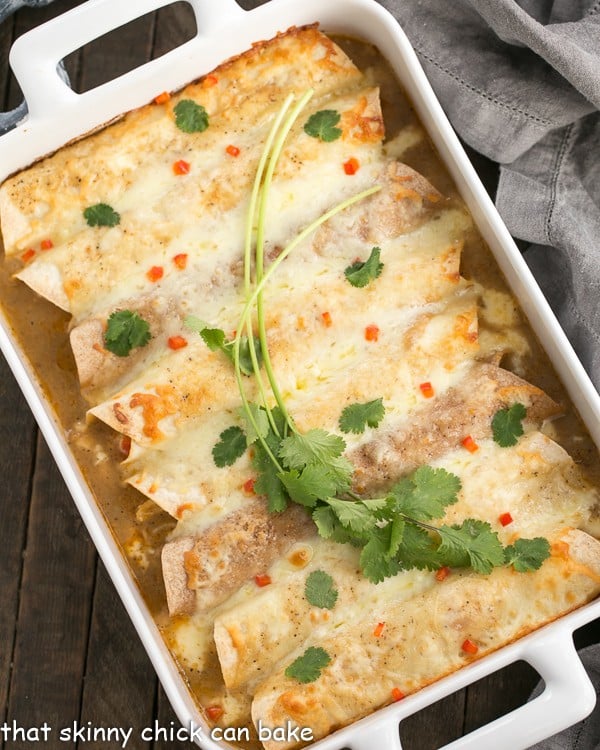 Print
Cheesy Chicken Enchiladas
A cheesy, delectable Tex-Mex casserole that will have you coming back for seconds!
Author:
Prep Time: 25 mins
Cook Time: 35 mins
Total Time: 1 hour
Yield: 5-6 servings
Ingredients
1 cup chopped onion
1/2 cup chopped bell pepper (red or green, I used red)
5 tablespoons butter, divided
2 cups shredded, cooked chicken
1 can (4 ounces) green chilies, drained
1/2 teaspoon salt
1 tablespoon chili powder
1/2 teaspoon ground coriander
1/2 teaspoon ground cumin
2 1/2 cups chicken broth
8 ounces shredded Monterey Jack cheese, I used Rumiano Organic Monterey Jack
1/4 cup flour
1 c. sour cream
10-12 6-inch flour tortillas
Instructions
Preheat oven to 350º. Grease 9 x 13 pan and set aside.
Cook onions and bell pepper in 2 tablespoons butter until tender. Combine with chicken and green chilies.Set aside.
In the same pan, melt the remaining 3 tablespoons of butter, blend in flour, seasonings and salt. Whisk in broth, cook and whisk until thick and bubbly. Remove from heat.
Stir in sour cream, ½ cup cheese and ½ cup sauce into chicken mixture. Spoon some of the sauce into bottom of prepared pan.Spoon chicken mixture into the center of each tortilla and roll. Place in pan. Repeat with remaining tortillas.Pour over remaining sauce. Sprinkle with remaining cheese. Bake for 25 minutes.
Note: This post may contain affiliate links; view
my Disclosure Policy
for details. I earn a small percentage from any purchase you make by clicking on these links at no extra cost to you.