Cheesy Spinach Souffle
Spinach Souffle was a childhood favorite. My mom's recipe with Velveeta is now made with sharp cheddar! A holiday tradition at our house!
This Spinach Casserole is always on our holiday menu! Add leftover Easter ham for a yummy entree or just serve as-is for a vegetarian meal.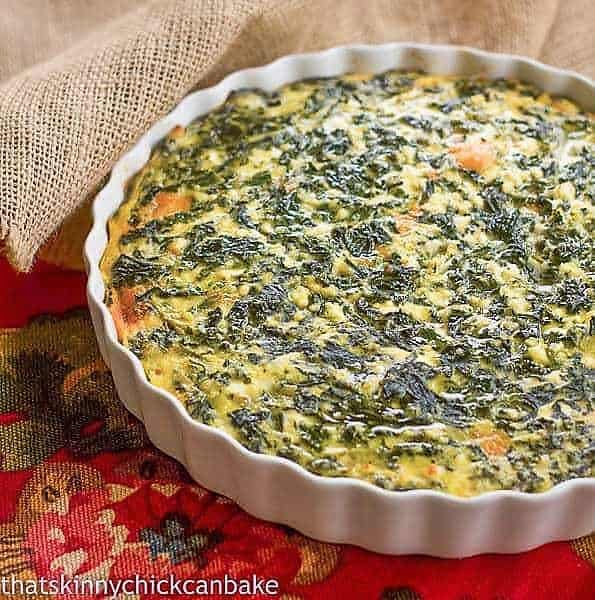 Why You Must Make
This super easy spinach souffle is a treasured recipe from my childhood. I almost hate to admit that my mom's version used a processed cheese spread, AKA Velveeta, and I adored it! Fast forward a few years and I found a similar recipe in our local Junior League cookbook, Winners, but with an upgrade of cheeses to a lovely sharp cheddar.
Surprisingly, my vegetable-avoiding daughter loves this spinach souffle. Spinach is the only veggie that Katie will eat, and it was this casserole that sold her. That tells you something right there!
Even if you don't like cottage cheese, you won't even see or taste it in this recipe. It's delicious!
Ingredient Notes
Kitchen Staples – Butter, Flour, Salt
Eggs – You will need six
Sharp Cheddar Cheese -An 8-ounce block, cubed
Cottage Cheese – Small curd or Old-Fashioned cottage cheese
Frozen, Chopped Spinach – 2 boxes; defrost and squeeze dry.
Optional Ingredient, Ham – After Easter, add 2 cups chopped, leftover ham, and reduce the added salt.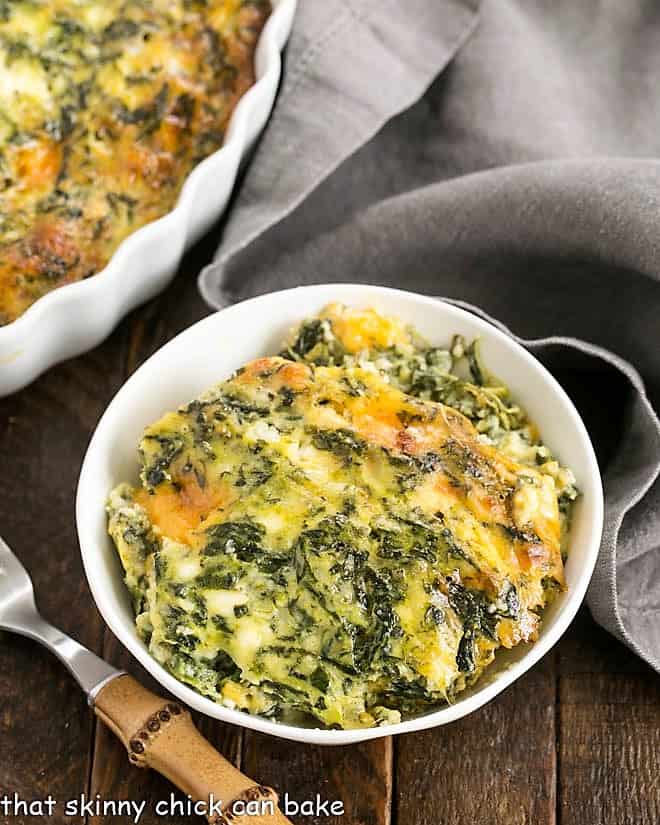 How to Make
Not officially a "souffle" as the eggs are added whole instead of the whites whipped, then folded in. But that's the title of my mom's dish from back in the '60s or '70s, so there you go!
This is such a simple recipe, just defrost two boxes of frozen chopped spinach overnight in the fridge. Set on the counter for an hour or so if the spinach is still icy the next morning.
Next, squeeze the spinach very dry as any excess water will make this spinach casserole watery. I like using a potato ricer, but the hubby (my dishwasher) cringes when he sees little all the little bits of spinach he has to clean!
You can also use your hands and squeeze out the liquid manually. This is my usual method.
After that, you simply mix the spinach with eggs, cottage cheese (look for "old-fashioned" which has a smaller curd and is creamier), a couple of tablespoons of flour, chunks of cheddar, some butter, and a wee bit of salt.
Pour into a greased casserole and bake. When I had only one oven, I slid it in with the turkey at Thanksgiving. If you're doing this and the oven is not set at 350 degrees, just adjust the baking time.
My oldest loves when I make this after Easter and add chunks of ham. Just reduce the salt a bit as the ham will add more saltiness to this dish. It then can be an entree instead of a side dish. It would also make a terrific brunch casserole!
Variations on Spinach Souffle
Sprinkle some cheese on top during the last few minutes of baking. A little gooey topping is always a bonus!
I like using sharp cheddar cheese, but mozzarella or Monterey jack would also be good choices.
Want some additional flavor? Feel free to add a pinch or two of red pepper flakes for some heat. Nutmeg is a classic spice added to spinach dishes, so a few grates of fresh nutmeg or a pinch or two of ground nutmeg would taste terrific. A little goes a long way, though, so don't overdo it!
Watching your carbs? Swap out the flour for almond flour for a low-carb side or even entree.
As mentioned above, you can add 2 cups of chopped ham (great for Easter leftovers) and mix to combine. Since the ham is salty, don't add any salt to the recipe.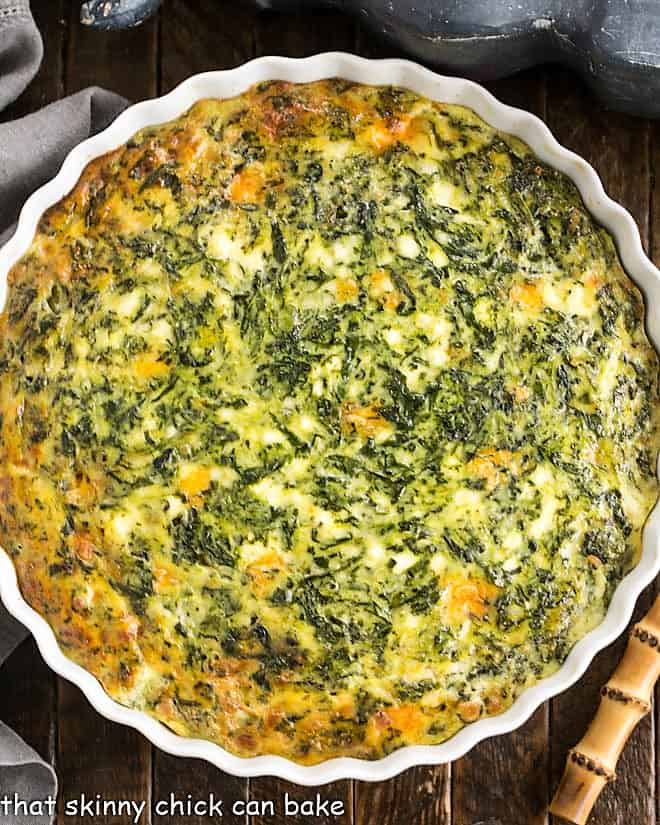 Frequently Asked Questions
Can You Make This Spinach Casserole Ahead of Time?
Yes, I often make it in the morning I'm going to serve it for dinner. Store the casserole in the refrigerator, covered with plastic wrap. Pull it out of the refrigerator while you preheat the oven, but it will still need extra time to bake as it will be colder than if freshly made.
How Long Can You Keep Spinach Souffle?
Like most dishes, leftovers can be kept covered in the refrigerator for up to 3 days. This is as long as it has not been left out at room temperature for more than 2 hours. Since Stouffer's Spinach Souffle is a frozen product, it's pretty safe to say that leftovers can be frozen for up to 3 months in an airtight container. But I have not tested this myself.
What is the Culinary Definition of a Souffle?
According to my Food Lover's Companion, a souffle (prounounced soo-FLAY) "is a light, airy mixture that usually begins with a thick egg yolk based sauce or puree that is lightened my stiffly beaten egg whites."
You May Also Like: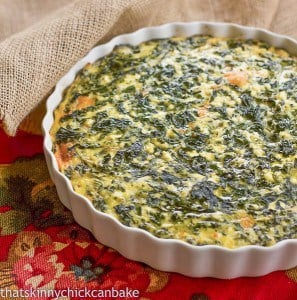 The Recipe:
Spinach Souffle Recipe
Prep Time 15 minutes
Cook Time 45 minutes
Total Time 1 hour
Yield 8 servings
An updated favorite from my childhood, this easy spinach souffle is perfect for the holidays!
Ingredients
6 eggs, beaten
2 tablespoons butter, cubed
8 ounces sharp cheddar cheese, cubed (I use Kraft sharp cheddar)
24 ounces cream style, small curd cottage cheese (or "old fashioned" cottage cheese)
2 10-ounce packages frozen, chopped spinach, thawed and squeezed dry
2 tablespoons flour
1 teaspoon salt
Instructions
Preheat oven to 350º. Grease 9 x 13 or comparable casserole dish.
Combine all ingredients and pour into prepared dish. Bake 30-45 minutes or till middle is set.
Notes
Adapted from Winners, Junior League cookbook from Indianapolis.
You may also add 2 cups of chopped ham. Just reduce the salt if you do.
This recipe is perfect for leftover Easter ham.
Nutrition Information:
Yield:
8
Serving Size:
1
Amount Per Serving:
Calories: 545
Total Fat: 50g
Saturated Fat: 30g
Trans Fat: 2g
Unsaturated Fat: 16g
Cholesterol: 280mg
Sodium: 653mg
Carbohydrates: 9g
Fiber: 2g
Sugar: 4g
Protein: 18g
Note: This post may contain affiliate links; view
my Disclosure Policy
for details. I earn a small percentage from any purchase you make by clicking on these links at no extra cost to you.