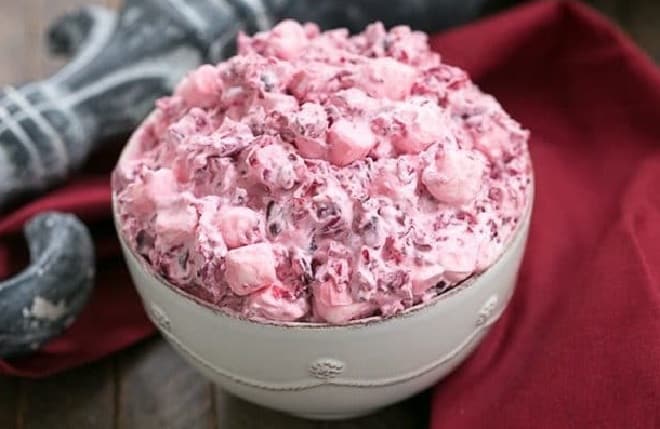 Cranberry Fluff Salad is practically a required side dish for Thanksgiving. Both my mom and mother-in-law occasionally served their delicious versions of Cranberry Fluff Salad for Thanksgiving.
Ground cranberries, crushed pineapple, mini-marshmallows, and whipped cream are the basic ingredients. They each had their own variations. This is mine.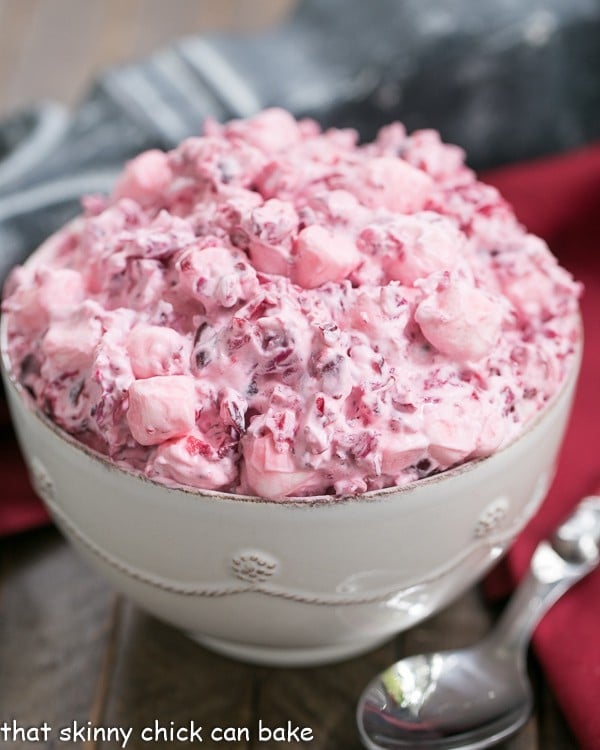 Cranberry Fluff Salad
My mom would add nuts to this mixture and so did my mother-in-law along with chopped apples and sliced grapes. The options are endless. My version is very basic. No nuts in case one of my children or hubby would dare to take a taste.
It's a winner whether it's scaled down or packed full of a variety of textures and flavors. This is a blast from the past. I first had it back in the 1970's, when jello salads were de rigeur. That was my mom's version. But then later in life, my MIL served it one holiday we were visiting them.
So this recipe comes with sweet memories. We lost my MIL this year and my mom the year before. Both were terrific cooks, with my mom being more adventurous with her palate and recipes and my MIL the queen of good old fashioned comfort food. Eating at either home was always a pleasure and I am blessed with many of their handwritten recipes.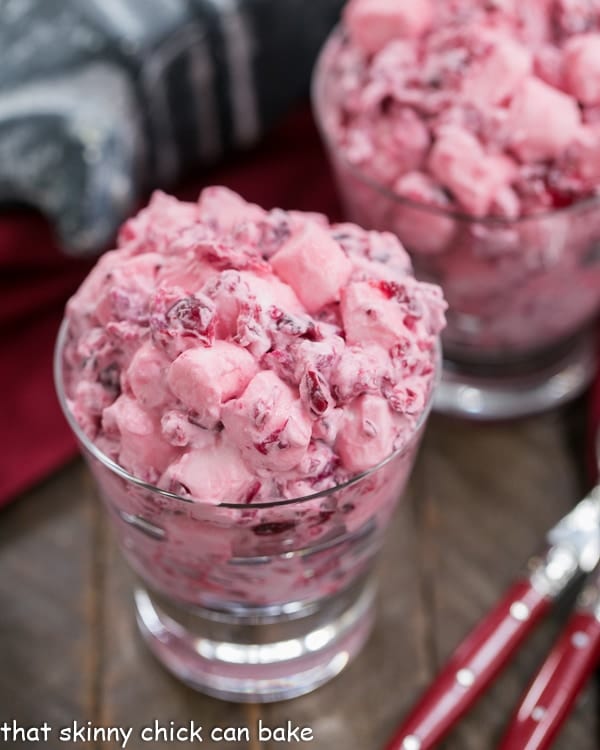 Best Thanksgiving Side Dishes
You'd think a Thanksgiving salad would be full of classic autumnal ingredients like this Roasted Sweet Potato and Wild Rice Salad. Plus I'd expect an actual salad with fresh greens and vegetables. But on holidays, the rules can be bent, and salads full of cream and marshmallows like this cranberry fluff salad fly under the radar!
When it comes to Thanksgiving, I'm really not allowed to shake up the menu. I can always add an extra dish, but there some that are a tradition and must be included. My Spinach Souffle, Holiday Fruit Salad, Mashed Potatoes, Stuffing, Turkey (of course!), and Gravy are a given. Classic Pumpkin Pie for dessert plus a second, usually chocolate, pie.
But sometimes I add a little something that only I will eat. In homage to both my moms, I recreated this salad (more like a dessert, but heck, it's Thanksgiving!) for our holiday table.
You Might Like:
More Thanksgiving Salads You'll Love:
Love this recipe? Please consider rating it in the comments below. You can also follow me on FACEBOOK, PINTEREST and INSTAGRAM.
Print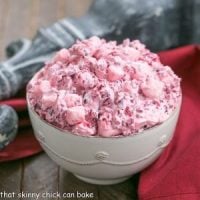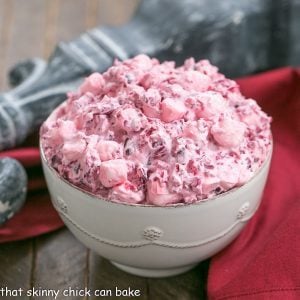 Cranberry Fluff Salad
A dreamy cranberry salad perfect for Thanksgiving.
Author:
Prep Time: 20 mins
Total Time: 20 mins
Yield: 8 servings 1x
Category: Salad, Side Dish
Method: Mixing
Cuisine: American
Ingredients
12 ounces fresh cranberries, frozen, then thawed cranberries (fresh or frozen also work)
1/2 cup sugar
8 ounces crushed pineapple, drained
2 cups mini-marshmallows
1 cup heavy cream
Instructions
Chop cranberries in a food processor. Remove to a bowl. Mix in sugar, cover, and refrigerate overnight.
Add well drained pineapple and marshmallows. Mix to combine.
Whip heavy cream to stiff peaks. With a rubber spatula, gently fold the cream into the cranberry mixture. Refrigerate until ready to serve.
Notes
Total time does not include chilling time.
Note: This post may contain affiliate links; view
my Disclosure Policy
for details. I earn a small percentage from any purchase you make by clicking on these links at no extra cost to you.