Cranberry Brie en Croute
Around the holidays, a festive baked Brie is a perfect appetizer. This irresistible Cranberry Brie en Croute is topped with cranberry sauce, a touch of rosemary, and wrapped in flaky puffed pastry.
Baked Brie Recipes are one of my go-to appetizers for entertaining. With cranberries and a green and red garnish including fresh rosemary makes a most festive presentation!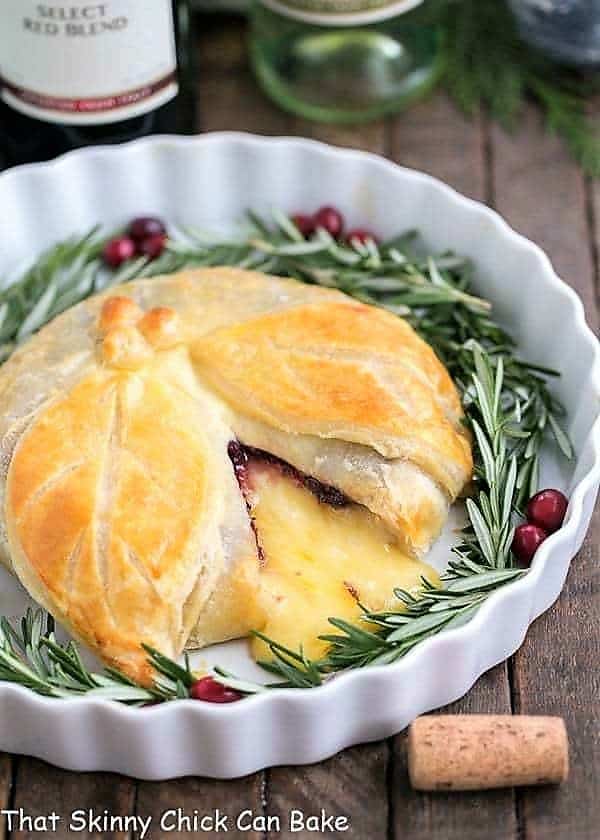 Why You'll Love this Baked Brie Recipe
The cranberry twist makes it perfect for the holidays!
Garnished with fresh cranberries and rosemary sprigs create a festive presentation.
It's absolutely delicious and easy to make.
I know I've developed a winning recipe when I get the picky husband to eat a food he claims to despise (actually he fibs and says he's "allergic"). After decades of marriage, I finally witnessed him ingest cranberries! He's snubbed my holiday Cranberry Fluff Salad for years. Sigh.
Yes, he was a huge fan of this cranberry brie baked in puff pastry. I served it for our holiday cookie exchange, where it nearly disappeared. But there were enough leftovers so Bill could make himself a few nibbles before dinner. There are SO many amazing Baked Brie Recipes to try if cranberries really aren't your thing.
Yes, this is just THAT good! Plus, it tasted amazing with a glass of Pinot Grigio. The crisp, refreshing citrus and green apple undertones paired exquisitely with this Cranberry Brie en Croute.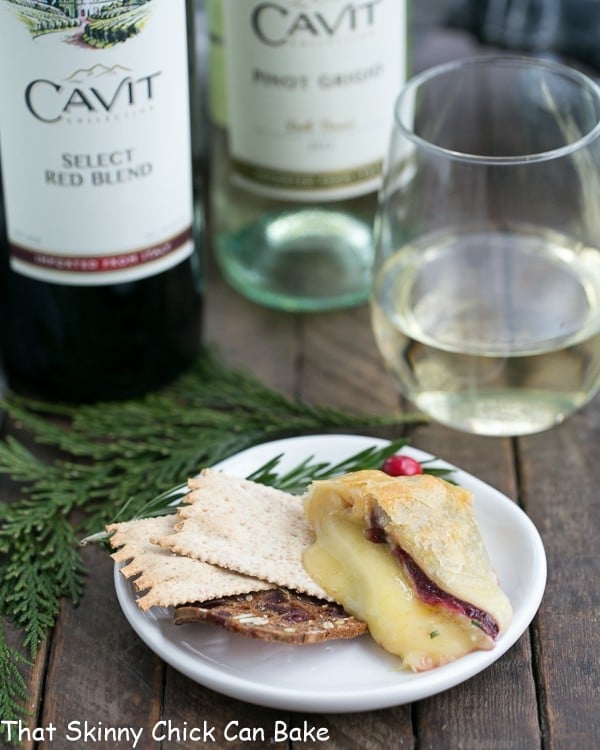 Frequently Asked Questions
What is Brie?
If you're mainly familiar with Cheddar and Swiss cheese, Brie may seem rather exotic. Brie is a French double creme cheese that dates back to the 8th century (Food Lover's Companion). It has an edible white rind and a soft, oozy center. It is made from cow's milk.
Can You Eat the Rind?
Yes, the rind is edible. It can be an acquired taste as the coating of Penicillium camemberti is a white mold that's safe to eat. When baking brie, leaving the rind on will help maintain the shape of the brie. The top rind can be removed before topping and wrapping in dough to bake.
What to serve with Baked Brie?
You'll definitely want sturdy dippers like crackers, toasts, or even baguette slices to scoop up the gooey cheese.
Fresh and/or dried fruit, nuts, and a crisp white wine or fruity red wine are delicious accompaniments to serve along with the Brie.
How to Bake Brie
Even if your results aren't worthy of being featured in a magazine, you will still have an amazing appetizer. Here are some tips I've learned along the way. First, remember that puff pastry puffs best when it is COLD and the oven is HOT. My procedure goes as follows:
Carefully cut the rind off the top of your Brie. This will be the top side when you bake.
Roll (all affiliate links) and cut out a round of puff pastry which is big enough to totally encase the cheese. Add the topping to the center of the puff pastry. Place the Brie, cut side down, over the topping.
Fold the pastry over the cheese, making sure it's all covered (you can patch with scraps if needed). Use an egg wash to seal the creases.
Once sealed, flip back over and brush with egg wash.
If desired, cut out decorative shapes with leftover puff pastry. "Glue" them on the top with egg wash, then brush with egg wash.
PRO-Tip: Chill the uncooked wrapped Brie for about 20 minutes, so the puff pastry is cold. Then bake in a hot oven. Puff pastry "puffs" more efficiently when the dough is cold and the oven is hot.
Wait at least 20 minutes before cutting into the Brie so the cheese can firm up slightly. Bon appetit!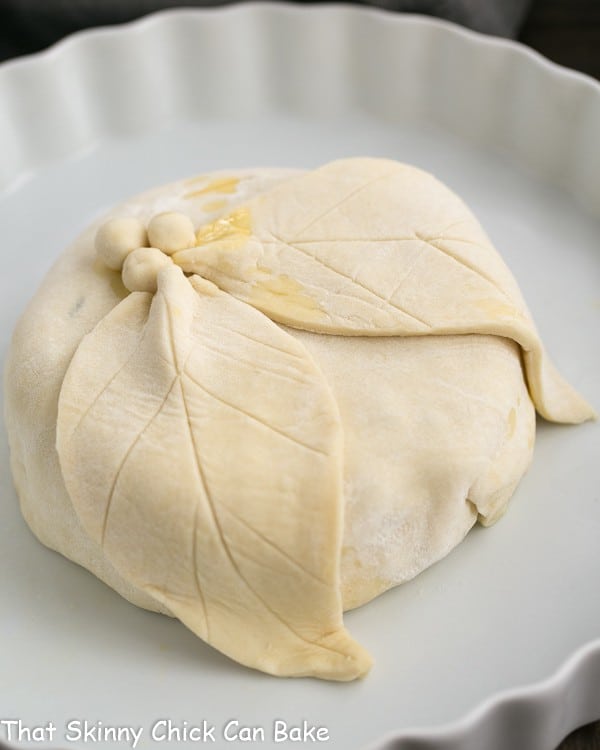 More Brie Recipes You'll Love: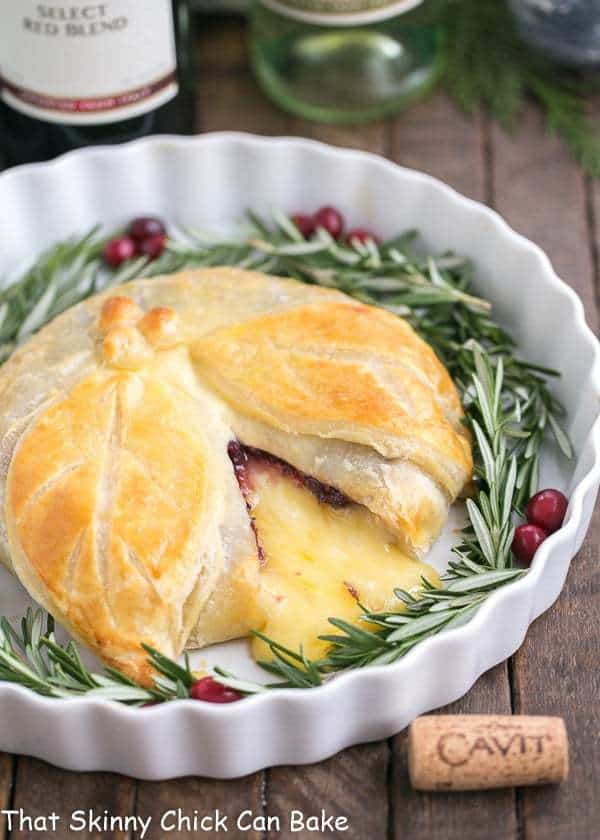 The Recipe:
Cranberry Brie en Croute
Prep Time 15 minutes
Cook Time 25 minutes
Total Time 40 minutes
Yield 10 servings
An elegant Baked Brie recipe that's perfect for any gathering!
Ingredients
1 12.3 ounce Round of Brie*
1 package of frozen puff pastry, thawed (I use Dufour brand. Look for butter in the ingredients for the best result)
3/4 cup whole berry cranberry sauce
1-2 tablespoons dried cranberries
1/4 teaspoon minced fresh rosemary
1 egg (beaten with 1 teaspoon water), to glaze
Instructions
Preheat oven to 400º. Line baking sheet with parchment paper and set aside.
Roll out puff pastry to smooth seams. Cut out a large round and place on baking sheet. Reserve scraps to decorate, if desired.
Cut rind off the top of the Brie.
Mix together cranberry sauce, dried cranberries and rosemary. Spoon over the center of the puff pastry round. Place the cut side of the Brie centered over the cranberry sauce. Fold puff pasty over the top of the Brie sealing overlapping pastry with egg glaze. Flip over and place on a parchment lined baking sheet.
Chill for about 30 minutes.
Brush with egg mixture, decorate with scraps cut into shapes (I made leaves and berries), brush with egg wash again. Bake for about 25 minutes. Cool for 30 minutes before serving.
Serve with crackers or toasts.
Notes
*This was the weight of the Brie I purchased. 8 or 16 ounce rounds will work, too, but the number of portions will vary. You may need to use less of the cranberry topping with a smaller Brie or make two!
Nutrition Information:
Yield:
10
Serving Size:
1
Amount Per Serving:
Calories: 215
Total Fat: 12g
Saturated Fat: 7g
Trans Fat: 0g
Unsaturated Fat: 5g
Cholesterol: 56mg
Sodium: 254mg
Carbohydrates: 18g
Fiber: 1g
Sugar: 14g
Protein: 9g
Note: This post may contain affiliate links; view
my Disclosure Policy
for details. I earn a small percentage from any purchase you make by clicking on these links at no extra cost to you.