Pancetta Ciabatta Dressing
This Pancetta Ciabatta Dressing is baked in the oven and is perfect for those times when you're craving stuffing but don't have a turkey to stuff. We were gifted a turkey a few days before the holiday and since it was precooked, my usual stuffing recipe wouldn't work. This stuffing was a delicious last-minute addition to our Christmas Eve menu.
Giada to the rescue. My hairstylist raved about his oven-baked stuffing made with ciabatta and chestnuts so I gave it a try. Sans chestnuts. He was right on the money!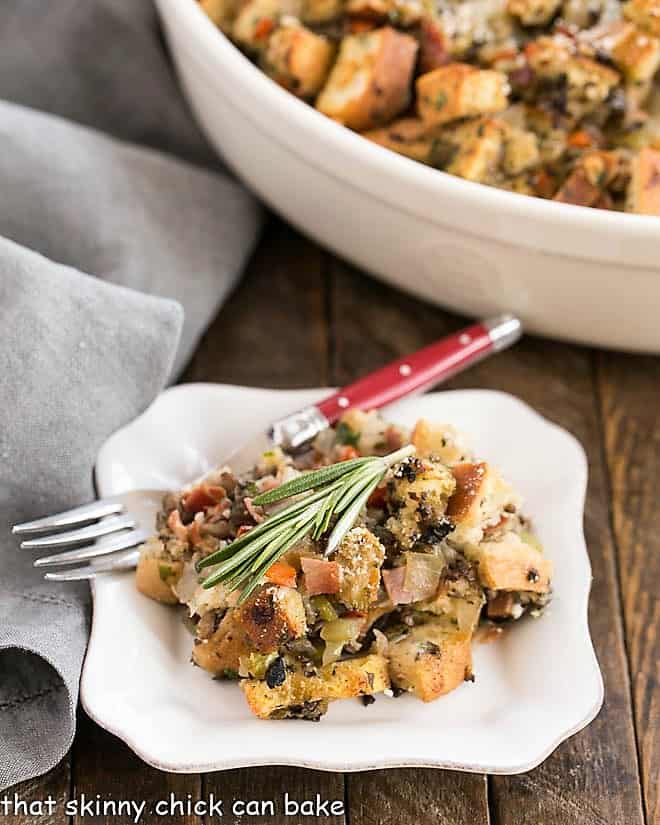 Why You Must Make
It's perfect for those times you don't have a turkey to stuff, but still want stuffing AKA dressing!
This turkey dressing is moist and flavorful which is often a challenge when baking a casserole made primarily of bread.
It's not just for holidays but pairs deliciously with all sorts of entrees.
Typically, I make herb stuffing with our Thanksgiving turkey each year. It's based on my Grandma Bea's recipe with my mom's tweaks. But I wasn't going to stuff it into the precooked honey-baked turkey we received for the holidays.
This dressing starts with day-old ciabatta bread, which I sliced into cubes. The flavor and moisture come from butter, mushrooms, diced veggies, rosemary, and pancetta. You may know the picky hubby avoids mushrooms like the plague, but obviously, he didn't catch on to their inclusion as he ate his fair share of this terrific ciabatta dressing!
Reader Endorsement
Comment from Becca in 2020: This is the best stuffing I've ever tasted!
Expert Tips
This is a super easy holiday dressing. You can prep the ingredients ahead of time to make the dish come together quickly.
PRO-Tip: Pull the ciabatta bread out of its packaging the day before you plan to cook the dressing. I actually cut the loaf into small cubes and let them dry out on a sheet pan overnight.
You can also dice all the vegetables and aromatics and park them in the fridge the day before. This includes the onions, carrots, celery, garlic, mushrooms, and even the rosemary. They will all be sauteed together in butter, so it's fine to store them in the same container.
All the veggies, including the mushrooms, will add moisture to the dressing, but chicken broth is needed as well. The amount will vary depending on the staleness of your bread.
I made sure my mushrooms were finely chopped so the fungus-phobic husband couldn't detect them.
PRO-Tip: If you have trouble finding pancetta, which seemed to be in short supply around here pre-Christmas, you can substitute prosciutto or bacon.
If you like those crispy bread pieces of your dressing or stuffing, you can broil the dressing after it's cooked. Watch carefully so the top does not burn. Just broil for a minute or two. Timing will vary depending on how close your dish is to the broiler.
Feel free to garnish this dressing with a large sprig of rosemary or some chopped fresh Italian parsley as this dish is very brown and a pop of green is always nice.
Frequently Asked Questions
What is the Difference Between Dressing and Stuffing?
There is an easy way to determine whether your dish is a dressing or stuffing by asking yourself one simple question. Am I putting the mixture into the turkey or cooking it in a dish outside the turkey? Stuffing it into the turkey makes it stuffing.
It's as easy as that, though the terms have become interchangeable, referring to a side dish made of bread cubes or crumbs, onions, celery, and herbs, especially sage. All sorts of other additions like sausage, apples, dried fruit, nuts, chestnuts, oysters can be included depending on your family's likes and traditions.
I made Bon Appetit's Sausage Dried Cherry Pecan Stuffing (really dressing) years ago, but this pancetta ciabatta dressing is even better!
Where Did the Name Dressing Originate?
The term was changed from Stuffing to Dressing in the mid-1800s when the Victorians decided the term stuffing was too crude.
You May Also Like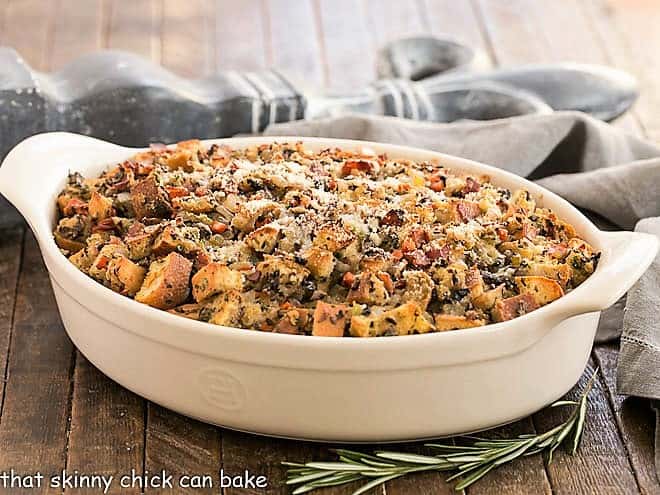 The Recipe:
Pancetta Ciabatta Dressing Recipe
Prep Time 20 minutes
Cook Time 1 hour
Total Time 1 hour 20 minutes
Yield 10 servings
A holiday dressing with an Italian twist.
Ingredients
6 tablespoons butter, plus more for baking dish
6 ounces pancetta, diced
2 large onions, diced
2 carrots, diced
2 celery stalks, diced
3 garlic cloves, minced
2 tablespoons freshly minced rosemary leaves
1 pound button mushrooms, chopped
Salt and freshly ground black pepper
2/3 cup freshly grated Parmesan
1 pound loaf of ciabatta bread, cut into cubes
1 cup chicken broth, I use Pacific brand (may need more or less depending on how dry your bread is)
2 eggs, beaten
Instructions
Preheat the oven to 350 degrees. Butter a large baking dish.
Melt 2 tablespoons of the butter in a large skillet. Add the pancetta and cook until lightly browned. Remove pancetta to paper towel covered plate.
Add the rest of the butter to the skillet, then the onions, carrots, celery, garlic, rosemary, and mushrooms. Season with a sprinkle of salt and pepper, to taste then cook until the onions are very tender.
Toss together the sauteed vegetables, Parmesan, and bread in a large bowl. Add enough broth to the stuffing mixture to moisten. Add the pancetta and eggs. Stir to completely combine the ingredients.
Pour the stuffing into the prepared dish. Bake until the stuffing is heated through and the top is golden brown, 30 to 45 minutes. Broil for a couple of minutes for an even crispier topping.
Serve hot.
Notes
Recipe adapted from Giada De Laurentiis.
May use prosciutto instead of pancetta if needed.
Recommended Products
As an Amazon Associate and member of other affiliate programs, I earn from qualifying purchases.
Nutrition Information:
Yield:
10
Serving Size:
1
Amount Per Serving:
Calories: 346
Total Fat: 21g
Saturated Fat: 9g
Trans Fat: 0g
Unsaturated Fat: 10g
Cholesterol: 74mg
Sodium: 554mg
Carbohydrates: 30g
Fiber: 3g
Sugar: 6g
Protein: 11g
Note: This post may contain affiliate links; view
my Disclosure Policy
for details. I earn a small percentage from any purchase you make by clicking on these links at no extra cost to you.