Holiday Fruit Salad with Marshmallows
Holiday Fruit Salad with Marshmallows has been part of our family holidays for decades. This sweet fruit salad recipe is perfect for Christmas. With a lemon custard, whipped cream, fruit, and marshmallows, it's just the indulgence you need on your holiday menu!
In fact, this Fruit Salad with Whipped Cream originated from my great-grandmother, a sweet petite Irish woman (who barely hit 4 feet, 8 inches) who loved to sip a glass of wine and spin a tale.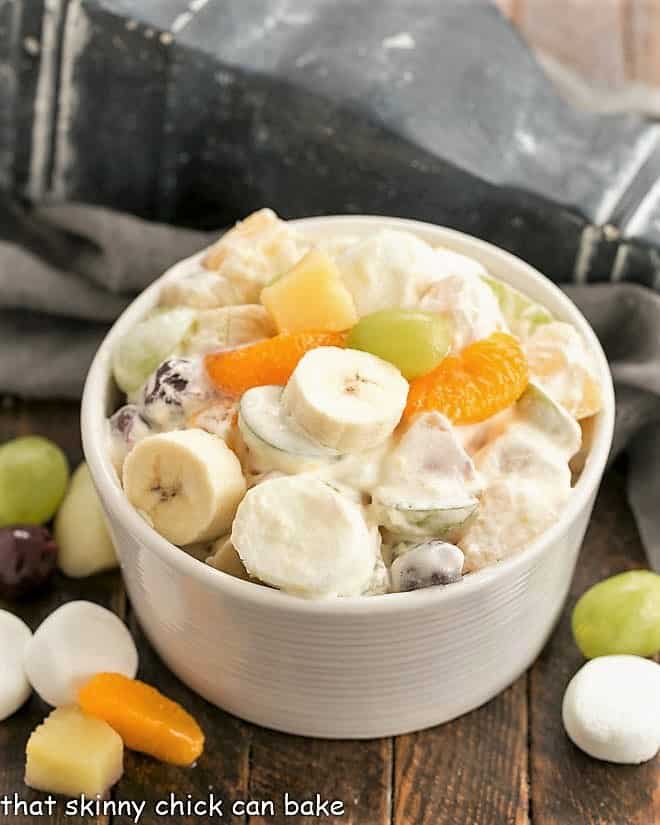 Why You Must Make
This fruit salad recipe has been a constant on our holiday menu for 5 generations!
It's not exactly healthy but it's a delicious indulgence on our Easter, Thanksgiving, and Christmas menu.
But besides the rich, whipped cream-based salad dressing and marshmallows, it's packed with lots of delicious fruit.
My great-grandmother left this world at age 92 when I was in 3rd grade, but she has lived on through her stories, which were well known to be a mix of fact and fiction, and her fabulous recipes. My mom and her sister would stop by Dama's house for visits after school often to sample a loaf of her "purple" bread, baked with whole walnuts which provided the distinctive color.
Practicing her kneading technique on Dama's fleshy arms was one of my mom's favorite memories of her grandmother. Dama's roast mallards, brandied peaches, spicy pickles and relishes and even her young suckling pig complete with a red apple in its mouth were some of the legendary creations from her kitchen. As was this Overnight Fruit Salad recipe.
Ingredient Notes
Kitchen Staples – Eggs, Sugar, Butter, Salt
Fresh Lemon Juice
Canned Royal Anne Cherries – Drained
Canned Pineapple Chunks – Reserve 2 tablespoons of juice, and drain the rest.
Canned Mandarin Oranges – Drained
Canned Pears – Drained, chopped
Fresh Grapes – Cut in half
Large Marshmallows – Cut in half
Heavy Cream – At least 36% Butterfat
Bananas – Slice and add just before serving.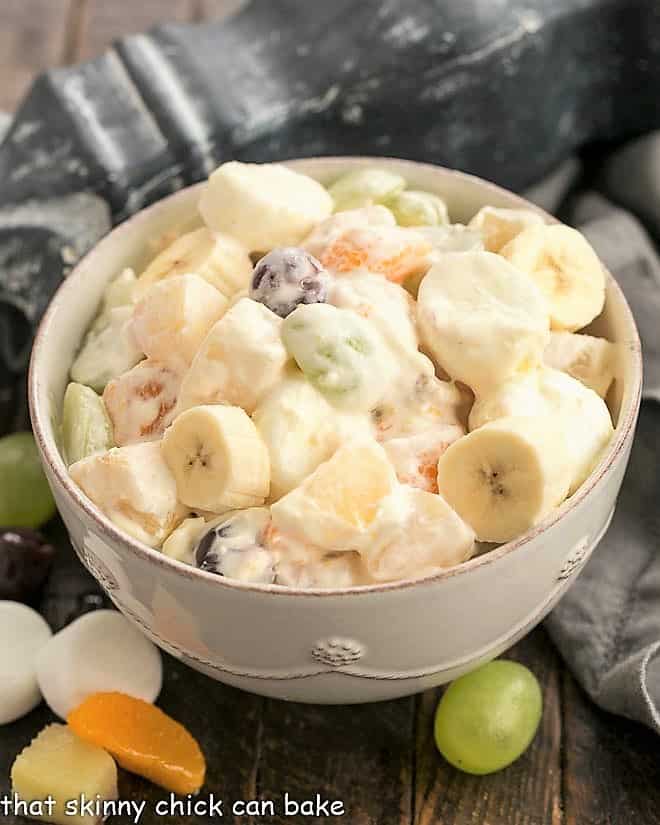 How to Make
One of her mottoes was, "It's enough to feed a starving man," which was repeated due to the queries of why there was a bowl with just a few peas along with a mishmash of other leftovers stored in the icebox. She and Dappy (my great-grandfather) lived near a railroad line and Dama wanted to be prepared with provisions in case a beggar should come knocking on her door.
This treasured recipe from Dama for 24-hour salad became part of our holiday tradition and appeared on our dining room table for Thanksgiving, Christmas, and Easter celebrations.
In a double boiler, whisk together the custard ingredients and cook until thickened. Cool.
Put the fruit (except for bananas) and marshmallows in a large bowl.
Whip the cream, add the custard sauce and mix until combined.
Add the whipped cream mixture to the fruit. Toss gently to coat and refrigerate overnight.
Before serving, peel and slice the bananas and add to the salad.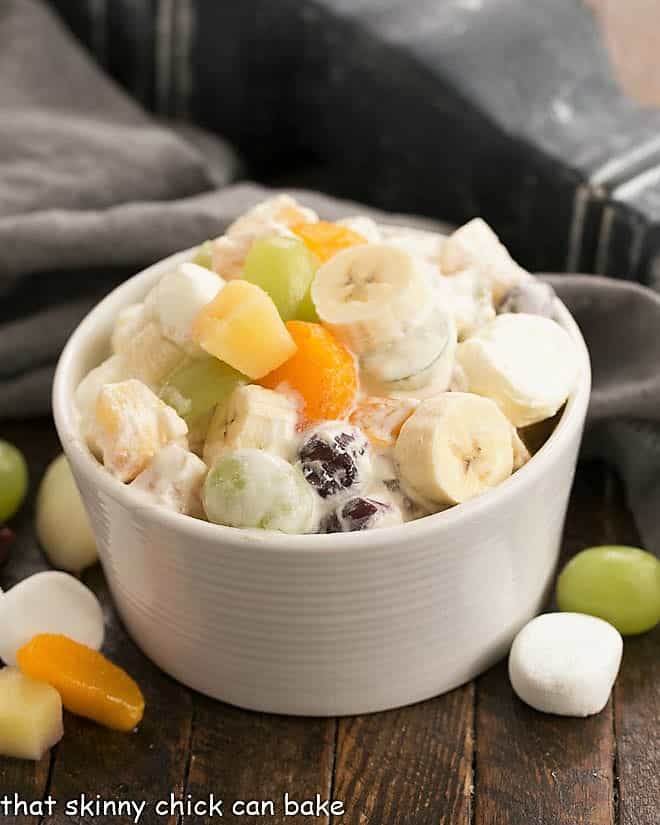 Original Retro Recipe
There is now a 4th generation making this holiday fruit salad for special occasions. I'm certain my oldest, Tom, will have his wife (someday, no pressure, Tom) make this for him. He considers it breakfast food, too! With fruit, eggs, dairy, it makes a lot of sense, no?!
My mom's version of this overnight fruit salad varies from Dama's recipe which called for 2 whole eggs, ½ can pineapple, ½ cup sugar, ½ pound marshmallows, ½ pint of whipping cream, juice of one lemon, ½ pound green grapes and a pinch of salt. It has definitely morphed through the years.
Dama's directions were pre-refrigeration stating, "Let stand in a cold place 24 hours before serving." My splattered recipe card mentioned you can use vinegar or lemon juice and the addition of pineapple juice was also scrawled in the margins as an afterthought. No matter what fruit or acids you choose to use, I hope this lovely holiday fruit salad graces your table one day soon.
Expert Tips
This is an extremely versatile salad! I typically use softer fruits, both fresh and drained canned fruit. But chopped apples, dates, and/or nuts would be wonderful, too. The can of Royal Anne Cherries (I use Oregon brand) is a must for my family's version, though I have been having trouble locating them the past couple of years.
This latest batch contains a can of drained sweet cherries. Since the juices were red, I rinsed them gently so the dressing wouldn't be pink.
PRO-Tip: Use a double boiler to cook the custard mixture, stirring constantly. This ensures the eggs will not scramble.
This is definitely an "overnight" fruit salad as the time spent in the refrigerator allows the marshmallows to soften and the dressing to thicken. So plan ahead when adding this to your menu.
Make sure to drain your canned fruit as excess juice will thin the dressing.
PRO-Tip: Add the bananas the day you're serving this salad so they don't discolor. Gently toss before serving. My mom would add maraschino cherries for a pop of red color.
Frequently Asked Questions
What is A Double Boiler?
A double boiler is a pair of pans, the top of which fits onto the lower pan. The lower portion is filled with a few inches of water that is brought to a simmer. This is so the ingredients in the top pan can be gently heated without being directly exposed to the heat.
There are special sets of pans sold as double boilers. If you're in a pinch, find a heat-resistant bowl and set it over a pan of simmering water. The bottom of the bowl should not touch the water.
How Long Will This Salad Keep Fresh?
As long as it doesn't stay out at room temperature longer than 2 hours, it can be kept for up to 3 days in an air-tight container in the refrigerator. The whipped cream dressing may start to separate, but it can be stirred to recombine before eating the leftovers.
Can The Leftovers Be Frozen?
This salad does not freeze well. The quality will suffer after defrosting it.
You May Also Like:
Stay in touch through social media @ Instagram, Facebook, and Pinterest. Don't forget to tag me when you try one of my recipes! And if you love the results, please give it a 5-star rating in the recipe card. Note: As an Amazon Associate, I earn from qualifying purchases. Visit my Amazon Store for my favorite products.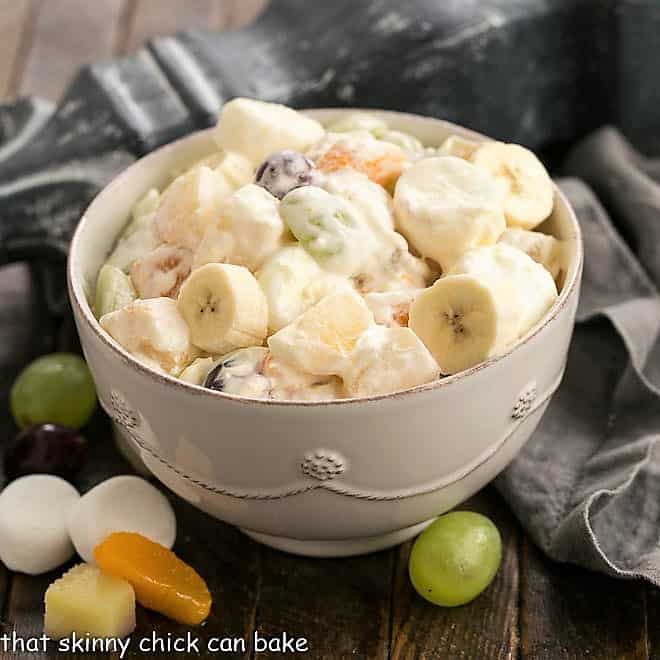 The Recipe:
Holiday Fruit Salad Recipe
Prep Time 20 minutes
Cook Time 15 minutes
Total Time 35 minutes
Yield 10 servings
This Holiday Fruit Salad is a family tradition that has been made for 4 generations!
Ingredients
3 egg yolks
2 tablespoons lemon juice
2 tablespoons pineapple juice (from the can of pineapple)
¼ cup sugar
1 tablespoon butter
dash of salt
1 or 2 cans Royal Anne cherries, drained (or use sweet cherries, lightly rinsed), see note below
2 cups pineapple chunks, drained, but reserve 2 tablespoons of juice
1 large can mandarin oranges, drained
1-2 cans pear chunks
1-2 cups grapes, sliced
2 cups large marshmallows, cut in half
1 cup heavy cream
2 bananas, peeled and sliced
Instructions
In a double boiler, whisk egg yolks, lemon and pineapple juices, sugar, butter, and salt until the mixture thickens. Set aside to cool.
When the sauce is cooled, put the fruit (except for the bananas) and marshmallows in a large bowl.
Whip the cream, add the custard sauce, and mix until combined.
Add the whipped cream mixture to the fruit. Toss gently to coat and refrigerate overnight.
Before serving, peel and slice the bananas and add to the salad.
Notes
Total time does not include overnight chilling.
*I wait to add the bananas until the day I serve the salad so they don't start to brown and soften.
Canned Royal Anne cherries are difficult to find. Feel free to leave them out or add more of another fruit.
The long chilling time allows the marshmallows to soften, which is important for a most delicious result!
Helpful Tools (As an Amazon Associate and member of other affiliate programs, I earn from qualifying purchases).
Nutrition Information:
Yield:
10
Serving Size:
1
Amount Per Serving:
Calories: 276
Total Fat: 11g
Saturated Fat: 7g
Trans Fat: 0g
Unsaturated Fat: 4g
Cholesterol: 85mg
Sodium: 45mg
Carbohydrates: 44g
Fiber: 3g
Sugar: 34g
Protein: 3g
Note: This post may contain affiliate links; view
my Disclosure Policy
for details. I earn a small percentage from any purchase you make by clicking on these links at no extra cost to you.