Dry Brined Turkey
Dry Brined Turkey is my favorite way to prepare a Thanksgiving turkey! Tired of the mess of brining your holiday bird? Try this dry brine turkey recipe for delicious, moist results!
This is my go-to Thanksgiving Turkey Recipe. So easy and the Best Turkey Recipe I've made in 30 years!!
Why You Must Make
It's so much easier and less messy than soaking a turkey overnight in a brine solution!
You just rub down the turkey with a salt and herb blend and let it rest in the refrigerator for 3 days.
The salt infuses into the turkey meat flavoring it perfectly!!
Ingredient Notes
Turkey – It should not already be brined (Butterball and other turkeys are already brined. Double brining will make a very salty turkey! Check the label.)
Kosher Salt – Table salt is too fine.
Dry Herbs – rosemary, thyme, bay leaves, sage. used about 1+ teaspoon of dried herbs. If you use fresh, use 1 tablespoon.
Butter – I use salted for basting, but unsalted works, too.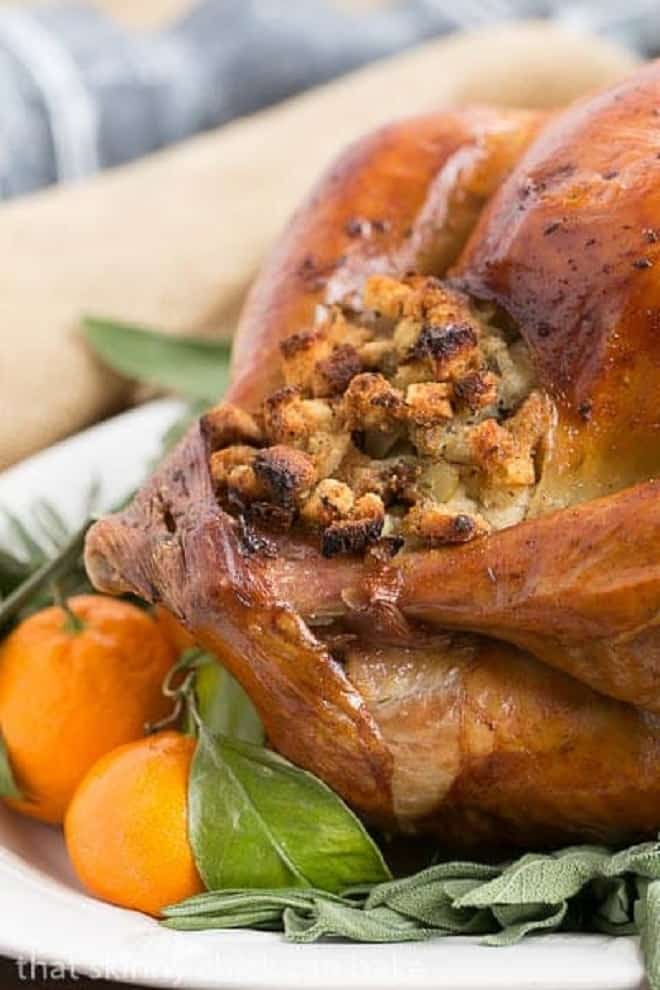 Expert Tips
I didn't realize the meat market was closed on Monday last year, so I didn't get the full 3 days of dry brining, but the turkey was still a showstopper. This year, I'm better prepared. Crispy skin and moist, lightly salted meat. I actually roasted a 22-pound bird and half was eaten by the end of the day. It is amazing what two twenty-something sons can pack away. PRO-Tip: Buy your turkey early enough so that it's thawed and ready to brine on the Monday before Thanksgiving.
The process is a piece of cake compared to filling a huge bag with a brine of water, salt, sugar, and spices, lifting a slippery turkey into its bath, and placing it in a cooler. Then if you happen to have a paranoid husband who is sure that raccoons will break into our cooler set on the patio overnight, you will also need to rig it so it is critter-proof.
PRO- Tip: The main point is to allow enough time for osmosis to take place. Your turkey should be defrosted 3 days prior to roasting.
Use kosher salt and pick your favorite herbs for turkey. Sage, rosemary, bay, poultry seasoning, and thyme come to mind. You can just use 2 or 3.
Whiz them together in a food processor so they're well interspersed with the salt.
Generously cover your dried turkey (pat the skin dry with paper towels) with the salt mixture and place in a large food-safe plastic bag.
Rub the turkey down each day, and flip on the 3rd day.
PRO-Tip: Make sure you wash your hands frequently when dealing with raw turkey. Poultry is known for harboring bacteria like salmonella.
Bring the turkey to room temperature for about an hour before roasting. Baste with butter, then roast until the internal temperature reads 165 degrees both in the breast and inner thigh.
I'm exhausted just thinking of our previous exploits. If you haven't heard of using a dry brine for your Thanksgiving Turkey Recipe, I think you'll be delighted with the results if you give it a shot.
P.S. I have a delicious Holiday Honey Brined Turkey Recipe if you'd like to experiment with wet brining.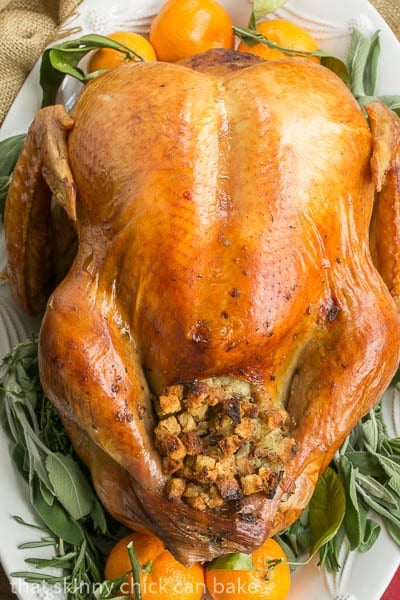 Recipes for Turkey Leftovers:
Frequently Asked Questions
Which is Better, Dry or Wet Brine Turkey?
I used a wet brine for years, and the mess and hassle were worth it until I found this easier, tastier alternative. Dry Brining a turkey may take longer, but it's almost all hands-off time and the results are delicious.
Can You Use Regular Table Salt to Dry Brine a Turkey?
No, table salt is too fine for dry brining. The turkey will be too salty. Instead use Kosher Salt, which is a coarse salt.
What Do You Need to Dry Brine a Turkey?
First, you need a turkey. Do not buy a flavor-injected brand like a Butterball as it is already brined. Also, have on hand some kosher salt, a few dry herbs like sage, oregano, thyme, and poultry seasoning. Plus, you'll need a turkey brining bag.
How Long Do You Air Dry a Dry Brine Turkey?
The rule of thumb is to brine the turkey covered for 2 days and uncovered, to air dry, for 1 day. Make sure to allow enough time for 3 days of brining.
Can You Stuff a Dry Brine Turkey?
Yes! Ignore any advice to the contrary. If you wet brine your turkey, it must be rinsed thoroughly so the stuffing will not be too salty. With dry brining, you still should do a quick rinse of the cavity. The risk of the stuffing being extra salty is less likely with a dry brined turkey.
Should You Rinse a Dry Brined Turkey Before Roasting?
There is no need to rinse your brined turkey before roasting. The skin will be salty, but I've never found it overly salty. And if you rinse your turkey, the skin will not crisp to perfection. Also, rinsing poultry always increases the risk of contaminating your sink and counters with salmonella or other bacteria that are found on raw poultry.
How Do You Roast a Dry Brine Turkey?
Place your unrinsed turkey on a rack in a large roasting pan. Roast as you would any other turkey, basting with butter or butter and wine as needed. Roast until your turkey reaches the FDA's recommended temperature for doneness.
How Do You Know When Your Turkey is Done?
Your best bet is to use a meat thermometer. The readings should be: 180°F in the thigh, 170 °F in the breast, and 165 °F in the stuffing, according to Butterball. Make sure the thermometer is inserted deep into the meat without touching the thigh or breast bone.

You can also look at the turkey juices, but this method is not as accurate. When cutting into the turkey, the juices will be clear when it's fully cooked. If the juices are reddish pink, it's not done.

As a guideline, look at the packaging of your turkey (or online) for the recommended cooking time for the weight of your turkey. It will vary depending on whether it's stuffed or not. Start checking your turkey about a half-hour before the time is up so you don't overcook your bird.
You May Also Like:
Stay in touch through social media @ Instagram, Facebook, and Pinterest. Don't forget to tag me when you try one of my recipes! And if you love the results, please give it a 5-star rating in the recipe card. Note: As an Amazon Associate, I earn from qualifying purchases. Visit my Amazon Store for my favorite products.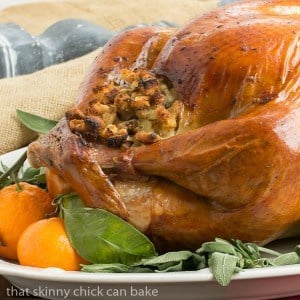 The Recipe:
Dry-Brined Turkey Recipe
Prep Time 10 minutes
Cook Time 3 hours
Total Time 3 hours 10 minutes
Yield 12
This winning recipe from the L.A. Times will make for a juicy and crisp turkey without the mess of traditional brining.
Ingredients
16 pound turkey, defrosted, giblets removed (just adjust salt if using a different weight turkey)
3 tablespoons kosher salt (1 tablespoon for each 5 pounds of turkey)
Herbs, optional (I used rosemary, thyme and bay leaves)
6 tablespoons melted butter, to baste
Instructions
Rinse and dry turkey. In a food processor, process salt plus about a tablespoon of any herbs you'd like to use (rosemary, thyme, bay).
Lightly salt the inside of the turkey, then sprinkle the breast side with a bit more than a tablespoon of the herbed salt, and each side with a bit less than a tablespoon of salt. Place the turkey in an oven bag and remove the air before closing it with a twist tie. Place on rimmed baking sheet.
Refrigerate for 3 days, starting breast side up, rubbing the skin through the bag once a day. Flip on day 3, then remove from bag to let skin dry 8 hours before roasting.
Let sit at room temperature for one hour before roasting. Place on rack in roasting pan.
Preheat oven to 425º, brush with melted butter and roast for 30 minutes. Decrease oven temperature to 325º, cover top with foil if browning too fast and cook till turkey reaches desired temperature, basting as needed. May add some wine and chicken broth to bottom of roaster as needed.
Cook time varies depending on size of turkey.
Notes
Do not use a turkey that has already been brined or injected (like a Butterball) or your results will be too salty.
Recommended Products
As an Amazon Associate and member of other affiliate programs, I earn from qualifying purchases.
Nutrition Information:
Yield:
12
Serving Size:
1
Amount Per Serving:
Calories: 423
Total Fat: 20g
Saturated Fat: 6g
Trans Fat: 1g
Unsaturated Fat: 31g
Cholesterol: 196mg
Sodium: 722mg
Carbohydrates: 0g
Fiber: 0g
Sugar: 0g
Protein: 58g
Data from the LA Times recipe
Note: This post may contain affiliate links; view
my Disclosure Policy
for details. I earn a small percentage from any purchase you make by clicking on these links at no extra cost to you.