Holiday Honey Brined Turkey Recipe
A few years ago, my girlfriend raved about the Honey Brined Turkey Recipe she used for Thanksgiving. It was flavorful and succulent, not one bit dry!
I jotted down the details of this Turkey Brine Recipe and roasted this mahogany bird for the holidays!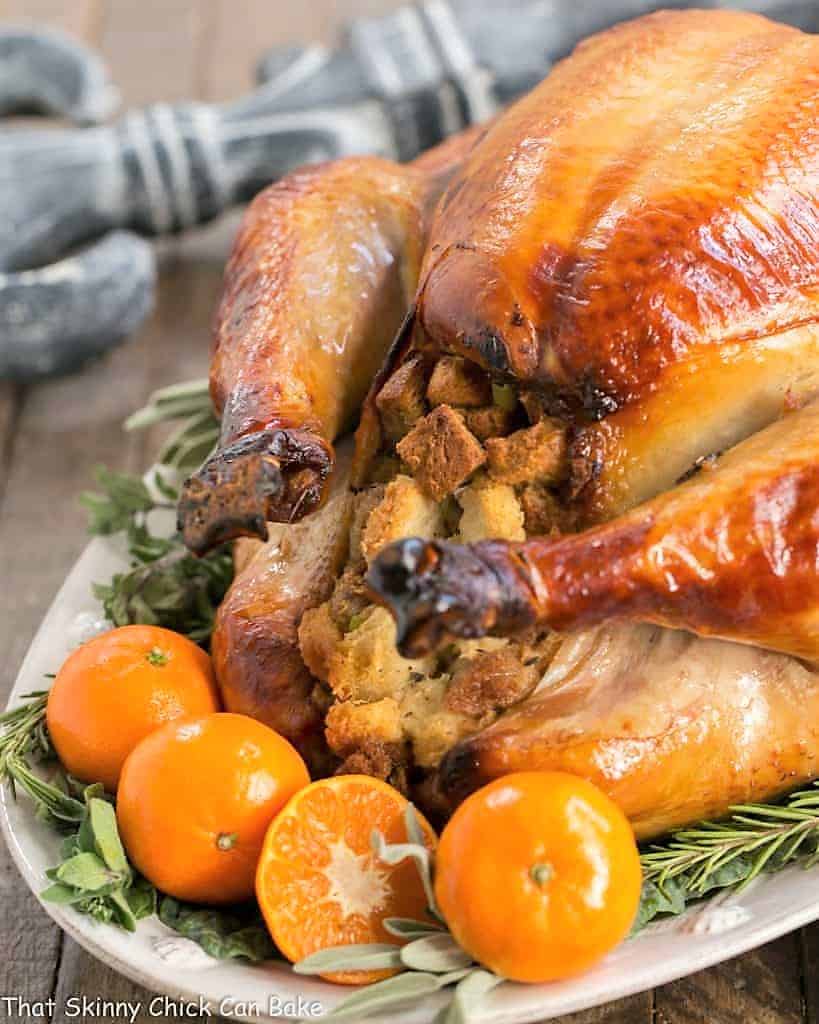 Why You Must Make
I have been brining my Thanksgiving turkey for about the last five years. It virtually guarantees moist and tender white meat.
This is a simple turkey brine made with pantry ingredients.
The soy and molasses provided the beautiful, dark sheen, and this perfect combination of sweet and salty gave the meat a delectable flavor.
Unlike grocery store brined turkey, there this brine has all-natural ingredients.
If you're not up for dealing with wet brining, check out my Dry Brined Turkey recipe. It's also fabulous with less mess!
Ingredient Notes
Kosher Salt – The main source of salt for the brine.
Hot Water – Needed to dissolve the salt.
Molasses – Provides sweetness and color.
Soy Sauce – More sodium plus umami, the "fifth" or meaty sense of taste.
Honey – Adds more sweetness and flavor.
Ice – Keeps the brine cold and helps dilute the brine as it melts.
Turkey – Make sure it's defrosted.

Expert Tips
The first time I made this simple turkey brine recipe, I was nearly out of mild molasses so supplemented with blackstrap molasses, which is darker and much stronger in taste and smell. I was worried that it might impart an intense flavor into the turkey meat, but it was still wonderful. The turkey skin took on a lot of the color from the brine, but the meat was moist and succulent despite the bronzed exterior.
My brining bag sprung a leak when re-testing this recipe. Make sure you use an extra large, heavy duty turkey brine bag available and double bag if you are worried about leakage.
Mix in the salt first while the water is still at its hottest to help it dissolve. Then add the rest of the ingredients. You can also add aromatics and herbs if you'd like.
Let the brine cool a bit before adding to the brining bag.
Brine about 12 hours or overnight. Brining longer may result in darker meat and skin, but it will taste fine. Just don't brine for over 18 hours or your turkey could be too salty.
PRO-Tip: Brine the bird in the refrigerator if you have room, but on Thanksgiving, that real estate is precious so you can also use a large cooler filled with ice.
Truss your turkey (meaning to tie legs and wings tight against the turkey with butcher's twine) (affiliate link) to help roast more evenly.
When roasting, cover your turkey with heavy-duty foil as soon as it is golden brown.
If you stuff your turkey, don't forget to check the temperature of the stuffing before pulling your bird out of the oven. Note that the stuffing may be extra salty due to the brined bird.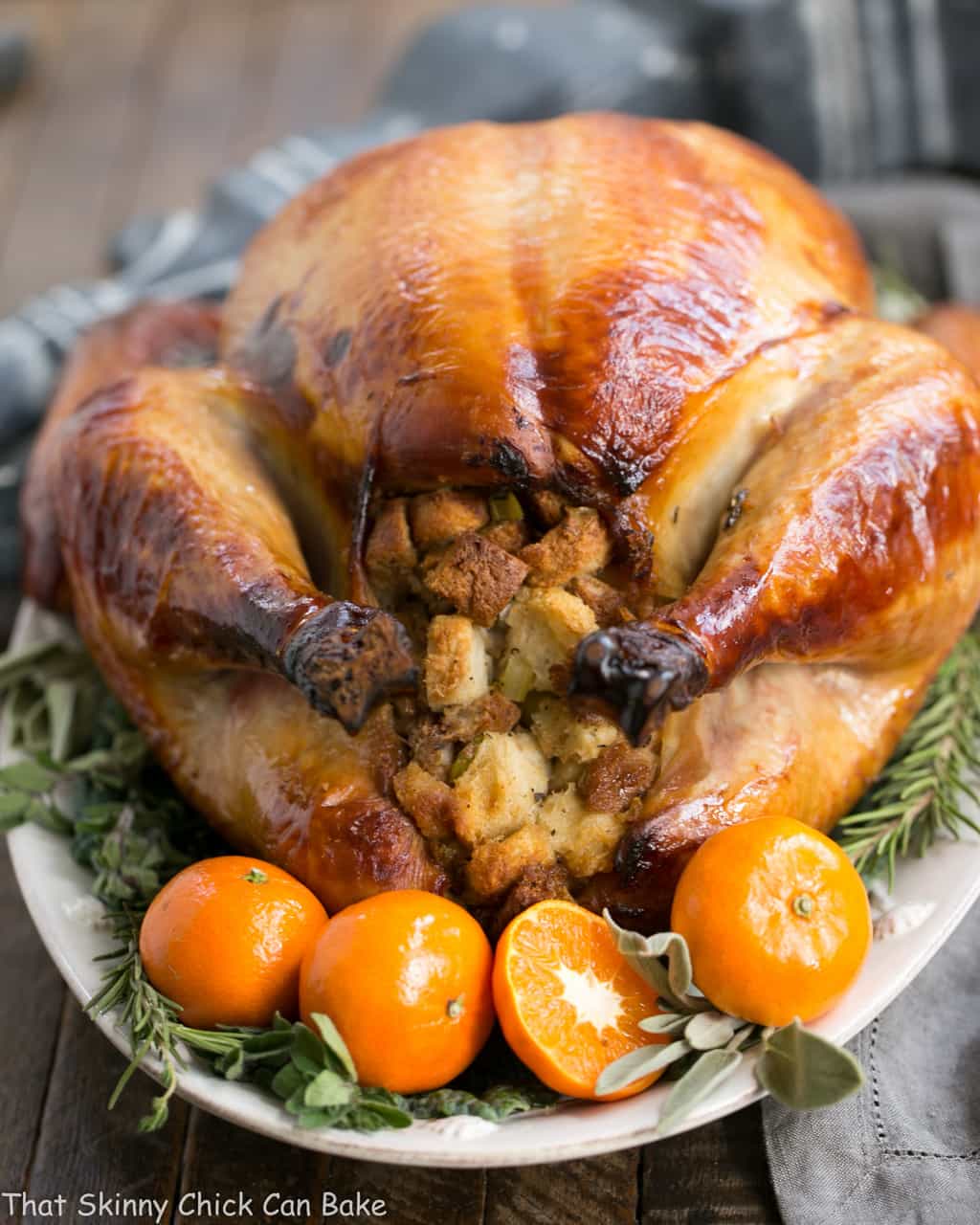 Frequently Asked Questions
How Does Brining Work?
Soaking or "brining" any meat allows the salt from the brine to infuse into and plump up the meat. Remember high school chemistry? The process of osmosis allows the saltier brine solution to cross over and enter the less salty turkey cells until both sides are balanced. A bonus of brining your own turkey is that no chemicals are involved, just wholesome ingredients!
How Long Should You Brine Turkey?
The ideal brining time for turkey is 8-18 hours. If you brine a turkey too long, the meat can become too salty and the texture of the meat will suffer. This is for a wet brine. There is also a dry brine that takes a few days to infuse.
What is the Formula for Brine?
The ratio of salt to water is 1 tablespoon of kosher salt for each cup of water or liquid. Make sure to use kosher (coarser) salt instead of table salt or your brine will be too salty.
What Else Can You Add to Turkey Brine?
Besides salt, water, and sugar, other tasty additions include herbs, and spices. And the sugar in your brine can be granulated white sugar, brown sugar, molasses, or honey.
Does a Turkey Need to Be Refrigerate While Brining?
Yes, it's crucial that your turkey is refrigerated while it is brining to prevent any food-borne illnesses. If you're short on refrigerator space, a large cooler filled with ice will work well. Just monitor the ice and add more as needed.
Do You Rinse Turkey After Brining?
No, there is no need to rinse your brined turkey. In fact, rinsing will remove the salt which flavors the skin.
You can remove the turkey from the brine and let it dry in the refrigerator for 4-6 hours before roasting. This will help create crispier skin.
How Do You Roast a Brined Turkey?
You can roast your turkey using your standard method. Start roasting in a 425º oven and immediately decrease the temperature to 350º. With a combination of butter and white wine, baste now and again, then cover the turkey with foil once the skin develops its gorgeous, brown lacquer. The best turkey brine creates delicious results, and this one was a real winner, perfect for any holiday turkey!!!
You May Also Like:
The Recipe:
Honey Brined Turkey
Prep Time 15 minutes
Cook Time 3 hours
Total Time 3 hours 15 minutes
Yield 16 servings
The perfect way to get succulent meat from your holiday turkey!
Ingredients
Brine:
1 pound kosher salt
6 quarts hot water
1 cup molasses
1 cup soy sauce
1 cup honey
5 pounds of ice
16-pound turkey, defrosted (any size will work)
Instructions
Pour hot water into an extra-large brining bag, then add salt. Agitate bag to help dissolve the salt.
Add molasses, soy, and honey and mix to combine.
Add the turkey with giblets removed and seal the bag with a twist tie.
Set in a cooler filled with at least 5 pounds of ice or the refrigerator in a pan to catch any leaks.
Allow to brine for 12 hours or overnight.
Make sure to drain turkey well and pat dry before roasting as desired.
Notes
Recipe adapted from my friend, Mary Ann.
Roasting time varies depending on the size of your turkey.
Calories and nutrition information isn't 100% accurate because of the amount of salt, honey, and molasses in the brining liquid.
Due to the molasses, the turkey meat may be darker than normal. It will still taste wonderful.
Recommended Products
As an Amazon Associate and member of other affiliate programs, I earn from qualifying purchases.
Nutrition Information:
Yield:
16
Serving Size:
1
Amount Per Serving:
Calories: 991
Total Fat: 34g
Saturated Fat: 10g
Trans Fat: 0g
Unsaturated Fat: 22g
Cholesterol: 494mg
Sodium: 12355mg
Carbohydrates: 34g
Fiber: 0g
Sugar: 33g
Protein: 131g
This nutritional info is skewed as you will not be drinking the brine 🙂
Note: This post may contain affiliate links; view
my Disclosure Policy
for details. I earn a small percentage from any purchase you make by clicking on these links at no extra cost to you.