Easy Sweet Potato Casserole
This Praline Topped Sweet Potato Casserole will win over the whole family! A quick-to-prepare Thanksgiving side dish recipe that trumps the marshmallow version. My dad commented, "this tastes like candy," as he went for his second helping!
Even if you think you don't like sweet potatoes, this Southern Sweet Potato Casserole Recipe will change your mind!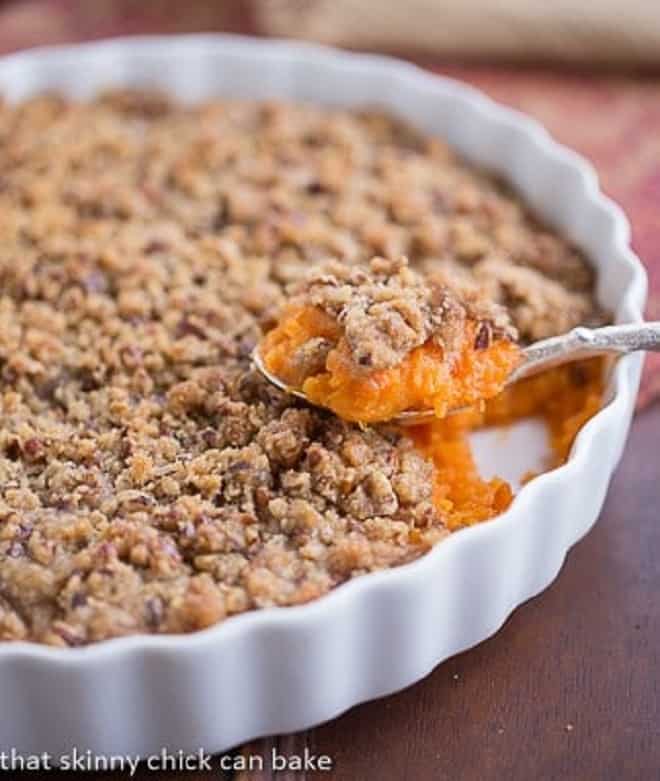 Why You Must
It's definitely decadent enough for a holiday side dish!
The process is not taxing, in fact, it's very easy to make.
Like my dad said after his first bite, "It tastes like candy!" Though recently, I cut the amount of sugar in half and it's still plenty sweet! I've given a range in the recipe card.
How to Make
Mash your sweet potatoes. I prefer using baked sweet potatoes as boiled ones can be too watery.
Preheat oven to 350º and butter a 2-quart baking dish.
Combine sweet potatoes, sugar, vanilla, and milk, and mix well. Pour into baking dish and smooth top.
Mix the flour, brown sugar, and pecans. Cut in butter until the mixture looks like coarse crumbs.
Sprinkle the topping over the sweet potatoes.
Bake, uncovered, for 30 minutes.
Expert Tips
After recommending our local Junior League's sweet potato recipe to a friend, I realized I hadn't posted this Sweet Potato Casserole recipe with you all. These candied sweet potatoes are a more elegant version of the classic marshmallow-topped casserole.
I like baking and mashing my own sweet potatoes to use in this recipe. Using canned sweet potatoes will eliminate those steps.
I've cut down the sugar from the original recipe. Taste the filling before adding the topping and adjust according to your palate.
I use pecans in the topping but feel free to use walnuts if you prefer those.
PRO-Tip: This casserole can be assembled the day before to streamline your holiday prep. Just bring it to room temperature before baking (or add more time if necessary).
Frequently Asked Questions
How Do You Make Mashed Sweet Potatoes?
Bake, boil or open and drain a can of sweet potatoes. Use a potato ricer, masher, or mixer, and process until smooth. Add milk, sugar, and/or seasonings to taste.

For this recipe, the mashed sweet potatoes will be measured out as part of the recipe, so there is no need to add any seasonings.
What Is In Sweet Potato Casserole?
It depends on the recipe. Many are topped with marshmallows but this one is crowned with a mixture of brown sugar, flour, butter, and pecans.

The sweet potatoes have vanilla, sugar, and milk added to them. Other ingredients can include cinnamon and other spices, maple syrup, and/or nuts.
What's the Difference Between Yams and Sweet Potatoes
Yams are not commonly sold in the US even though some canned sweet potatoes are labeled as yams. A yam's flesh can be white, yellow, purple, or pink and the skin is dark and bark-like. They're starchier than sweet potatoes and not as sweet.

Sweet potatoes have moister flesh that can be white, orange, rosy-colored, or purple. Their skin is smoother.
Can Sweet Potato Casserole Be Made Ahead of Time?
Yes! Both the topping and the mashed and sweetened sweet potato mixture can be made a day or two ahead of time. Store the components in the refrigerator, but bring them out to take the chill off for about an hour before baking.

Spread the sweet potatoes in your baking dish, then crumble on the topping. Bake as directed, but note that it may take extra time if it did not come to room temperature after being in the fridge.
How to Reheat Sweet Potato Casserole?
Single servings can be microwaved. To reheat the whole casserole, cover it with foil and place it in a 300-degree oven for 15-20 minutes depending on how much is in the dish.
Can You Freeze Sweet Potato Casserole?
Yes, your leftovers can be frozen for up to 3 months if it's kept airtight. The praline topping might get a little soft when it defrosts, but it will still be tasty.
Be forewarned, though. This dish could almost pass for a dessert, so it's perfect for a carb-heavy turkey day meal. But it may be a wee bit too sweet to serve any time but a holiday, but definitely worth the calorie splurge!
You May Also Like:
Love this recipe? Please leave a 5-star rating in the recipe card below & a review in the comments section further down the page.
Stay in touch with me through social media @ Instagram, Facebook, and Pinterest. Don't forget to tag me when you try one of my recipes!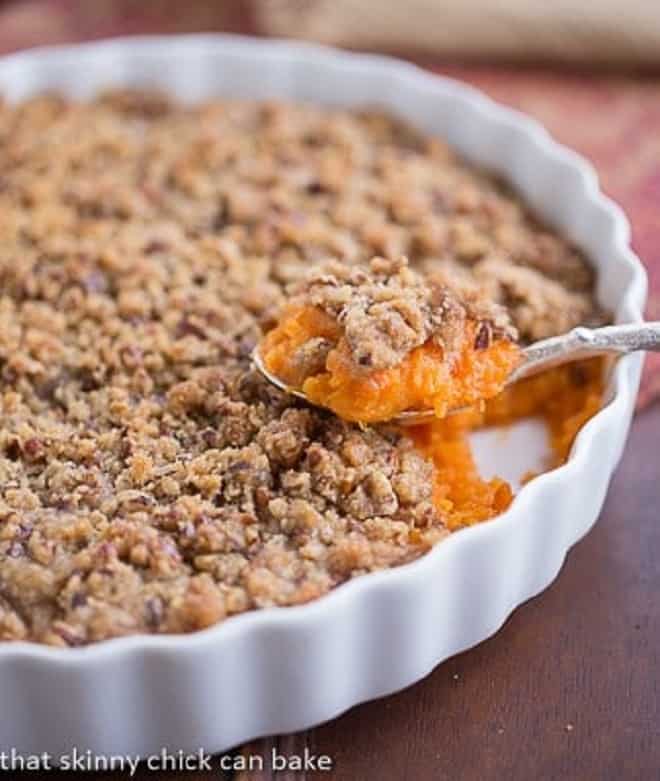 The Recipe:
Sweet Potato Casserole Recipe
Prep Time 15 minutes
Cook Time 30 minutes
Total Time 45 minutes
Yield 8 servings
A terrific sweet potato recipe that will convert even your biggest naysayer!
Ingredients
3 cups mashed cooked sweet potatoes (about 3 large)
1/4-1/2 cup sugar
1 teaspoon vanilla
1/4-1/2 cup milk
Topping:
1/3 cup flour
2/3 cup brown sugar
1/3 cup butter
1 cup chopped pecans
Instructions
Preheat oven to 350º.
Butter a 2-quart baking dish. Set aside.
Combine sweet potatoes, sugar, vanilla, and milk and mix well. Pour into baking dish and smooth top.
Mix the flour and brown sugar. Cut in butter until the mixture looks like coarse crumbs.
Bake, uncovered, for 30 minutes.
Notes
Adapted from Winners cookbook
Recommended Products
As an Amazon Associate and member of other affiliate programs, I earn from qualifying purchases.
Nutrition Information:
Yield:
8
Serving Size:
1
Amount Per Serving:
Calories: 363
Total Fat: 18g
Saturated Fat: 6g
Trans Fat: 0g
Unsaturated Fat: 11g
Cholesterol: 21mg
Sodium: 100mg
Carbohydrates: 50g
Fiber: 4g
Sugar: 33g
Protein: 4g
The Recipe:
Holiday Side Dishes
Tried and true side dish recipes that are perfect for the holidays! They're ideal for Thanksgiving, Christmas, Easter, and more!
When you're looking for an off-season salad, this Apple, Cherry, Walnut Salad with Maple Dressing is a delicious option!
This Holiday Fruit Salad is a family tradition that has been made for 4 generations!
A lettuce salad delicious enough for special occasions, but easy enough for every day!
A dreamy cranberry salad perfect for Thanksgiving.
A vibrant layered Jello salad that will impress both young and old!
An updated favorite from my childhood, this easy spinach souffle is perfect for the holidays!
A fabulous 6 strand, pumpkin challah loaf with some extra sweetness from pumpkin!
The classic fruit salad made without Cool Whip!
Note: This post may contain affiliate links; view
my Disclosure Policy
for details. I earn a small percentage from any purchase you make by clicking on these links at no extra cost to you.