Cinnamon Apple Chips
These Cinnamon Apple Chips are a beautiful, fat-free snack that only requires three ingredients and some low and slow time in the oven!
This Homemade Baked Apple Chips Recipe takes a little time to prep and bake, but are a much healthier treat than their fried, store-bought counterparts.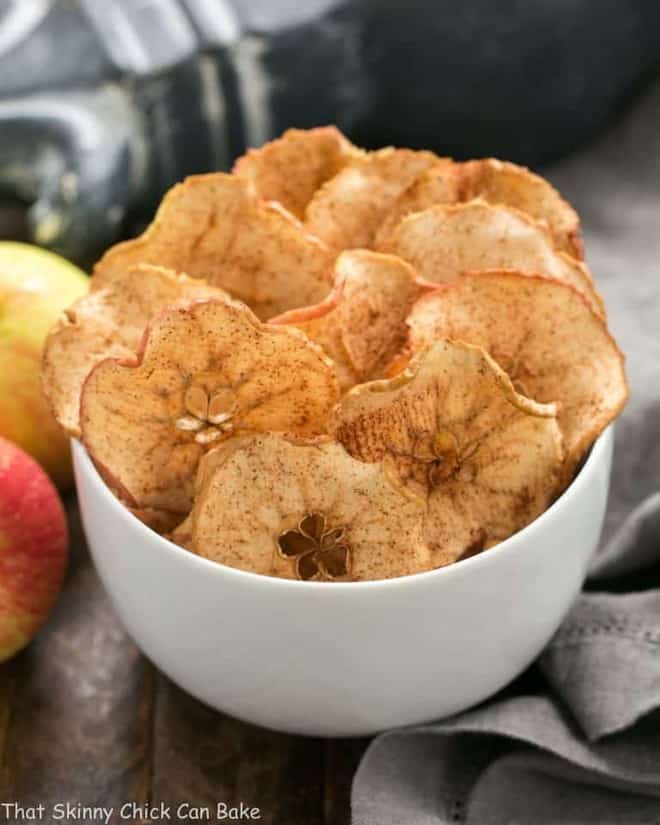 Why You Must Make
These beautiful, rippled cinnamon apple chips are easy and impressive to make at home.
You just need a simple benriner slicer to ensure you get ultra-thin slices (feel free to try with a knife, but it could be difficult, not to mention dangerous, cutting through the core) and time parked at home while they bake low and slow.
These chips make a delicious, healthy snack!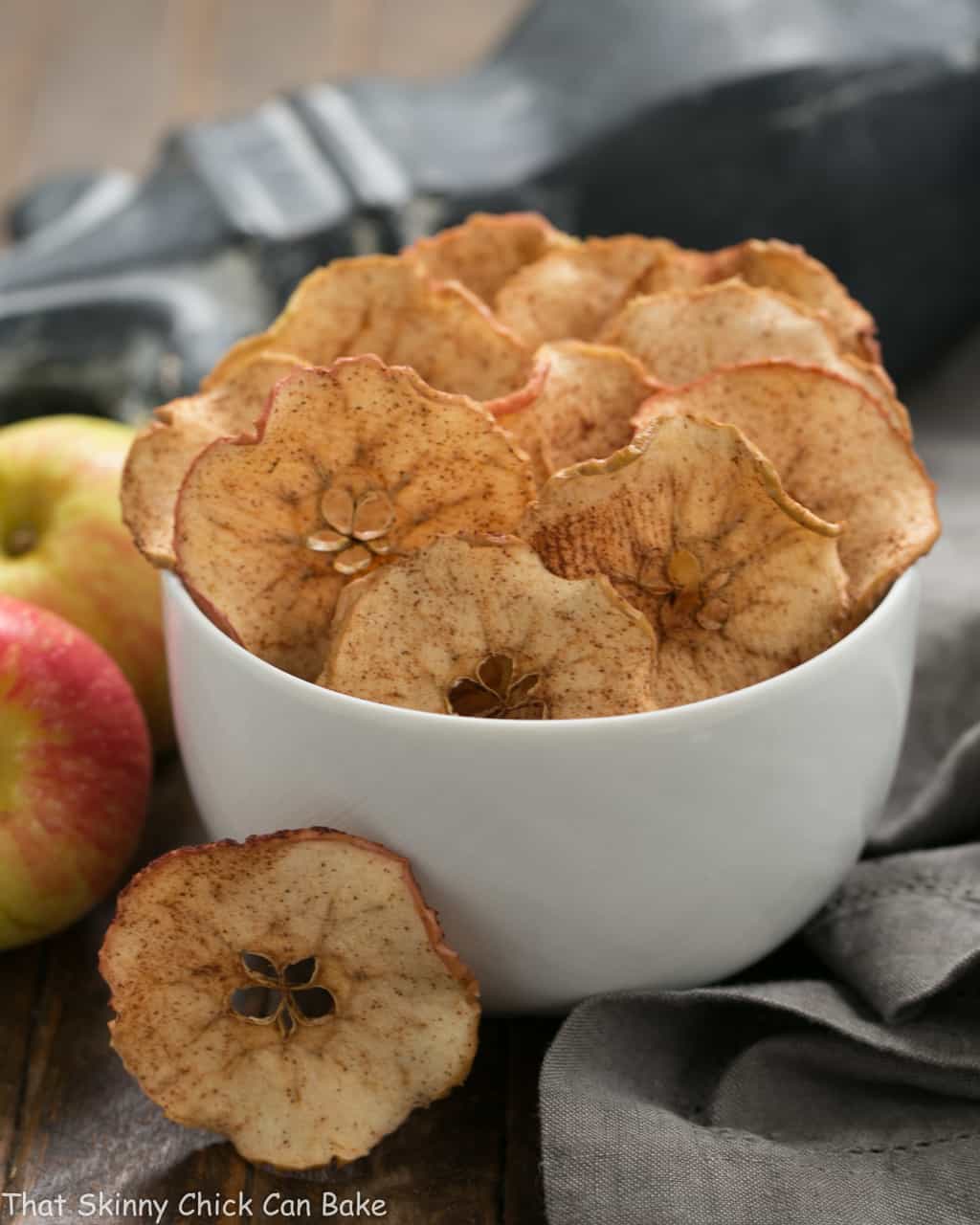 Dehydrated Apple Slices vs Apple Chips
I was expecting crisp chips when I first made this recipe. You know, like fragile potato chips that crumble with any pressure. But in this case, the final result was a little chewy, more like thin dehydrated apples than true apple chips. No matter what you call these, they were darn tasty! My second batch spent a little more time in the oven.
After sampling a few of these cinnamon apple chips, I knew I'd be sharing them with my friends. A group of my knitting friends was coming over for coffee, chatting, and, of course, knitting. When I revealed I'd made these, one friend replied that she was going to ask where I bought them! I gave her the rundown on preparation, including the kind of apples I used. She was going to make a batch that same day!!!
How to Make Apple Chips
Try making these baked apple chips with your favorite apple. Try sweet, tart, crisp, and softer apples to see what you like best. Aim for flavorful apples. I used my current favorite eating apples, Honey Crisp and Pink Lady (see note below about best apples to use for long-term storage).
The slices must be very, very thin so that they are able to lose most of their moisture in the oven and get crisp. A mandoline or benriner works best for the thinnest, most consistent slices. I was OK with mine having a little chewiness, but you may want to extend your cooking time to allow for a crisper bite.
Bake low and slow. 200-225 degrees allows for the apples to dehydrate without browning or burning.
Spice these up however you like. I used cinnamon and sugar, but you may prefer pumpkin pie spice or even a pinch of cayenne mixed in for a little kick!
Once they are done baking, let them cool in the oven, allowing for even more evaporation. The goal is for them to be very dry.
Be prepared to make a double batch! These are addictive!
Ingredient Notes
You don't even need a shopping list since this easy apple recipe only needs three ingredients, most of which you may already have in your kitchen!
A reader, Tim, who uses this recipe has tested out a number of apples when making apple chips. I'm sharing his recommendations. You will also need sugar and cinnamon.
Honey Crisp – Too moist for long-term storage; spoil easily. If making a small batch to eat ASAP, they'll work.
Granny Smith – Became very tart after they dried.
Gala – Highly recommended
Fuji – Highly recommended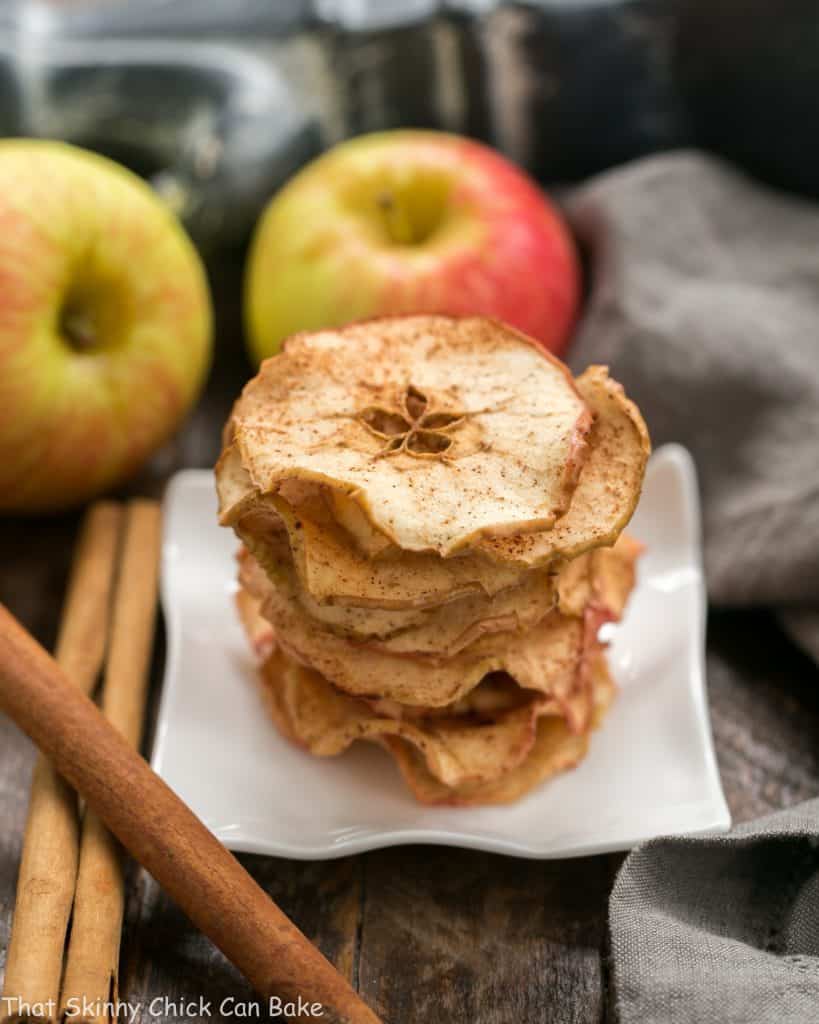 Frequently Asked Questions
Are Apple Chips Healthy?
These apple chips are baked, not fried, so they're definitely healthier than any store-bought chips. They provide fiber and some Vitamin C, too.
How Long Does It Take to Make Apple Chips?
Making apple chips is not a quick process. To truly dry out the apple slices, it takes 2 1/2 active hours in the oven, then a resting time overnight in a turned-off oven. Using a dehydrator is faster, but the apple chips may be chewier.
How Do You Store Apple Chips?
Apple Chips should be stored in an airtight container for up to a week. If they lose their crispness, just rebake them at a low temperature. They also taste great as a chewy snack, so another alternative is to eat them as i
You May Also Like:
Whether or not you're in the midst of autumn, remember that apple recipes can be made any time of year!
Stay in touch through social media @ Instagram, Facebook, and Pinterest. Don't forget to tag me when you try one of my recipes! And if you love the results, please give it a 5-star rating in the recipe card. Note: As an Amazon Associate, I earn from qualifying purchases. Visit my Amazon Store for my favorite products.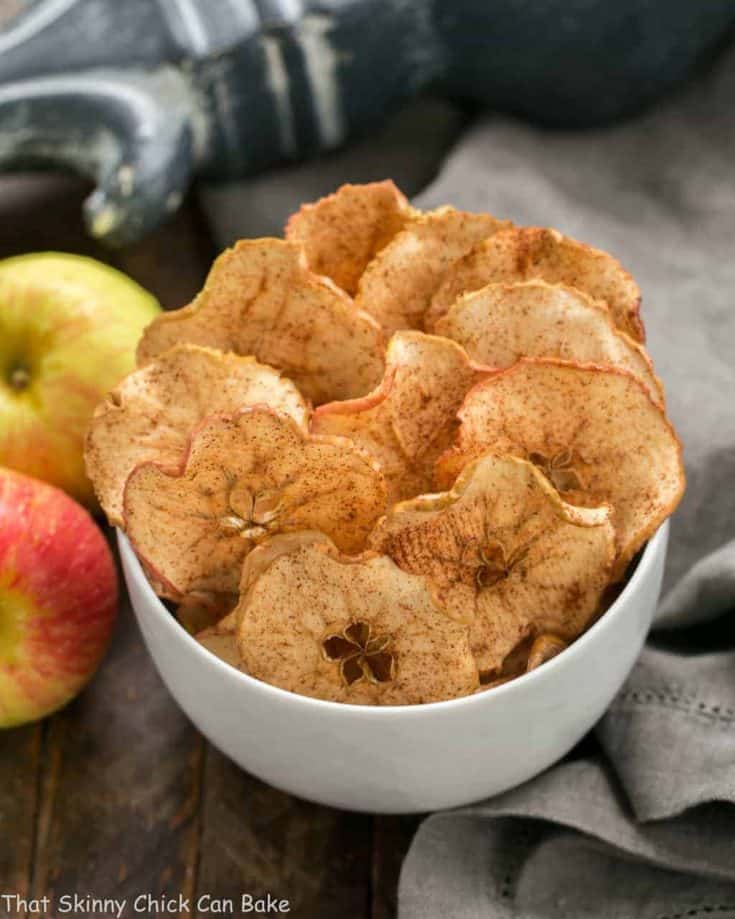 The Recipe:
Cinnamon Apple Chips
Prep Time 20 minutes
Cook Time 2 hours 30 minutes
Total Time 2 hours 50 minutes
Yield 6 servings
These Cinnamon Apple Chips are a beautiful, fat-free snack that only requires three ingredients and some low and slow time in the oven!
Ingredients
4 apples (I used 2 Honeycrisp and 2 Pink Lady apples)
1 tablespoon sugar
1 teaspoon cinnamon
Instructions
Preheat oven to 200 degrees. Line 2-3 baking sheets with parchment paper and set aside.
Using a benriner or mandolin, slice apples into very thin (1/16th inch or so) slices, through the core to make round slices. Discard the ends.
Add the slices to a large bowl and toss with the cinnamon and sugar. I used my fingers to rub a very small amount of the sugar mixture onto each slice, then rubbed the slices together to distribute evenly.
Place slices on the prepared baking sheets in one layer, popping out any seeds during the process.
Bake for 1 1/2 hours, then remove from the oven and flip each slice over (I found using my fingers was easier and quicker than using a spatula.
Bake for another hour, then turn off the oven and leave sheets in the oven overnight or until the oven cools.
Store in an airtight container. These are a cross between dried fruit and chips as they don't get crispy like potato chips.
To "re-crisp" preheat the oven to 200 degrees and place the apple chips in a single layer on a baking sheet. Turn off the oven and let the chips stay in the oven for a few hours or overnight.
Recommended Products
As an Amazon Associate and member of other affiliate programs, I earn from qualifying purchases.
Nutrition Information:
Yield:
6
Serving Size:
1
Amount Per Serving:
Calories: 72
Total Fat: 0g
Saturated Fat: 0g
Trans Fat: 0g
Unsaturated Fat: 0g
Cholesterol: 0mg
Sodium: 1mg
Carbohydrates: 19g
Fiber: 3g
Sugar: 15g
Protein: 0g
Note: This post may contain affiliate links; view
my Disclosure Policy
for details. I earn a small percentage from any purchase you make by clicking on these links at no extra cost to you.