Double Chocolate Cookie Recipe
Flavored with cocoa, unsweetened chocolate, and loaded with chocolate chunks, this Double Chocolate Cookie Recipe is obscenely decadent!

In the midst of a chilly week, turning on the oven seemed like a natural thing to do. And baking up some Chocolate Chunk Cookies was just the solution. Use chocolate chunks, chocolate chips, or cut up some chocolate bars as whatever is in your pantry will work!!!
Why You Should Make These Chocolate Cookies
When the family starts requesting Nestle Toll House chocolate chip cookies, I know I've done too much experimental baking. But when I spied this recipe for Gooey Double Chocolate Cookies, I couldn't resist. Can you blame me? I figured these chocolate jewels would suffice, and I was correct! Bill called them exceptional, and if you like chocolate, you'll agree.
There are a number of reasons these are so yummy. First is the size. Each cookie takes a full 1/4 cup of cookie dough. Big cookies make for happy cookie monsters.
There is a LOT of chocolate in every bite. For these 18 cookies, you'll need 4 ounces unsweetened chocolate, 2 tablespoons cocoa powder, and 1 pound of semisweet chocolate!
If you zap them for a few seconds in the microwave before eating, the chocolate chips and chunks will soften for an even more wonderful indulgence!
How to Make Chocolate Chunk Cookies
If you've made chocolate chip cookies before, these aren't much different. You'll add cocoa powder and melted chocolate to the dough, along with chocolate chunks. Here are some tips:
Pull out your eggs about an hour before starting the recipe. This will make them easier to incorporate. The butter will be melted so it's not necessary for it to be at room temperature.
Start by gently melting the chocolate and butter in the microwave. Make sure the chocolate is chopped into small pieces to allow for easier melting. I like to start and stop at 30-second intervals, stirring each time. When there are just a few unmelted bits of chocolate, let the residual heat finish melting them.
PRO-Tip: Use a wooden spoon or spatula to mix the cookie dough. This prevents overworking of the dough and stimulating the gluten, keeping the cookies more tender when they're baked. If you want to use a hand mixer, mix on the lowest speed.
I like to chop my own chocolate chunks so I can use a higher quality of chocolate. Ghiradelli is my favorite and it's widely available.
Shaping the dough balls
This dough will be much easier to handle when chilled, so refrigerate at least an hour before baking.
PRO-Tip: I like using a 1/4-cup cookie scoop to dish out evenly sized dough balls. The scoop will need to be washed a couple of times as dough builds up on the interior surface.
Alternatively, you can guesstimate 1/4-cup portions of dough, and roll them into rounds with greased hands.
Make sure to give these cookies some room to spread, at least 2-3-inches apart.
Line your pans with parchment paper to avoid sticking and making for easy cleanup.
Do not overbake if you want gooey cookies. The very centers will still look soft while the edges appear firm and set.
If the cookies are misshapen, use a spatula to tap the cookies into rounds, holding the pan securely with a hot pad.
PRO-Tip: Reserve some of the chocolate chunks to press onto the tops of the warm cookies for a more professional-looking cookie!
The cookies will continue to cook if you keep them on the baking sheet. Instead, move both the cookies and parchment paper onto a wire rack to cool.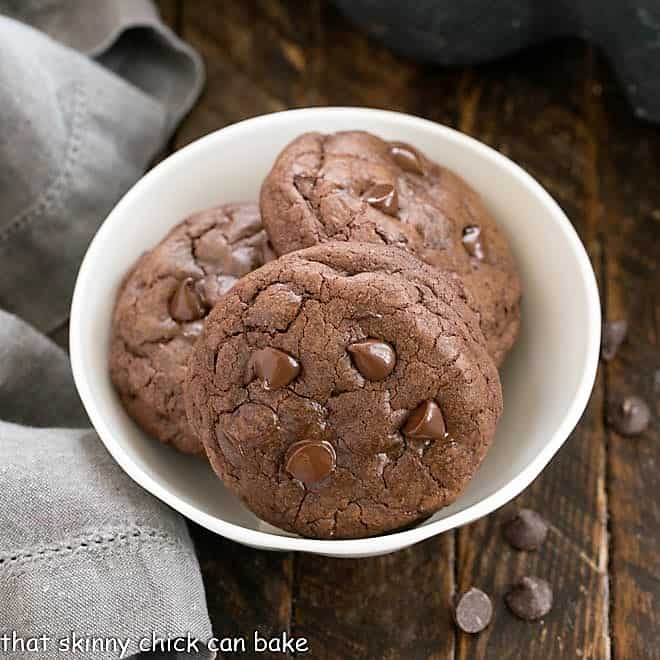 You May Also Like:
The Recipe:
Double Chocolate Cookie Recipe
Prep Time 15 minutes
Cook Time 10 minutes
Total Time 25 minutes
Yield 18 cookies
Perfect gooey chocolate cookies for the chocoholics in your life!
Ingredients
4 ounces unsweetened chocolate, chopped (I used one Ghirardelli bar)
4 tablespoons butter, cut into 4 pieces
3 eggs
2 teaspoons vanilla
1 cup sugar
½ cup flour
2 tablespoons cocoa powder
½ teaspoon baking powder
½ teaspoon salt
1 pound semisweet chocolate, chopped into chunks (I used 2 4-ounce Ghirardelli bars plus 8 ounces of semi-sweet chocolate chips)
Instructions
Gently melt unsweetened chocolate and butter in microwave. Set aside and allow to cool slightly.
In large mixing bowl, mix together eggs, sugar and vanilla with wooden spoon. Slowly add the melted chocolate, mixing to incorporate. Sift in flour, cocoa, baking powder and salt. Mix till just combined. Stir in the semisweet chocolate chunks.
Cover bowl with plastic wrap and refrigerate at least one hour.
When ready to bake, preheat oven to 350º.
Cover sheet pan with parchment paper and scoop out 1/4 cup portions of dough. With greased hands, form dough portions into balls and place 2-3 inches apart on pan. Bake about 10 minutes. The centers will still look soft, but the edges should be set. Remove cookies, keeping them on parchment, to a rack to cool completely.
*The original recipe called for bittersweet chocolate, so go ahead and substitute if you're so inclined.
Notes

Reserve some of the chocolate chips so you can add 3-4 to each cookie when they're still hot and fresh out of the oven, for a more professional presentation.
Adapted from the LA Times (recipe credited to Milk)
Recommended Products
As an Amazon Associate and member of other affiliate programs, I earn from qualifying purchases.
Nutrition Information:
Yield:
18
Serving Size:
1 large cookie
Amount Per Serving:
Calories: 255
Total Fat: 14g
Saturated Fat: 8g
Trans Fat: 0g
Unsaturated Fat: 5g
Cholesterol: 38mg
Sodium: 109mg
Carbohydrates: 32g
Fiber: 3g
Sugar: 25g
Protein: 4g
Note: This post may contain affiliate links; view
my Disclosure Policy
for details. I earn a small percentage from any purchase you make by clicking on these links at no extra cost to you.