Raspberry Chambord Brownies with White Chocolate Icing
Rich and irresistible, these Raspberry Chambord Brownies are out of this world with a boost of flavor from the black raspberry liqueur.
Plus, the White Chocolate Cream Cheese Frosting pushed these Raspberry Brownies over the top! These won second place in a national sugar company's recipe contest!!
Why You Must Make
The results were rich and fudgy, with a subtle boost of flavor and moistness from the raspberry jam and Chambord, a black raspberry liqueur.
As if that wasn't enough, they're finished off with a white chocolate cream cheese frosting.
This recipe won second place in a national sugar company's recipe contest!!
And even my youngest, who claims not to like raspberries or white chocolate was sold even after given the lowdown on the ingredients!
Ingredient Notes:
Kitchen Staples – Butter, Eggs, Vanilla, Flour, Sugar, Powdered Sugar, Salt
Unsweetened chocolate – I use Ghirardelli Bars
White chocolate – I use Ghirardelli Bars
Chambord, a liqueur, optional – Alcohol is a flavor enhancer
Raspberry jam – I use Bonne Maman Raspberry Preserves
The Verdict
These babies were decadent with a capital D! So I took a plateful to my knitting group for their analysis (and to get the tempting things OUT of my house). Slices were cut in half and sampled, then I saw the hands reaching back to the platter for seconds and thirds.
One gal took a couple of them home to share with her husband and son. Yup, more thumbs up from her crew. And just recently I shared these with some dear friends who joined us for pizza. I had to print off a copy of the recipe for them to take home.
Expert Tips
Line your baking pan with non-stick foil. The reason is two-fold. First, the brownies won't stick to the side of the pan when you try to remove them. Also, the foil can be used as a sling to move the brownies from the pan to the cutting board after they're cool.
If you don't have non-stick foil, just use regular foil and spray it with a non-stick cooking spray like Pam.
Melt your chocolate and butter and the white chocolate in the microwave. Use a heat-safe bowl, microwave for 30 seconds, stir and repeat until the chocolate is almost completely melted. The residual heat will finish the job.
Folding is a term process of mixing a heavier ingredient into a more fragile ingredient, in this case, flour into whipped eggs. Use a rubber spatula and using a circular motion, scrape along the mixing bowl bringing the batter from the bottom of the bowl to the top. Repeat numerous times until the ingredients are combined.
Use an offset spatula to spread and level the brownie batter and the frosting.
And do not overbake. Fudgy brownies won't be as fudgy and cakey brownies will be drier. Better to check early since all ovens bake differently.
Frequently Asked Questions
What Makes These Raspberry Brownies?
There are two raspberry additions to the brownie batter. First, is the raspberry jam. With seeds or without, both options work well. Second, is Chambord, a black raspberry liqueur. Alcohol, like salt, is a known flavor enhancer, but you can certainly leave it out. As a bonus, you can always add a raspberry garnish to each brownie for some panache.
How Do You Know When Brownies are Done?
First, use your nose. When you start smelling a brownie aroma coming from the oven, it's time to pay attention. The brownies will pull away from the sides of the pan, and a toothpick inserted in the center will come out with just a few moist crumbs. Start checking early as your brownies won't be fudgy if they're overbaked.
How Should Brownies Be Stored?
With the cream cheese frosting, these brownies are best stored in an airtight container in the refrigerator. But get them out and onto a serving tray about an hour before serving. They will be much fudgier at room temperature. Unfrosted brownies are fine at room temperature for 3-4 days. They also freeze well for up to 3 months.
You May Also Like: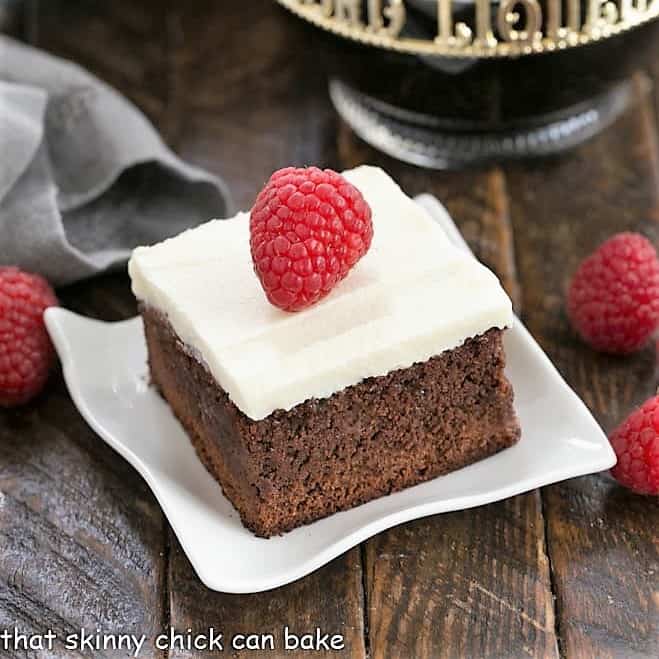 The Recipe:
Raspberry Brownies with White Chocolate Icing
Prep Time 30 minutes
Cook Time 50 minutes
Total Time 1 hour 20 minutes
Yield 24 brownies
Fudgy brownies dosed with raspberry jam and Chambord for an out of this world dessert experience
Ingredients
Brownies:
9 ounces unsweetened chocolate, chopped
2 sticks (1 cup) butter
2 teaspoons vanilla extract
1 tablespoon Chambord (black raspberry liqueur), optional
1/4 cup raspberry jam (with or without seeds)
6 eggs
3 cups sugar
1-1/2 cups flour
1/4 teaspoon salt
Icing:
4 ounces white chocolate
1/2 cup (4 ounces) butter at room temperature
2 ounces cream cheese, at room temperature
1/2 teaspoon vanilla
2 1/3 cups powdered sugar, sifted
Instructions
Preheat the oven to 325°. Line a 9 x 13-inch pan with nonstick foil or line with regular foil and spray with nonstick cooking spray. Set aside.
Melt the chocolate and butter in a microwave-safe bowl, stopping to stir at 30-second increments till smooth. Stir in vanilla, Chambord, and jam.
Whip the eggs in the bowl of a stand mixer fitted with the whip attachment for about a minute. With the mixer on high speed, slowly add the sugar and beat for 10 minutes.
Combine the flour and salt and place them in a sifter. Fold the flour and salt into the egg batter with a rubber spatula, in four additions. Fold in the chocolate.
Pour the brownie batter into the prepared pan. Bake on the center rack in the oven for approximately 45-50 minutes or till a toothpick inserted into the center of the brownies comes out with almost clean. Do not overbake.
Cool the brownies before icing.
Melt the white chocolate in the microwave, stopping and stirring every 30 seconds till smooth. Let the chocolate cool. With an electric mixer, beat the butter and cream cheese until smooth. Mix in vanilla followed by the sugar and melted chocolate. Spread the icing evenly over the brownies. Chill before cutting, but serve at room temperature.
Notes
Alcohol, like Chambord, enhances the flavor of food. But if you don't want to invest in a bottle of Chambord liqueur, these will be very tasty without it.
Recommended Products
As an Amazon Associate and member of other affiliate programs, I earn from qualifying purchases.
Nutrition Information:
Yield:
24
Serving Size:
1 brownie
Amount Per Serving:
Calories: 361
Total Fat: 9g
Saturated Fat: 5g
Trans Fat: 0g
Unsaturated Fat: 3g
Cholesterol: 50mg
Sodium: 56mg
Carbohydrates: 66g
Fiber: 2g
Sugar: 54g
Protein: 5g
Note: This post may contain affiliate links; view
my Disclosure Policy
for details. I earn a small percentage from any purchase you make by clicking on these links at no extra cost to you.