Chocolate Chip Cookie Dough Brownies
If you love sneaking bites of raw cookie dough, these decadent Chocolate Chip Cookie Dough Brownies will knock your socks off!
My family members are brownie fanatics. When I spied a recipe that combined my love of cookie dough with brownies, these over the top Chocolate Brownies were added to my baking list.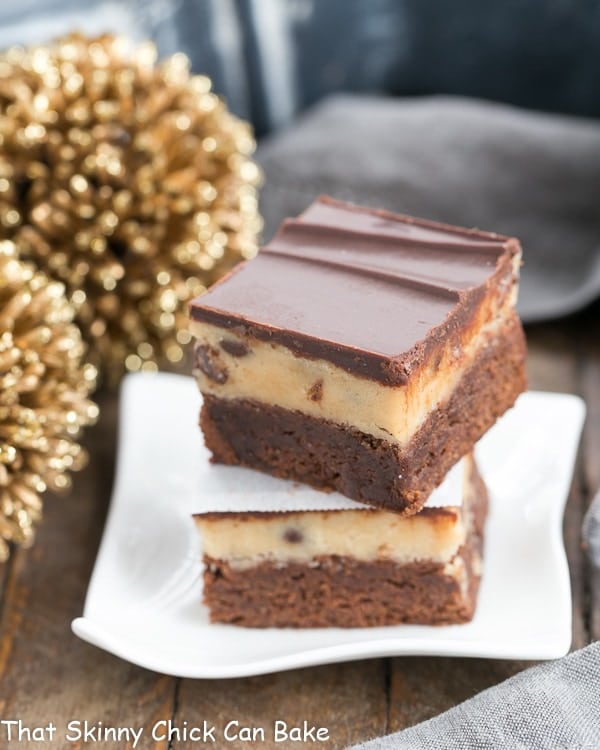 Why You Must Make
Three dreamy layers combined to make these luscious chocolate chip cookie dough brownies I sampled more than my share of the egg-free cookie dough before layering it on top of the fudgy brownie base.
If you love to sample cookie dough when you're baking, you'll love these brownies!
The cookie dough in these brownies is safe to eat, unlike real cookie dough.
They're rich, delicious, and addictive!
I was afraid they might not enjoy the slightly granular texture of the sugars in the uncooked dough layer, but, in fact, all 3 guys liked them. The hubby liked them best of all. Brownie points for me. And for this new recipe.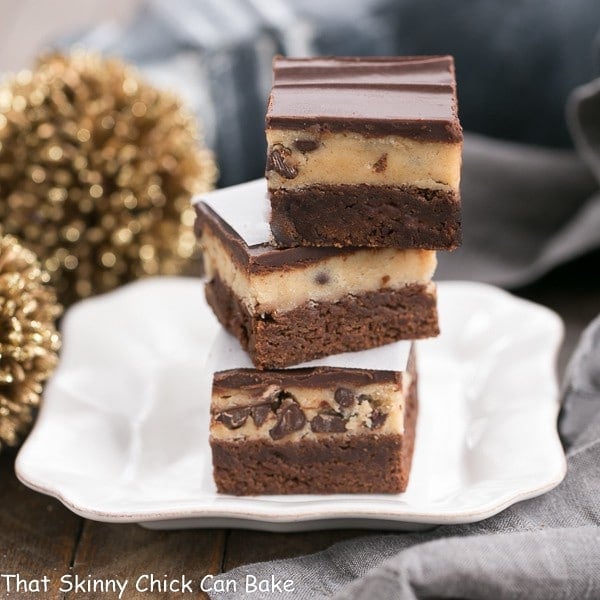 Expert Tips
First, a moist fudgy brownie is baked up and cooled. PRO-Tip: Baking in a pan lined with non-stick foil helps for easy removal from the pan.
Next, egg-free cookie dough is mixed, and taste-tested, of course. Not that it could actually be baked into cookies, but it tastes a heck of a lot like real chocolate chip cookie dough. 
The cookie dough layer is smoothed across the brownies with an offset spatula.
Finally, a layer of creamy, dreamy chocolate ganache is poured across the surface of the cookie dough. Again, use an offset spatula to smooth it out before letting the topping solidify at room temperature.
PRO-Tip: Popping these layered chocolate brownies in the fridge for a bit allows for cleaner lines when cutting these into squares. If you know a chocoholic (especially one who adores cookie dough), treat them to these amazing brownies!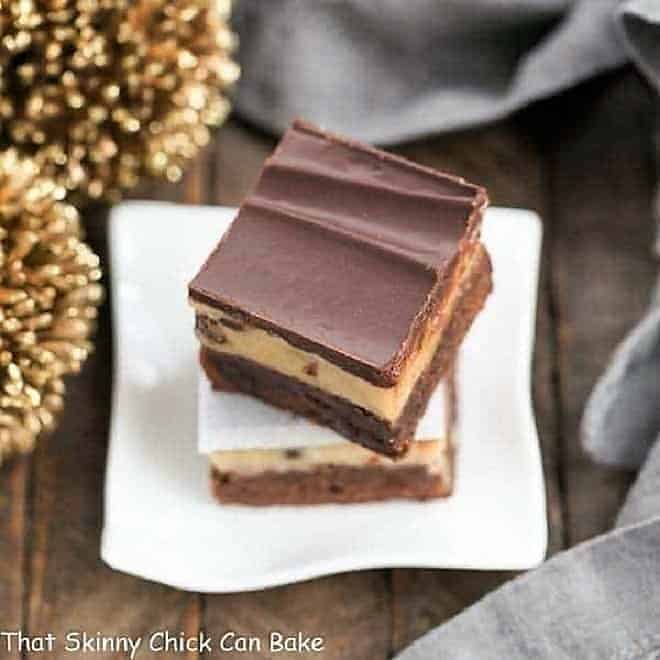 Frequently Asked Questions
Is It Safe to Eat Raw Flour?
Years ago, it wasn't a problem to eat raw flour, but now there is the chance of e-coli contamination during the manufacturing or packaging process. Eating any food with e-coli can result in food poisoning, and certain e-coli strains have caused death.
So if you are serving these bars to the very young, elderly, or immunocompromised, it would be best to heat the flour first to kill off any potential bacteria.
How Do You Make Raw Flour Safe to Eat?
All you need to do to make raw flour safe is to spread it out on a sheet pan and bake at 350º for about 5 minutes. Cool and use as directed in your recipe. E-coli is killed at temperatures of 160º and above.
You May Also Like: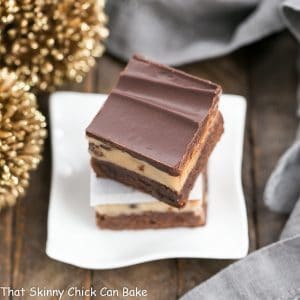 The Recipe:
Chocolate Chip Cookie Dough Brownies
Prep Time 30 minutes
Cook Time 35 minutes
Total Time 1 hour 5 minutes
Yield 32 brownies
An indulgent brownie recipe topped with cookie dough and ganache! Adapted from Recipe Girl.
Ingredients
Brownie layer:
4 ounces unsweetened chocolate, chopped
1 cup butter, at room temperature
2 cups brown sugar, packed
4 eggs
2 teaspoons vanilla
1/2 teaspoon salt
1 cup flour
Cookie dough layer:
3/4 cup butter
3/4 cup brown sugar
3/4 cup sugar
3 tablespoons milk
1 1/2 teaspoons vanilla
1 1/2 cups a flour
1 1/2 cups semisweet chocolate chips
Ganache topping:
6 ounces of semi sweet chocolate, chopped
1/3 cup cream
Instructions
Preheat oven to 325º. Line a 9 x 13-inch pan with non-stick foil. Set aside.
Make brownie layer. Melt chocolate in the microwave using 30 second increments, stirring until melted and smooth. Set aside.
In a large mixing bowl, butter and brown sugar till well mixed. Beat in eggs and vanilla. Mix in.
Stir in salt and flour; don't over mix. Spread into prepared pan. Bake 25-35 minutes or till toothpick inserted in center comes out clean. Cool.
Make cookie dough. With an electric mixer combine butter and both sugars.
Mix in milk and vanilla; stir in flour. Add chocolate chips and mix to combine.
Spread over cooled brownie layer. Cool till firm (can freeze to hurry along process).
Make ganache. Melt remaining chocolate and cream together in microwave, stopping at 30 second intervals to stir till smooth and chocolate is melted.
Spread over dough layer with an offset spatula. Chill for easier cutting. You may pull the whole batch out with the foil to cut or just cut pieces from pan.
Notes
Make sure to cook your flour to 160 degrees to make it safe to eat.
Nutrition Information:
Yield:
32
Serving Size:
1 brownie
Amount Per Serving:
Calories: 309
Total Fat: 18g
Saturated Fat: 11g
Trans Fat: 0g
Unsaturated Fat: 6g
Cholesterol: 53mg
Sodium: 130mg
Carbohydrates: 37g
Fiber: 2g
Sugar: 27g
Protein: 3g
Photo circa 2011 (one of my first Foodgawker acceptances!).
Note: This post may contain affiliate links; view
my Disclosure Policy
for details. I earn a small percentage from any purchase you make by clicking on these links at no extra cost to you.