Cream Cheese Caramel Flan
This rich and dreamy Cream Cheese Caramel Flan is a cross between creme brulee and cheesecake! Everyone will want to lick their plates clean!
We were throwing a paella party for our dinner club and a creamy Flan de Queso seemed apropos for the occasion. The picky hubby is not a fan of caramel, but happily ate his slice plus all leftovers in the fridge. My obvious conclusion is that I had a winner of a recipe!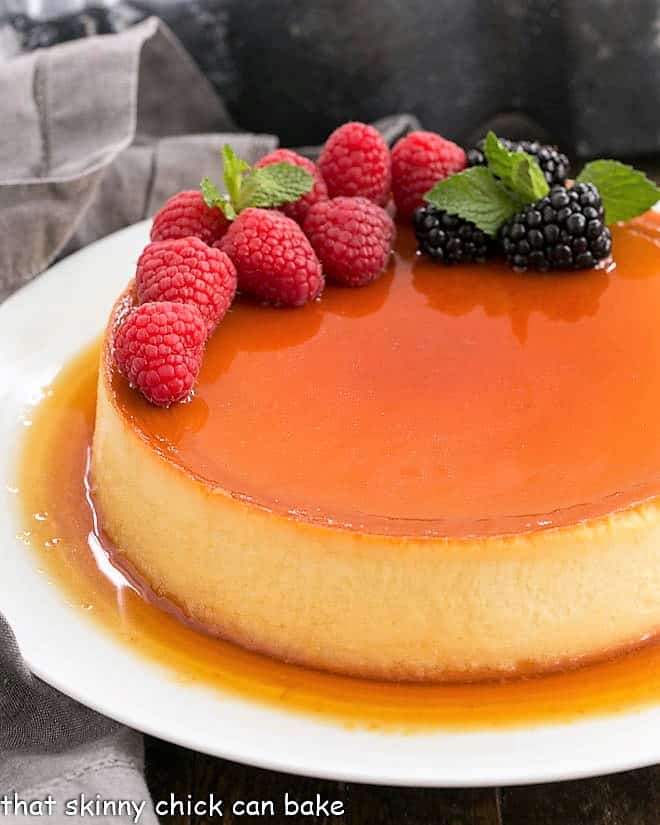 Reader Endorsement:
Taste tester paraphrased comments: "I love creme brulee and this is even better!" "I don't like caramel, either, but I like this!"
Why You Must Make
This Flan Recipe is a bit unusual. Typically you'll see evaporated milk, sweetened condensed milk, eggs, and vanilla for the custard portion of the recipe.
The cream cheese element tweaked the flavor just enough to make this even tastier and richer than a traditional flan, in my opinion.
It definitely looks like flan with the glossy coating of caramel sauce, but has that hint of cheesecake texture and flavor due to the cream cheese!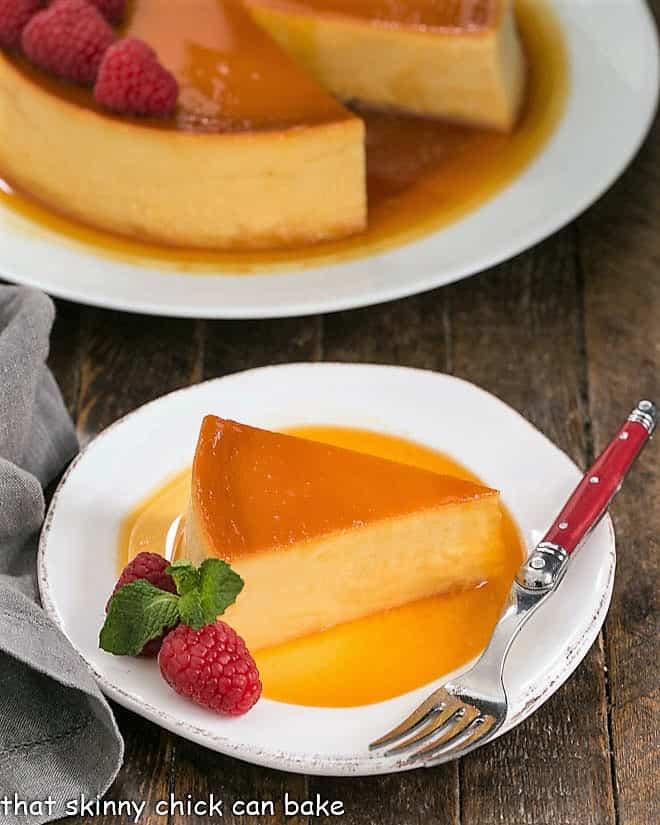 Expert Tips
There are only two tricky parts to making flan if you're a novice. The first is making the caramel portion and the second is unmolding it. Let's start with the making of the flan custard.
PRO-Tip: Have your cream cheese at room temperature so whips smoothly and combines easily with the other ingredients. Basically, the cream cheese is whipped, then the other custard ingredients are mixed in. I used a hand mixer, but you do not want to whip on high and add a lot of air to the custard.
The caramel that lines the bottom of your baking dish is made of sugar only. The sugar is heated on your cooktop until it is melted, smooth and caramel-colored. Cook over medium-low heat stirring occasionally and don't worry if the mixture gets chunky as that's normal. Eventually, the sugar will melt, but it can take up to 15 minutes. Pour the caramel onto the bottom of your baking dish, then top with the custard.
PRO-Tip: To bake, place the baking dish into a larger baking pan and add an inch of boiling water. This is a bain-marie, a French word for a water bath. This helps keep the baking temperature even which keeps the custard moist and prevents cracking (though I'm not sure flan would ever crack!).
The cheese flan is done when the center looks set, but the custard will still jiggle a bit as you pull it out of the oven.
Cool the custard on a wire rack, then refrigerate overnight. Invert, slice, and serve (more on unmolding below).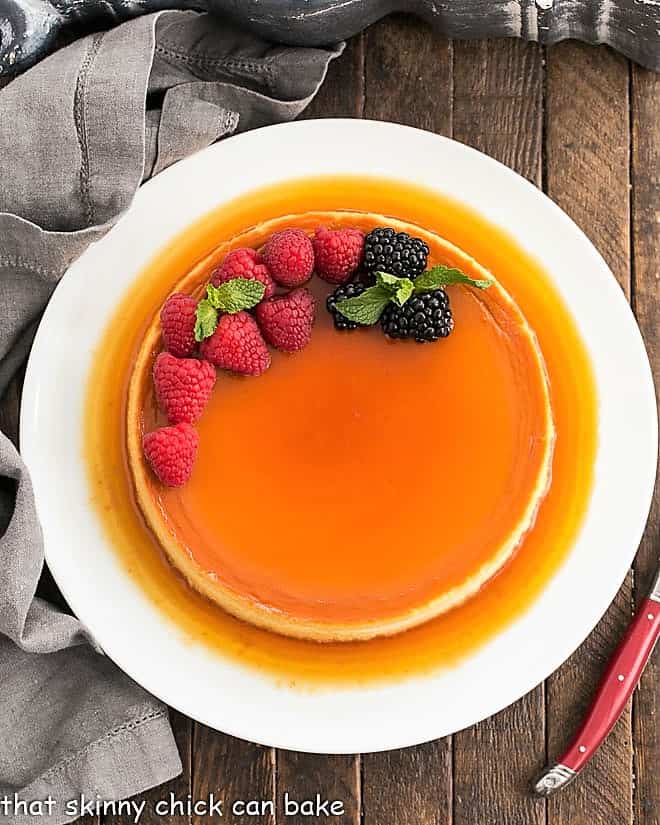 How to Unmold
If you don't mind that the edges are not perfectly smooth, run a knife around the perimeter of the flan to help loosen it, dip the bottom into a pan of boiling water for a few seconds, then flip the flan onto a serving plate. I wanted to try other methods first to try to keep the sides as intact as possible.
I tried all the tips I had researched. The first was to whack the side of the pan with your palm to break the seal, then invert the flan. It didn't work for me. Added a dip into the hot water for a few seconds. Didn't work for me. Snuck a knife in and only ran it around for an inch or two to help the flan release, whacked it again and again, it didn't release. Finally, I dipped the flan into the hot water and left it there for about a minute (remember, I had already broken the seal), then finally got the flan to release onto the serving plate. Whew!
The berries actually cover up where the edge of the flan broke away where I had inserted the knife. If I wasn't taking photos, it wouldn't have been a big deal!
PRO-Tip: Make sure your serving plate has a well in the middle or rim to catch the excess caramel. If your serving plate is flat, the caramel will spill over the edges and create a sticky mess. No one has time for that!!!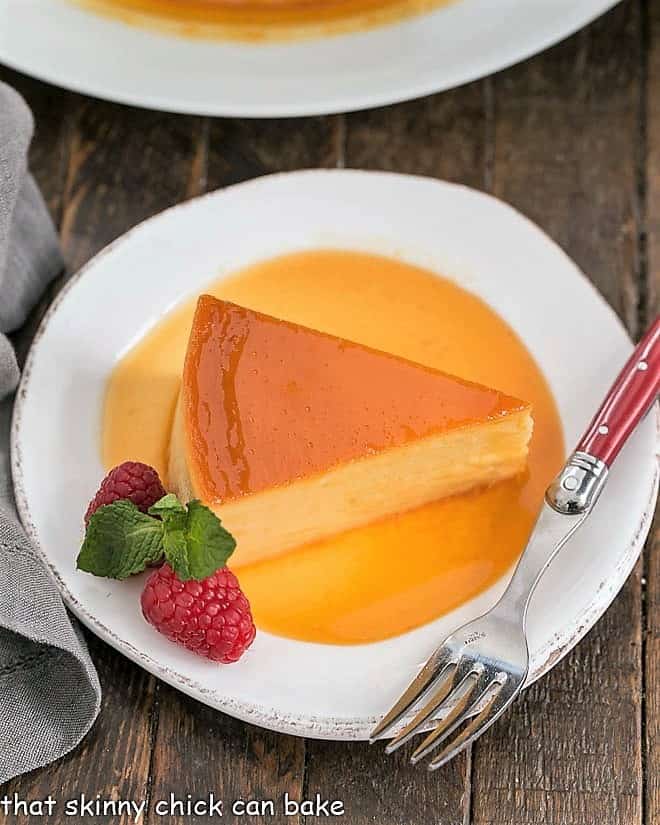 Frequently Asked Questions
What Is Flan?
As just mentioned, flan is a baked custard that's bathed in a caramel sauce when inverted. The bottom of the baking dish is coated in caramel, then topped with the custard before baking. It's similar to the French Crème Caramel and is also referred to as a Caramel Custard. It is also akin to Crème Brûlée except instead of the solid, crisp caramel topping, a flan has a liquid caramel topping. The word flan is derived from the Latin flado meaning a flat cake or object and can be traced back to the Roman Empire.
What Ethnicity is Flan?
Nowadays, flan is considered a Mexican, Spanish, or Puerto Rican dessert, but it was a savory version that was first developed during the Roman Empire. When the empire fell, the modern dessert version became popular. The Spanish were the first to top a flan with caramel sauce, and when they brought the recipe to Mexico, flavors like chocolate and coconut flan were created as well.
How Do You Store Flan?
Flan can be kept in the refrigerator for 3-4 days. It can also be frozen for up to a month if well wrapped. A frozen flan should be defrosted in the refrigerator, then brought to room temperature before serving.
Why Do You Cook this Flan in a Water Bath?
A water bath or bain marie is used when gentle heat is needed to cook something in the oven. Using this technique enables delicate dishes like custards, sauces, and savory mousses to be cooked without curdling or breaking. The process consists of placing a container of food into a shallow pan of warm water.
You May Also Like: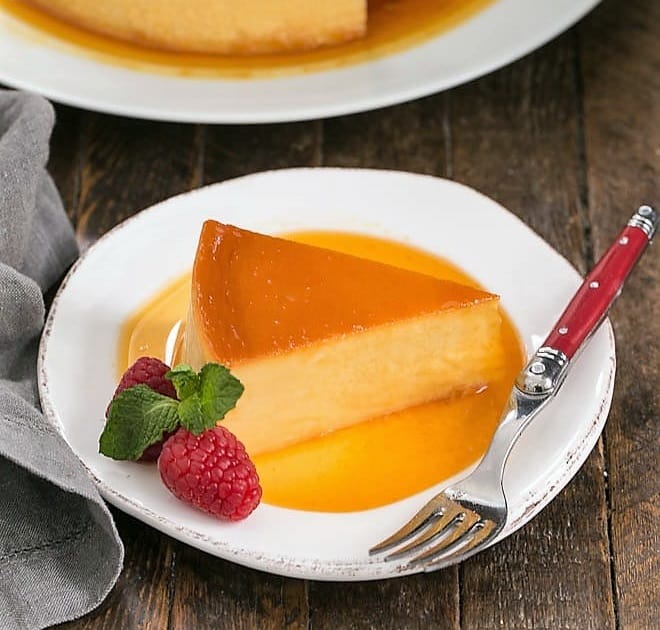 The Recipe:
Cream Cheese Caramel Flan
Prep Time 20 minutes
Cook Time 1 hour
Additional Time 8 hours
Total Time 9 hours 20 minutes
Yield 10
A baked vanilla custard bathed in caramel sauce
Ingredients
¾ cup sugar
8 ounces package cream cheese, at room temperature
5 eggs
14 ounces sweetened condensed milk (1 can)
12 fluid ounce can evaporated milk
2 teaspoons vanilla extract
Instructions
Preheat the oven to 350°.
In a small, heavy saucepan over medium-low heat, cook sugar, stirring, until the sugar is melted and golden. The sugar will get clumpy but will eventually melt.
Pour the caramelized sugar into an ungreased, round 2-quart baking dish. I used a souffle dish. Tilt the dish to coat the bottom. Set aside.
In a large bowl, beat cream cheese until smooth. Mix in the eggs, one at a time, until well incorporated. Mix in condensed and evaporated milk and vanilla until smooth.
Pour the mixture into the caramel-coated baking dish.
Place the baking dish into a roasting pan, then place the roasting pan on the oven rack. Fill the roasting pan with boiling water to a depth of about 2 inches.
Bake for 50 to 60 minutes, or until the center is just set. Cool for one hour on a wire rack, then refrigerate for 8 hours or overnight.
To unmold, run a knife around the edges of the pan and invert on a rimmed serving platter.
Notes
The water bath helps keep a stable baking temperature around the delicate custard.
Recommended Products
As an Amazon Associate and member of other affiliate programs, I earn from qualifying purchases.
Nutrition Information:
Yield:
10
Serving Size:
1 slice
Amount Per Serving:
Calories: 557
Total Fat: 33g
Saturated Fat: 19g
Trans Fat: 0g
Unsaturated Fat: 11g
Cholesterol: 191mg
Sodium: 357mg
Carbohydrates: 52g
Fiber: 0g
Sugar: 51g
Protein: 14g
Note: This post may contain affiliate links; view
my Disclosure Policy
for details. I earn a small percentage from any purchase you make by clicking on these links at no extra cost to you.