Best English Toffee Recipe
This English Toffee Recipe is a must-make every Christmas! It's a beloved, irresistible holiday gift among my friends!
I shake up my holiday candy and baking list from time to time, but one sweet treat never changes. I've been making this same Recipe for Toffee for over a decade; it's the absolute best! Check out all my tips and tricks on how to make this decadent Christmas Candy!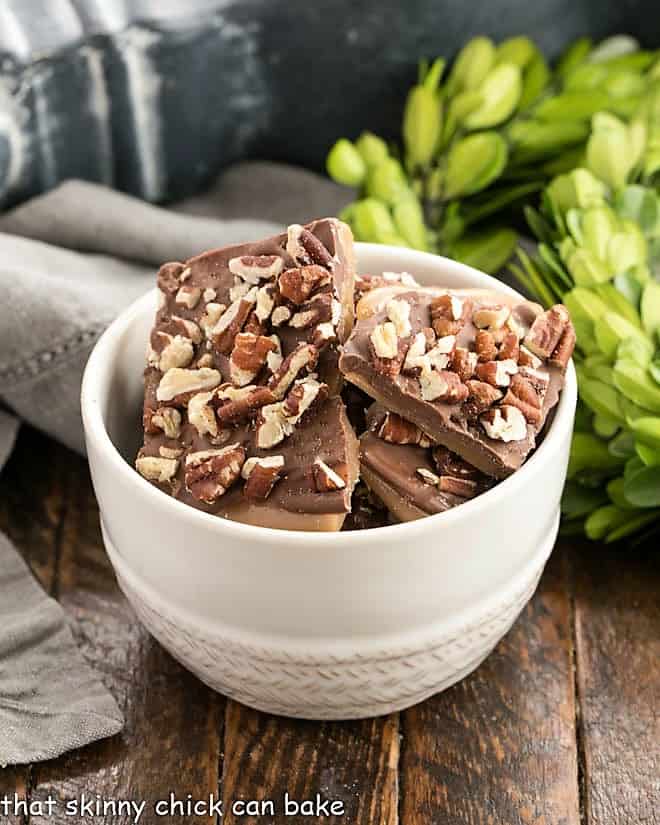 Why You Must Make
There's no need to look any further, this tried and true toffee recipe works!!
I've been making it for 10+ years and I've never had to toss out a failed batch.
It's incredibly delicious!!!
Expert Tips
I've listed my best tips for making perfect homemade toffee below:
PRO-Tip: As with fudge and caramel recipes, you need an accurate candy thermometer. Test its accuracy by placing it in a pan of boiling water. If you live at sea level, your thermometer should read 212º Fahrenheit or 100º Celsius when it comes to a full boil. Check the boiling temperature at your altitude before checking your thermometer.
Make sure the tip of the thermometer does not rest on the bottom of the pan or you will not get an accurate temperature.
PRO-Tip: Keep your burner on medium-high. Any lower and it will take forever to come to temperature and any higher, it will cook too quickly and the texture will be off. 
PRO-Tip: Use a heavy saucepan as it will allow the temperature to be maintained as well as minimizing scorching.
Because of the addition of corn syrup, this toffee will not recrystallize. But also avoid making on a humid day, less than 35% or the results could be sticky.
You don't need to stir constantly, but instead frequently.
Stay near your boiling candy. You need to watch the temperature closely as it will rise rapidly once it approaches the 290º point.
Pull the pan off the heat at 290-300º. I used to cook to above 300º and only about half the batches were the correct consistency.
Use a Small Offset Spatula to gently move the hot candy across the Sheet Pan along with tilting the pan back and forth.
Add the chocolate while the candy is very hot so it melts. Use the offset spatula to spread it evenly across the candy's surface as soon as it appears melted.
I add chopped, toasted pecans, but almonds are a delicious alternative. PRO-Tip: Toasting your nuts brings out the natural oils and enhances their flavor.
Be careful. This candy will burn your skin quickly if you spill. Keep young children at a distance while you're making this.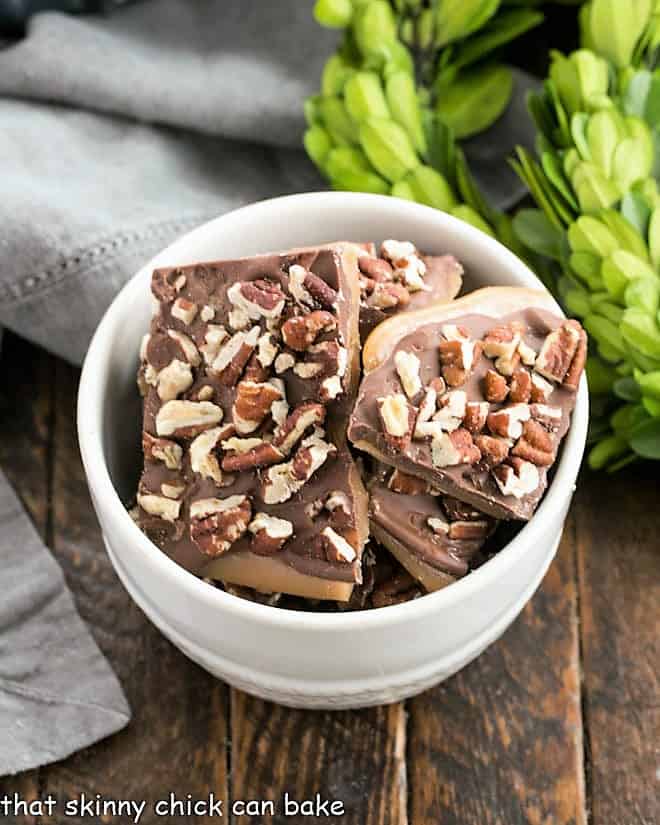 Frequently Asked Questions
What is English Toffee?
Toffee (or toffy) is a candy made by cooking sugar, water, or cream to a temperature within the hard ball to hard crack candy range, depending on the outcome you want. This toffee is cooked to 290º right in the middle of the span of temperatures, in the soft crack stage.
How Does Toffee Differ from Caramel?
Both toffee and caramel are sweet, amber-colored candies, but caramel candy is soft and chewy whereas toffee is hard and crunchy. The ingredient list is similar, but they're cooked to different temperatures, and caramel has cream added whereas typically, toffee does not. On a molecular level, the sugar crystallization is different for each candy.
Why Do You Add Corn Syrup?
Corn syrup prevents the recrystallization of the sugar when the toffee cools and hardens. If you've ever eaten gritty toffee, you know what recrystallized toffee is like. It's caused when all the sugar is not melted. Even a couple of granules lingering on the sides of the pan can mess up a batch. So don't skip this ingredient!
You May Also Like: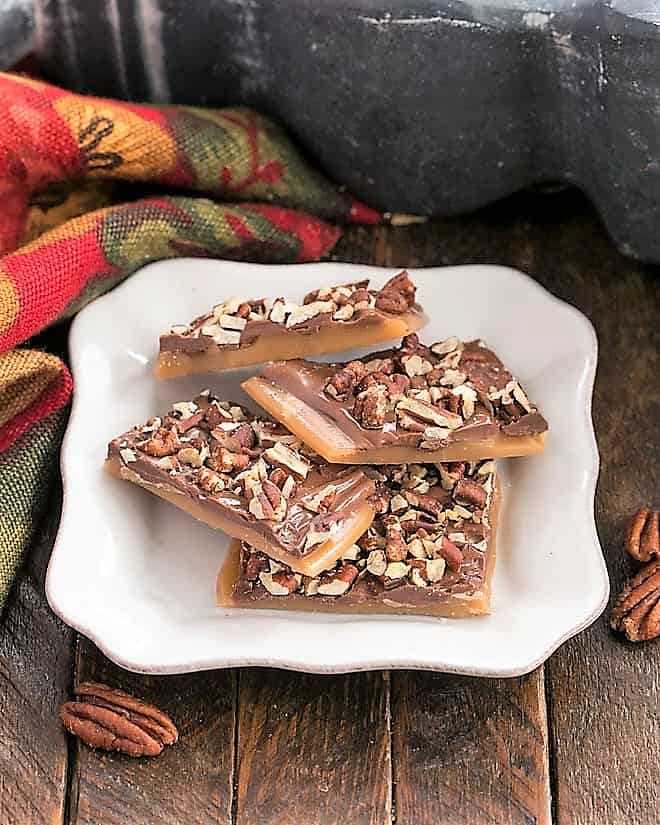 The Recipe:
Classic English Toffee Recipe
Prep Time 15 minutes
Cook Time 20 minutes
Total Time 35 minutes
Yield 48
My favorite English Toffee recipe. Prepare to get lots of rave reviews!
Ingredients
1 cup chopped pecans, toasted (5-8 minutes at 350º)
2 sticks butter
1 cup sugar
6 tablespoons light corn syrup
2 tablespoons water
1 teaspoon vanilla
8-12 ounces milk chocolate, chopped
Instructions
Cover a baking sheet with a Silpat or lightly grease with Pam.
Cut butter into pieces and mix with sugar, corn syrup, and water.
Bring to boil over medium-high heat, stirring until sugar is dissolved. Insert a candy thermometer and allow to boil, stirring occasionally, until the liquid turns amber and the temperature reaches 290º.
Remove from heat immediately and add vanilla. Stir to combine and pour onto prepared sheet.
Allow to cool for about a minute, then sprinkle with chocolate. Allow the heat to melt the chocolate, then smooth out with a spatula.
Sprinkle with nuts and gently pat down so nuts adhere to chocolate.
Chill for 2 hours, then break into small pieces. Store in refrigerator.
Notes
Adapted from Gourmet Magazine.
One serving is 1 ounce of toffee. This recipe makes 48 ounces.
Recommended Products
As an Amazon Associate and member of other affiliate programs, I earn from qualifying purchases.
Nutrition Information:
Yield:
48
Serving Size:
1 ounce
Amount Per Serving:
Calories: 377
Total Fat: 22g
Saturated Fat: 13g
Trans Fat: 0g
Unsaturated Fat: 7g
Cholesterol: 23mg
Sodium: 77mg
Carbohydrates: 40g
Fiber: 2g
Sugar: 36g
Protein: 5g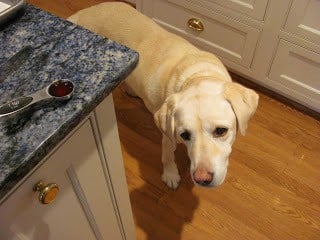 Note: This post may contain affiliate links; view
my Disclosure Policy
for details. I earn a small percentage from any purchase you make by clicking on these links at no extra cost to you.