Candy Topped Toffee Squares
Candy Topped Toffee Squares make for a terrific holiday cookie. This easy toffee recipe decks them out in red and green M & M's, so they are festive and irresistible.
These Toffee Bars are so much easier than making English toffee and are perfect for a tasty Christmas treat.
Why You Must Make
There are 3 luscious layers:  a buttery dark brown sugar crust, a smooth rich, chocolate ganache, and a holiday topping of your choice (I like festive M&Ms, chopped Heath bars, or toasted pecans).
They are super easy to make!
Changing the colors of the M&Ms makes them perfect for any occasion! 
Or you can go half and half with the toppings as I did. I went with  Heath bars to give a double dose of toffee flavor on half of the bars. Being the considerate wife that I am, I sprinkled holiday-colored M & M's over the other half. As hard as it is to believe, Bill does not like toffee. Crazy man.
Tips for Holiday Baking
I know it seems early to be sharing holiday cookie recipes, but if you're anything like me, the season will creep up on you, and then panic will set in. So go ahead and start collecting recipes early. These bars and all the tasty recipes from my blogger friends are delicious options. My family goes nuts for anything chocolate, so these toffee squares were a hit!
Then you'll just need to set aside an afternoon to bake.
Make sure your pantry is stocked with the basics, flour, sugar, brown sugar, vanilla, baking soda, baking powder, and a variety of chocolate.
I love to share tins of various cookies and candies with my neighbors at Christmas. Even though I make some old favorites over and over, I'm always on the hunt for new inspiration.
PRO-Tip: Did you know you can make dark brown sugar out of regular brown sugar by adding a tablespoon of molasses to the latter? It's an easy trick when you don't have dark brown sugar on hand.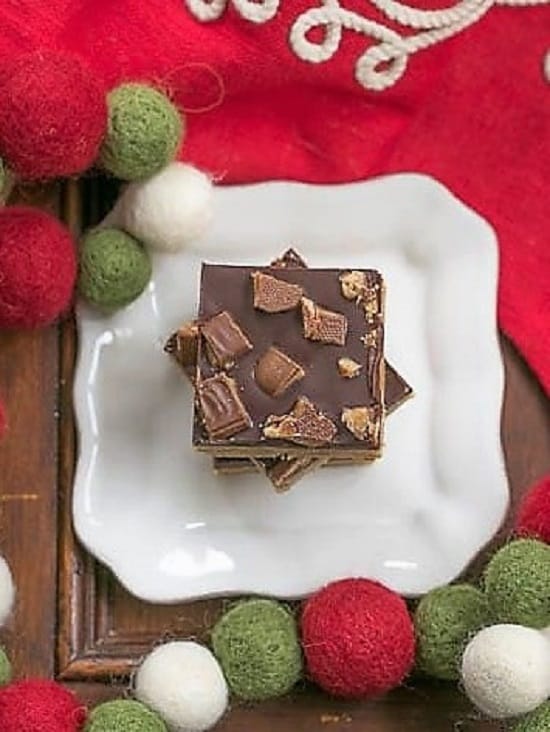 Frequently Asked Questions
What is Toffee?
Toffee or Toffy is a candy made by cooking sugar, water (or cream), and often butter to the molten hot temperature of 260-310°. The temperature will vary depending on if a chewy or crisp toffee is desired. It's often topped with nuts, chocolate, or both.
Why is Toffee So Hard to Make?
The process of candy-making can be daunting. Using an accurate candy thermometer and a good recipe is key since there are a number of ways that toffee can fail. But once you've been successful, making toffee will be worth the effort!
The procedure cannot be rushed. With patience, mastering English toffee can be achieved! Making toffee bars is an easy way to get similar flavors without the pressure!
You May Also Like:
PRO-Tip: To make cutting bars easier, chill thoroughly, then use a sharp knife to score, then cut into squares. These are trickier than some to cut because of the chunks of candy.
Stay in touch through social media @ Instagram, Facebook, and Pinterest. Don't forget to tag me when you try one of my recipes! And if you love the results, please give it a 5-star rating in the recipe card. Note: As an Amazon Associate, I earn from qualifying purchases. Visit my Amazon Store for my favorite products.
The Recipe:
Candy Topped Toffee Squares
Prep Time 30 minutes
Cook Time 20 minutes
Total Time 50 minutes
Yield 24
3 decadent layers in these holiday bars!
Ingredients
1 cup (2 sticks) butter, at room temperature
1 cup dark brown sugar
1 egg yolk
1 teaspoon vanilla
A dash of salt
2 cups flour
Topping:
12 ounces semi-chocolate, chopped
1/4 cup butter
1/2 cup heavy cream
1 cup M & M's or chopped Heath bars
Instructions
Preheat the oven to 350°. Line a 9-by-13-inch baking pan with non-stick foil (or regular foil sprayed with non-stick cooking spray). Set aside.
In a large bowl, mix together the butter and sugar. Add the egg yolk, vanilla, and salt and mix till combined. Add flour and mix till combined, then pat the stiff dough onto the bottom of the prepared pan.
Bake till golden, about 20 minutes. Do not overbake. Let cool to room temperature on wire rack.
Combine chopped chocolate, butter and heavy cream in microwave safe bowl. Microwave for 30 seconds, then stop, stir and repeat till chocolate is melted and mixture is smooth. Pour over cooled crust and spread to cover crust using offset spatula. Sprinkle top with candies.
Chill in refrigerator till chocolate sets. Cut and serve.
Yield: 24 bars
Total time: 1 1/2 hours
Notes
Vary your toppings depending on the season or holiday!
Nutrition Information:
Yield:
24
Serving Size:
1 bar
Amount Per Serving:
Calories: 231
Total Fat: 11g
Saturated Fat: 7g
Trans Fat: 0g
Unsaturated Fat: 3g
Cholesterol: 24mg
Sodium: 47mg
Carbohydrates: 31g
Fiber: 1g
Sugar: 21g
Protein: 3g
Note: This post may contain affiliate links; view
my Disclosure Policy
for details. I earn a small percentage from any purchase you make by clicking on these links at no extra cost to you.