Julia Child's Paella a l'Americaine
My mom's signature dish, Julia Child's Paella a l'Americaine is an extraordinary Spanish dish with rice, chicken, seafood, and chorizo.
This impressive, multifaceted one-dish meal is a Spanish classic and perfect for entertaining. Your guests will be thrilled with every flavorful bite of this Seafood Paella Recipe with Chicken!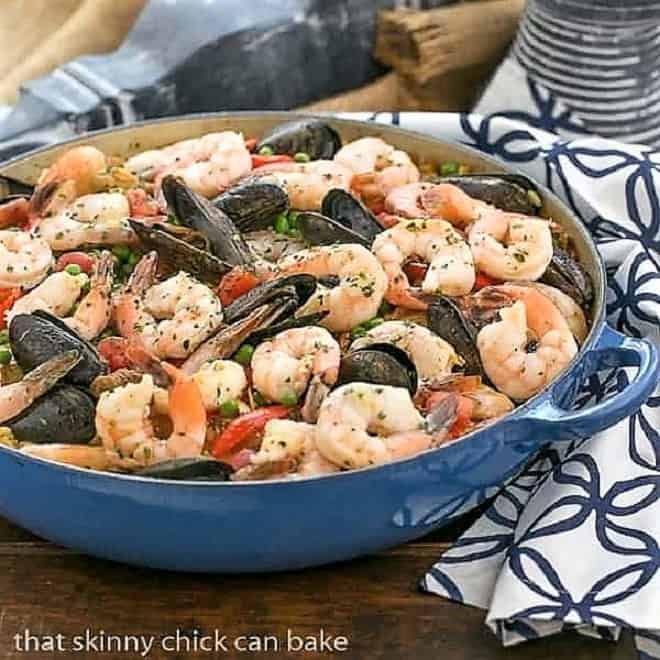 Paella a l'Americaine
My mom discovered this Paella a l'Americaine recipe back in the day when our television only had 4 stations. And NO remote control. She watched the Galloping Gourmet and The French Chef, who happened to be Julia Child. One Saturday, Julia dazzled my mother by demonstrating her seafood paella recipe with chicken.
After the show aired, my mom promptly wrote the TV station. They then mailed her the recipe. How quaint is that? I treasure that original typed copy.
My mom was a terrific and adventurous cook and my dad was a willing guinea pig. He would eat absolutely anything except for one dish. He was haunted by memories of his mother's oxtail soup. Granted, he lived through the depression and there may have been some mighty pitiful oxtails that went into my Grandma's soup pot.
When my mom tested out wontons, egg rolls, moussaka, and paella on the family, we gobbled it all down. Paella was saved for special occasions, and I make the same seafood paella recipe that my mom shared with our family decades years ago. Learning How to Throw a Paella Party will make you the best host or hostess among your friends!!
What is Paella?
Paella is a Spanish dish that hails from Valencia, a coastal city. The earliest version, from the early 1800s, was made with rabbit, chicken, snails, 3 types of beans plus the one constant, saffron-flavored rice. It was cooked over an open fire, but many recipes have been adapted for home and restaurant-sized portions.
You can put whatever you want in your paella as long as it has four crucial items: rice, saffron, garlic, and paprika. The sofrito of vegetables like onions and peppers cooked in oil is also crucial for flavor development.
How Do You Pronounce Paella?
Paella is pronounced pah-EH-yah, with the emphasis on the second syllable.
How to Throw A Paella Party:
Julia Child's version of paella features ingredients that can easily be found at most American grocery stores. Each region in Spain has its own take and the recipes often contain squid, fish, olives, chickpeas, and even the aforementioned rabbit. My mom passed away in 2015, but I felt her love enveloping me as I cooked up this dish. Like my mom, I love serving this gorgeous paella recipe for dinner parties and family gatherings. With rice, sausage, chicken, seafood, and vegetables in the entree, there's no need for heavy or fancy side dishes.
Start by gathering recipes that will fit your theme. I have suggestions below. I usually go with Spanish or Spanish American dishes. Set a beautiful table with plenty of candles for an easy, inexpensive ambiance. Plan your guest list. This recipe easily serves eight, so unless you want to make two, that helps determine a cap on who to invite.
What to Serve with Julia Child's Paella with Seafood and Chicken:
Consider purchasing a paella pan (affiliate links) if you're going to make this paella a l'Americaine again and again. Otherwise, a good substitute is a 3 quart straight-sided stainless steel pan. For the best paella, your pan will need a large surface area. Non-stick and cast iron pans are not recommended. I made flan for our most recipe paella party, and the recipe will be on the blog soon.

How Do You Make Paella?
Steam the sausage, then slice and brown along with the bacon.
Saute the vegetables, making the sofrito.
Place these ingredients in a bowl, then add the fat from the first pan to your paella pan to brown the chicken.
Add the reserved vegetables and sausages, wine, chicken broth, and seasonings to the chicken. Simmer for about 20 minutes.
Add the rice and cook for about 6 minutes.
Marinate the shrimp.
When the rice begins to rise to the surface and appears swollen, add the shrimp and mussels without stirring.
Simmer for another 10 minutes, uncovered, until the rice is cooked. Sprinkle the peas and tomatoes over the surface during the last 4 or 5 minutes. You may cover the pan with a lid if needed to cook the seafood.
To serve, sprinkle with minced parsley and have lemon quarters available to pass.
Chef's Note: Perfectly cooked paella will have a toasted rice bottom called socarrat.
PRO-Tip: If the shells of the mussels don't open after cooking, toss them. Most likely the mussels died in your refrigerator. My fishmonger instructed me to store them in a colander and to cover with a damp paper towel. They need oxygen to live, so the colander offers vents below for air.
What's In Paella?
Some of the most crucial ingredients to make a paella recipe include the following:
Sausage – this paella uses chorizo, a spicy Spanish or Mexican pork sausage. Julia Child's paella recipe calls for fresh chorizo, but I've seen others that use dried chorizo. If you are unable to procure either type, feel free to substitute an Italian sausage. Note that the Spanish generally will not use sausage in their traditional version.
Rice – the rice should be short-grain rice like Italian Arborio or Spanish Bomba.
Sofrito – a base for many Latin American, Italian, Portuguese, and Spanish dishes featuring chopped peppers, garlic, onions, and sometimes tomatoes and other seasonings.
Stock – both chicken and seafood stock are utilized, but I generally use chicken stock or broth
Saffron – this expensive spice is harvested from the "saffron crocus." The vibrant colored stigma and styles or threads are removed from the blossoms. 80, 000 crocus flowers must be hand-harvested to make 1 pound of saffron! Saffron gives the paella rice its traditional yellow color.
Other Protein – Rabbit and snails may be traditional, but more frequently you'll see chicken, shrimp, mussels or clams, squid, lobster, and even crayfish. Since this recipe is Julia Child's American version of paella, chicken, sausage, bacon, shrimp, and mussels are added.
More Recipes You'll Love: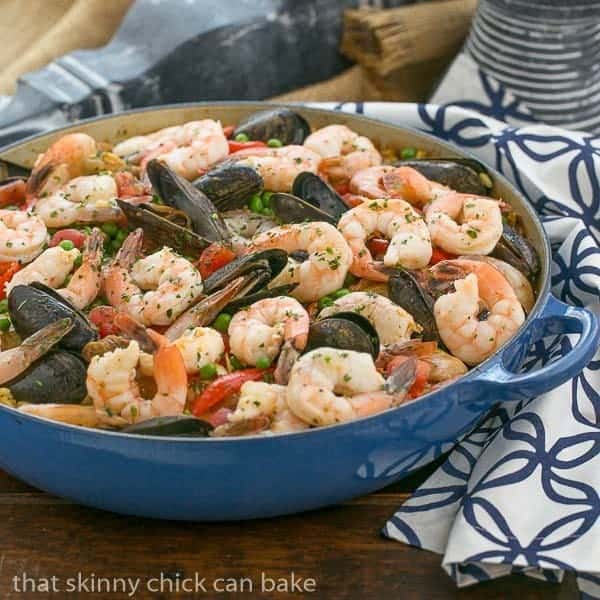 The Recipe:
Julia Child's Paella a l'Americaine
Prep Time 20 minutes
Cook Time 45 minutes
Total Time 1 hour 5 minutes
Yield 8 servings
Very slightly adapted from Julia Child's Paella a l'Americaine.
Ingredients
1 pound fresh chorizo sausage
1/2 pound bacon, sliced into small strips
2 tablespoons olive oil
1 cup diced yellow onion
1 cup sliced red bell pepper
3 cloves garlic, minced
4 small bone-in chicken breasts
4 chicken drumsticks
1⁄2 cup dry white wine
4 1⁄2 cups chicken broth
1⁄2 teaspoon saffron threads
1 teaspoon paprika
1⁄4 teaspoon ground coriander
1 bay leaf
1⁄2 teaspoon thyme
1⁄2 teaspoon oregano
Salt and freshly ground black pepper
2 cups imported arborio rice
For shrimp marinade:
1 tablespoon lemon juice
1/4 teaspoon oregano
2 tablespoons olive oil
Salt and freshly ground pepper
To finish the paella:
1 pound large shrimp, deveined and shelled
24 mussels (or clams)
2-3 medium tomatoes, peeled, seeded, juiced, and large diced
2 cups frozen green peas, defrosted
1 cup garbanzo beans (canned), drained and rinsed
2 lemons, quartered
Parsley, minced
Instructions
Prick sausages with a fork and steam in a pan with a little water till cooked through. Cool and slice.
Add sausages and bacon to a large saute pan with 2 tablespoons of olive oil. Cook until lightly browned; stir in onions and peppers.
Cover and cook slowly until vegetables are tender. Add garlic and cook another minute till fragrant.
Remove all ingredients to a heatproof bowl with a slotted spoon, then transfer fat to a paella pan.
Dry chicken pieces in paper towels, heat fat in the paella pan, and brown chicken on all sides.
Add the reserved vegetables and sausages, wine, chicken broth, and seasonings. Add salt and pepper to taste (will vary depending on the saltiness of your chicken broth). Cover and simmer for about 20 minutes (chicken won't be completely cooked at this point. If making ahead, this is where you can stop, cool and refrigerate. Bring to a boil before continuing).
Sprinkle in the rice, mixing it down into the liquid with a spoon.
Boil rapidly 5 to 6 minutes, uncovered. Do not stir the rice.
While the mixture is boiling, mix shrimp with lemon juice, oregano, olive oil, salt, and pepper. Set aside.
When the rice is swollen and begins to rise to the surface, rapidly push the shrimp, tail end down, into the rice and add the mussels, hinge-side down. Cook for a few minutes, flipping shrimp as needed.
Again, do not stir, simply push these ingredients down into the rice with a spoon.
Reduce heat and let paella simmer for another 8 to 10 minutes, or more, uncovered, until rice is just tender--slightly al dente. Sprinkle with peas, garbanzo beans, and tomatoes the last 4 or 5 minutes. You may briefly cover the pan with a lid if needed to cook the seafood.
To serve, sprinkle with minced parsley and have lemon quarters available to pass.
Nutrition Information:
Yield:
10
Serving Size:
1
Amount Per Serving:
Calories: 1288
Total Fat: 58g
Saturated Fat: 17g
Trans Fat: 0g
Unsaturated Fat: 34g
Cholesterol: 452mg
Sodium: 3345mg
Carbohydrates: 50g
Fiber: 4g
Sugar: 7g
Protein: 132g
Note: This post may contain affiliate links; view
my Disclosure Policy
for details. I earn a small percentage from any purchase you make by clicking on these links at no extra cost to you.