Chocolate Mascarpone Cheesecake
This luscious, ultra-creamy Chocolate Mascarpone Cheesecake is decadent and delicious with an Italian twist!
An Italian Cheesecake is a perfect way to end a dinner party and it will feed a crowd. A sliver of this rich dessert will have your guests swooning!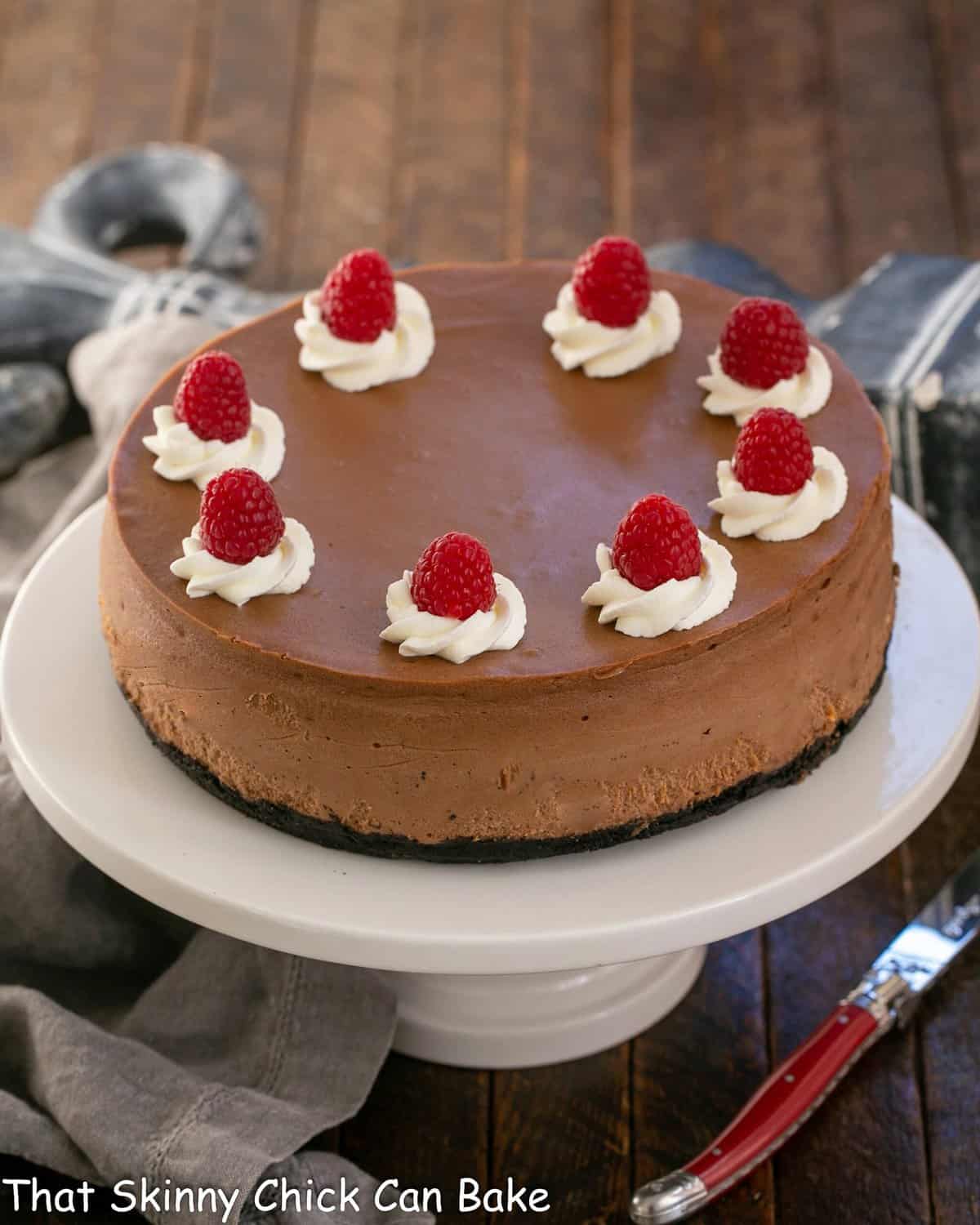 Why You Must Make
The addition of mascarpone cheese makes it ultra-creamy!
It's the perfect addition to an Italian-themed dinner.
It's rich enough that you only need a small slice, therefore, it feeds a crowd!
Ingredient Notes
Kitchen Staples – Sugar, Flour, Butter
Cream Cheese – at room temperature
Mascarpone Cheese – at room temperature
Eggs – Large, at room temperature
Vanilla Extract – Real vanilla, not artificially flavored
Sour Cream – Full fat adds creaminess
Semisweet or Bittersweet Chocolate – melted and warm. I used semisweet
Chocolate Wafer Crumbs – You may grind your own in a food processor. I use Nabisco Chocolate Wafers, but they've been discontinued recently. Look for chocolate cookie crumbs or chocolate graham cracker crumbs in the baking aisle. Or you can make them with Oreos, though you may want to remove the cream filling first.
Recipe Tips
To make the creamiest cheesecake, you must follow a couple of rules. Just dumping and mixing will make a decent cheesecake, but for the best cheesecake results, make sure to note these tips:
Use room-temperature cream cheese, mascarpone, and eggs.
Mix slowly with a paddle attachment to keep the batter dense and creamy.
Add the eggs one at a time, giving them time to incorporate into the batter.
Bake in a bain-marie, or water bath to keep the cheesecake insulated which allows it to cook at an even temperature plus adds steam to the oven, minimizing cracks.
The original recipe called for the baked cheesecake bottom to be coated in chocolate cookie crumbs instead of making a crust. This is always an alternative, but I found it to be a bit awkward, so have added a crust to the recipe.
I was a little concerned about a possible disastrous outcome from flipping this chocolate-mascarpone cheesecake upside down to pat on a half cup of chocolate wafer crumbs onto the bottom. It worked quite well with just a few minute scars from the procedure which were easily camouflaged with berries.
We delivered this dessert to the hospital where Bill works, and received positive feedback from the cath lab staff. Even though it was a less than perfect blogger "sample" dessert that had a slice removed for a photo, then reinserted before delivery, they were fans. They're good people and loved this homemade dessert.
Frequently Asked Questions
What is Mascarpone?
Mascarpone is a soft, rich, buttery double-creme or even triple creme cheese made from cow's milk. It comes from the Lombardy region of Italy.
Can You Use Mascarpone in Cheesecake?
Yes! It's a delicious addition to cheesecake. With 25% more fat than cream cheese, it makes an even more decadent cheesecake.
How Do You Make a Creamy Cheesecake?
There are a few keys to making the most creamy cheesecake. First, have all your ingredients at room temperature as that will help them blend more easily. Then mix with the paddle attachment of your mixer as you don't want excess air in the batter. Add the eggs one at a time giving them time to incorporate.

And when it's time to bake, place the foil wrapped pan in a water bath so the cheesecake bakes evenly and the steam keeps it moist. Plus, make sure not to overbake. You can pull the cheesecake out when the very middle, about the size of a quarter, still jiggles a bit. The residual heat will finish baking the cheesecake.
You May Also Like
The Recipe:
Chocolate Mascarpone Cheesecake
Prep Time 30 minutes
Cook Time 1 hour
Total Time 1 hour 30 minutes
Yield 12
An exquisite chocolate cheesecake with an Italian twist!
Ingredients
1 ½ pounds cream cheese, at room temperature
¾ cup sugar
¼ cup flour
½ pound mascarpone, at room temperature
3 eggs, at room temperature
1 teaspoon vanilla
½ cup sour cream
6 ounces semisweet or bittersweet chocolate, melted and warm
Crust
8 ounces chocolate wafer crumbs (about 2 cups)
3 tablespoons sugar
7 tablespoons butter, melted.
Instructions
Preheat oven to 350 degrees. Butter an 8-inch springform pan and wrap the outside with foil.
Make the crust by mixing all the ingredients and patting it into the bottom of the prepared pan. Set aside.
In your stand mixer fitted with the paddle attachment, beat the cream cheese until perfectly smooth, about 4 minutes. Add sugar and beat for another 4 minutes.
Scrape down the sides of the bowl and add flour, vanilla, and mascarpone beat until incorporated.
Add eggs one at a time, scraping down the sides of the bowl after each egg.
Add the sour cream and mix until incorporated
Remove one cup of mixture and stir into the warm melted chocolate. Mix until you no longer see white streaks.
Add the chocolate mixture to the rest of the batter and mix until well combined.
Pour batter into your pan.
Set the pan in a roasting pan and place it in the center of the oven.
Pour hot water into the roasting pan until it comes halfway up the sides.
Bake for 50-60 minutes or until the cheesecake looks set, though the very center can jiggle a little when you move the pan.
Remove the pan from the oven, remove the foil, and place the pan only on a wire rack to cool to room temperature.
Release the sides of the springform pan. If you didn't make the crust, turn the cake over onto a cutting board, platter, or cooling rack and coat the bottom of the cake with crumbs.
Invert the cake onto another platter and chill for at least 3 hours, or up to 2 days.
If you are going to keep the cake in the refrigerator for more than a few hours, cover it, once it is set, with plastic wrap.
Garnish as desired. I piped sweetened whipped cream swirls around the perimeter and topped each with a fresh raspberry.
Notes
There are two options for the crust. First, you can pat chocolate cookie crumbs on the bottom of the cheesecake after it's baked and cooled. I find this is the more difficult method.
The other alternative is to make the crust, pat it in the cheesecake pan, top it with the cheesecake batter, then bake.
Adapted from Baking with Julia.
Nutrition Information:
Yield:
12
Serving Size:
1 slice
Amount Per Serving:
Calories: 501
Total Fat: 40g
Saturated Fat: 23g
Trans Fat: 0g
Unsaturated Fat: 13g
Cholesterol: 135mg
Sodium: 312mg
Carbohydrates: 28g
Fiber: 3g
Sugar: 19g
Protein: 9g
Tomorrow, Bill is having open-heart surgery. It's "relatively" routine…he has a mitral valve that needs to be repaired. I took this Chocolate-Mascarpone Cheesecake to the hospital when he had his pre-op testing. It was tough for him to give over the reins to the folks he works with day in and out, but they deserved a little treat for taking such good care of us both. Super rich and velvety smooth, this recipe from contributing baker, David Ogonowski, was cheesecake nirvana.
Have I told you we're in the midst of a home renovation? I will be without a kitchen soon, so thank goodness I can use my Instant Pot to make pressure cooker cheesecakes. Isn't that fun???
As you might guess, I'll be scarce for a while. But I have a few posts scheduled while I'm hanging out with the hubby at the hospital, so please check back. xo
Note: This post may contain affiliate links; view
my Disclosure Policy
for details. I earn a small percentage from any purchase you make by clicking on these links at no extra cost to you.