Shredded Chicken Lettuce Wraps
Shredded Chicken Lettuce Wraps sport a spicy Asian filling in a crisp cup of Boston Bibb lettuce. They're low carb, wholesome, and packed full of flavor! Plus, they're a healthier option compared to the restaurant version!
Asian Lettuce Wraps garnered the world's attention when P.F. Changs added them to their menu. This shredded version is less greasy, extremely tasty, and easy to make!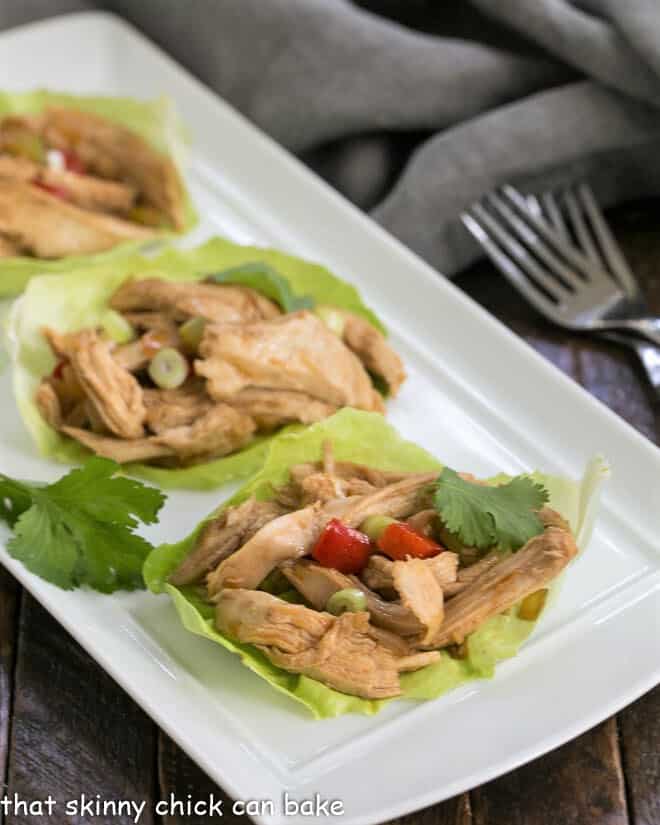 Reader Endorsement:
Unsolicited comment from Jeff: It's been a while since someone posted here, but today (November 21, 2017) I found this recipe and we freaking loved it. We had about a pound of boiled chicken meat after having made chicken broth in preparation for making Thanksgiving gravy. What could we do with the boiled chicken? We were blown away by how great this recipe is. Thank you for posting this. Great. Just great.
Why You Must Make
They're low-carb, healthy, and flavorful!
Using shredded chicken instead of ground chicken provides fresher, better-tasting wraps.
It's an excellent way to repurpose leftover roast or grilled chicken.
If you're looking for low-carb recipes, these Easy Asian Lettuce Wraps fit the bill. No buns, no tortillas, no pizza crusts. Low-carb, low-calorie lettuce is the vehicle for the Asian spiced chicken.
Bill and Nick raised their eyebrows when I announced that dinner was these healthy lettuce wraps, so I offered them tortillas as an alternative. But on a sultry summer evening, I was thrilled with the cool crisp lettuce shells filled with flavorful shredded chicken.
Ingredient Notes
Kitchen Staples – Olive oil, Onion, Garlic
Celery
Red Bell Pepper – Red is great for a pop of color.
Fresh Ginger – Mince or grate.
Low-sodium Soy Sauce – May use regular, but start with less, taste, then adjust so the results aren't too salty.
Oyster Sauce
Rice Wine Vinegar
Sriracha
Chicken Breast – Cooked and shredded
Sesame Oil
Green Onions – also known as scallions
Bibb, Butter or Iceberg Lettuce – Purchase the variety that makes nice "cups" for the chicken. We prefer butter lettuce.
Cilantro – optional, to garnish

P.F. Chang's Lettuce Wraps Knock Off
Though P.F. Chang's chicken lettuce wraps use ground chicken and seem to contain a heck of a lot more oil, they're still memorable. I remember when Bill and I stopped for lunch when the restaurant was new in town. He's not exactly into exotic food which includes curries and other Asian fare. But their dishes are designed for the American palate, and he enjoyed their Asian Chicken Lettuce Wraps.
I've made a copycat recipe in the past, pre-blog and it was quite tasty. But I've created this recipe more to my liking with shredded chicken instead of ground chicken and my own designer sauce. My version of Shredded Chicken Lettuce Wraps was extremely flavorful and healthier than P.F. Chang's Lettuce Wraps.

How to Make
Lettuce wraps are very easy to make. First, select a protein source, like chicken, pork, or beef. Often made with ground meat, shredded chicken, pork or beef are other tasty options. Tofu would work for a meatless version.
Next, the flavor profile is chosen. The inspiration for this recipe was Asian, so using Asian ingredients like garlic, fresh ginger, soy sauce, oyster sauce, sriracha, and more were added. Tex-Mex, Cajun, Italian, or any other cuisine could be selected.
PRO-Tip: Since the lettuce offers little in regard to taste, the filling should be extremely flavorful.
Saute any aromatics and chopped vegetables first, then add the sauces, and finally the cooked meat.
If using ground chicken or beef, cook those with the aromatics and vegetables, then add the sauces.
Choose your lettuce. I like using Butter Lettuce, as it naturally forms "cups" in which to hold the filling. See other options above.
Place the lettuce cups across a serving dish. Fill the cups with your chicken or another filling.
Garnish with cilantro, and thinly sliced scallions, if desired, and serve.
PRO-Tip: For a shortcut, shred some rotisserie chicken meat for the filling.
Frequently Asked Questions
Are Lettuce Wraps Healthy?
The restaurant's version is full of sodium and fat, so it's not exactly healthy food. Compared to other items on the menu, it might be a healthier option.

This homemade version is definitely lighter fare, though the sauce is not low in sodium.
What Type of Lettuce is Used for Lettuce Wraps?
My preference is bibb lettuce as it forms cups as you peel individual leaves off the head. Plus, it easily folds without cracking. Bibb lettuce is also the perfect size when serving shredded chicken lettuce wraps as an appetizer. But Romaine lettuce and Iceberg lettuce will also work.
What Can You Serve with Lettuce Wraps?
Fried rice or simple white or brown rice are excellent side dishes. A vegetable stir fry or roasted vegetables would also pair well with these healthy lettuce wraps. I love these Asian Green Beans and this Stir-Fried Asian Asparagus.
An Asian cucumber salad or Asian coleslaw are other tasty options. If you're serving these as an appetizer and not an entree, a stirfry or any grilled or roasted meat would be delicious main dishes.
You May Also Like:
Stay in touch through social media @ Instagram, Facebook, and Pinterest. Don't forget to tag me when you try one of my recipes! And if you love the results, please give it a 5-star rating in the recipe card. Note: As an Amazon Associate, I earn from qualifying purchases. Visit my Amazon Store for my favorite products.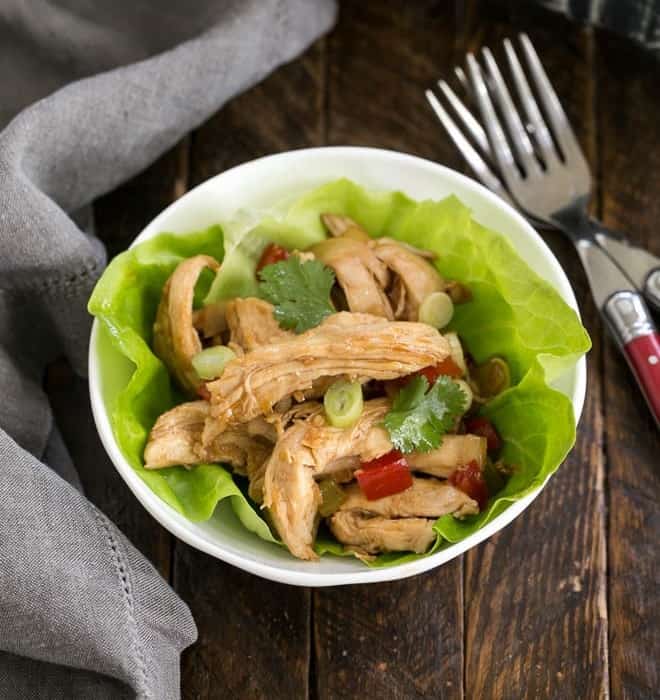 The Recipe:
Shredded Chicken Lettuce Wraps Recipe
Prep Time 10 minutes
Cook Time 10 minutes
Total Time 20 minutes
Yield 4 servings
A twist on P.F. Chang's Lettuce Wraps using shredded chicken. Perfect for a light dinner or an appetizer.
Ingredients
1 tablespoon olive oil
1 medium onion, finely chopped
1 stalk of celery, diced
½ red bell pepper, diced
1 tablespoon. minced garlic
2 teaspoons minced fresh ginger
1 tablespoon low-sodium soy sauce*
¼ cup oyster sauce
1 tablespoon rice wine vinegar
1-2 teaspoons sriracha (adjust to your taste)
1 pound chicken breast, cooked and shredded
2 teaspoon sesame oil
Salt to taste
2-3 green onions sliced
Bibb, butter, or iceberg lettuce, rinsed and dried
Cilantro, optional to garnish
Instructions
Heat the oil in a saute pan over medium heat. Add the onion, celery, and bell pepper, and cook till soft. Add the garlic and ginger and saute for a minute or so till fragrant.
Add the soy sauce, oyster sauce, vinegar, and sriracha, then the cooked chicken. Mix to coat all of the chicken.
Cook until the chicken is hot, then stir in the sesame oil.
Stir in the green onions, check for seasoning, and add salt to taste.
Arrange leaves of lettuce on a platter and fill with chicken. Garnish with cilantro leaves or chopped cilantro, if desired.
Notes
*If using regular soy sauce, start with less than one tablespoon and if not too salty, add more to taste.
Recommended Products
As an Amazon Associate and member of other affiliate programs, I earn from qualifying purchases.
Nutrition Information:
Yield:
4
Serving Size:
1
Amount Per Serving:
Calories: 303
Total Fat: 13g
Saturated Fat: 4g
Trans Fat: 0g
Unsaturated Fat: 8g
Cholesterol: 104mg
Sodium: 958mg
Carbohydrates: 9g
Fiber: 1g
Sugar: 3g
Protein: 37g
Note: This post may contain affiliate links; view
my Disclosure Policy
for details. I earn a small percentage from any purchase you make by clicking on these links at no extra cost to you.