Asian Ramen Noodle Salad with Chicken
Ramen Noodle Salad with Chicken is a homemade version of the classic, irresistible Asian Cabbage Slaw from the 1980s. Full of vibrant, shredded vegetables, dried ramen noodles, and an Asian salad dressing, this slaw has stood the test of time.
Years ago, my mom brought her recipe for Ramen Salad to a family summer vacation in Aspen. It had the Ramen seasoning packet included in the ingredients, and even though we loved it, a homemade version of this cabbage slaw is even more appealing.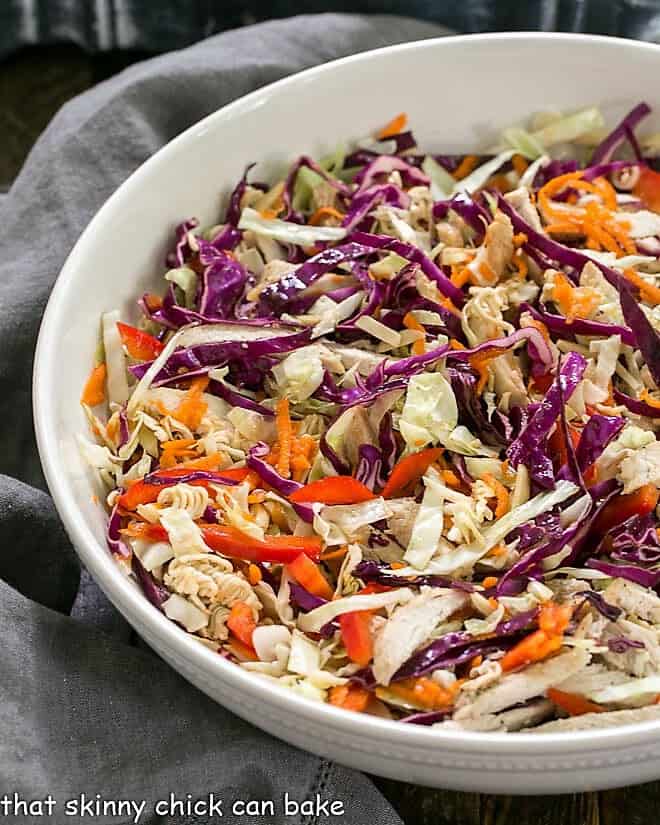 Why You Must Make
With so many variations of this ramen noodle salad, a version will undoubtedly show up at a summer potluck, picnic, or any sort of pitch-in meal. This Asian slaw is universally loved as demonstrated by the empty bowl at the end of all these gatherings.
The easiest Asian cabbage slaw is made with packaged coleslaw mix or shredded cabbage, ramen noodles, the ramen seasoning packet, nuts and/or seeds, green onions, oil, and vinegar. Pretty darn simple.
If you add ingredients like shredded chicken, this can be a delicious entree, too!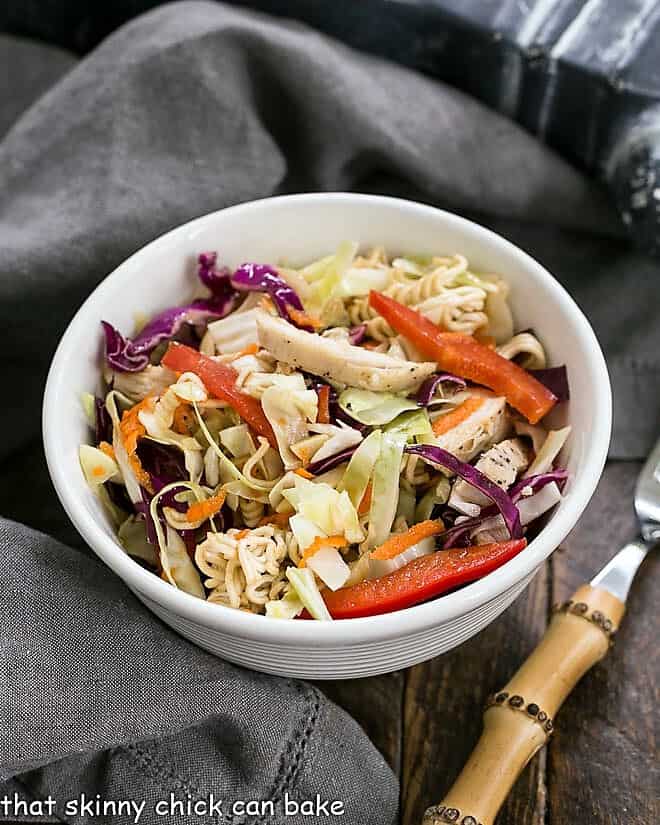 Expert Tips
There are zillions of recipes for this slaw in cookbooks, blogs, and websites. Here are some helpful hints if this is a new recipe for you.
The base of a Ramen noodle salad is shredded cabbage. For a shortcut, use packaged slaw mix, just aim for about 7 cups of shredded vegetables.
If you use a slaw mix, you may want to add some shredded red cabbage and shredded carrots for a more colorful mixture. For a change of pace, consider using a broccoli slaw mix.
Slivered almonds add some extra crunch, but sliced almonds, sesame, or sunflower seeds can also be included.
PRO-Tip: Toast the nuts or seeds first to bring out their nuttiness. But note that both can burn easily if you don't watch them closely.
I prefer toasting sesame seeds in a dry saute pan. They take about 3 minutes to brown, shaking frequently.
Toast sliced or slivered almonds in a 350º oven for 3-4 minutes, shaking the pan every minute until lightly browned.
Buy any flavor of Ramen as you will not use the seasoning packet.
If desired, the broken Ramen noodles can also be toasted.
Leave out the chicken if you'd prefer this as a side salad instead of an entree salad. If chicken is included, it can be shredded or chopped into bite-size pieces.
PRO-Tip: Use rotisserie chicken or leftover grilled chicken as a shortcut.
Add a can of drained mandarin oranges if you'd like some sweet juicy fruit in your salad.
This Ramen noodle salad is delicious cold or at room temperature. But don't leave it out longer than two hours, especially on a hot day, unless you're serving sans chicken. The FDA warns against leaving food with protein sources or perishable ingredients unrefrigerated for too long.
After tossing this Asian cabbage slaw with dressing, how long you wait to serve it is up to you. If you serve your salad immediately, the vegetables will be crisp and the Ramen noodles will be crunchy. If this is your preference, break the Ramen into smaller, bite-sized pieces.
Alternatively, refrigerate a couple of hours (and up to 8 hours) before serving. The cabbage will wilt and the noodles will soften.
Frequently Asked Questions
Can Ramen Salad Be Made Ahead of Time?
Yes, it actually is best made at least a few hours before serving so that the vegetables get a chance to soften. Though if you prefer your veggies crunchy, serve immediately.
How Long Does Ramen Salad Keep?
It will keep well for 3-4 days if kept chilled in an airtight container.
Is Ramen Salad Healthy?
This ramen salad is quite healthy as it's chock full of fresh vegetables providing fiber and vitamins and alean source of protein in the chicken. Plus the salad dressing is made without using the Ramen seasoning packet which is loaded with sodium.
Is Ramen Salad the Same as Sumi Salad?
The two salads are very similar salads except a sumi salad does not use soy sauce.
What Other Ingredients Can You Add to Ramen Salads?
Edamame, blanched slivered snow peas, and as mentioned below, a drained can of mandarin oranges all go well with the Asian flavors in this popular potluck salad. Even chunks of avocado are a delicious, creamy addition, but they may turn brown after being exposed to air, so add them just before serving.
You May Also Like: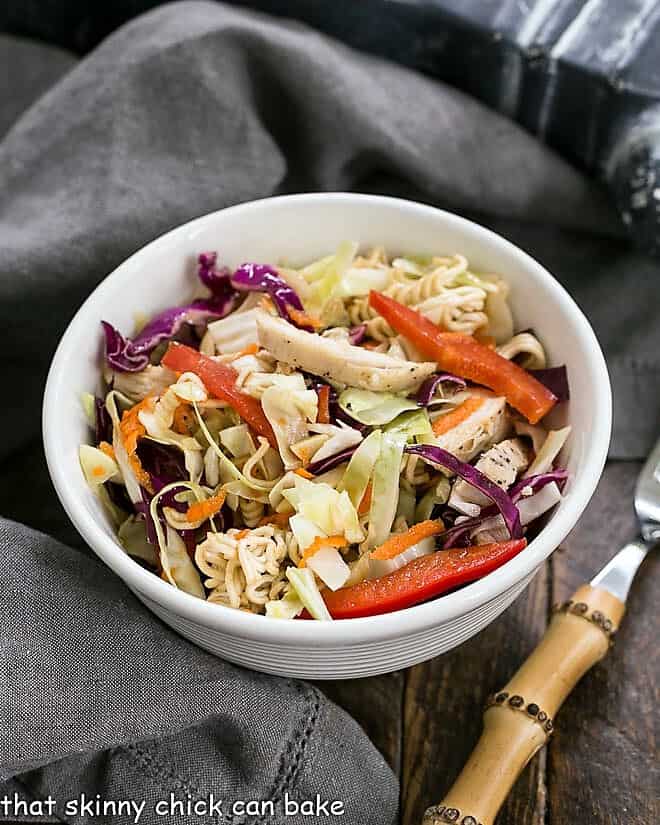 The Recipe:
Asian Ramen Noodle Salad Recipe with Chicken
Prep Time 20 minutes
Cook Time 4 minutes
Total Time 24 minutes
Yield 8 servings
An updated version of this classic salad from the '80's.
Ingredients
Salad:
4 cups shredded green cabbage
2 cups shredded red cabbage
1 cup shredded carrots
1 package Ramen noodles, noodles broken into bite sized pieces, seasoning packet removed
1/2 cup sliced green onions
1 red bell pepper, seeded and ribs removed, chopped or cut into very thin slices
1/2 cup slivered almonds, toasting recommended
1 pound roasted chicken breast, cooled, shredded or cut into bite sized pieces
Dressing:
1/4 cup plus 2 tablespoons rice or apple cider vinegar
1/2 cup sugar
1 1/2 tablespoons soy sauce
1/2 teaspoon black pepper
1/4 teaspoon onion powder
1/4 teaspoon ginger
1/4 teaspoon garlic powder
1/2 cup vegetable oil
1 teaspoon sesame oil
Instructions
Place all the salad ingredients in a large serving bowl. Set aside.
In another bowl or large Pyrex measuring cup, whisk together the vinegar, sugar, soy sauce, and seasonings. Drizzle in oils while whisking to emulsify the dressing.
Pour the dressing over the slaw mixture and toss to combine.
Serve immediately if you like your vegetables crisp or refrigerated for 3-4 hours before serving.
Notes
It's best to mix the salad a few hours before serving to allow time for the vegetables to soften.
Nutrition Information:
Yield:
8
Serving Size:
1
Amount Per Serving:
Calories: 421
Total Fat: 23g
Saturated Fat: 3g
Trans Fat: 0g
Unsaturated Fat: 18g
Cholesterol: 53mg
Sodium: 1006mg
Carbohydrates: 32g
Fiber: 3g
Sugar: 16g
Protein: 23g
Note: This post may contain affiliate links; view
my Disclosure Policy
for details. I earn a small percentage from any purchase you make by clicking on these links at no extra cost to you.