Indian Meatballs with Yogurt Sauce
Indian Meatballs with Yogurt Sauce are beef meatballs flavored with soy, fresh ginger, and more. The seasonings transform ordinary meatballs into something delicious and memorable. This Asian meatballs recipe will definitely shake up your appetizer routine!
Don't wait to host an Indian theme book club or cocktail party to give these yummy beef meatballs a try! They make a delicious light meal, too.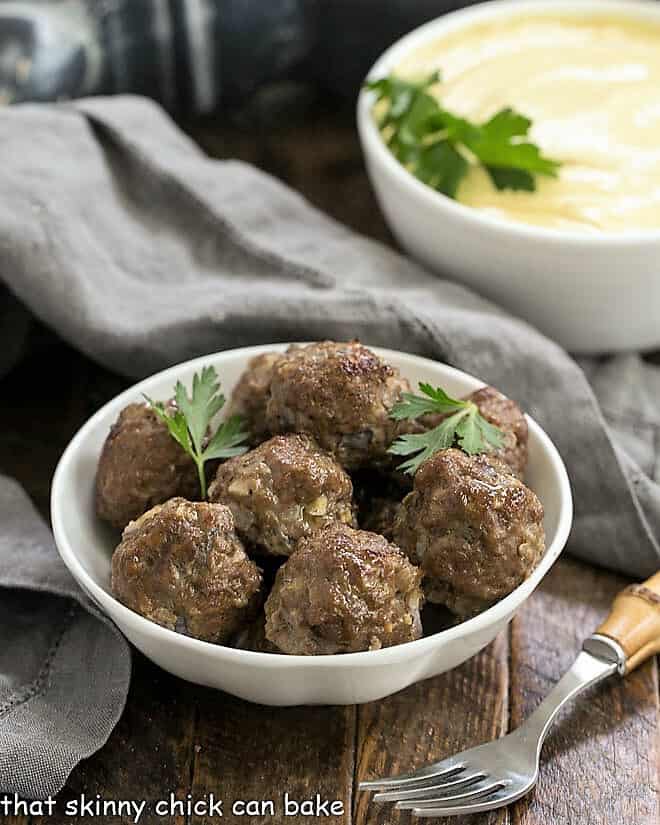 Why You Must Make
I first featured these beef cocktail meatballs in 2010 after hosting an Indian-themed book club at my house. They're a perfect starter with any Indian entree.
The picky hubby is wary of many ethnic foods after being raised in a Midwest meat and potatoes home. But this Asian meatballs recipe wore away at his persnickety palate and he did eat his fair share sans the yogurt sauce after a cursory dip.
If you're a fan of meatballs, you'll love these!
My book club, on the other hand, loves trying everything I make, thank goodness. The simple flavorings make this recipe a cinch to make. Even though it's an Americanized sort of Indian recipe, the flavors are lovely and a fun twist from the typical meatballs.
If you're interested, here is a list of the Book Club Books we have read since 1996.

Asian Meatballs
Fast forward to 9 years after I first posted these. Round two of these meatballs was broiled to update this blog post. When Bill came home from work, I mentioned the beef meatballs in the fridge. He eyed the yogurt sauce and queried, "Mustard?" Instead of a full explanation, I countered with "cumin" and didn't mention the more "exotic" turmeric.
After a nibble, he commented that both the Asian meatballs and sauce were "great" (I need to work on eliciting better quotes!). So those taste buds may have actually matured in the nearly a decade since I began this blog.
Recipe Tips
Though it's doubtful you'd find these meatballs being sold on the streets of Delhi, our Midwest family enjoyed every bite of these Indian meatballs. They were "sort of" exotic with soy and fresh ginger in the meatballs and cumin and turmeric in the dip.
PRO-Tip: To make the best Asian meatballs, use 80/20 ground beef, so there's enough fat to make them tender. Feel free to substitute ground dark meat chicken or lamb if you prefer one of those over beef.
Finely mince the onions, garlic, and ginger so they are well distributed in each meatball.
PRO-Tip: Use a cookie disher or scoop to parcel out each meatball. Though the recipe calls for about 1 tablespoon of meat mixture per meatball, my scoop is a little larger at 1 1/2 tablespoons.
PRO-Tip: After scooping, use wet hands to roll the meatball around between your palms to make each as round as can be. Wet palms help minimize sticking while you're shaping your Indian meatballs.
Use a non-stick foil to line your baking pan for easy flipping and clean up.
Be mindful when broiling so your Indian meatballs don't burn. I do like a little color on mine but watch carefully.
Frequently Asked Questions
Can You Make These Meatballs with Other Meats?
Yes, these Indian meatballs would be delicious made with ground dark meat chicken, pork, or even lamb.
Can Meatballs Be Fried Instead of Broiled?
Yes, they'd be just as delicious fried. Just add a bit of a neutral flavored oil, like Canola oil, to a nonstick saucepan and cook until browned and cooked through.
Can Some Heat Be Added to the Yogurt Sauce?
Yes, you can add some cayenne pepper or red pepper flakes to spice up this Indian yogurt sauce. Start with just a pinch, taste, then add more if desired.
You May Also Like: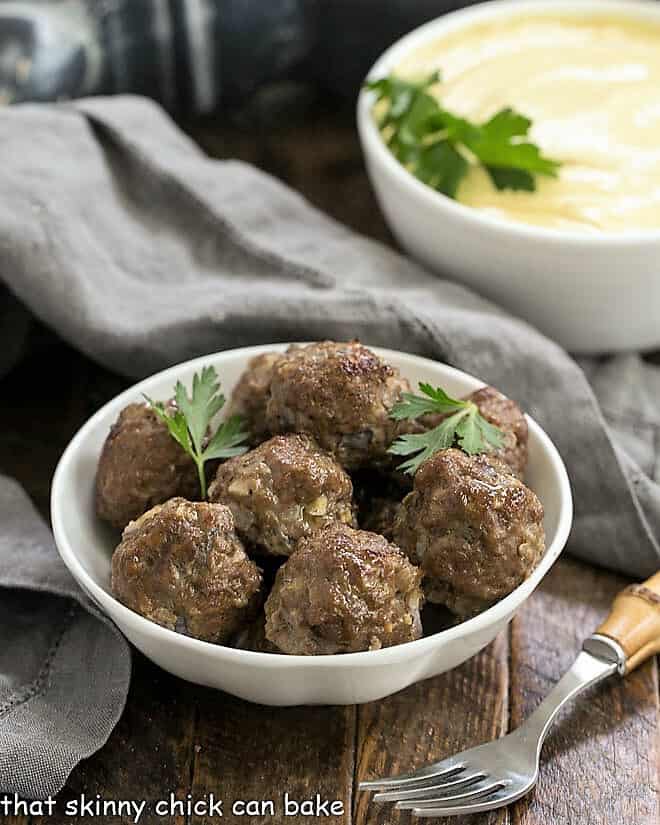 The Recipe:
Indian Meatballs Recipe with Yogurt Sauce
Prep Time 30 minutes
Cook Time 8 minutes
Total Time 38 minutes
Yield 24 meatballs
Beef cocktail meatballs with an Indian Twist!
Ingredients
Meatballs:
2 pounds lean ground beef
1 medium red onion, minced
2 large garlic cloves, minced
3 tablespoons soy sauce
2 large eggs, beaten
1 teaspoon minced ginger
1 teaspoon salt
½ teaspoon freshly ground pepper
1+ tablespoon olive oil
Yogurt Sauce:
1 pint Greek yogurt
2 medium garlic cloves, minced
1 tablespoon fresh lemon juice
2 tablespoons extra virgin olive oil
2 teaspoons ground cumin
2 teaspoons ground turmeric
½ teaspoons cayenne pepper
Salt and pepper to taste
Instructions
Combine ground beef, onion, garlic, soy, eggs, ginger, 1 teaspoon salt, and ½ teaspoon pepper in a bowl. Mix together with hands till well combined.
Preheat broiler.
Brush a baking sheet with olive oil to coat.
Form 24 meatballs from meat mixture and place 1-1 ½ inches apart on pan. Brush with olive oil.
Broil about 4 inches away from heating element for about 8 minutes, turning once at halfway point.
Make spiced yogurt sauce by combining yogurt with garlic, lemon juice, 2 tablespoons olive oil, cumin, turmeric, cayenne, and salt and pepper to taste.
Serve warm meatballs with yogurt sauce.
Notes
Recipe adapted from The Bride and Groom Menu Cookbook.
Note: calorie count is 3 meatballs per serving.
Nutrition Information:
Yield:
12
Serving Size:
2 meatballs
Amount Per Serving:
Calories: 249
Total Fat: 14g
Saturated Fat: 4g
Trans Fat: 0g
Unsaturated Fat: 8g
Cholesterol: 100mg
Sodium: 512mg
Carbohydrates: 3g
Fiber: 0g
Sugar: 2g
Protein: 27g
Note: This post may contain affiliate links; view
my Disclosure Policy
for details. I earn a small percentage from any purchase you make by clicking on these links at no extra cost to you.